Watch Jay Som's Neon-Tinged Video for "One More Time, Please"
Photo by Cara Robbins
Music
Video
Jay Som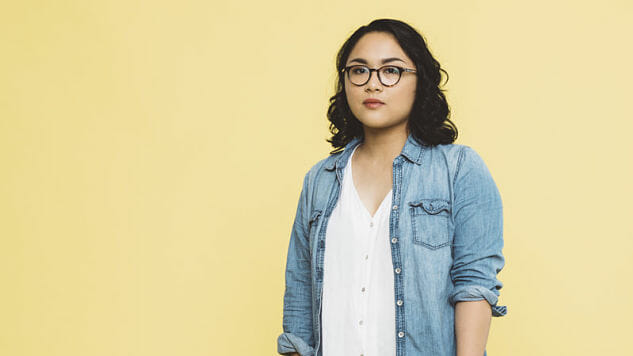 Indie darling Jay Som has released a neon-tinged video for her song "One More Time, Please" from her recently released sophomore record Everybody Works. The video, which wavers between a documented mental breakdown and a Gillette commercial, is complete with glitter, glow sticks and '80s workout wear.
Jay Som is Melina Duterte, a humble, sarcastic personality from Oakland, Calif. Duterte's first record Turn Into was not intended for release; she was compiling demos online when she was approached by Top Shelf Records to officially release them as an album. Everybody Works is somewhat of a debut for her, showcasing her ability to seamlessly merge pop songwriting styles with rock instrumentals.
The music video for "Baybee"—the lead single from the record—is like if Wes Anderson made an '80s skiing movie. If the "Baybee" video is a chilled-out blast from the past, the "One More Time, Please" clip is its anxious sister. As we've described before, Jay Som's songs and her accompanying videos seem to capture a specific time period while also not being defined by them.
Although Duterte is nonchalant about her success and musical abilities, her achievements are no accident. She's been playing music practically since birth and is skilled at almost every instrument fathomable. She records all of the instrumentation for her records herself; Everybody Works even features a trumpet.
Watch the "One More Time, Please" video above, and revisit Jay Som's first-ever music video, for "Ghost," off her debut album, right here. Also, find out where Everybody Works landed on our list of the year's best albums so far.