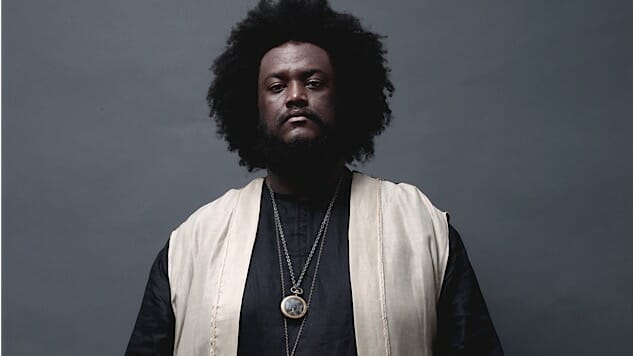 Daily Dose is your daily source for the song you absolutely, positively need to hear every day. Curated by the Paste Music Team.
Kamasi Washington takes us on a musical journey with two debut singles off his forthcoming double album Heaven and Earth, "Fists of Fury" and "The Space Travelers Lullaby." The breakthrough saxophonist from Los Angeles shared the two tracks on Tuesday along with the announcement of his forthcoming album's release, set for June 22 via Young Turks.
The beautifully tracked album follows Washington's Young Turks debut EP, 2017's Harmony of Difference, as well as his solo debut The Epic in 2015. The jazz musician now tantalizes fans with two epic tracks, "Fists of Fury" and "The Space Travelers Lullaby," accompanied by scenes created by acclaimed British artist and director Jenn Nkiru. The visuals represent clips from a larger body of work, Heaven and Earth, a film project set to release later this year.
As far as the Heaven and Earth album, Washington returns backed by his band The Next Step, along with members of the longstanding collective The West Coast Get Down. The 16-song double album was recorded at Henson studios in Los Angeles, and features music written, composed and arranged by Washington himself, along with a new arrangement of jazz and bebop legend Freddie Hubbard's "Hubtones." Other contributors to the album include bandmate Ryan Porter, Thundercat, Terrace Martin, Ronald Bruner, Jr., Cameron Graves, Brandon Coleman, Miles Mosley, Patrice Quinn, Tony Austin and many more.
Composed with themes from the iconic Kung Fu classic, Fists of Fury, the forthcoming album may take you a bit longer than one sitting to experience in full. With "Fists of Fury" and ""The Space Travelers Lullaby" coming in at around 10 minutes each, Heaven and Earth gives new meaning to the term "epic album." Yet, true audiophiles are sure to fall in love with the subtle nuances and musical themes that will undoubtedly have fans listening to this album for years to come.
Washington spoke about the inspiration behind Heaven and Earth in a statement, saying of the album's central dichotomy:
"The world that my mind lives in, lives in my mind." This idea inspired me to make this album Heaven and Earth. The reality we experience is a mere creation of our consciousness, but our consciousness creates this reality based on those very same experiences. We are simultaneously the creators of our personal universe and creations of our personal universe. The Earth side of this album represents the world as I see it outwardly, the world that I am a part of. The Heaven side of this album represents the world as I see it inwardly, the world that is a part of me. Who I am and the choices I make lie somewhere in between.
Washington is now setting up for an extensive world tour which kicks off on April 15 at the Coachella Music and Arts Festival in Indio, Calif. The musician will travel the world alongside his band from April to November, ending his marathon run at Atlanta, Ga.'s Buckhead Theatre. American Express Card Members can purchase tickets for select dates before the general public beginning April 18 at 10 a.m. local through Thursday April 19 at 10 p.m.
Listen to Washington's "Fists of Fury" and "The Space Travelers Lullaby," and see their accompanying clips below, followed by the Heaven and Earth tracklist. You can find the musician's full tour slate further down and preorder the album before its June 22 release right here.
Heaven and Earth Tracklist:
I. EARTH
01. Fists of Fury
02. Can You Hear Him
03. Hubtones
04. Connections
05. Tiffakonkae
06. The Invincible Youth
07. Testify
08. One of One
II. HEAVEN
09. The Space Travelers Lullaby
10. Vi Lua Vi Sol
11. Street Fighter Mas
12. Song for the Fallen
13. Journey
14. The Psalmnist
15. Show Us the Way
16. Will You Sing
Kamasi Washington Tour Dates:
April
15 – Indio, Calif. @ Coachella Music and Arts Festival
22 – Indio, Calif. @ Coachella Music and Arts Festival
27 – Morrison, Colo. @ Red Rocks Amphitheater*
May
02 – London, U.K. @ Roundhouse
04 – Manchester, U.K. @ Albert Hall
05 – Glasgow, U.K. @ QMU
06 – Cheltenham, U.K. @ Cheltenham Jazz Festival
08 – Lyon, France @ Nuits Sonores @ Auditorium de Lyon
09 – Paris, France @ Bataclan
11 – Coutances, France @ Jazz Sous les Pommiers @ Salle Marcel Hélie
12 – St Gaudens, France @ Festival Jazz a Comminges @ Parc des Expositions
13 – Madrid, Spain @ Riviera
14 – Barcelona, Spain @ Razzmatazz
16 – Milan, Italy @ Santeria Social Club
17 – Zurich, Switzerland @ Kaufleuten Zurich
18 – Munich, Germany @ Theaterfabrik
19 – Vienna, Austria @Wiener Konzerthaus
20 – Diersbach, Austria @ INNtone JazzFestival
22 – Krakow, Poland @ Studio
23 – Prague, Czech Republic @ Arhca Theatre
24 – Warsaw, Poland @ Stodola
25 – Berlin, Germany @ Astra
27 – Cologne, Germany @ Live Music Hall
28 – Nijmegen, Holland @ Doornroosje
29 – The Hague, Holland @ Paard
30 – Brussels, Belgium @ Salle De La Madeleine
June
01 – Amsterdam, Holland @ Paradiso
02 – Hamburg, Germany @ Elbjazz Festival
03 – Copenhagen, Denmark @ Pumpehuset
15 – New York, N.Y. @ Forest Hills Stadium†
16 – Minneapolis, Minn. @ Rock the Garden
23 – Pasadena, Calif @ Arroyo Seco
24 – Vancouver, British Columbia @ Queen Elizabeth Theatre
25 – Saskatoon, Saskatchewan @ Saskatchewan Jazz Festival
29 – Waitsfield, Vt. @ Friendly Gathering
30 – Montreal, Quebec @ Festival International de Jazz de Montreal
July
12 – Berkeley, Calif. @ Greek Theater‡
25 – Detroit, Mich. @ Chene Park Amphitheater
August
04 – Dublin, Ireland @ Beatyard Festival
05 – Oxfordshire, U.K. @ Wilderness Festival
07 – Mainz, Germany @ Frankfurter Hof Mainz @ Zitadelle Mainz
09 – Antwerp, Belgium @ Jazz Middelheim
10 – Copenhagen, Denmark @ HAVEN
11 – Gothenburg, Sweden @ Way Out West
12 – Helsinki, Finland @ FLOW
17-19 – Tokyo, Japan @ Summer Sonic Festival
October
17 – Seattle, Wash. @ The Showbox
18 – Portland, Ore. @ Crystal Ballroom
19 – San Francisco, Calif. @ TBA
20 – San Luis Obispo, Calif. @ Fremont Theater
22 – Santa Fe, N.M. @ Meow Wolf
24 – Salt Lake City, Utah @ The Complex
25 – Aspen, Colo. @ Belly Up
26 – Denver, Colo. @ Ogden Theatre
27 – Boulder, Colo. @ Boulder Theater
29 – Kansas City, Mo. @ The Truman
31 – Iowa City, Iowa @ The Englert Theatre
November
01 – Minneapolis, Minn. @ TBA
02 – Madison, Wis. @ TBA
03 – Chicago, Ill. @ Riviera Theatre
05 – Toronto, Calif. @ Sony Centre for The Performing Arts
07 – Portland, Maine @ State Theatre
08 – Boston, Mass. @ Royale
09 – Philadelphia, Pa. @ Electric Factory
10 – Washington, D.C. @ Lincoln Theatre
14 – Richmond, Va. @ The National
15 – Raleigh, N.C. @ The Ritz
16 – Nashville, Tenn. @ Marathon Music Works
17 – Atlanta, Ga. @ Buckhead Theatre
(*- w/ Vulfpeck)
(† – w/ Alt-J)
(‡ – w/ Sylvan Esso)