Watch Leon Bridges and Luke Combs Team up for a Performance in Downtown Nashville
Their episode of CMT Crossroads premieres tonight
Images via Rich Polk/Getty, Jason Kempin/Getty, Gary Gershoff/Getty
Music
News
Leon Bridges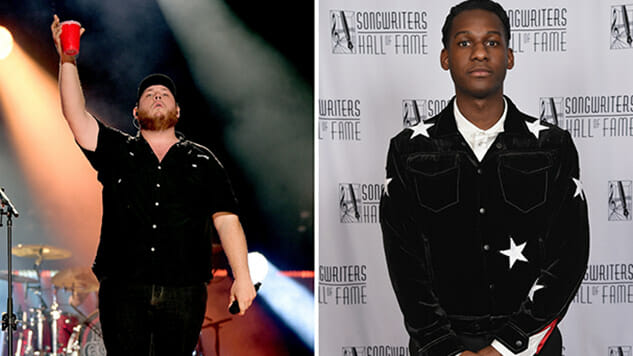 Breakout gospel and soul singer Leon Bridges is known for bringing a '60s nostalgia to his music. His 2015 debut album Coming Home pulled him into the fold of traditional soul music among the likes of Sam Cooke and in the album's follow-up Good Thing, he gives himself space to expand his horizons.
Meanwhile, Luke Combs, a rising artist in the country music scene, has been breaking country conventions since he stepped onto the scene, combining the stylings of Eric Church and Chris Stapleton with hints of an R&B influence.
Bridges and Combs recently shared a stage in downtown Nashville to perform a rendition of Bridges' Good Thing single "Beyond." The collaboration will be featured on tonight's episode of CMT Crossroads. The song deals with the anxieties and excitements of discovering new love, something that both artists can relate to on their chosen musical paths.
The sound is much more laidback than the previous tune shared from the episode, Combs' "When It Rains It Pours." On "Beyond," Combs brings a twang to the verses that keeps the track relevant to their country music-loving audience while also providing some soulful fills in between. You can watch the full performance below.
Bridges' released Good Thing in early May and a few weeks after that, Combs' dropped an expanded version of his debut album This One's For You. He's currently on tour with Jason Aldean as a supporting act. Their episode of CMT Crossroads airs on CMT at 10 p.m. ET.