Exclusive: Lil Jon on Apprenticing for Trump, Raising Money for Kids and Making New Music
"He had respect for me. I had respect for him."
Photo by Rich Polk / Getty Images
Music
Features
Lil Jon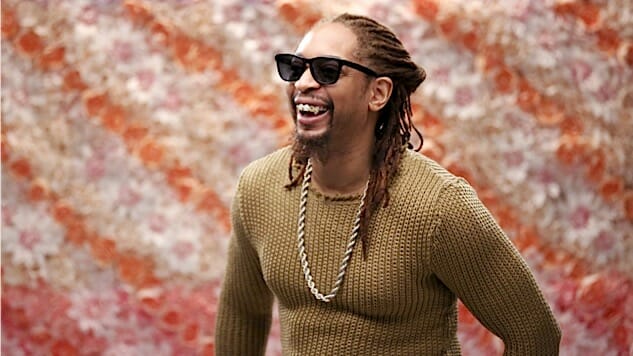 It was always Trick Daddy's line that, "Trick love the kids." But another rapper with massive hits in the aughts showed his love for the kids, too, during an event Monday night in Manhattan at the intersection of technology, business and social impact.
Lil Jon served as the celebrity judge at the fourth annual CommonBond Social Impact Award, presented by financial technology company CommonBond in partnership with the nonprofit organization Pencils of Promise. In the competition, which "honors the nation's top undergraduate entrepreneur whose business plan drives social good," three college students presented their projects in front of Jon and three other judges. A Brigham Young University-based upstart called Piero took the top $10,000 prize for their idea to improve wheelchair accessibility at college campuses by developing a small electronic device called Angel that automatically opens and closes doors.
Jon's participation in the event may seem out of place, but the Atlanta-based rapper has a longstanding relationship with Pencils of Promise, an organization committed to making education more accessible by building schools and literacy programs in communities around the world. With his newest single with Skellism, "In The Pit" (featuring Terror Bass)—a song that includes a screaming call-and-response chorus of, "Push a motherfucker!" echoed by, "In the pit!"—getting banned from certain clubs around the country, it's a bit incongruous to see Jon in a white button-down shirt discussing the intersection of entrepreneurialism and social good.
We sat down with Jon—who seemed to maintain eye contact behind the yellow-orange reflective Oakleys he donned throughout event—before judging the CommonBond Social Impact Award to talk about philanthropy, youth culture, what a mosh pit is, Donald Trump, new music and more.
"[Trump] did a lot for me. He had respect for me. I had respect for him. I didn't have any problems with him. But I don't agree with what's going on right now, of course. Like most Americans."
Paste: How did you get in with Pencils of Promise in the first place?
Lil Jon: I've known [renowned talent manager] Scooter [Braun] for years. Scooter initially reached out for me to get involved with a holiday campaign eight years ago maybe when this first really started. Last year or the year before last I went to an event and I was really struck by how much money they raised and the great things they were doing. I decided then that I wanted to build some schools myself. We started talking back and forth and now we have enough for two schools.
Paste: About how much does each school cost?
Lil Jon: Two schools was about 100 grand.
Paste: Did you get to choose the region where they're built?
Lil Jon: Yeah, I wanted to do it in Africa. [He chose Ghana]. They do it in a bunch of different countries. They build schools all over. Being African-American, it's always great to look out for the motherland!
Paste: Have you been before?
Lil Jon: No, actually me and my family are gonna go in a couple months and we're gonna go visit the school and everything.
Paste: You have a son of your own…
Lil Jon: He's a grown man, now! He's 19 and at NYU.
Paste:What do you hope he might learn from his peers pitching business ideas like this?
Lil Jon: When you have kids and you see them grow up—I remember changing his diapers, he couldn't even talk yet, could walk yet, crawling around and coming in the back when I'm making music and hitting on the drum pads—and now he's producing his own music in the Clive Davis program at NYU! He started school last year and he came home from college for the summer and he's already engineering. It's amazing how much he learned! It's blowing me away because he didn't have those skills at all before he left. He could produce a little bit…
Paste: He didn't learn that from you?
Lil Jon: Nah, he didn't learn that from me! But he really knows how to engineer, and his stuff sounds really good! So with him and these kids, it's amazing to see those ideas and see people grow.
Paste: Lots of musicians treat their art and careers in an entrepreneurial way, like they're running their own businesses. How have you treated your career and brand over the years?
Lil Jon: Since day one, I've always believed that you shouldn't just put your destiny in someone's hands. I've always been hands-on with every aspect of my career. When I started in the music business, I started working at Jermaine Dupri's record company, So So Def. So starting there from the beginning basically—he only had like five employees when I came in—I basically got to see how a record company works, the ins and outs. I grew [and] I learned as the company was growing. I saw the independent side because it was a small label, but then we would come to New York [where] the label was distributed through Columbia, so I would deal with the Columbia people. So I learned the small side and I learned the big side. And while I was working there, I ended up putting some independent music out, so I learned the independent side, as well as the major label side. I've used all that knowledge throughout my career to help me. I understood the branding from the beginning.
Paste: Your new single, "In the Pit," is super metal. But there's also lots of backlash around the song, with club owners asking you not to play it because they're worried about people fighting and trashing their venues. How you feel about that?
Lil Jon: People are scared of a mosh pit because they don't know what a mosh pit really is. A mosh pit is really like a brotherhood. It's not like you just go in there and punch someone in the face. If someone falls, you pick 'em up. It's just really a release of energy. With the world and the president and all the stuff that's going on right now, people are frustrated with life. So a pit is where you can go and release all your frustrations. It's just not the song for certain clubs!
True story, I did a club yesterday—Beachclub in Montreal. I played the song and they started a mosh pit and then security came and was just around the mosh pit, so that the mosh pit didn't sprinkle out any more. That was the first time I'd ever seen that! I thought it was gonna stop the pit, but it was just around the pit, making sure nobody started a fight or anything. That was cool! Regular people were in the front at the stage, having a good time doing their thing. And then the pit guys were in the pit the rest of the day. They were even mosh pittin' to R. Kelly!
Paste: How do you reconcile your experience with Donald Trump as a contestant on Celebrity Apprentice with what's going on right now?
Lil Jon: When I did the show, Mr. Trump showed me so much respect. In the finale, he called me up and basically said how well I did. He gave me extra money for my charity. It was a really powerful moment. I was crying. My charity was the American Diabetes Association and I was representing for my mother. She had passed away by the time the finale aired, so it was really powerful. But like I said, he did a lot for me. He had respect for me. I had respect for him. I didn't have any problems with him. But I don't agree with what's going on right now, of course. Like most Americans! But didn't have any problems with him on the show ever.
Paste: With the rise of "In The Pit," can we expect new music on the way?
Lil Jon: Yeah, a lot more new music. I just did a deal with Geffen Records and that's where the single is coming out on. I've been recording a lot. I've been touring a lot. The last four months have been really nonstop. I haven't been on the road like this in a couple years. We're probably gonna release a new single in August or September. I wanna drop two more singles this year.