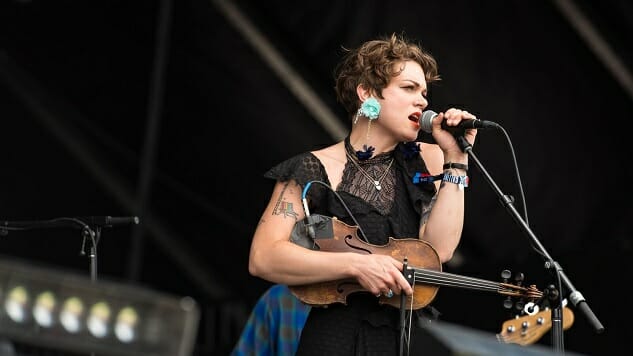 You might know Nashville country folk singer Lillie Mae Rische for her own music, performed as simply "Lillie Mae," or you might know her through her association with Jack White. If the latter, that's okay: There are reasons he produced her first full-length album, Forever and Then Some: immense talent and a lifetime of performing experience. "Since I was three, full time family band," she affirms, speaking to Paste Magazine while winding down from her set at this year's edition of the Boston Calling Music Festival.
With music in her blood, Rische started out in her family band, Jypsi, back in the early 1990s. To watch her play is to witness her in her element. "Being on stage, that's where I belong," she says.
White tapped Rische for fiddle, mandolin, and vocal contributions on his second studio album, Lazaretto, back in 2014. Last year Rische began touring Forever and Then Some on the strength of his support, and today she's touring still, with a "good handful" of dates left in 2018, including a trek through Australia this July. But despite her independence, the narrative around Rische often orbits White, construing him as the benefactor of her career rather than "a dear friend," as she describes him. In fairness, their connection is undeniable, and wherever they go, that connection shall endure. "I wouldn't be here this year," she says in regards to White's backing, though she also adds that "everything just happens the way it does."

Watch Lillie Mae perform at the Paste/Daytrotter Studio in Austin.
Of course, she might have made her own way to Boston Calling without his help. She's certainly gifted enough as an artist, and her work ethic is unassailable. But Rische isn't concerned with the idea of stepping out of his shadow, per se. "I don't feel like that necessarily. I feel like, if he needed a fiddle player, I'd be like…" She pauses and emphatically bats her eyes with a laugh. Above all else, she's grateful for the chance to work with White. Rische isn't too concerned with soft-pedaling his influence or distancing herself from his name. (Besides: He headlined Boston Calling's Saturday schedule, which kicked off with Rische taking the Green Stage in the afternoon. Hell of a coincidence. "Man, how 'bout that?" she says with a smile.)
But the most compelling part of Rische's successes remains Rische herself. Not every musician communicates such obvious, palpable joy through performance; not every musician busts their ass so hard that they hit the bottom of the tank in between sets. "I run on nothing for days," Rische says, and yet she bursts with vitality when she plays, building energy between her bandmates (her brother, guitarist and former Jypsi member Frank Rische, and guitarist Craig Smith especially), conducting that energy among the crowd. It helps when you pick the right day to play: The sun smiled down on fest-goers on Saturday, in stark contrast with Sunday's rainy misery, and if there's a better setting for catching a show from a Nashville-based folk-country music than an open-air festival under bright skies, mankind hasn't found it yet.
Appropriately, the warm weather suits Rische. "I've always loved playing festivals because I love being outside, and I love playing outside," she says. "I wish every show was an outside festival."
Though she credits her liveliness in part to diet (she's a gluten-free, sugar-free vegan), there's an overwhelming sense that being in the right place (the stage), in the right climate (80-degree New England weather), and in the right setting (Boston Calling) supplements her inborn vigor. Angus Young has his duck walk, stomping all around the stage like a demon dressed as a schoolboy. Rische capers, nimble and fae, drawing her fiddle with casual mastery and sincere delight. That kind of physicality might leave most folks wiped out, but she's animated even under the press tent.
Turns out she gets as much energy back from performing as she expends, whether from playing shorter or longer sets (though she's more accustomed to the latter). Rather than fry your circuits, you walk away from the performance and "you're fuckin' through the roof," as she puts it, her elation plain as day. And perhaps it's a benefit to Rische, too, to play at a venue like Boston Calling. "As a festivalgoer, I tend to gravitate toward smaller things, just because things get a little out of hand at, like Bonnaroo, or those bigger type festivals," she says. "They can be crazy. There are so many hoops you have to go through."
There's another reason for her spirited poise buried in her process as a performer: Traveling, contrary to logic, means getting much-needed rest. As she tells it, she sleeps more on the road than at home, where she performs just about daily for a living. "I can't take on this gig or that gig if I'm out here," she explains. "I'm forced to slow myself down a bit on the road."
And if constant gigging isn't enough, she's making plans for her next album. "I'll be recording. I have dates blocked out in August to start recording the new record," she confirms. "I'm not gonna be like, 'It's happening!', of course. Something may happen at this point and get rescheduled, or something."
All her ceaseless enterprising considered, it makes sense that the chance to drive around the country would afford her more room to breathe. For fans of Forever and Then Some, this still counts as good news, though, guarantee or no guarantee. Rische is ready for the next project ("and for the next one after that," she grins), though she's quick to note that listeners should expect a different sound. "I can tell just by the songs that I've jotted down on my telephone," she asserts. "I think it might be a little heavier in ways."
Chalk that up to the changes she's undergone and travails she's faced down since the release of the album; we all continue to grow throughout our lives, perhaps more so for Rische and her recent history. "It's unbelievable. The last couple years have been hard, honestly, on me as a person. It's been learning, there's been a lot of hardship in it. I ain't lookin' for a pity party," she says firmly, "that's for certain, but it's been a heavy year and a half or so. I feel like a different person than I was even when we started touring this record."
Riding the festival circuit and playing concerts across the U.S., side by side with musicians like Tyler Childers, and being praised by your contemporaries, like Travis Mann, has that effect on a person. Hearing that Mann loved Forever and Then Some in particular affected Rische: "I was just the biggest fan of his for so long," she gushes. "That he has listened to the album, that just meant the world to me. My goal is, I'm gonna have to make a better record than that!" (No pressure.)
And yet those personal difficulties linger. Even the old "at least you get to do what you love" bromide is small consolation. "I'm like, 'Yeah, fuck you, motherfucker. I get to do what I love, and I have no food in my fridge, and I'm exhausted, and this and that, and this and that, and I can't take my dog to the vet. I can't take myself to the vet,'" says Rische, not unkindly.
If that sounds abrasive, keep in mind her star sign. She's a Cancer. On one hand, she's friends with everyone. On the other hand, she can be, in her words, "pretty rough," though all of that's just part of her appeal as an artist, and besides: Rische counts her blessings. She acknowledges her fortunes. And come what may, she'll keep playing her music. She loves it. "And I will be doing it," she says, "whether it's under a bridge or on top of a bridge, or whatever."
Boston-based culture writer Andy Crump has been writing about film and television online since 2009 (and music since 2018). You can follow him on Twitter and find his collected writing at his personal blog. He is composed of roughly 65% craft beer.