Exclusive: Lucius Release Remix of Portugal. The Man's "Tidal Wave"
The track came together as the bands prepared for their upcoming tour dates together
Photos by Petecia LeFawnhawk, Maclay-Heriot
Music
News
Lucius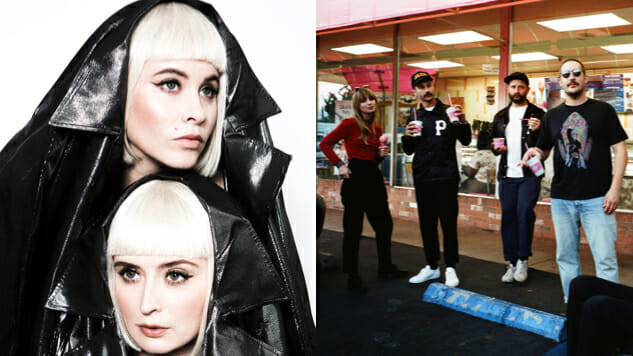 Brooklyn indie-pop band Lucius have released a remix of Portugal. The Man's "Tidal Wave" off the band's 2017 smash hit Woodstock.
The track came together over the summer as the bands prepared for their upcoming tour dates together, when the members of Portugal. The Man asked Lucius to remix "Tidal Wave."
On first listen, you could be forgiven for wondering where the "re-" part of this remix is. The vocals, instrumentals, even the tempo—they're all intact, at least at the start.
The fun comes from watching Lucius slowly stripping the chrome plating off the original. It's still a sleek sports car of a song, but by the time they're done with it, you can see the frame.
The song is much more of a headphone treat in Lucius' hands. The hipshot slink of the original is exploded to cavernous dimensions here, the added space allowing you to hear the engineering that went into, say, the huge drum hits in the second chorus. Where once was a layer of studio sheen is now a pocket so deep, you feel you might fall in.
"We sort of stripped everything away, listened to each part piece by piece and then mixed it up, putting it back together," Lucius said of their arrangement. "It's always exciting to get inside a song and then uncover things you wouldn't normally see or hear upon first listen."
Lucius and Portugal. The Man will be touring together for the remainder of September. Their tour dates can be found further down.
Listen to "Tidal Wave (Lucius Remix)" exclusively via Paste below, and while you're at it, revisit Lucius' 2016 Paste Studio session and a 2009 Portugal. The Man show from the Paste archives.
Lucius Tour Dates:
September
14 – Austin, Texas @ Paramount Theatre
15 – Dallas, Texas @ Texas Theatre
18 – Atlanta, Ga. @ Variety Playhouse
20 – Richmond, Va. @ The Classic Amphitheater #
21- Columbia, Md. @ Merriweather Post Pavilion #
22 – Queens, N.Y. @ Forest Hills Stadium #
23 – Boston, Mass. @ Blue Hills Pavilion #
(# – with Portugal. The Man)
Portugal. The Man Tour Dates:
September
15 – Atlanta, Ga. @ Music Midtown Piedmont Park
18 – Charlotte, N.C. @ Charlotte Metro Credit Union Amphitheatre (support from Chicano Batman)
20 – Richmond, Va. @ Virginia Credit Union LIVE! (support from Lucius)
21 – Columbia, Md. @ Merriweather Post Pavilion (support from Lucius)
22 – New York, N.Y. @ Forest Hills Stadium (support from Lucius, Jungle, Hobo Johnson and more)
23 – Boston, Mass. @ Blue Hills Bank Pavilion (support from Lucius)
October
26 – Anchorage, Alaska @ Alaska Airlines Center
27 – Anchorage, Alaska @ Alaska Airlines Center