Matt Pond PA Teamed Up With Against The Grain Brewery to Create Matt Pond Pale Ale
Photo by Jesse Dufault
Music
News
Matt Pond PA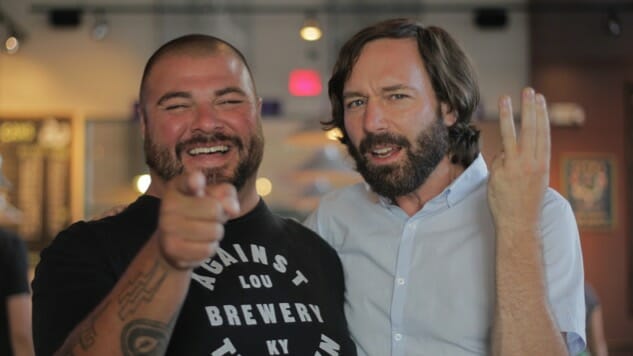 Casual Matt Pond PA fans have wondered for years what the "PA" stood for, and today we finally have our answer: Pale Ale, naturally.
Although that's probably not true, the band has indeed partnered up with Louisville's Against The Grain Brewery to create a brew of their very own: Matt Pond Pale Ale. Per a press release, the single-hop pale ale is "mild and very crisp with juicy tangerine, earthy floral aroma and character." It's said to pair well with pizza, wings and Matt Pond PA—go figure.
Here's how the collaboration came together, per Against The Grain's Sam Cruz:
"I've been a fan of Matt Pond for years. I jumped at the opportunity to work with him. We were connected through a mutual friend and met up while he was in town visiting. After sharing a couple of beers and having a friendly race with the LMPD in our souped-up Mustang, (which we won), I knew we were kindred spirits! This collaboration embodies the respect I have for his music and the connection craft beer inherently has with music. Matt Pond Pale is a grassy summer pale ale brewed with his new album, Still Summer, in mind. We're honored to work with him and excited to share it with the world."
Matt Pond and company released Still Summer, their twelfth and final album, earlier this month. The record "combine[s] supple, melodic and generally affecting soundscapes with textured tones and richly suggestive imagery," writes Paste contributor Lee Zimmerman in his review. A week prior to the album's release, we were proud to premiere "The Ballad of Laura and Mike."
Tonight at 8 p.m. EDT, Pond and Chris Hansen will perform via Facebook Live, playing songs from Still Summer and chatting about their new brew—watch via Matt Pond PA's Facebook page. The band have also shared a new cover of The Cars' "Drive," available here via SoundCloud, and announced a fall tour in support of Still Summer, kindly offering guest list spots at their Texas shows to anyone "hurt, disrupted or displaced by Harvey." Find more info on the tour here.
Watch Matt Pond Pale Ale's making-of video below, and enjoy Matt Pond PA's 2011 Daytrotter Session via the Paste Cloud player further down.