Mitski Shares "Working for the Knife" Video, Announces 2022 Tour
The cult singer/songwriter has released her first new single since 2018
Photo by Ebru Yildiz
Music
News
Mitski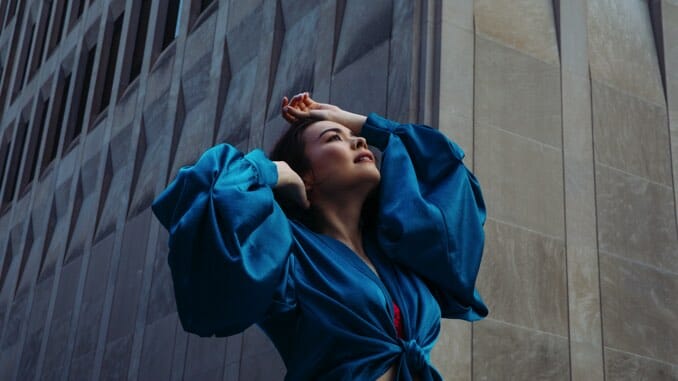 Mitski Miyawaki, the singer/songwriter mononymously known as Mitski, is back with her first proper new material in over three years. Her single "Working for the Knife" is out now along with a music video, and the artist has announced a spring 2022 tour of North America, the U.K. and the E.U.
Produced by Mitski's longtime collaborator Patrick Hyland, "Working for the Knife" is a striking track that's reminiscent of David Bowie's "Cat People (Putting Out Fire)," beginning with a dark synth and drum machine drone that eventually gives way to an outpouring of glossy, carefully layered rock. Mitski's distinctive tenor vocals sit at the nexus of porcelain keys, whammied waves of electric guitar distortion and jangling acoustic chords, but it's her soul-baring lyricism that stands out from it all. She recounts a creative journey filled with disappointment and frustration, closely examining her relationship with "the knife"—perhaps a symbolic means of opening herself up to show the world what's inside, turning pain into art. She looks back on aspirations her life has since upended, and even seems to acknowledge her hiatus from music ("I always knew the world moves on / I just didn't know it would go without me"), but it's the song's final lines that hit the hardest: "I start the day lying and end with the truth / That I'm dying for the knife." And isn't that one of the hardest truths of all, that it's what we love that kills us?
"It's about going from being a kid with a dream, to a grown-up with a job, and feeling that somewhere along the way you got left behind," Mitski says of the song in a statement. "It's being confronted with a world that doesn't seem to recognize your humanity, and seeing no way out of it."
The "Working for the Knife" video, meanwhile, is a stunner in and of itself. Directed by Zia Anger and lensed by Ashley Connor, the visual opens on Mitski as the cowboy, hat, spurs and all. But once she takes the stage at The Egg in Albany, New York, she begins a transformation, gradually shedding her get-up as she dances through the space, and collapsing as she sings that deathly final line. The song's end is not the video's: Mitski, exposed in the spotlight, dances on for a while, first to deafening, simulated applause, then to an abrupt silence, broken only by her gasps for air. Finally, she turns her gaze on the audience.
Mitski's grand return to touring begins in North America this spring, with a Feb. 17 show in Asheville, North Carolina. She'll play theaters nationwide, including Radio City Music Hall in New York City, Shrine Exposition Hall in Los Angeles, the Ryman Auditorium in Nashville and The Anthem in Washington, D.C., through the end of March. She'll then spend most of April and May across the pond, playing a series of U.K. and E.U. shows.
Mitski's return has been much-anticipated. After releasing her beloved breakthrough album Be the Cowboy in 2018 and touring extensively in support of it, the artist announced her "last show indefinitely," a September 2019 show alongside Lucy Dacus. A few days later, she added that she would be "deleting socials," explaining, "Now that I don't have full-on albums/tours to promo I need to get outta here! Thank you love you." Until now, we had heard little from her since, save her Allie X collaboration "Save Your Love," her 2020 The Turning track "Cop Car" and her soundtrack to 2021 graphic novel This Is Where We Fall.
Watch the "Working for the Knife" video and revisit Mitski's 2015 Daytrotter session below. You'll find her tour dates further down.
(Note: This post has been updated with the details of Mitski's new track, video and tour.)
Mitski 2022 Tour Dates:
February
17 – Asheville, NC @ The Orange Peel
18 – Raleigh, NC @ The Ritz
19 – Atlanta, GA @ The Eastern
21 – Birmingham, AL @ Iron City
22 – New Orleans, LA @ Civic Theatre
24 – Houston, TX @ The Lawn at White Oak Music Hall
25 – Dallas, TX @ The Factory in Deep Ellum
26 – Austin, TX @ ACL Live at Moody Theater
28 – Phoenix, AZ @ The Van Buren
March
03 – Los Angeles, CA @ Shrine Exposition Hall
04 – Oakland, CA @ Fox Theater
07 – Portland, OR @ Arlene Schnitzer Concert Hall
09 – Seattle, WA @ Moore Theatre
12 – Denver, CO @ Ogden Theatre
14 – St. Paul, MN @ Palace Theatre
15 – Milwaukee, WI @ The Riverside Theater
17 – Detroit, MI @ Royal Oak Music Theatre
18 – Toronto, ON @ Massey Hall
19 – Montreal, QC @ St-Jean-Baptiste Church
21 – Boston, MA @ TBD
24 – New York, NY @ Radio City Music Hall
25 – Philadelphia, PA @ Franklin Music Hall
26 – Washington, DC @ The Anthem
29 – Pittsburgh, PA @ Stage AE
30 – Louisville, KY @ Old Forester's Paristown Hall
31 – Nashville, TN @ Ryman Auditorium
April
21 – Bristol, UK @ Marble Factory
22 – Leeds, UK @ University Stylus
23 – Glasgow, UK @ Queen Margaret Union
25 – Dublin, IE @ Vicar Street
26 – Manchester, UK @ O2 Ritz
28 – London, UK @ The Roundhouse
30 – Brussels, BE @ Botanique
May
02 – Tourcoing, FR @ Le Grand Mix
03 – Paris, FR @ Le Cabaret Sauvage
04 – Amsterdam, NL @ Paradiso
06 – Zurich, CH @ Les Docks
07 – Lausanne, CH @ Les Docks
09 – Berlin, DE @ Metropol
10 – Copenhagen, DK @ Vega
11 – Stockholm, SE @ Nalen
12 – Oslo, NO @ Rockefeller Music Hall
14 – Hamburg, DE @ Fabrik
15 – Cologne, DE @ Stollwerck
17 – Vienna, AU @ WUK
18 – Prague, CZ @ Rock Cafe
19 – Munich, DE @ Strom