Listen: Morrissey Debuts "When You Open Up Your Legs," Other New Songs on BBC 6 Music
Photos by Kevin Winter/Getty
Music
News
Morrissey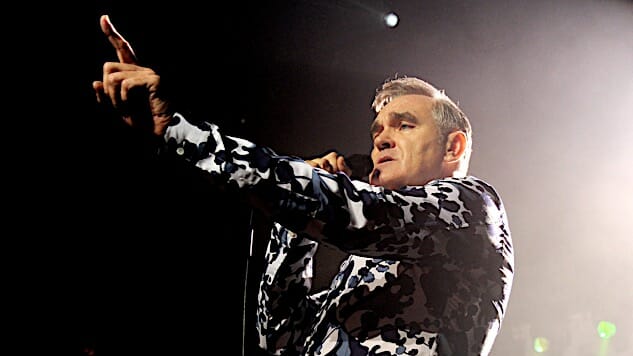 "It's the crack of noon—I have been made available and here we are in Maida Vale," Morrissey jokes at the two-hour mark of a BBC 6 Music session released this morning. Bad puns are allowed if you've recorded four Maida Vale sessions for John Peel alone and all 10 of your solo albums have landed at the top of the U.K. charts—or if you're beloved to the point of a nickname that's also used for grandmothers (Moz).
Morrissey started off his set with "You Have Killed Me," from Ringleader of the Tormentors and interwove old favorites with several new tracks: "I Wish You Lonely," "Home Is a Question Mark" and "Jacky's Only Happy When She's Up on the Stage." Moz prefaced new tune "When You Open Up Your Legs" by joking, "It's about cycling."
He at least made time during his set to introduce his band, who wore T-shirts that said "Return of the Black Panthers," and to introduce the song "The Bullfighter Dies" by saying, "Free the bull from Spain. Free everybody from Spain." Political comments mirror themes of disillusionment in an old rock star, who is really just an adolescent boy on the inside. "Home is it just a word, or is it something you carry within you? I'm happy just to be here … if I ever find home," Morrissey sings on "Home Is a Question Mark."
On Nov. 17, Morrissey releases Low in High School, his first studio album since 2014 and his 11th overall. Revisit the album's first single here, and find the setlist from his Maida Vale session (via Pitchfork) below. You can listen to the session itself right here.
Morrissey Maida Vale Session Setlist:
You Have Killed Me
I Wish You Lonely
Spent the Day in Bed
Speedway
Istanbul
Ganglord
Jacky's Only Happy When She's Up on the Stage
Back on the Chain Gang
World Peace Is None of Your Business
The Bullfighter Dies
When You Open Up Your Legs
Jack the Ripper
Home Is a Question Mark