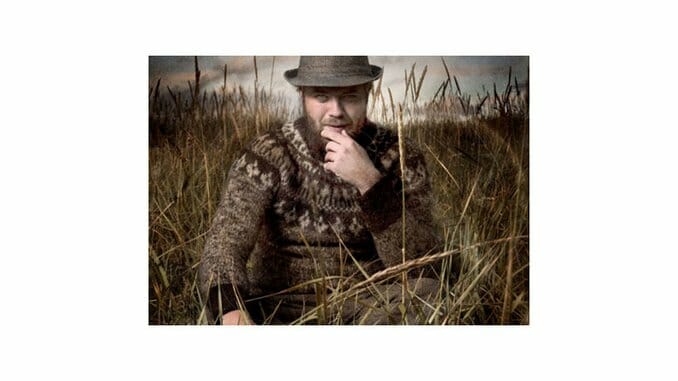 When Örn Elías Guðmundsson, a.k.a. Mugison, took the stage at Mercury Lounge on Saturday night, he was not, as may have been expected, covered in blood and dirt, nor was he riding a giant gray horse. No, Iceland's alterna-rock darling du jour and Paste Best of What's Next artist was just a boyishly handsome thirtysomething in a red cowboy shirt and cuffed jeans, with a bird-crest puff of dark blond hair, clean as a whistle.
What would this smiley blond man carrying an acoustic Gibson, with a patch of sunburst veneer worn away by years of strumming, do for the crowd of above-average-looking hipsters standing excitedly at his feet? First, he'd introduce the Other Dude standing on stage right behind a thin, Nord Lead keyboard, face like a porcelain dinner plate and a smile like a discarded cantaloupe rind. Then he would say, "Hello. We are Mugison. This is our first time playing as a duo." Then the hipsters would clap, and he'd play a ballad with the refrain "Baby, let's go dancing/like we talked about/I'll be the weird boy/And you can shout," sung out in a perfected growl—a dash of Jack White tremor, a dash of Beck's hollow howl—that would break all of their hearts.
Then he'd sing a song called "George Harrison," first trading vocals and then harmonizing with the Other Dude, who would simultaneously shift the resonance on the Nord Lead to produce a kind of musical saw sound, a garland draped over Mugi's guitar chords. It'd be all kinds of pretty. What you might think was a gaggle of boisterous Icelanders would hoot and holler too loudly during the quiet parts, but after the song finishes they'd be announced as Mugi's friends "all the way from Connecticut."
Then it'd be time to activate the "shoe microphones," which would be exactly what you'd think they'd be. The Other Dude would ask, "Are you ready for some dancing?" and the title track from Mugiboogie would be unleashed, with Mugi stomping out a crunchy rhythm section and the Other Dude producing a sort of second-line New Orleans brass section on the keys. The crowd would dance and scream and it would stay that way until the fevered end. It would moan and pant on "Jesus Is a Good Name to Moan," and it would feel kind of special in that little room with the Easter-egg stage lights casting a pink-green-blue glow, because there on the opening night of Mugison's US tour, they might just be witnessing something important.
Related links:
Feature: Mugison: A Song for the Guilty Hero
News: Mugison Takes Home Three Icelandic Music Awards
Review: Mugison – Mugiboogie