Neil Young Postpones Tour Dates to Focus on 15 Film Projects
"We will be in the editing suites for the duration of 2019 ... We plan to be back in 2020!"
Photo by Angela Weiss/ Getty
Music
News
Neil Young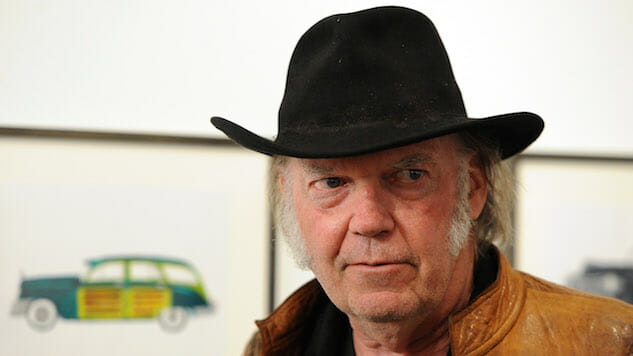 Neil Young announced Thursday on his Neil Young Archives (NYA) website that he will postpone all of his upcoming 2019 tour dates, apart from two September performances, to focus on 15 film projects in the making.
Young writes:
NYA will be devoting the rest of this year to Shakey Pictures projects that deserve our focused attention to complete and deliver at their highest level.
Bringing you all of the footage Shakey Pictures has collected through the years is a pleasure to us. We are combing through and completing.
He then includes an "incomplete list" of his forthcoming projects:
CRAZY HORSE-
'A Rusted out Garage',
'GREENDALE LIVE',
'ALCHEMY',
'COLORADO SESSIONS',
'CATALYST',
TOKYO BUDOKAN 76,
LONDON ODEON HAMMERSMITH 76,
SOLO TRANS 82,
STRAY' GATORS- 'HARVEST SESSIONS' 71
SOLO 'GREENDALE – Live at Vicar street'
SOLO 'The Boarding House', 1977
SOLO 'SILVER AND GOLD', 90s
SOLO 'Stamford Shakespearean Theater 1971',
SOLO 'BBC 1971',
TRANS 2020 (animated Trans release).
The iconic singer-songwriter ends his post by writing that he plans to return to touring next year:
We will be in the editing suites for the duration of 2019, putting some parts of this together for you. Thanks for coming to our shows! We plan to be back in 2020! Right now we are gathering the work of a lifetime for you to enjoy at the Hearse Theater and beyond.
love
NY / Crazy Horse / Promise of the Real
Last month, Young released Tuscaloosa, a live album that compiled performances of his greatest hits. You can read Paste's review of the LP here.
Young is still scheduled to play sets at Harvest Moon: A Gathering, the charity show in Lakes Hughes, Calif., on Sept. 14 and Farm Aid, the benefit concert and music festival in East Troy, Wis., on Sept. 21, one week later.
In the meantime, check out a 1997 Young performance from the Paste archives below.