NewJeans Are Starting a New K-Pop Revolution
The K-pop quintet have the #1 album on the Billboard 200 right now, but it's just beginning
Photo by Han Myung-Gu/WireImage
Music
Features
NewJeans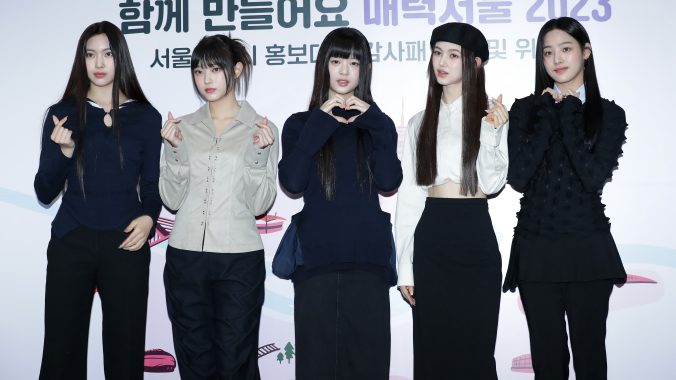 Just over a year ago, a five-piece girl group named NewJeans appeared seemingly out of nowhere, dropping a single and a music video without so much as a meaningful tease, let alone a formal announcement. The illusion wasn't a coincidence. K-pop debuts have a history of being meticulous to a point, often involving months of previews, album announcements and pre-orders. NewJeans chose to subvert that expectation, releasing "Attention" as their official hello to the world. Nobody even knew their names yet.
It has been a rocket-fueled year for Minji, Hanni, Danielle, Haerin and Hyein since then. Their second single, "Hype Boy," triggered a dance craze in Korea and broke a Billboard global-chart record. The release of NewJeans' eponymous first EP on Aug. 1, 2022 broke more records and earned glowing plaudits from publications like Pitchfork and Rolling Stone. Their next singles, "OMG" and "Ditto," went viral on TikTok and broke another K-pop record.
Perhaps it shouldn't be a surprise, then, that the group's 2nd EP, titled Get Up, builds upon a hot streak unlike any in pop music. Spanning six songs over just 12 minutes, the record offers a sleek, ethereal sound that melds R&B with club vibes in a formula previously underutilized in K-pop.
The release has propelled NewJeans to another new height: A #1 ranking on the Billboard 200 albums list, selling 500 more units than the recently released Barbie soundtrack. It's the quintet's first appearance on the chart, and only the second instance from an all-female group in 15 years. (The other entry to top the chart: Born Pink from BLACKPINK, the biggest K-pop act in the world.) On top of that, NewJeans are the first Korean female act to have their first-ever entry debut at #1 on the chart.
Rubbing shoulders with K-pop royalty just a year out from your debut should be cause for elation, and yet, somehow, it feels like a mere starting block for one of the youngest acts in pop—its members range from just 15 to 18 years old. Their youth belies the precision in NewJeans' aesthetic and musical point of view, which rejects the EDM bombast and sugary maximalism of K-pop's present and argues for a groovier, more demure future.
Get Up proves the hypothesis with a six-pack of tunes that break K-pop conventions and embrace intriguing trends both new and old. The electronic genres of drum-and-bass and UK garage, both known for high tempos and skipping, syncopated rhythms, are two of the hottest influences in dance music today—and you can hear it in much of the EP, from the skittering drums in "Super Shy" and "New Jeans" to the warm, wobbling bassline that carries "Cool With You."
Elsewhere, NewJeans continues its fascination with the fist-pumping percussion of Jersey and Baltimore club music, an energy the group infused into the first EP. "ETA" builds upon two samples—a blaring horn line lifted from the quintessential 2000s Baltimore club track "Samir's Theme," and a sped-up drum break from Lyn Collins' legendary "Think (About It)"—then drapes the framework in layers of synths and melancholy hooks. Album closer "ASAP" takes the opposite approach, centering the group's delicate vocals amid lots of negative space and an insistent beat that sounds like a hollow knock on the door.
It all forms an educated pastiche that recalls the deft touch of a producer like Pharrell, nodding to musical history while also achieving a postmodern flair. It's also telling that NewJeans has tapped the talents of songwriters like Erika de Casier, who leans into '90s R&B influences and experimental sounds. As the New York Times' Jon Caramanica wrote last year: "NewJeans deploys its contemporary reference points in service of a throwback idea. Or perhaps more pointedly, it's learned all of the lessons the world has to offer, and is bringing them back home."
Major credit goes to ADOR label head Min Hee-jin, an industry pioneer and longtime creative director who's helped build the careers of K-pop groups such as Girls' Generation and Shinee. NewJeans is her first project as CEO, but Min's penchant for seeking distinctive styles and visual concepts for her artists has hit a new stride.
In an interview with Billboard, Min noted that she founded ADOR with the principle of "guaranteed autonomy" from media conglomerate HYBE (who oversees a number of top K-pop performers, including BTS). She dislikes "high-pitched parts, awkward raps that suddenly appear, and singing methods that feel uniform," instead urging the members of NewJeans to record in the studio without premade guide vocals and even write their lyrics and hooks.
Most critically, Min and her team have coalesced some incredible talent to produce music videos unlike much else in the industry. Gone are the over-the-top visual flexing and random backdrops preferred by luminaries like BTS and Blackpink. In its place are videos that play out like short films, providing a sense of place and storytelling through cinematography.
That might mean using a technicolor flash mob and eye-catching choreography inspired by waacking for "Super Shy," wrapping the song's girl-next-door yearning with a heavy dose of visual irony (Lisbon has never looked more vibrant). Or it could be using "Cool with You" for a neo-gothic re-telling of the myth of Cupid and Psyche, starring Jung HoYeon (Squid Game) and a surprise appearance from Hong Kong cinema legend Tony Leung. Or collaborating with The Powerpuff Girls franchise to make "New Jeans" into a cartoon romp with meta winks toward pop production, animation and superhero tropes.
Min and NewJeans chose a blitzkrieg approach to release them in July, dropping six music videos over the course of a few weeks and capturing the attention of the internet. It couldn't have gone better, racking up tens of millions of views and inspiring reaction videos across YouTube and TikTok.
This is an avalanche of creative output that more established acts in the K-pop industry would salivate over but, somehow, it's been accomplished by a group of fresh-faced teens and a first-time label head. Danielle, Haerin, Minji, Hyein and Hanni already have demonstrated the natural chemistry and skills needed to survive in what may be the most cutthroat, profit-oriented music industry in the world.
But by all measures, NewJeans will do more than survive. The group is set to make its North American debut on Thursday, August 3rd at Lollapalooza in Chicago, and it will be a major test before plans for a world tour unfold. The timing is auspicious: a new milestone, just in time for NewJeans' first birthday, following the best month a K-pop group could have. Get Up is the apex of a year-long, rocket-propelled streak into pop consciousness—and NewJeans are careening toward a new frontier.
---
Eddie Kim is a writer based in San Francisco who writes about culture and conflict. You can see more of his work at eddiekim.net.