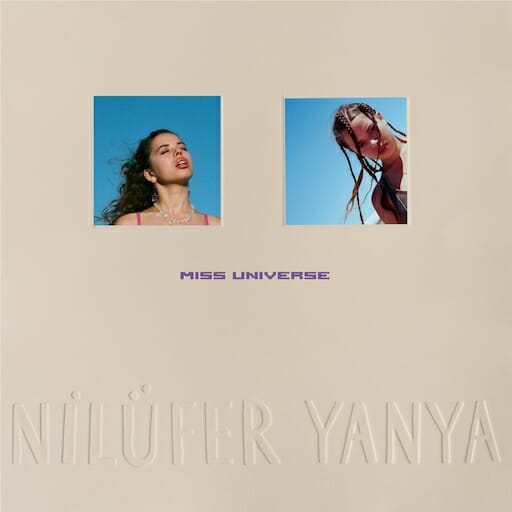 Style over substance is never a smart method for making art, and London based singer/songwriter Nilüfer Yanya masterfully obliterates that concept on her debut album, Miss Universe. With an album that borders on soul, pop, jazz and rock, Yanya is far too preoccupied with her inner demons and unique artistry to quibble over what one particular genre her music most closely resembles. In a current musical climate ruled by increased musical accessibility from streaming and in a world where so many people struggle with mental health, Miss Universe is a post-genre attempt at self-care that feels needed.
Armed with gleaming synths, sassy pop vocals, distorted guitar strums and chilled-out grooves on grooves, Yanya draws on a wide sonic palette and dynamic vocal range. "In Your Head," is one of a few songs with a momentum-shifting choruses. She emotively sings against fuzzed-out guitar stabs, "But I cannot tell if I'm paranoid / Or its all in my head." Most of the remaining choruses are subtle and downtempo, but you'll devour them just the same. The powerhouse of these songs are the sparkling, delicately-constructed grooves, but the chorus embers still generate considerable warmth and light. Songs like "Paralysed" and "Heat Rises" are intricate pop earworms that you'll return to with equal eagerness.
The album is broken up with five spoken-word interludes in which Yanya refers to WWAY Health (which stands for "We Worry About Your Health"), a fictional, dystopian medical company that offers antidotes to conditions like loneliness and paranoia. The lyrics of Miss Universe frequently allude to the way that relationships and self-worth manifest inside our heads. It's an LP marred by paranoia, self-doubt and confusion and driven by factors like control and validation. In that way, it's an introspective record, whose true emotions lurk and morph in the shadows, but is subject to intermittent rays from the good place. The moodiness is understandable. She's a 23-year-old songwriter whose personal and relationship turmoil leads her to the shiny goal of self-improvement, but by the end, she wonders if it's just a grand myth sold to the public or a fruitful pursuit.
"Paradise" may be filled with jazzy pop effervescence, but its lyrics aren't as blissful as the music or title might suggest. Yanya paints an existential struggle—Is life worth our best efforts when the payoffs are only temporary? Yanya sings, "I do not see the point if it means to try / You have to fake it." She also feels the weight of personal responsibility begin to slowly crush and demoralize her, "In paradise, I'll pay the price / But please don't leave / This up to me." The measured, melodic "Baby Blu" isn't so much a devastating breakup tune as it is the slow, mutual and inevitable breakdown of a relationship. Yanya mourns the relationship in real time and doesn't sugar coat it or hold grievances. She sings with a mature pop elegance, "Don't look back / You've had enough of all my love / I guess it's just too bad / We're moving on now."
This is an emotionally multi-faceted album to luxuriate in. Whether you take solace in her sultry, rich voice, instrumentals that range from bubbly to rugged or become invested in her confessional storytelling, Nilüfer Yanya's Miss Universe can be easily enjoyed during a night out or night in. There are exultant singalongs ("In Your Head," "Heavyweight Champion of the World"), luscious, bittersweet slow-burners ("Melt," "Safety Net"), and sometimes humorous, sometimes alarming spoken-word interludes, which cultivate a transcendent alternate reality ("WWAY HEALTH," "Sparkle GOD HELP ME," "Experience?"). It's an angsty LP concerned with entrapment, fear and expectations versus reality. Perhaps most triumphantly, she pulls off jazz-infused, scrappy guitar pop with much more emotional and musical nuance than the buzzy, male-dominated "sad boi" acts like Rex Orange County or other beanie-donning dudes with keyboards and Stratocasters.