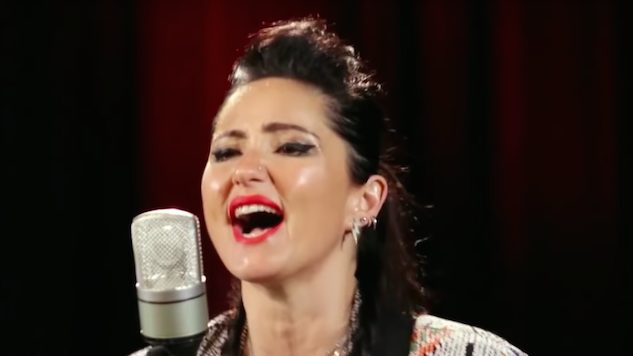 The Paste Studio in New York City had its fair share of magical musical moments in the past year. With hundreds of musicians from all walks of life loading in and out of those studios, we witnessed the unifying, uplifting power of music in many forms. We had performances from plucky rookies, buzzed-about up-and-comers and seasoned veterans, and from just about every genre you can think of. Whether it was the smoky blues of Fantastic Negrito, the teary-eyed folk of Tomberlin or the headstrong indie rock of Soccer Mommy, we saw a lot of performances that gave those of us in the Atlanta office the urge to spring out of our desk chairs and hop on a high-speed jet to NYC. Paste is excited to share our 20 favorite Paste Studio sessions of 2018, listed by session date below. If you enjoyed these sessions, you can subscribe to our podcast, Live at Paste Studio, where you can hear staff-selected sessions each week, or subscribe to our YouTube channel for daily sessions.
Haley Heynderickx
Feb. 9
This year, Portland-based singer/songwriter Haley Heynderickx released her debut LP, one of Paste's favorite albums of 2018. The record, I Need To Start A Garden, is every bit as whimsical and wonderful as the title would have you believe. Two parts folksy warbler and one part electric-guitar noodler, Heynderickx wades her way through three of Garden's best tracks during her Paste Studio session: "No Face," "Jo" and "Oom Sha La La." I Need To Start A Garden boasts the roots of something very beautiful, indeed. —Ellen Johnson
Soccer Mommy
Feb. 22
When Soccer Mommy's Sophie Allison strolled into The Manhattan Center in February for her Paste Studio session, she probably had no way of knowing her first major LP, Clean, would put her name on the map just a month later. But since then, and thanks to her confessional brand of searing rock, Allison has achieved indie elite status, and Clean landed high atop our list of the best albums of the year (number four, to be exact). During her studio session, Allison performed two songs from Clean, "Your Dog" and "Still Clean," plus a track from her 2017 conglomeration Collection, "Allison." —Ellen Johnson
Bettye LaVette
April 9
Soul survivor Bettye LaVette visited the Paste Studio in New York to perform music from her new release, Things Have Changed, a collection of Bob Dylan songs that is the furthest thing one could imagine from a conventional "covers album." Stripping these 12 songs of their original structures and sometimes even their words and meanings, then rebuilding them from the ground up with contributions from guitarist Keith Richards, bassist Pino Palladino and producer Steve Jordan, LaVette makes them unmistakably her own. Some, like "The Times They Are A-Changin'" and "It Ain't Me Babe" are musically unrecognizable. Others, like "Mama, You Been on My Mind," are detached from their original lyrical contexts and filtered through her own experience. Asked what she was looking for as she scanned Dylan's catalog for songs to reinterpret, LaVette said, simply, "Me." "Everybody seems pretty satisfied with whatever he presents, but I'm like him: I complain about everything," she said of Dylan. "Maybe his appeal for me is that he complains constantly like an old woman, and I am an old woman, and I complain constantly. So we kind of have a match." —Matthew Oshinsky
INHEAVEN
April 13
When INHEAVEN announced their breakup earlier this month, I was crushed, but the old saying rings true—"Don't cry because it's over, smile because it happened." The British rock quartet's 2017 self-titled debut album was the perfect collision of dream-pop sonics, fuzzy, rage-filled punk and the exclusively teenage dynamic where every single emotion is heightened to the point of explosive euphoria or devastating despondency. The band's two co-lead vocalists, James Taylor and Chloe Little, popped into the Paste Studio along with their guitarist Jake Lucas to perform their final, standalone single, "Sweet Dreams Baby" and songs from their album. While the hazy sonics of "Sweet Dreams Baby" don't appear in this acoustic form, its heart-rending escapism is still felt here. "Drift" and "Stupid Things" also tap into the heart and soul of their stirring, original electric versions. —Lizzie Manno
Half Waif
April 16
Brooklyn-based electronic trio Half Waif, led by singer and multi-instrumentalist Nandi Rose Plunkett, released their latest album, Lavender, earlier this year via Cascine. The band stopped by the Paste Studio for an intimate session that featured three gorgeous album tracks: "Lavender Burning," "Torches" and "Silt," the latter of which Plunkett called her "favorite" on the record. Lush and layered, Lavender is an album about connection— both lack of it, and the ties that bind us to the people in our lives. Plunkett's lyrics— most of which were written on tour— reflect feelings of isolation and longing. "I miss New York, and that's the loneliest feeling/To be on a road and not know where it's leading," she sings on opening track "Lavender Burning." —Loren DiBlasi
KT Tunstall
Jun. 27
Veteran Scottish singer/songwriter KT Tunstall came into the Paste Studio to promote her sixth album, WAX, and she delivered on the stomping, bluesy energy that she's been heralded for. Following 2016's KIN, WAX is the second of her proposed trilogy of albums, which embody one of three components—mind, body and soul. WAX represents the body and is about "our complex relationship with physicality," so naturally it's also an electric rock record that triggers toe-tapping and head-nodding. Tunstall performed three tracks in the Paste Studio—the first being an alternate version of her new album track, "The Healer," which, according to Tunstall, "brought something out in me that felt like it had been a bit dormant." She also played a cover of Tom Petty's "I Won't Back Down," which she also formally recorded with Pearl Jam's Mike McCready and Thunderpussy's Leah Julius. She released a politically-inspired video to go with the cover and she said of the track, "It's sad that it's such a relevant song still for people all over the world who are now galvanizing to stand up for what they believe in, and it's working." —Lizzie Manno
Erin Rae
July 16
Erin Rae, a rising Nashville starlet who released one of our favorite country albums of 2018, stopped by the Paste Studio in July, just a month after the release of that record, her full-length debut Putting on Airs. Rae possesses both the laid-back wisdom of a folk singer and the sparkly twang of classic country stars like Dolly Parton and Loretta Lynn. She brought a spoonful of that aura to the studio when she performed three tracks from Putting on Airs: "The Real Thing," "Like the First Time" and "Putting on Airs." —Ellen Johnson
Lori McKenna
July 19
Paste's Eric R. Danton wrote that "Every Lori McKenna album has at least one song that will make you cry," and her latest, The Tree, is a three-hanky listen. You'll want all three of those tissues for McKenna's Paste Studio session, during which she played a trio of standout tracks from The Tree: "A Mother Never Rests," "Young and Angry Again" and "People Get Old." Young or old, angry or happy, you'll feel something when you listen to McKenna's lyrics. —Ellen Johnson
Tomberlin
Aug. 13
Sarah Beth Tomberlin (aka Tomberlin) made one of the saddest records of the year and also one of the most promising debut albums of 2018 (it clocked in at #13 on our list of best debut records of the year.) She released her first LP, At Weddings, via Saddle Creek, which featured her self-described "sad bangers"—painfully confessional, acoustic songs with occasional synth flourishes. With an attentive eye and a warm embrace, Tomberlin's voice is delicate and sympathetic as she touches on topics like self-doubt, religion, abusive relationships and other sensitive emotional predicaments. Among the four tracks she performed in the Paste Studio is her woozy, slightly-altered version of "Seventeen" and the devastatingly sad yet empowering "I'm Not Scared." —Lizzie Manno
Fantastic Negrito
Aug. 27
Xavier Amin Dphrepaulezz released his second full-length album, Please Don't Be Dead, under the Fantastic Negrito moniker, this past year. Paste's Eric R. Danton wrote of the album, "It's a passionate and pointed collection of songs with a sly sense of humor and a certain lived-in wisdom." Like many of the most powerful roots and blues musicians, he's definitely had his fair share of hardship and that pain comes across in his vocals, however he's experienced some high points as an artist. He won a Grammy award for Best Contemporary Blues Album with his 2016 debut album and he's been nominated for the same category with Please Don't Be Dead. Dphrepaulezz came into the Paste Studio with his band to perform four songs from his latest album. He opened with "Plastic Hamburgers," which is as soulful as it is gritty and locked into a smooth groove, and he closed with "A Cold November Street," a dogged, gospel-tinged tune with a distinctly cosmic aura. —Lizzie Manno
Cory Wong
Sept. 20
Vulfpeck collaborator and all-around goofball Cory Wong released his second solo LP in August, a follow-up to 2017's Cory Wong and the Green Screen Band. It's called The Optimist, which seems an appropriate title for music so effortlessly cheery. Wong and his talented crew swung by the Paste studios in New York City in September to play three tracks from the record, but their set morphed into a full-blown jam session, complete with plenty of bandmate banter and jazzy undertones. —Ellen Johnson
Hatchie
Sept. 26
Australian singer/songwriter Harriette Pilbeam, aka Hatchie, released her debut EP, Sugar & Spice (one of our favorites of the year), in May, and she's been kicking up quite the shimmery storm ever since. In September, she played two festivals back-to-back, followed by a sold-out string of tour dates with Alvvays and Snail Mail (what you might call an indie fan's dream lineup). Before supporting that bill at a trio of shows at Warsaw in Brooklyn, N.Y., Pilbeam carved out time to play a set in the Paste Studio, and her starry session is guaranteed to make your day brighter. Hatchie's irresistible dream-pop is sugar to the ear, but it's not always lyrically sweet. On her EP's title track, Pilbeam is regretful, singing, "Sugar and spice / I should've taken your advice." She's not only thoughtful, but also clever in her compositions: Hatchie strikes the perfect combination between acoustic and synth, her pop occasionally moonlighting as something folksier. "Sure," the first song on Sugar & Spice, uses looping drum machines and consistent synth, but it's softened by acoustic guitar as she fires off question after question. "Why did you do it? / You couldn't just laugh and walk away?" —Ellen Johnson
Valley Queen
Oct. 2
L.A. rockers and Paste Best of What's Next pick Valley Queen make searing, fuzzy rock music, but lead vocalist Natalie Carol brings a warbling folk sound to their debut album Supergiant's shreddy wails. The result is a soulful, comprehensive roots-rock record. From the textured ballad "Ride" to the raucous "Boiling Water," Supergiant is a flexing of musical muscle from start to finish, a burning-hot ode to the massive star for which it's named. The band stopped by the Paste Studios in New York City on Oct. 2 to play three slower, spacier tracks from Supergiant: the jeweled pairing, "Gems and Rubies" and "Highway Pearls," and the melodic "Two of Cups." You can space out, chill out, and jam out to this session, and you can watch the entire thing below. —Ellen Johnson
Valley Maker
Oct. 12
South Carolina-born and Seattle-based singer/songwriter Austin Crane released his latest album under the name Valley Maker earlier this year. Rhododendron is Crane's debut for Frenchkiss Records. Valley Maker caught our attention with one of his recent singles, "A Couple Days" and the rest of his album proved to be just as much of a candid, earnest and enjoyable listen. On album release day, Crane came into the Paste Studio with his band to perform three tracks from his new record: "Seven Signs," "A Couple Days" and "Beautiful Birds Flying." His crackling, rich vocals tell a story on their own, but his lyrics open up a clown car of cosmic folk tales infused with warm spirituality and prying at the door of the human soul. His songwriting style is tender and often cryptic, but no less accessible and moving. —Lizzie Manno
Oh Pep!
Oct. 26
Melbourne duo Oh Pep! celebrated the arrival of their sophomore album I Wasn't Only Thinking About You… with a special album release day edition of the Paste Studio. I Wasn't Only Thinking About You… is everything wonderful about good, crunchy pop music and everything marvelous about mindfully arranged folk compositions, and Olivia Hally and Pepita Emmerichs played three of those dynamic tunes during their session: "What's The Deal With David?," "Hurt Nobody" and "Your Nail And Your Hammer." —Ellen Johnson
Madeline Kenney
Oct. 31
In October, Madeline Kenney released her sophomore LP, Perfect Shapes, just a year after making her debut with Night Night at the First Landing. On Perfect Shapes, she explores an entirely new melange of sounds: dizzying synths, warbling pedal effects and fuzzy guitar swarm and sway. Kenney, along with a host of those aforementioned pedals (at least seven, it appears), stopped by the Paste Studio in New York City to play a few tracks from the new album. To finish her set, she treated the internet to a chill-inducing cover of Sharon Van Etten's "Our Love," from 2014's Are We There. Donning the cleverest of feminist-pun costumes ("Miss Ogyny") for Halloween, Kenney played "I Went Home" and album kicker "Always Around Me." Vocalist Brianna O'Brien, also dressed in a timely costume (as an indifferent "Bumble boy") joined Kenney for "Our Love," giving the song a warm, layered feel. Kenney's version of "Our Love" is big and beautiful, much like the original. Throughout the set, she impressively toggles from pedal to pedal, playing solo guitar with only looped percussion effects and O'Brien for support. —Ellen Johnson
Her's
Nov. 8
Liverpool, U.K. duo Her's stopped by the Paste Studio to perform tracks from their debut album, Invitation To Her's. Earlier this year, Paste featured Her's on our list of 15 Liverpool Bands You Need to Know in 2018. Their debut album is a sparkling amalgamation of exuberant jangle-pop, loose slacker rock and funky New Wave and at every corner, listeners are met with their zany personality and their charming celebration of past and present influences. In this session, the band played three tracks from their new record—"She Needs Him," "What Once Was" and "Under Wraps." Equipped with a drum machine instead of a drummer, lead singer and guitarist Stephen Fitzpatrick's low vocal drawl evokes Julian Casablancas and his higher pop pipes call to mind Wild Nothing, while bassist Audun Laading's swift moves and bouncing basslines bring a retro flare and jovial spirit. —Lizzie Manno
SASAMI
Dec. 3
Sasami Ashworth, recent Domino Records signee and former keyboardist of Cherry Glazerr, records under the name SASAMI and has been making waves despite releasing only two tracks so far. She's played on bills with Mitski, King Tuff, Snail Mail, Japanese Breakfast and more as well as lending vocals, horn and string arrangements to recordings from Vagabon, Curtis Harding and Hand Habits. SASAMI stopped by the Paste Studio in New York City to perform her previously released tracks—"Not The Time" and "Callous"—as well as two new songs—"Take Care" and "Free." "Not The Time" and "Callous" are engrossing, introspective breakup songs, met with her warm, lush vocals, melodic guitars and utterly mystifying synths. Though you don't get a sense of her full sound—complete with percussion and her awe-inspiring keyboard playing—in this session, you still get her emotionally transparent songwriting, immensely comforting vocals and dreamy guitars, all communicated with such grace. Her interview with Paste's studio host and videographer Brad Wagner is also filled with hilarious and ridiculous banter, so you should come for her laugh-out-loud quips and stay for her pensive, absorbing songwriting. —Lizzie Manno
Mothers
Dec. 10
"I dabble in a lot of different things," said Mothers' Kristine Leschper in an interview with Paste earlier this year. Indeed, Leschper is a creative jack-of-all-trades—a writer, poet, visual artist and musician. The latter hustle, though, is what brought her to our studio in New York City for the second time, on Monday, Dec. 10. Leschper's Philly-based band, Mothers, released a great new record, Render Another Ugly Method, on ANTI- Records in September, and it's an interesting heap of experimental punk vignettes, many of which focus on the art of making or creating. First, the band played "Carina," an older song Leschper noted might be unfamiliar to most listeners and, second, they played a track from the new record, ""IT IS A PLEASURE TO BE HERE."" While the added quotation marks leave the meaning of that tune up to interpretation, Leschper pointed out that it was, in fact, a pleasure to be in the studio. —Ellen Johnson
Liz Cooper
Dec. 13
There are a lot of bands trying to make it in Nashville. But only every so often does one show some real personality and singularity. Liz Cooper and her band the Stampede are one such entity, and while that means they're befallen to the music media's need to classify a cool new sound, these guys are ones to watch. However, rather than dodge the subgenres that have been stamped onto them by others, Liz Cooper & the Stampede are embracing the labels. The band recorded their debut album Window Flowers in Nashville in 2016, but it didn't arrive until this year. The band corralled in the Paste Studio and they treated live-streamers to three songs from Window Flowers: "Outer Space," "Motions" and "Mountain Man." The "psychedelic" label is absolutely applicable to Cooper's music—"Outer Space" is a bluesy, hallucinogen-induced trip, an "escape" from "reality" to "Outer Space," while "Moutain Man" and "Motions" are more of a sonic escape—throughout the set, Cooper and co. break out into Dead-level jam sessions while simultaneously serving up some major grooves, making for a fun stash of tunes you can either dance to or space out to. —Ellen Johnson