Pistol Annies Throw a Party at the DMV in "Got My Name Changed Back" Music Video
Image via RCA Records Nashville/YouTube
Music
News
Pistol Annies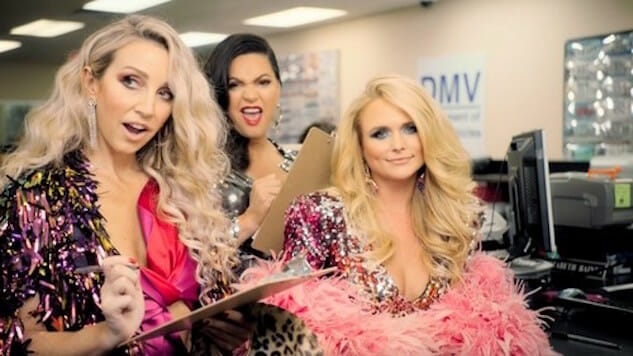 The Pistol Annies have released a sass-filled music video to match the group's equally bold track, "Got My Name Changed Back."
In the video, the Annies make divorce look fun as they party in a court room and take glitter-filled glamour shots at the DMV. Flirting with the bailiff and nodding knowingly with the presiding judge, Miranda Lambert sings the praises of reclaiming her maiden name after splitting from an ex who "got along good with a couple road whores" as fellow Annies Angaleena Presley and Ashley Monroe pipe in with backing "yeah, yeah"s in solidarity.
Pulling no punches, they end the video eating cake in celebration and harmonizing through lines like, "Looking back, it's kind of funny / I broke his heart and I took his money." The track was written by Presley and Monroe—with Lambert surprisingly absent from the process despite her highly publicized split from ex-husband Blake Shelton since the band's last release—and it clearly shows a genuinely fun, triumphant return for the trio, bringing them back to the confident, free-spirited vibe they are so often regarded with.
"Got My Name Changed Back" is taken from the trio's long-anticipated third album, Interstate Gospel, out on Nov. 2 via RCA Records Nashville. The 14-track LP is the Annies' first since 2013's Annie Up and so far, five other tracks have been unveiled from the lineup: "Masterpiece," "Sugar Daddy," "Stop Drop and Roll One," "Interstate Gospel" and "Best Years of My Life."
Check out the video below, find the group's upcoming tour dates in support of Interstate Gospel further down and revisit Paste's 2011 feature on Pistol Annies here, as well as our 2011 feature on Lambert.
Pistol Annies Tour Dates:
November
02 – New York City, N.Y. @ The Town Hall
07 – Los Angeles, Calif. @ The Novo