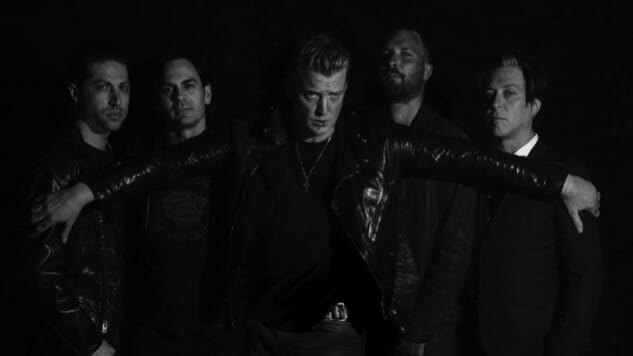 Queens of the Stone Age continue to ratchet up the anticipation for their impending seventh studio album, Villains, with today's release of second single "The Evil Has Landed."
The bewitching new tune follows behind lead single "The Way You Used To Do," which the band released in mid-June. QOTSA have also teased tracks titled "Feet Don't Fail Me" and "Head Like A Haunted House" during their hyperactive build-up to Villains.
Though the track's title would seem to suggest a strong anti-Trump stance, QOTSA frontman Josh Homme has suggested that the band's new material is apolitical. Homme said in a statement:
The title Villains isn't a political statement. It has nothing to do with Trump or any of that shit. It's simply 1) a word that looks fantastic and 2) a comment on the three versions of every scenario: yours, mine and what actually happened. Everyone needs someone or something to rail against—their villain—same as it ever was. You can't control that. The only thing you can really control is when you let go.
Villains is out Aug. 25 via Matador and available for preorder here. Listen to "The Evil Has Landed" below or stream it via your platform of choice here, and check out our picks for the best Josh Homme songs.