Ratboys' Printer's Devil Sounds Unlike the Ratboys You Know, and That's a Good Thing
The Chicago indie rockers have a new style to call their own on their third LP
Music
Reviews
Ratboys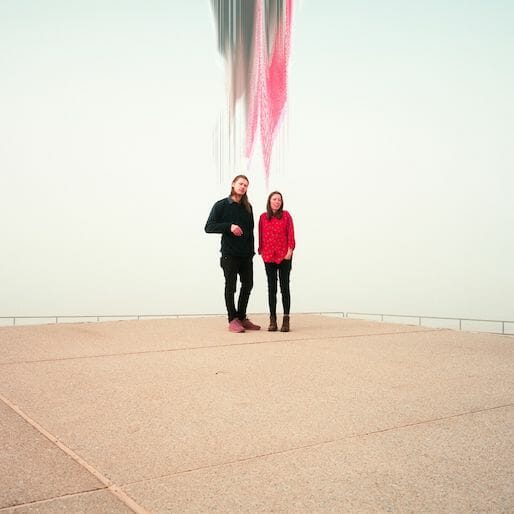 When you listen to the new Ratboys album Printer's Devil, you might hear, from the first track to the last, a range of bands other than Ratboys: The Beths, Ted Leo & The Pharmacists, Paramore, The Hives, Fleet Foxes, perhaps even Hinds. What you might not hear much of in that assortment is Ratboys, or at least not the same Ratboys responsible for 2017's GN, 2015's AOID, and a handful of EPs scattered between and before dating back to 2011. Nearly a decade of self-discovery and evolution have led to this point, where Julia Steiner and David Sagan, who founded the Chicago outfit in 2009, have fully established a robust alt-rock sound for themselves that frankly doesn't sound like them at all.
This isn't exactly a criticism. Good artists grow and learn and change their tune all the time, and they're occasionally better off for it. Case in point: Printer's Devil is a pretty rad listen. In the interest of fairness, it does whiff of Steiner and Sagan's past work together, even their most acoustic output, but it's just bigger, bolder and much, much louder than anything heard on their last two records, which effectively paints the whole endeavor in broader brushstrokes than either of them may have intended. Adding new permanent members to their lineup (Marcus Nuccio on drums and Sean Neumann on bass) is a logical next step for the pair. Turning up the sonic dial makes sense, too.
Whether any of this works is up to the beholder's ear, but really, only hardline Ratboys purists (should such a thing exist) will care to argue that Printer's Devil isn't "their" Ratboys, or whatever dumb pretentious nonsense music fans need to say to rationalize their disappointment in a new release. Printer's Devil rocks from the start, kicking off with power-pop joy on "Alien with a Sleep Mask On" and carrying that through to tracks like "Look To," "Anj" and "I Go Out at Night." When it comes time to mellow out, they switch to cooler bops, with "My Hands Grow" and "Clever Hans," which likely by no accident sound closest to the Ratboys of GN and AOID.
But even on hushed tracks, Printer's Devil tends to go big on the chorus: "Clever Hans," for instance, drops chunky distorted power chords at the end of its verses, each fuzzed-out strum an emotional escalation as Steiner beseeches a nameless "you" to "stay." "It's funny how I gain this new importance / When you watch me watch the lines move on your face," she sings, like she's reaching for ways to become relevant to her subject.
The act of looking actually dovetails nicely with one of Printer's Devil's faster-paced songs "Look To." The connection is most obvious on the chorus ("But I don't want to choose / I just don't know who to look to") and carries through on the verse ("I had your face memorized / Looking up and kissing you goodnight / From the comfort of my room"); it's a dose of voyeurism, both ours and Steiner's, tucked beneath the speedy crunch of guitars and the snap of Nuccio's snare. This sub-theme echoes on songs like "Victorian Slumhouse," which, at face value, reads exactly like a reference to the PBS series of the same name, where modern-day contestants are invited to recreate the living conditions of 1860s East End London. ("We held a casting call for volunteers / Which one will be the first one? / Locked in 20 people / And half a dozen camera crews," Steiner practically whispers on the verse.)
What any of this says about Printer's Devil as a whole album will take some time to figure out: Reacquainting oneself with the band now that they've found a new identity as a quartet is the work's initial pleasure, the Easter egg hunt of picking out reference points being the second. The third—deciphering the meaning—is the most important, of course, and the one that'll determine where Printer's Devil ranks in Ratboys' discography. In the meantime, just enjoy hearing Steiner, Sagan, Neumann, and Nuccio take the band in new directions.
Bostonian culture journalist Andy Crump covers the movies, beer, music, and being a dad for way too many outlets, perhaps even yours. He has contributed to Paste since 2013. You can follow him on Twitter and find his collected work at his personal blog. He's composed of roughly 65% craft beer.
Revisit Ratboys' 2015 Daytrotter session: