10 Sets We Loved at Chicago's Riot Fest 2023
A memorable end to another summer festival season
Riot Fest crowd photo by Jason Pendleton
Music
Lists
Riot Fest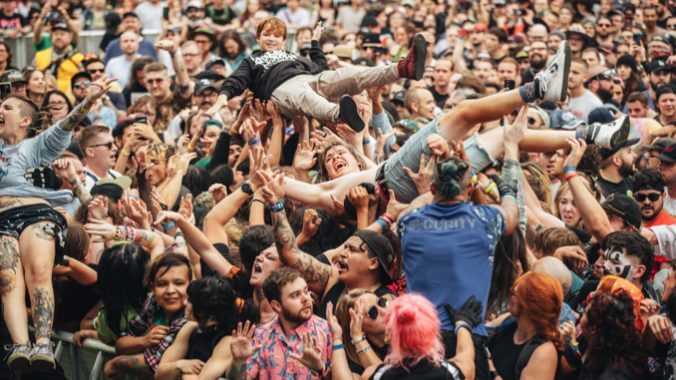 We'd had the weekend of Riot Fest circled on our calendars for months. Some of that eager anticipation, of course, stemmed from a lineup drop that promised the chance to see beloved bands like Foo Fighters and The Cure close out a Chicago summer under the stars. We also couldn't wait to experience acts like The Breeders and The Postal Service recreate several of the cherished, formative albums of our youth. And we'll get to all of that.
However, what's more critical to understand about Riot Fest is that it's become an annual celebration for Chicagoans—a rite of summer's passage—that transcends the mere sum of the headliners, undercard and special sets found on a given year's lineup poster. While the festival that began in 2005 as a two-day affair with punk rock roots has since
expanded to three days and added new flavors to its musical palette, Riot Fest remains a proudly independent operation and fiercely loyal to the locals who have aged alongside the event. Nestled in the cozy confines of the West Side's Douglass Park, Riot Fest offers a manageable, few-frills alternative to the sprawling sampler that is Lollapalooza and the music blog turned festival that is Pitchfork.
Let's call it "Dad's Warped Tour."
And that's not such a bad thing in 2023. On Friday alone, you could have watched luminaries like Kim Gordon, Ani DiFranco, the Deal sisters and Tegan and Sara rep the last 40 years of women in rock without relocating more than a few steps between stages. Others might have opted to hear veteran bands like Quicksand and Braid dust off underrated gems from their teenage CD collections before checking out where a newer band like Turnstile has taken those sounds since. While there is a grin or two to be had at a madding field of thirty- and forty-something former punks reliving their wilder years (and sometimes dressing the part), it's also the type of self-aware, curated weekend that rarely disappoints.
So, let's raise a flavored vodka seltzer to getting older: to faded concert t-shirts, skin-tight plaid pants and our annual pilgrimage to Riot Fest in Douglass Park. As Dave Grohl assured us during Foo Fighters' set, "There's nothing wrong with being an old motherfucker."
Here's to a festival where we still feel seen and heard.
The Breeders Make the First Big Splash of the Weekend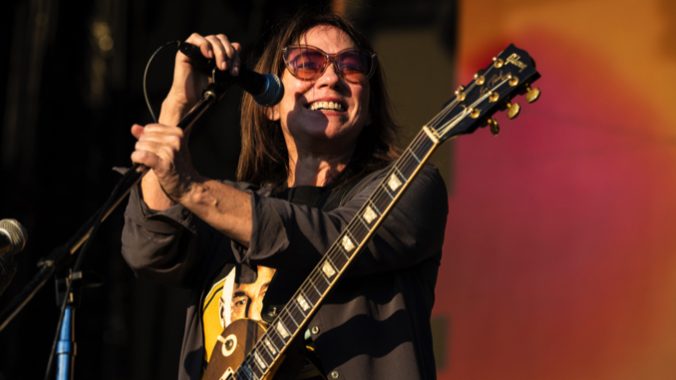 Photo by Anthony Linh Nguyen
The Breeders' classic Last Splash lineup greeted the day-job crowd as they waded into Douglass Park on Friday evening. Alt-rock legend Kim Deal emerged wearing a pink visor, J.Lo shades and a Star Trek t-shirt with sibling guitarist Kelley Deal, bassist Josephine Wiggs and drummer Jim Macpherson joyfully in tow. From the first clunky seconds of "New Year" to the messy resolution of "Roi (reprise)," fans were invited to dive into every distorted detail of 1993's Last Splash—right down to Kelley singing lead on "I Just Wanna Get Along" and Wiggs and Macpherson swapping instruments on "Roi." The band's love for the material was palpable, whether blustering through a deep cut like "Flipside" or pulling back to a spirited mosey as Kim summoned a girlish twang on "Drivin' on 9." And, of course, "Cannonball" bombarded the crowd with one of the first iconic moments of the weekend, teleporting all of us back to the long hair, flannel, and acne we sported during the summer of '93. The Breeders also tacked on a couple choice cuts from 2018's All Nerve and the tantrum-throwing "Iris" from 1990's Pod, but Last Splash definitely delivered the first big splash of Riot Fest.—Matt Melis
Turnstile Continue to Climb the Riot Fest Ranks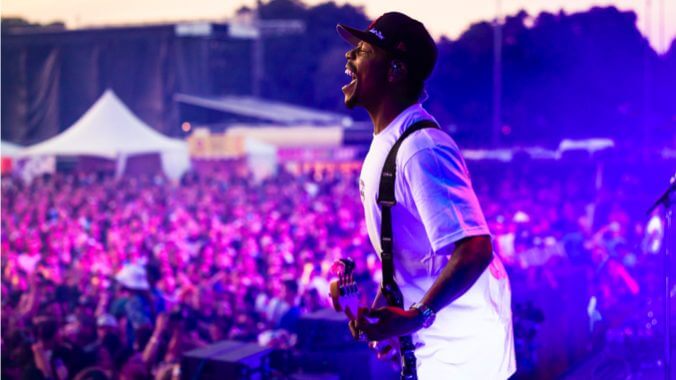 Photo by Anthony Linh Nguyen
Maryland punk rockers Turnstile shook one of the main stages at Riot Fest on Friday night with a setlist filled to the brim with one hardcore banger after another. The band, formed in 2010, have steadily been growing their profile, building up a dedicated fanbase more than partially influenced by their dynamic live performances. Just two years ago at the same festival, Turnstile were placed in a 2 p.m. slot; this year, they were rightfully promoted to the much more appealing spot just before the Foo Fighters' headlining set. They took advantage of that spotlight with an 18-song set that included a handful of tracks from 2021's Glow On, creating an infectious dance energy that had both their fans and those waiting for the Foo Fighters going wild. The set proved that Turnstile are right on track to becoming one of the biggest alternative rock bands in the world and, maybe, a full-on Riot Fest headliner in the near future. —Samantha Lopez
Foo Fighters Bring Their Best to Riot Fest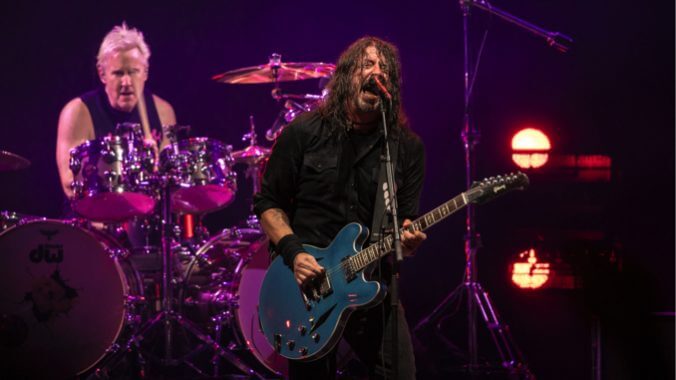 Photo by Anthony Linh Nguyen
As much as this year's Riot Fest felt like 99 percent of the hype fell on Sunday night's open invitation to dance, mope and let the mascara run with The Cure, anyone who clicked through the turnstiles on Friday night found themselves squarely in Foo Country. Armed with an arsenal of hits and a mission to cram more feel-good moments into a single set than most bands manage to on an entire tour, Dave Grohl and his Foo Fighters turned out to be the perfect choice to unite the Riot Fest masses. From the opening salvo of "All My Life" and "The Pretender" to the closing combo of "Best of You" and "Everlong," the Foos had the entire crowd belting out every song. "That's the best thing about a Foo Fighters show," joked Grohl. "If you don't know the words, the 50-year-old, minivan-driving fucker next to you will."
Grohl took almost no breaks throughout the night. Nearly every song found the bearded frontman calling for sing-alongs, starting handclaps, or pausing mid-song to either build suspense or banter with the audience. The Dave Grohl Show might almost feel annoying if it wasn't so sweetly sincere and the crowd didn't love every second of the attention. Most moving was a story that Grohl shared about catching Naked Raygun at Chicago's The Cubby Bear at age 13, which he believes started him down the rocking path that led to nights like this one.
There were few surprises on Friday night. No new songs from June's But Here We Are made it into the set. However, the Foos did break from their strict setlist to play "White Limo" for a fan down front, and the crowd got to meet new drummer Josh Freese, who is sitting in for late bandmate Taylor Hawkins. But the enduring message of the evening seemed to be about leaning into the things we love and taking heart and joy in the fact that some things never change. An evening of good music, good friends, and good vibes will always have a welcome place at Riot Fest. The thousands dancing off into the night to the faint echoes of "Everlong" would probably share in that sentiment. —Matt Melis
070 Shake Shakes Things Up
Nobody would ever confuse Riot Fest for a hip-hop festival, not even with Death Grips, Insane Clown Posse and other rap-minded acts on Saturday's slate. However, the lineups in recent years have reflected more and more that aging punks and middle-aged rock fans are open to different sounds and experiences. For those who wandered over to the Radical Stage before Saturday night's Death Cab for Cutie set, Danielle Balbuena (aka 070 Shake) offered up one of the tighter and more unique mini-sets of the weekend. Perhaps best known for her collabs with a pre-cancelled Kanye West, Balbuena stepped into her own spotlight on Saturday afternoon. Anchored by a gorgeous voice and an aura of positivity, Shake swapped between bars and crooning over glitchy beats, working the crowd and showcasing just how unique a talent she possesses. By the time hit single "Guilty Conscience" faded and Shake left the stage to her part in West's "Ghost Town," a small, but devoted, audience seemed certain and thankful that they had just caught one of the best side-stage sets of the weekend. —Matt Melis
Ben Gibbard Doubles Down and Wins Big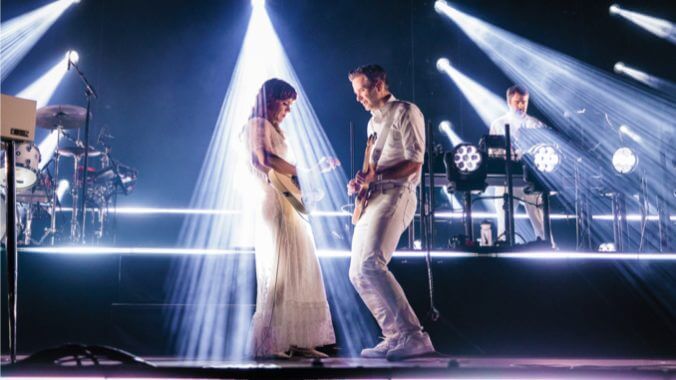 Photo by Anthony Linh Nguyen
2003 was a great year for Pacific Northwest native Ben Gibbard. His rock band Death Cab for Cutie, which had been steadily growing in popularity since the late '90s, shot to commercial success with their breakthrough album, Transatlanticism. And as if that wasn't enough to make an artist's year, Gibbard also managed to create an electronic-pop album with producer and friend Jimmy Tamborello under the moniker The Postal Service—a little record titled Give Up, which became a surprise hit. 20 years later, Gibbard chose to celebrate these milestone anniversaries by taking both acts on the road to play each album in full. That celebration included gracing Riot Fest's headlining stage twice on Saturday night.
Gibbard has always been able to poke fun at himself, fully aware that his former status as beloved indie-boy spokesman has graduated to aging hipster dad. While onstage during his Death Cab for Cutie set, he joked, "It's surreal to have Queens of the Stone Age play between us and The Postal Service. It's like a rock 'n' roll sandwich with the two wimpiest pieces of bread ever." The crowd cheered and laughed in agreement. Death Cab charged into their performance, from the explosive riffs on opener "The New Year" right through the climax of the album's penultimate track, "We Looked Like Giants." While Transatlanticism highlights some of the best writing of Gibbard's career, even he knew that The Postal Service was the night's main attraction, due both to the latter's immense popularity and the rarity of those songs being taken on the road. He ended Death Cab's set a full 13 minutes before their time slot ran out, not playing any other hits. Fans were a bit disappointed but understood that much more was to come.
It's worth noting that Death Cab for Cutie played their set adorned in all-black clothing while The Postal Service took the stage dressed entirely in white. I took it as a symbol of Gibbard's enthusiasm to play Postal Service songs like "The District Sleeps Alone Tonight" and "We Will Become Silhouettes," as well as drawing a distinction between each album's performance. The band revved up their rhythm section, transforming what on the recorded album are intricate, soft, bleep-bloop-bleeps and lowkey beats into grandiose rave-inducing hits, creating a frenetic energy felt throughout the set. Part of Giving Up's great charm is the pairing of introspective emo lyrics with extroverted instrumental accompaniment. So, it's no surprise that the best part of the night came when Mrs. Jenny Lewis, a rock star in her own right, provided her admirable multi-instrumental and vocal support, taking center stage for the duet "Nothing Better" and receiving massive applause.
Being able to take both bands together on tour and to Riot Fest is a testament to the breadth of Gibbard's songwriting, which can fit the contours of so many styles of music, from gentle crooning and driving rock to dance pop. Later, as if to prove this point, both bands took the stage together to send the crowd home with a cover of Depeche Mode's "Enjoy the Silence."
That brought Riot Fest's second night to a conclusive and mesmerizing end. "I AM 14 AGAIN!" yelled the slightly too-inebriated man next to me as we exited the park. We all felt it. —Samantha Lopez
Queens of the Stone Age Steal Some Thunder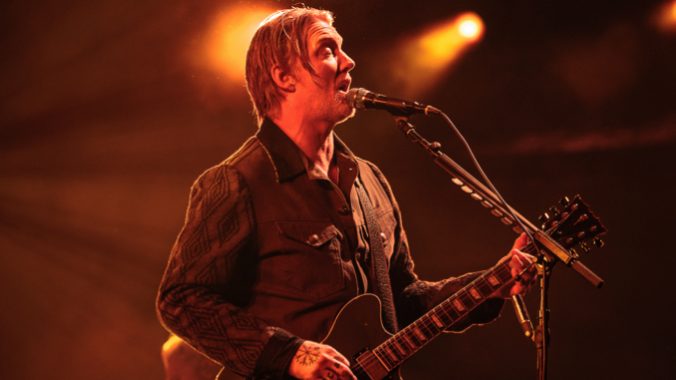 Photo by Anthony Linh Nguyen
As Juggalos headed in one direction and Postal Service fans settled in for Saturday night's main event, it's possible Queens of the Stone Age might have gotten lost in the mix. Instead, Josh Homme and his signature brand of trippy desert rock kept the legions locked in place for what turned out to be arguably the best hour-long set of the weekend. Other than wishing Chicagoans a happy Mexican Independence Day and trying to figure out how to sign "Make It Wit Chu" in ASL during a late-set cooldown, Homme let staples like manic opener "No One Knows" and the mind-bending "Smooth Sailing" handle his crowd-side manner for him—the audience trying to figure out whether headbanging or dancing seemed more appropriate. After Foo Fighters opted out of playing any new material the night before, a blistering run of new songs powered by the hallucinogenic harmonies of "Emotion Sickness," the sleaziness of "Carnavoyeur" and the bump and grind of "Negative Space" felt all the more like a formidable flex. Homme and the Queens might not have closed down Douglass Park on Saturday night, but they sure as hell gave others a tough act to follow.—Matt Melis
Mr. Bungle Gets Delightfully Weird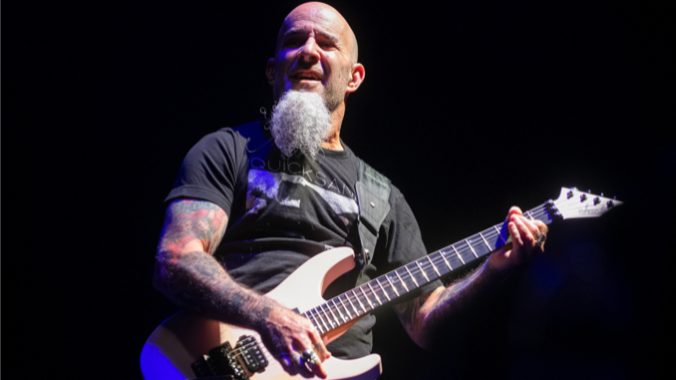 Photo by Timothy Hiatt
Mr. Bungle offered alternative programming on Saturday night for all those who either needed a break from Ben Gibbard or forgot their Juggalo face paint at home. "What's that band playing over there?" asked frontman Mike Patton, as The Postal Service's "Such Great Heights" wafted our way during a song break. He then gave an emphatic thumbs down and blew a raspberry before stomping into the band's next demented offering. Patton, of course, set the tone for Mr. Bungle as he stalked about the stage in pigtails with a gym whistle and CB handheld, ready to scream, thrash and bark along to cuts like "Eracist" and "Raping Your Mind" or ironically croon a cover like 10cc's "I'm Not in Love."
Joined as always by longtime Bungle bandmates guitarist Trey Spruance and bassist Trevor Dunn, Patton also came flanked by metal royalty in Slayer's Dave Lombardo on drums and Anthrax's Scott Ian on rhythm guitar. All that hardcore cred colliding with Patton's wonderful weirdness culminated on a soulful cover of Spandau Ballet's "True" bleeding into the hardcore "You Lose" by 7Seconds. By the time the band resurfaced with a stuffed, blue pig oinking the "Huh huh huh hu-uh huh" part of "True" alongside Patton, the audience had long ago stopped worrying about The Postal Service, Insane Clown Posse or any other band not named Mr. Bungle.—Matt Melis
The Mars Volta Throw a Dance Party
The cool thing about how Riot Fest has evolved over the years is the mix of bands and genres present. So, it was fitting (but also not fitting) that progressive rock band The Mars Volta took to the Roots Stage Sunday evening. The band is known for providing energetic, bossa nova-like grooves, and that's exactly what fans were given. Lead singer Cedric Bixler-Zavala sang and moved around like a happy drunk and had the crowd dancing just the same. Some songs he sang in English, and some in Spanish, but even if fans didn't know all the words in either language, they still grooved to the jam band-meets-video game sounds. Each song started with a jazzy beat before guitarist Omar Rodriguez-Lopez would abruptly take it into a different, more intense direction, only to return to the smooth groove that began, with Bixler-Zavala cooing in between. The band lucked into an even bigger crowd than they could have anticipated as festival-goers funneled in to find a spot for The Cure's upcoming headlining set. No doubt some new fans were made as a result. —Samantha Lopez
The Cure Bring a Little Heaven to Chicago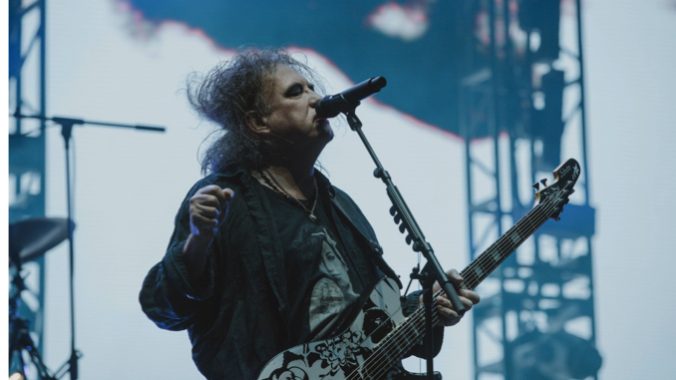 Photo by Jason Pendleton
A two-hour rain delay couldn't stop fans from attending the final day of Riot Fest and what would be one of the last days of both the festival season and summer. Although rain during a Cure set would have been a total mood—as fans mentioned throughout social media, "Someone took 'Prayers for Rain' a little too seriously"—the sky cleared just in time for a dazzling two-and–a-half-hour set.
Waves of fans—old and young, veteran and new—fashioning different generations of the seminal '80s new wave/goth rock band's tees flooded towards the Riot Stage Sunday night, as the anticipation for the British gloom rockers ringed throughout the festival. Even acts like The Dresden Dolls had fanned ecstatically about sharing the same stage as The Cure, with frontwoman Amanda Palmer telling a tale earlier in the day of how seeing them live during the Disintegration days was her first ever concert experience. As Sunday night demonstrated, the impact of that experience hasn't diminished with time.
"Hello…again," Robert Smith, wearing an Amy Winehouse t-shirt, very sweetly addressed the crowd (this man is an unproblematic fave) after the band ripped through "Alone." It was just three months ago that the six-piece was in Chicago, but their Riot Fest set was nothing short of amazing in its own right, with a set design especially designed for Sunday's performance. The band played everything from fan favorites like "Just Like Heaven," "Lovesong," "Pictures of You," and "Friday I'm in Love," the latter initiating a rapid roar throughout the crowd, to deep cuts like, "High," which hadn't been played live since 2019, "Shake Dog Shake," and "From the Edge of the Deep Green Sea." And this was all before they left and returned for an encore.
However, it wasn't just playing the hits that made The Cure's performance as astounding as it was; it was the mesmerizing musicianship of Smith, bassist Simon Gallup, keyboardist Roger O'Donnell, guitarists Perry Bamonte and Reeves Gabrels, and drummer Jason Cooper. Their playing was unmatched, and together they created a symphony for the heart, dredging up memories and emotions that fans packed with them like baggage for the night.
The band, which have been around for over 45 years, are known to heighten feelings of dark clouds and heartbreak, but that's simply not all. The Cure sing in total celebration of requited love that gets anyone with a pulse in their feelings. And as if you couldn't love them any more, like other shows on The Cure's tour, for which the band fought for reimbursing exorbitant ticketing fees, Smith also made an agreement with the fest for keeping merch costs low, their special edition T-shirts on sale for only $25, assuring all fans would have the chance to purchase a memento for the night.
All in all, the night was electrifying, Smith himself having a ball—making faces at the camera and cracking a few smiles. I personally was in heaven, having been a fan since I was a literal child (Thanks mom and Dad!), and my enthusiasm must have been as apparent as everyone else's. While I jumped, yelled and danced, a fellow Cure fan handed me a homemade charm bracelet with the words "Just Like Heaven" wrapped around it and said to me, "Keep on vibing." That sums up the last night of Riot Fest: a total vibe.—Samantha Lopez