St. Vincent Details Her Signature Ernie Ball Guitar Line's 2018 Update
Photo courtesy of Ernie Ball
Music
News
St. Vincent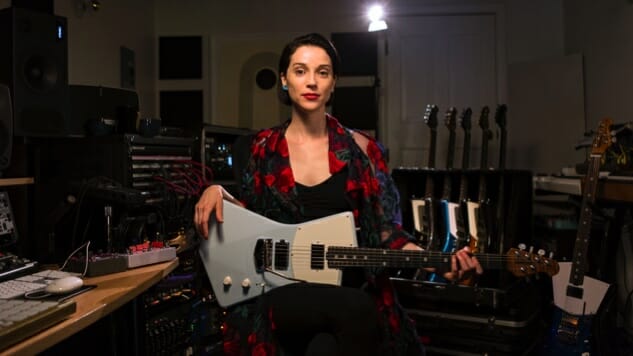 The wonderful St. Vincent (aka Annie Clark) has updated her signature collection of Ernie Ball guitars for 2018, unveiling an expanded and revamped line of axes, and sharing a special short film to mark the new line's launch.
The Grammy winner's St. Vincent Signature Guitars now feature premium roasted maple necks with rosewood, ebony or maple fretboards, plus two pickup configurations that include three Dimarzio mini-humbuckers or the new, custom-designed Ernie Ball Music Man dual humbucking pickups—both configurations come with a five-way pickup selector for tonal range. The stylish instruments—designed by Clark in collaboration with Ernie Ball CEO Sterling Ball and Ernie Ball's engineering team—still come in St. Vincent Blue (a color hand-mixed by Clark), Tobacco Burst, Polaris White and Stealth Black, in addition to three new color options: Charcoal Sparkle, Blue Dawn and Sea Breeze. You can take a look at the whole line below.
The line's American-made models start at a hefty $2,199, while the Sterling By Music Man export model (available in St. Vincent Blue or Stealth Black) starts at a far more manageable $599.99. You get what you pay for, it would appear: The St. Vincent Signature Guitar won Guitar World's prestigious platinum award for "boldly evoking the glorious space age designs of the Sixties." Perhaps even more flattering is the approval of Clark's fellow Grammy winner Jack White, who added a St. Vincent Signature to his stable of guitars and even used one while performing on Saturday Night Live in April, much to Clark's delight. And Clark herself, of course, swears by her instrument: "It's a great player guitar," she said in a recent Vice News interview. "It's the only thing I play now."
Clark's short film Disruption By Design, released Wednesday alongside the details above, features never-before-seen footage from her recent Coachella rehearsal sessions and scenes shot at her private home studio. It also includes Clark discussing the process behind the creation of St. Vincent's world, her new tour visuals and the guitar she created to craft her latest album, MASSEDUCTION, which Paste numbered among 2017's best.
Check out Disruption By Design and photos of Clark's 2018 guitar line below, plus a 2009 St. Vincent performance from the Paste archives.