Walter Becker Was the Larry David of Steely Dan: An Appreciation
The band's late co-leader, guitarist and bassist turned lacerating portraits of human weakness into pop confections.
Photo: ABC
Music
Features
Steely Dan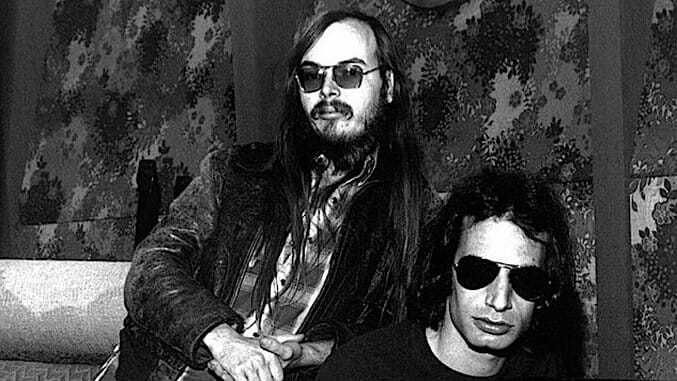 Donald Fagen was the public face of Steely Dan, the keyboardist and lead singer famous for his biting wit and ruthless sarcasm. The band's co-founder Walter Becker, who died Sunday at age 67, was the band's co-leader, guitarist and bassist, often lurking in the shadows. But when you spoke with both men together, you quickly realized that Becker's wit was even sharper and darker than his partner's. He was the Larry David of Steely Dan, to Fagen's Jerry Seinfeld. No wonder he and Fagen co-wrote and co-produced some of pop music's catchiest, most lacerating portraits of human weakness.
I interviewed Becker and Fagen early in 2001, just before they won a Grammy for Album of the Year (for Two Against Nature) and were inducted into the Rock and Roll Hall of Fame. Often a question would trigger a verbal ping-pong volley between them, a one-upmanship duel of one-liners, and I would have to wait awhile to get another question in.
"It's very flattering to get both these things in the same year," Fagen conceded, "but there's also a suspicion on our part. Are they really rewarding the work, or is it just more industry hype to sell records?"
"We don't make the rules," Becker chimed in. "We just play the game. We're only going to these events on behalf of our fans."
"I may, however, have to take some pills for the Grammys," Fagen allowed.
"I'm sure your fans will understand," Becker assured him.
"I'm glad that they stuck us in there so that chords and melodies are represented," sniped Fagen. "As Kafka said, there's an infinity of hope in the universe, but not for us."
"I think he was referring to jazz-rock when he said that," Becker replied.
The duo was famous for belittling the concept of jazz-rock, yet they may have crafted the finest jazz-rock songs of all. Maybe Miles Davis, Weather Report and all their alumni pushed further with instrumental jazz-rock, but no one did more than Steely Dan with vocal jazz-rock. Becker and Fagen had a knack for putting their Kafkaesque stories to sophisticated jazz changes and contagious pop melodies—all of it carried along by a combination of elastic swing and an emphatic 4/4.
Read Donald Fagen's statement about Walter Becker's death here.
Their third album, 1974's Pretzel Logic, included a cover of the Duke Ellington instrumental, "East St. Louis Toodle-oo" and an original song that paid tribute to bebop pioneer Charlie Parker in both the lyrics and the solos. At the same time, the album yielded the irresistible radio hit "Rikki Don't Lose That Number," a No. 4 Billboard single.
The two men wrote songs much like they conducted interviews, each one trying to top the other with a wittier line, a more surprising chord substitution, a better twist on the melody. Out of this creative ping-pong came six of the very best albums of the '70s, giving lie to the myth that the decade was a wasteland of arena-rock and disco. And their temporary farewell album, 1980's Gaucho, capped off one of the greatest winning streaks in rock history.
The story of Steely Dan can be neatly divided into three parts: the 1972-1980 studio era, when they made lots of records and made few live performances (nothing after 1974); the 1981-1992 hiatus when they made no Steely Dan records and didn't tour at all; and the 1993-2017 reunion when they toured a lot but made just two Steely Dan studio albums.
Becker and Fagen met in 1967 as undergraduates at Bard College, 100 miles north of New York City in Annandale-on-Hudson, a town immortalized in their song "My Old School." They are often credited with creating "college-rock," because there was a knowing hipness to everything they did. They expected you to appreciate their obscure pop-culture references and their jazz chords as much as they did. Unlike most college-rock, however, Becker and Fagen had a knack for juicy chorus hooks that sounded great on any know-nothing teenager's radio.
"We started writing nutty little tunes," Fagen remembered in a public letter the day of Becker's death, "on an upright piano in a small sitting room in the lobby of Ward Manor, a mouldering old mansion on the Hudson River that the college used as a dorm. We liked a lot of the same things: jazz (from the twenties through the mid-sixties), W.C. Fields, the Marx Brothers, science fiction, Nabokov, Kurt Vonnegut, Thomas Berger, and Robert Altman films come to mind. Also soul music and Chicago blues."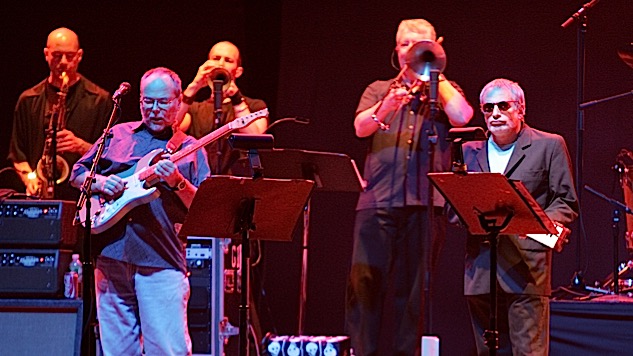 Walter Becker, left, and Donald Fagen perform with Steely Dan in 2007.
The two served their apprenticeship by writing songs for other singers at the legendary Brill Building in New York and for ABC Records in L.A. They wrote the soundtrack for an obscure Richard Pryor movie (You've Got to Walk It Like You Talk It or You'll Lose That Beat) and briefly became the touring band for Jay & the Americans. Finally ABC gave the duo a chance to do their own record. They hastily assembled a band, named it after a steam-powered dildo in William Burroughs's Naked Lunch, and named the debut album after a Bob Dylan lyric, Can't Buy a Thrill.
The pretense that this was a real rock 'n' roll band with six equal members quickly crumbled as Becker and Fagen increasingly turned to L.A.'s top session musicians to execute their ever-more ambitious arrangements. For all their jazz elements, those arrangements left little to chance—every vocal and instrument was precision-engineered so it fit perfectly into the overall design. Even the improvised solos were carefully set up and framed by the premeditated tracks.
Crucial to these arrangements were the little guitar licks that Becker stuck in here and there. Musically, he was the George Harrison of Steely Dan. He never made his impact as a guitarist through flashy solos, but with the infectious figures that set up the vocal or set off the main melody. It's easy to overlook those motifs, but take them away from a Beatles track or a Steely Dan track, and the song doesn't sound the same.
As they told Chris Willman in the liner notes for the definitive box set Citizen Steely Dan: 1972-1980, Becker and Fagen were always puzzled that rock fans who enjoyed complex lyrics wanted those words to come with basic, primitive music, and fans who liked complex music preferred to hear it with simplistic, innocuous lyrics.
"It was just a quirk of Donald's and my natures that we thought superimposing jazz harmonies on pop songs was subversive in a much subtler way."
"Why is that?" Becker asked Willman in 1993. "Well, in that respect, the situation hasn't changed in 20 years…. The 'anarchists,' the people who are interested in more interesting lyrics are generally not interested in jazz harmonies. They want something more raw and what they perceive to be subversive-sounding, which usually means clanging guitars. And it was just a quirk of Donald's and my natures that we thought superimposing jazz harmonies on pop songs was subversive in a much subtler way."
What could be more subversive than sneaking bohemian skepticism and jazz harmonies onto pop radio where anyone and everyone could hear them? Steely Dan scored nine Top 30 singles and eight Top 20 albums. Their songs have been covered by everyone from Wilco, Ben Folds and Rickie Lee Jones to Ahmad Jamal and Herbie Hancock.
A temporary sabbatical prompted by legal problems, health problems, drug problems and sheer exhaustion began in 1981 and went on far longer than intended. The two tried to reunite in 1985, but it didn't take. They tried again in 1993, when Becker produced Fagen's solo album, Kamakiriad, and Fagen co-produced Becker's solo debut, 11 Tracks of Whack. That worked; they began touring again as Steely Dan and documented the results on 1995's Alive in America.
The duo returned to the studio for the final two Steely Dan albums, 2000's Two Against Nature and 2003's Everything Must Go. The two songwriters dealt with their advanced age (Fagen turned 50 in 1998, Becker in 2000) by creating fictional protagonists who were often older men pursuing young women the age of the mythical rock 'n' roll audience. If that sounds creepy, that's just the effect the authors intended.
Listen here to an exclusive recording of what is probably the greatest Steely Dan concert ever, from May 20, 1974.
"Rock 'n' roll is obsessed with adolescence," Fagen told me in 2001, "but blues, jazz and R&B have always been attentive to these adult themes of hard luck in life. That gave us a role model. Besides, if you're going to be true to yourself and keep writing as time goes by, you don't have any choice but to write through these narrators telling middle-aged stories—this is what happened and this is what didn't happen."
"What you want to avoid," Becker added, "is writing songs that go, 'Gee, I'm old now,' for the simple reason that those songs are boring."
"So we create these fictional characters to tell the stories," Fagen explained. "But even though our narrators are different from us—and from each other—they only work if they somehow fit in the context of our lives. Each one is a bit like us or friends we know. It would stop being fun unless it was about something meaningful, something close to us. Humor is a big part of it, because humor is something you need to gracefully age."
"Not that either one of us is all that old," Becker said with dripping sarcasm. "The invigorating properties of the music we write and play keep us young."
On Sunday those invigorating properties ran dry, and Becker's much-abused body gave out. Fagen promises to keep Steely Dan going as a repertory band that can present live performances of the band's catalogue. But never again will Becker and Fagen have the back-and-forth conversations and songwriting sessions that created some of the most subversive, most exhilarating music of the rock 'n' roll era.