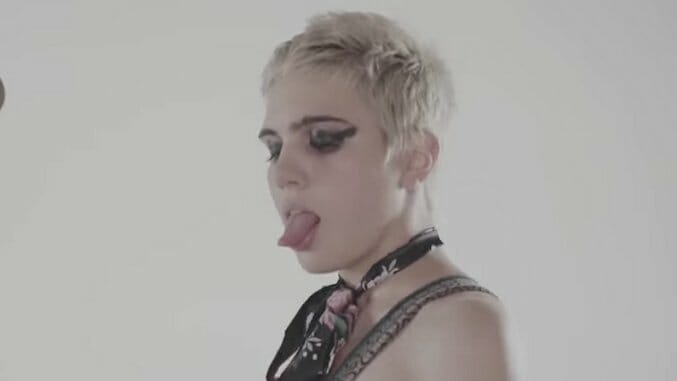 Sunflower Bean have had a whirlwind of a year thus far. The New York trio comprised of Julia Cumming, Jacob Faber and Nick Kivlen released their poignant debut record titled Human Ceremony to high acclaim and have embarked on a massive tour.
The three-piece revealed today that they have expanded their tour to cover North America this fall. Additionally, the band debuted the music video for "Come On," the second track from Human Ceremony, via Pitchfork.
The song itself, which is a unique combination of psychedelia and punk, is about being "on the edge of (your) seat" and the constant go-go-go attitude toward life. The video captures the high energy of the song with the loose movements of the musicians and the quick color changes from shot to shot as the music garners more and more intensity.
Watch the video above and listen to the band perform "Easier Said" via the Paste Cloud below. Beneath that, find their new tour dates.
Sunflower Bean North American Tour Dates:
August
13 – Los Angeles, Calif. @ The Theater at Ace Hotel
October
5 – Providence, R.I. @ Columbus, Theatre *
6 – Boston, Mass. @ Brighton Music Hall *
7 – Brooklyn, N.Y. @ Music Hall of Williamsburg *
8 – Philadelphia, Pa. @ The Foundry at the Fillmore *
19 – Toronto, Ontario @ The Garrison *
20 – Lakewood, Ohio @ Mahall's 20 Lanes *
21 – Chicago, Ill. @ Lincoln Hall *
22 – Madison, Wis. @ The Frequency *
23 – Grinnell, Iowa @ Grinnell College: Gardner Lounge *
24 – Minneapolis, Minn. @ 7th Street Entry *
27 – Seattle, Wash. @ Chop Suey *
28 – Vancouver, B.C. @ The Fox Cabaret *
29 – Portland, Ore. @ Analog Theater *
31 – San Francisco, Calif. @ Rickshaw Stop *
November
4 – Salt Lake City, Utah @ Billboard-Live! *
5 – Denver, Colo. @ Larimer Lounge *
8 – Oxford, Miss. @ Proud Larrys *
9 – Nashville, Tenn. @ Exit/In
10 – Atlanta, Ga. @ Drunken Unicorn
11 – Durham, N.C. @ The Pinhook *
12 – Washington, DC @ Rock & Roll Hotel *
(* = w/ The Lemon Twigs)