SXSW Announces First Wave of 2017 Artists, Including S U R V I V E, San Fermin, Adam Torres, More
Images via SXSW
Music
News
SXSW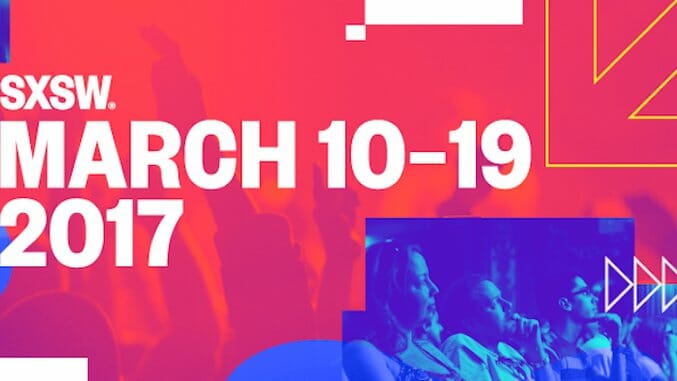 South by Southwest 2017 has announced its initial lineup of artists to perform at its music festival. The biggest name of the bunch is probably hometown-hero synth quartet S U R V I V E, whose Michael Stein and Kyle Dixon are hot off their acclaimed score for Netflix's Stranger Things. This lineup, which also includes San Fermin, Diet Cig, Hoops and Adam Torres, is only the first round of artists named, as more are to be added as the festival approaches.
Along with the musical lineup, SXSW also announced another round of speakers, including Cheryl Boone Isaacs, president of the Academy of Motion Picture Arts and Sciences, and keynote speaker Lee Daniels, director of The Butler and Precious. Other speakers include Kate Crawford, Bill Ford and Doug Newcomb, Parag Khanna, Kimbal Musk, Peggy Orenstein, Randall Poster, Vivek Ranadivé and Rachael Ray.
Janet Pierson, SXSW's head of film, said in a statement:
The SXSW Conference is designed to give creatives the tools they need to achieve their goals, and what better way than bringing together a diverse slate of today's influencers and making them available to all badge types, fueling the cross-industry creative combustion we're known for. We are particularly excited about Lee Daniels as Film Keynote for his unparalleled talent, passion, continued experimentation, and career evolution. He's been the driving force behind so much extraordinary work in a number of ways. His artistic leaps and risk-taking are exactly what we love to celebrate at SXSW.
SXSW 2017 will take place March 10-19, 2017, in Austin, Texas.
The full list of performing artists is below. Applications to perform at the festival are open until Oct. 21 on the SXSW website.
SXSW 2017 First Wave Lineup:
Akina Adderley & The Vintage Playboys (Austin,TX), Agosto (San Isidro, Argentina), Alex Napping (Austin, TX), Rocky Banks (Houston, TX), Vera Blue (Forbes, Australia), BOOHER (Austin, TX), Cory Branan (Nashville, TN), Allysen Callery (Bristol, RI), Alex Cameron (Sydney, Australia), Laura Carbone (Mannheim, Germany), Chain of Flowers (Cardiff, UK England), Chain Wallet (Bergen, Norway), Chelou (London, UK-England), Crater (Seattle, WA), Creepoid (Philadelphia, PA), Diet Cig (New Paltz, NY), Dubfire (Washington, DC), Forth Wanderers (Montclair, NJ), FOXTRAX (Los Angeles, CA), Colin Gilmore (Austin, TX), Henry Hall (New York, NY), Hard Proof (Austin, TX), Hoops (Bloomington, IN), Jain (Paris, France), Tameca Jones (Austin, TX), King Cayman (Madrid, Spain), Alex Lahey (Melbourne, Australia), Lazyeyes (Brooklyn, NY), Carlo Lio (Toronto, Canada), Demi Louise (Boronia, Australia), Elizabeth McQueen, (EMQ and Psiplay) (Austin, TX), Misimplicity (Austin, TX), My Education (Austin, TX), Never Young (Oakland, CA), Agnes Obel (Berlin, Germany), Pastel Ghost (Brooklyn, NY), Sara ? (Barcelona, Spain), Polarheart (Sydney, Australia), The Quebe Sisters (Dallas, TX), Ratboys (Chicago, IL), Running Touch (Melbourne, Australia), San Fermin (Brooklyn, NY), Oscar Key Sung (Melbourne, Australia), S U R V I V E (Austin, TX), Tasha the Amazon (Toronto, Canada), Throttle (Melbourne, Australia), Adam Torres (Austin, TX), Trudy and the Romance (London, UK-England), Wafia (Brisbane, Australia), Miss Lavelle White and the L Men (Austin, TX), Yoke Lore (Brooklyn, NY), Jesse Colin Young (Aiken, SC), and Yung Gordon (Miami, FL).