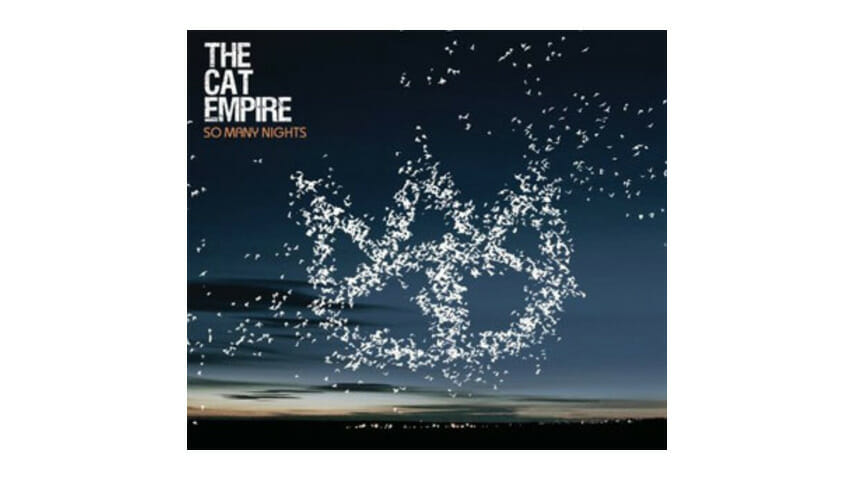 The Cat Empire's second album, 2005's Two Shoes, topped the charts in its native Australia, eventually finding a U.S. re-release two years later. The music, a deliriously cacophonous blast of ska, reggae, punk, Latin rock, hip-hop and soul-jazz, sounded chaotic and blissfully dizzy at the same time. It was a blast, but also a little disorienting, which may be why the six-member band slowed down on its follow-up, So Many Nights.
Produced by John Porter (famous for helming the Smiths' early work and gems by blues legends Keb' Mo' and Buddy Guy), So Many Nights aims to demonstrate that the Cat Empire is more than just a party band. Felix Riebl's vocals seem like less of an afterthought this time; his lyrics dictate the direction of the music, not the other way around. At best, as on "Fishies" and "Sunny Moon," the band weaves a symphony around him and fellow vocalist/trumpeter Harry Angus Weaver, making songs that are exciting but balanced. Other times, though, the band shifts into mellow soft-rock; some of the cuts, like "No Longer There," come off like particularly sleepy Dave Matthews.
Thankfully, those moments are few. Even on the weaker tracks, like "No Mountain," the Cat Empire tries to add some interesting textures like an organ straight out of the Beatles' "When I'm Sixty-Four." The Cat Empire may want to follow in Jack Johnson's footsteps and score the perfect soundtrack for a backyard barbecue, but if So Many Nights is any indication, this band is unwilling to sacrifice its restless imagination in the process.