The Week in Music: Paste's Favorite Songs, Albums, Performances and More
Featuring Eleanor Friedberger, Tokyo Police Club, Becca Mancari, Liz Phair, Parker Millsap, NYC buzz bands and more.
Photo by Chris Eckert
Music
Features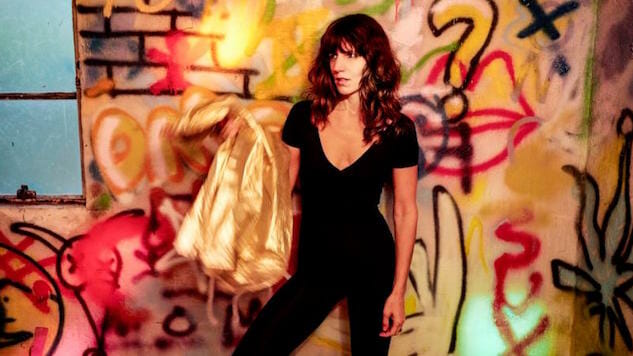 With summer just around the corner, things are definitely beginning to heat up. This week in the studio, we hosted Eleanor Friedberger (pictured above), Tokyo Police Club and an incredible array of artists old and new. We talked to Parker Millsap about his new album, and caught up with rocker Rich Aucoin, who's doing his entire U.S. tour on his bicycle. It was also a big week for lists: Best April albums, most anticipated May albums, and the best New York City buzz bands. Check out our favorite albums, songs, live performances and feature stories of the past seven days.
BEST ALBUMS
Liz Phair: Girly-Sound to Guyville: The 25th Anniversary Box Set
The new box set comprises an immersive snapshot of the Liz Phair that created one of the great musical works of 1990s—a Liz Phair that was forever changed by sudden success, and one that the real Liz Phair has seemingly been trying to outrun ever since. That's a testament to a well-constructed collection, one not cluttered by remixes, bonus tracks and other unnecessary add-ons. Girly-Sound to Guyville simply compiles a remastered Exile in Guyville and restored versions of Phair's three pre-Exile DIY cassettes released under the name Girly-Sound (plus a book with an oral history of the album, photos, essays and other cool stuff). The remaster of ExileM succeeds in its main job: To not dull the brilliance of the original album, which Phair designed as a track-by-track response to Exile on Main Street by ur-dudeband The Rolling Stones. Its 18 tracks sound as crisp and vital as ever. —Ben Salmon
Damien Jurado: The Horizon Just Laughed
Damien Jurado's new album, the descriptively titled The Horizon Just Laughed, might be his most expressive outing yet. Ostensively an aural travelogue embossed with soundscapes that capture the magical summer of his 17th year, it conveys echoes of wistful reflection and even hints of unbridled optimism as well. Though the melancholy is still prevalent throughout, he isn't as reticent when it comes to adding an occasional upbeat rhythm or some elevated emotion to the proceedings. That becomes clear with the samba-like lilt of "Marvin Kaplan," the surprising spunk of "Florence-Jean" and the otherwise assertive pacing of "Percy Faith" and "Random Fearless," two tracks that are likely to attract the most immediate attention, especially at the outset. —Lee Zimmerman
Vive La Void: Vive La Void
If you know what Erik "Ripley" Johnson does in Wooden Shjips…and you know that Johnson helms Moon Duo with his significant other, keyboardist Sanae Yamada…and you know what they sound like together…then you can probably figure out what a Sanae Yamada solo project would sound like. Thankfully, such speculation is no longer needed. Yamada's first effort under the name Vive La Void is out now on Sacred Bones Records, and it sounds pretty much what you would expect it to sound like… if you know all that stuff above.—Ben Salmon
---
BEST SONGS
Palberta: 'Cherry Baby'
Palberta's latest Roach Goin' Down single, "Cherry Baby," takes a timeless track, rips it up, and starts all over again. As the band explains, "'Cherry Baby' is a three part harm-charm. It's taking the classic lyric from the Eric Donaldson track 'Cherry Oh Baby' but really it has nothing else to do with that song." —Loren DiBlasi
Big Ups: Imaginary Dog Walker'
"Imaginary Dog Walker" is a sprawling and dynamic coda, ending Two Parts Together with unsettling doubt. The song finds Joe Galarraga staring into a lake (a recurring thematic element of the album), wondering what lies beneath. "We all want the same thing/ And that is to thrive," he declares, "So why hold our breaths/ Kill the life inside?" Propelled by vivid, destructive imagery, tense repetition, and agitated guitars, "Imaginary Dog Walker" is an aggressive-yet-meaningful meditation on the human experience. —Loren DiBlasi
Future Islands: 'Calliope'
Future Islands recorded "Calliope" during the sessions for their 2017 album, The Far Field. The synth-heavy single features an almost EDM-like quality to the rhythm, with the song's many layers allowing the band to make the most out of their three-instrument (keyboard, guitar, vocals) set-up. —Abdiel Vallejo-Lopez
---
PASTE STUDIO
Eleanor Friedberger
Friedberger, formerly of the Fiery Furnaces, just released her fourth solo album, Rebound. The record, partially inspired by time spent in Greece, is a bit of a departure for the artist, who played three new tracks for us (including one she had never played before).
Becca Mancari
Becca Mancari takes traditional Americana music and turns it on its head, adding elements of indie rock and shoegaze to create a distinct and dreamy sound. Mancari played three tracks from her debut record, Good Woman.
Tokyo Police Club
Canadian indie rockers Tokyo Police Club, who released their debut EP over a decade ago, delivered an energetic full-band set that included recent single "New Blues" and an old favorite, "Your English is Good."
---
FEATURES
The 15 Young NYC Bands You Need To Know in 2018
Paste recently highlighted 15 young British bands to keep on your radar in 2018, but it's worth noting that, as always, what the U.K. can do, New York City can do even better. For decades, the cross-continental rivalry has been integral to the development of rock music. There was The Velvet Underground and David Bowie; Ramones and The Sex Pistols; Sonic Youth and The Jesus and Mary Chain; The Strokes and The Libertines, and many more. So if there's an exciting new wave of British bands pushing music forward, it's safe to assume that there's a hotpot of new talent emerging from the Big Apple, too. —Lizzie Manno
Parker Millsap Is Ready to Rock
The cover of Parker Millsap's new album, Other Arrangements, pictures the 25-year-old Oklahoman in a black suit, running his right hand through his sandy hair. Draped around his neck is a bright-red, 1975 Fender Bronco with a long cord running to a vintage amp. The guitar deserves its prominent place on the packaging, since it represents the record's dramatic departure from the singer-songwriter's previous sound. De-emphasized are the troubadour songs played on acoustic guitar with long, word-crammed lines about Oklahoma churches and highways. Newly emphasized are garage-rock songs played on electric guitar with short, compact lines about relationships. We talked with Millsap about becoming the songwriter (and the man) he is. —Geoffrey Himes
The 10 Best Albums of April 2018
Now that it's almost over, we're getting nostalgic for the great new records released this past month, from vintage live collections (Neil Young) and the latest from living legends (Willie Nelson) to debuts from across the globe (Busan, South Korea's Say Sue Me). In April, we also met a fresh new face in pop music (Kali Uchis, pictured above) and went a little bit country (Ashley Monroe, Joshua Hedley). It was a diverse month here at Paste, but a fun one, too. Check out our 10 favorite albums from the past 30 days. —Loren DiBlasi
The 15 Albums We're Most Excited About in May
Last month we upgraded our most anticipated albums list to 15 releases, and this month, we had to do it again; there are simply too many good albums on the horizon. May will deliver the latest from indie rock veterans like Eleanor Friedberger, Arctic Monkeys, Beach House, Parquet Courts (pictured above) and Iceage, but we're also looking forward to some exciting debuts. Here are the albums to mark on your May calendar.—Paste Staff