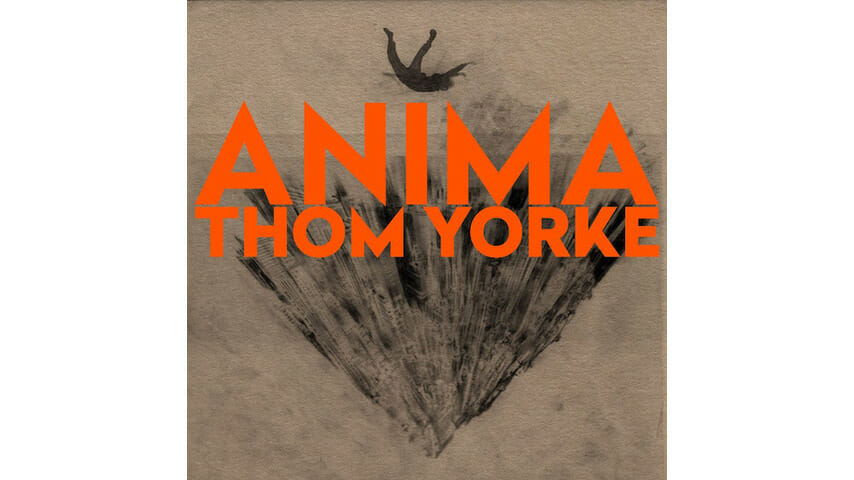 Thom Yorke's biggest fault—if there is one—on ANIMA, his first proper solo album since 2014's Tomorrow's Modern Boxes, is his inclusion of "Dawn Chorus," a song so devastatingly gorgeous it threatens to overshadow the eight other tracks' ingenious advances in glitchy electronica. "Dawn Chorus" is so mind-numbingly beautiful it doesn't just distract from the rest of the album— it places the listener in a different world entirely, one seemingly hundreds of miles away from the late-night dancefloor occupied by tracks like "Not the News" and "Traffic.". It's a song that would easily feel at home at the end of Her or Eternal Sunshine of the Spotless Mind.
The best Radiohead albums do something similar with relative ease: "How to Disappear Completely" was sandwiched in an analogous position between "The National Anthem" and "Optimistic"via"Treefingers" on Kid A, after all. But those albums had more sonic variety than ANIMA and didn't feature as defined of a musical throughline as Yorke's third solo record, which does a fantastic job of expanding Tomorrow's Modern Boxes' downtempo palette into something resembling a full band effort, even if everything stems solely from Yorke and longtime-producer Nigel Godrich.
If it seems like I'm wholly disregarding ANIMA in exchange for a single song that has already forced its way into the best songs of the year conversation, that's beside the point. Yorke knowingly chose "Dawn Chorus" as the record's centerpiece, a respite from the darker electronic tones populating the four tracks on either side of it. It's a song fans have been clamoring for ever since Radiohead created Dawn Chorus LLC in October 2015 as a vehicle to release A Moon Shaped Pool. Thom Yorke doesn't just throw out names like that; everything serves an ambiguous purpose and, no matter how long it takes, there's typically a payout in the form of a song years later. This time, Yorke delivers one of his best songs to date, an elegiac ballad I wouldn't hesitate to rank alongside Radiohead's best releases had Yorke put it out through that project.
Since "Dawn Chorus," or at least its title, has presumably been floating around since 2015 (or even earlier), the song's lyrics place us in the midst of Yorke's separation from longtime partner Rachel Owen, an amicable split that preceded her death in late 2016. In typical Yorke fashion, it may be obvious what he's singing about, but he does it so cryptically, using unrelated phrases to conjure up the feeling that he's getting at.
On "Dawn Chorus," he does this in a better—and more heartbreaking way—than ever before, utilizing something like spoken word delivery: "I think I missed something / But I'm not sure what / In the middle of the vortex / The wind picked up / Shook up the soot / From the chimney pot / Into spiral patterns / Of you my love." When that simple, repetitive keyboard tone hits a sudden crescendo as Yorke almost-whispers "of you my love," it's like he's trying to wrap up in a warm sonic blanket to shield himself from that overwhelming grief. We don't know the specifics of the song's free-flowing verse ("Back up the cul de sac," "Pronto pronto moshi mosh / Come on chop chop," "It's the last chance / OK Corral"), but the overall feeling of those pulsating keyboards and swirling synths is universal, and nearly heartstopping.
"Dawn Chorus" makes it almost impossible to talk about the other songs on here. And there's a lot to discuss: "Not the News" is a bona fide banger that plays like a modern dancefloor take on "Idioteque." "Twist" begins as an update on Tomorrow's Modern Boxes' "There Is No Ice (For My Drink)" before a burst of strings launches us into a world not unlike Jamie xx's In Colour and possibly one-ups him at his own game. Album closer "Runawayaway" takes "In Limbo"-esque guitars and throws them into a Four Tet-influenced track. ANIMA as a whole feels like the album Yorke wanted to make on AMOK, his first and only release with Atoms for Peace, but he had too many talented musicians in the studio back in 2013. Its Paul Thomas Anderson-directed dance video for Netflix may be the most all-encompassing, clear-eyed artistic visuals Yorke has produced at any point in his 25-plus year career.
But the overwhelming magnificence of "Dawn Chorus" distracts—but not detracts—from everything else. There's a good chance ANIMA will be remembered as "The Album With Dawn Chorus On It," and that's not a bad problem to have, just one that unfortunately makes it much easier to ignore the other incredible tracks on here. It's just what happens when you make the centerpiece of your album one of the best songs you've ever written.