Vagabon Dances Into Catharsis on Sorry I Haven't Called
The New York singer/songwriter channels exploratory instincts and creative restlessness on her third album
Music
Reviews
Vagabon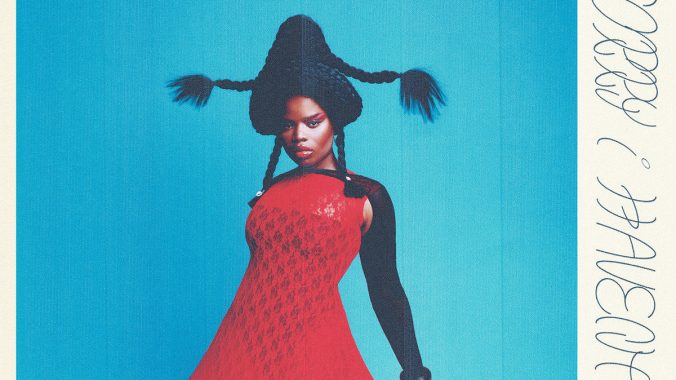 Relationships are hard: All of the uncertainty and insecurity that comes with the first flush of love; or the feeling that, even though you want something to end, you can't stand the thought of the ex in the arms of another; or the friend that you care for way too much but don't know how to let them know. And then, there's the letters you've written in your head but have never committed to paper—the letters that try to explain why you behaved a certain way, at a certain time. The letters that are supposed to articulate everything you feel but can't say out loud. Vagabon's—aka Laetitia Tamko—third album, Sorry I Haven't Called, is about confronting these situations and others beyond. Just look at the title—it's one of those universal phrases that means so much more than the sum of its words.
The world has changed almost beyond recognition since Tamko's 2017 debut album Infinite Worlds, and Vagabon has changed with it. Chiseled from an indie rock template, Infinite Worlds was a study in blending wistful, breathy vocals with loud-quiet guitar distortions. The collection was well-received, and Vagabon could have easily settled into the indie groove and never looked back. She didn't, though. Her self-titled follow-up in 2019 took a sideways leap into orchestrally enriched electronica. Signed to the Nonesuch label, Vagabon won plaudits for its scope and ambition, and it and its predecesssor showcased Tamko's ability to interrogate her own feelings and turn the responses into captivating, enveloping music. Sorry I Haven't Called signals another Vagabon genre switch, this time towards house-inflected, ethereal pop. Furthermore, having produced the first two Vagabon albums herself, Tamko has turned to ex-Vampire Weekender and HAIM producer Rostam Batmanglij to help her realize parts of her new project.
Sorry I Haven't Called is informed, at least in part, by the death of one of Tamko's best friends in 2021. As with any major trauma, the grief she experienced in the aftermath provided new clarity in other sectors of her emotional spectrum. Things that once seemed utterly important are now less so—and the really crucial stuff, the companions you choose (and how you navigate life with and without them), rises to the top. The album's opener, "Can I Talk My Shit?," dives right in, tackling the vexed question of when is the right time to move in with a new partner. Or is there ever a right time? Next, over skittering beats, Tamko uses "Carpenter" to purr that she's thrown away the past and is ready to commit to a new lover, while "You Know How" reflects on taking a friendship to the next level (and how no one else needs to know). "Lexicon" is a deep-sighing admission to missing somebody dear.
Rostam's involvement is palpable throughout the album, and there are strong flavors of his production work for Vampire Weekend's 2010 album Contra on display. The sub-Saharan polyrhythms and dancefloor trickery of "Carpenter" and "Lexicon" are comparable to those used on Contra tracks like "White Sky" and "California English." But there's something else here. It feels like both Vagabon and Rostam have been listening to fin de siècle dance music—the open-handed Balearic sound that encapsulated the late 1990s, just before superclubs became more about money than fun. Tamko's lyrics contain the particular kind of honesty that comes at sunrise, after staying up all night with friends, drinking, dancing and talking. In fact, "Autobahn" addresses exactly this. "Everyone's fast asleep," Tamko croons. "We stayed up all night on the floor." Recent single "Do Your Worst" finds Tamko meditating on toxic friendships amid a sound bed that recalls the mid-90s low key drum and bass of Lamb or Hooverphonic. On "Nothing To Lose," Tamko wonders, "who am I to want something better than that? Who am I to try for something I want?" between lush vintage synth washes and the collapsing two-step breaks that typified early UK garage. It's easy to imagine Sorry I Haven't Called being played in its entirety at dawn on the terrace at Café del Mar in 1996.
Elsewhere, Tamko returns to themes of loneliness on "Passing Me By" (all growling low end and what sounds like a de-tuned harp) and "It's A Crisis" (minimal house hi-hats and muffled handclaps). "Made Out With Your Best Friend" is what it sounds like: a revenge track, with Tamko gleefully whispering "I made out with your best friend. And he loved it," as reversed, trap-edged pulses and swirling, found sounds unfold.
Inhabiting a space similar to Romy's recent album Mid Air or Ibizan favorite Everything But The Girl's "Miss You," Sorry I Haven't Called successfully melds confessional poetry with intricate dance sensibilities. It's also fitting that Vagabon has been touring with Weyes Blood and Arlo Parks—as all three artists embrace emotional catharsis, with Weyes Blood in particular, sharing Tamko's exploratory instincts and creative restlessness. But what makes her so restless? Why has Laetitia Tamko traveled from alt-rock to electronica to dance-pop? Perhaps there's a clue in the name. After all, a vagabond is an itinerant—someone who moves from place to place and never settles. Sorry I Haven't Called, then, must be Vagabon's latest stopover—an album that marks a place in time, as well as a journey in itself. Long may she roam, wherever she goes next.
---
Simon Coates is a music, culture, and civil rights writer with bylines for Dua Lipa's Service95 project, The New European, Index on Censorship and more.