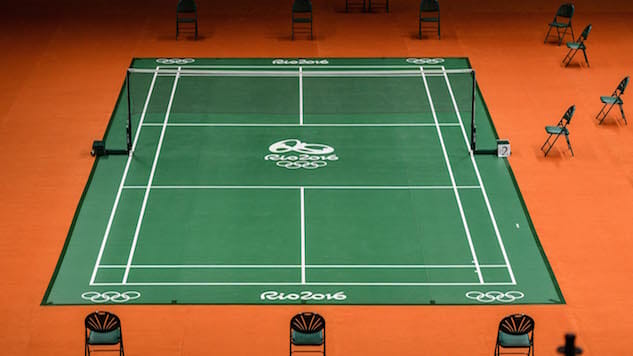 Do you like match fixing, controversy over skirts and pants, and celebrity athletes? Then trust us, badminton is the sport for you.
The Sport
Badminton: to many, it's that sport that kind of looks like tennis. Or perhaps it's that game you sometimes play leisurely on a Sunday afternoon in your backyard. At the Olympic level, however, badminton is a high-powered sport where players volley shuttlecocks across the court at speeds topping 200 miles per hour. Like any great sport, it's also rife with scandal and controversy and its top players can reach celebrity status (or at least in countries like China where the game is popular on the level of basketball and soccer).
So how exactly does one play Olympic badminton? Well, first of all not on your grandmother's lawn – at the elite level badminton is always played on a regulated indoor court. Matches are divided into three games of 21 points each, played to the best two out of three games. Players use lightweight racquets to volley shuttlecocks (more casually known as a birdie) over the net until the shuttlecock touches the floor. Like tennis, badminton is divided into singles and doubles. Sounds simple enough, but trust us, the sport gets heated.
The History
Badminton only became an official Olympic sport in 1992, at the Barcelona Games. And though Asian nations have handily dominated the sport since its Olympic introduction, badminton's origins go back to 19th century Great Britain. The game became especially popular among British expats in India, and eventually spread to other parts of the commonwealth like Ireland and New Zealand. A handful of countries formed the International Badminton Federation in 1934, which later became today's Badminton World Federation (BWF). The Olympics got its first taste of the sport with a demonstration at the 1972 games, and again with an exhibition in 1988. In its first official Olympic completion in 1992, Indonesia and South Korea dominated, walking away with two gold medals each.
The Competitors
At the London Games, China won literally every single gold medal up for grabs in badminton, and even a few silvers and a bronze, leaving all other countries in the shuttlecocked dust. Denmark also has a long history of badminton and often makes a strong showing at the Olympics, but it's China, Indonesia and South Korea that have dominated the medal count since the game's Olympic beginnings.
When it comes to singles, there is one name you need to know in Badminton: Lin Dan of China, AKA "Super Dan," is the undisputed "bad boy of badminton." Lin won back-to-back gold medals in men's singles at the Beijing and London games and will be defending his title again in Rio. He and his wife, silver medalist Xie Xingfang, also make up badminton's biggest power couple. In China they even have their own nickname – "The Condor Couple." In his home country he frequently uses his celebrity to shill for energy drinks, tennis shoes and racquets.
Lin is currently ranked third in the world among men's singles players; number one is Malaysia's Lee Chong Wei, who won silver to Lin's gold in Beijing and London. It goes without saying the two are each other's biggest adversary, to the point where there are even Facebook and Wikipedia pages dedicated to their rivalry. If they meet up at the Olympics, it'll surely be the match to watch.
The BWF puts Carolina Marín of Spain at the top of the women's single players; the 23-year-old rising badminton star will make her first appearance on August 11th against Finland's Nanna Vainio. Look out as well for defending women's gold medalist Li Xuerui of China. Also one to watch will be the women's doubles competition. South Korea's Jung Kyung-eun, who was disqualified 2012 (and we'll get to that in a minute), will be back to compete in Rio, albeit with a new partner unmarred by scandal, Shin Seung-chan.
The Drama
Peak badminton drama occurred at the London Games when four women's teams were disqualified for purposefully trying to lose their matches in order to be seeded into an easier matchup. Two teams from South Korea and one each from China and Indonesia played so badly, missing simple hits and frequently hitting the birdie into the net, that crowds booed them. "The Chinese started this. They did it first," said South Korean coach Sung Han-kook at the time, but the BWF disqualified all eight players for "conducting oneself in a manner that is clearly abusive or detrimental to the sport." And though the BWF claimed the players were "not using one's best efforts to win," others argued the players were simply playing strategically and competitively, with their focus on winning gold rather than winning each match. Whatever your opinion is on the players' behavior and the ultimate decision to kick them out, the 2016 Games have changed the tournament format so as to avoid such controversy again.
Before the 2012 Olympics, in a thinly veiled attempt to spice up the sport badminton officials declared that elite female competitors must wear skirts or dresses. Yes, that actually happened. In 2011. Due to the backlash against the sexist rules, The Badminton World Federation quickly revoked the ban on women wearing pants and shorts. How kind of them to allow the unseemly sight of women's panted legs back on the elite badminton court.
Badminton has nothing on baseball or cycling when it comes to drug abuse, but still has its share of doping scandals. Most notable is the aforementioned Lee Chong Wei, who tested positive for dexamethasone in 2015. The BWF chose to give Lee a backdated eight-month ban, thus allowing him to still compete in Rio and leaving the 11,000 people who like the Lin Dan vs Lee Chong Wei Facebook page to heave a sigh of relief that their favorite pairing might come head to head again in Rio.
When to watch
Badminton is dived into five events: men's and women's singles, and men's, women's and mixed doubles, with all matches played at the Riocentro – Pavilhão 4 in Barra da Tijuca. Preliminary rounds for all events will start on August 11. Medals will be handed on from August 17 to August 20, starting with mixed doubles and ending with men's singles. And since badminton isn't exactly a primetime sport, chances are plenty of tickets are still available, though of course we don't see why the stadiums shouldn't be packed to watch the drama unfold.