Olympics Recap: Women's Gymnastics All-Around Finals
Photos courtesy Getty Images
Olympics
News
Rio 2016
There's really only one way to describe Simone Biles's performance in the women's all-around final—dominant. There could be other words to use, but they'd all mean the same thing. It was a performance that exceeded expectations when expectation might have never been higher for a gymnast. To match them, Biles wasn't supposed to just win, that wouldn't have been impressive enough. She needed to blow the rest of the competition away and that's exactly what she did.
Biles went into the third rotation down 0.034, behind Russia's Aliya Mustafina. She left the rotation up 1.533 with her best event, floor, remaining. By the time Biles took to the floor for her last routine, she needed just a 13.833 to win. It wasn't the 7+ routine she needed to put up to win the team final, but Biles would be able to hit a 13.8 on floor with a fall, maybe two. She went out and put up a 15.933, the highest single score of the competition and the highest on floor by half a point.
In the end, the margin of victory was 2.1, the greatest win Biles has put up in international competition on the grandest of stages. Previously, Biles's biggest win was by 1.083 points at the 2015 World Championships. The competition around Biles has been getting better too, but she's been improving at a greater rate.
Over the past four major international competitions, the runner-up's score was gotten higher in all but one and the average score of all participants has increased in each meet.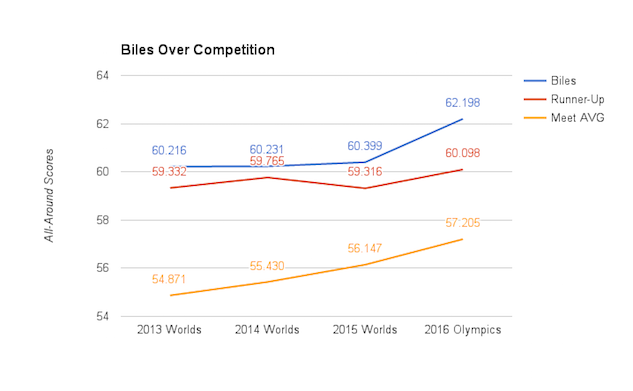 But Biles never let herself fall back to the pack, she just keeps improving. She doesn't just continue to win, she pulls herself in front of the competition to lengths never seen before. Her win on Thursday was the most dominant in international gymnastics in the open scoring era (since 2006). To bring back the Z-Scores, which accounts for performance against the entire field, not just the runner up and something introduced here comparing Biles to the best male gymnast Kohei Uchimura, Biles's Olympic all-around win had a Z-Score of 2.805, the highest of the 22 individual all-around results from the past eight World Championships and three Olympics.
There's been so many superlatives thrown at Biles over the past week and it's possible none of them are exaggerated. She's made her case as the best female gymnast ever and she's building quite the resume to put against Kohei Uchimura for the greatest of all-time.
What's scary about Biles—at least scary for any women with dreams of winning any meet while Biles competing—is how much better she can still become. Women's gymnastics is not a sport of longevity. The fact Biles has been firmly on top of the sport for four years is already amazing, but there's even more in the tank.
Biles's first pass on floor is a double layout with a full twist. If she wanted, she could add a whole extra twist to the skill—she already does that in a tucked position for her third tumbling pass. On vault, she has the ability to add another half twist to her 2.5-twisting yurchenko. Only one woman is close to competing that, North Korea's Hong Un-Jong who might attempt it for the first time during vault finals on Sunday. On beam, Biles already does the hardest dismount in the world, a full-twisting double back. She's trained putting another twist on that one too.
It's yet to be known what Biles will do after Rio—and she still has three individual event finals before that happens—but it would not be surprising to see her take some time off. But if she decides to continue competing, she won't be trying to make a comeback like some other Olympic champions before her. There's a good chance Biles can keep getting better.
Biles, though, wasn't the only American gymnast fulfilling an Olympic dream on Thursday. Aly Raisman entered the day with three Olympic medals, all three of them gold, but it was a bronze that escaped her which led to her comeback bid for Rio.
Raisman was the second all-around qualifier for the U.S. in London and she did quite well, well enough to finish tied for third. However, there was a tiebreaker rule that did not allow for duplicate medals to be handed out and Raisman lost the tiebreaker to Aliya Mustafina. Raisman left that competition with nothing, and even though she would win a gold medal on floor a few days later, losing out on an all-around medal is what drove her back to competition.
In qualifying, Raisman finished second behind Biles. Before that round there were even questions about whether Raisman would get the chance to do all around, but she was given the fourth and final spot on bars over Laurie Hernandez, which gave her the opportunity to compete for another chance at an all-around medal.
It's one thing to return to a second Olympics in women's gymnastics, but it's another to get better like Raisman did. She, like Biles, got to end the competition on floor and also like Biles needed a score she could easily reach to be position for a silver medal. She didn't have to be perfect, but she was close and the second her floor routine ended, she knew she had accomplished the one thing she had left to do in the Olympics. Raisman finished 1.433 ahead of Mustafina for second, almost as dominating of a victory as Biles in first.
The competition is not over for these two athletes. They'll get a few days off, but then it's back to the floor for event finals. Raisman will defend her her Olympic title on floor during competition on Tuesday. Biles will compete vault on Sunday, beam on Monday and will try to dethrone Raisman on floor Tuesday. She'll be favored to win gold on all three of those events, but as she's proven already, there's no problem in exceeding even the highest expectations.