What Team USA Basketball's Starting Lineup Should Look Like Tonight
Photos courtesy Getty Images
Olympics
Features
Rio 2016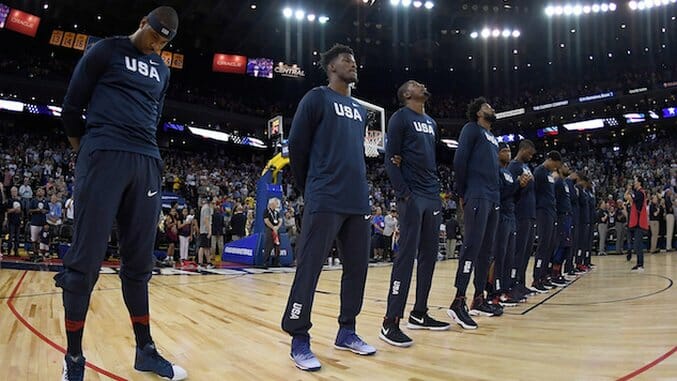 Every basketball fan knows that Team USA has an embarrassment of riches on their roster every four years for the Olympic Games. They almost always win the tournament, and are given almost no challenge throughout. (Except for that one time they lost.) But the beauty of watching the United States basketball team in the Olympics is not for competition. No, instead it is for seeing the best American ballers create highlights for their newest top play videos. It is for half-court alley-oops, thirty-foot three-point shots, and crazy dunks. Just ask DeMar DeRozan.
The USA could probably win the Olympic Basketball tournament even if they played four players at a time, but the rules of the game state that they have to put five men out on the floor, and coach Mike Krzyzewski is too competitive to let his team do anything but play to win. Coach K's team has enough talent to field two and a half championship quality starting lineups, which will make the coach's job of picking five men to start so much harder. So I'm going to do his job for him ahead of USA's kickoff game with China. I can already feel the stress coming on.
Point Guard: Kyle Lowry, Toronto Raptors
I'm starting with a controversial choice, I know. But Kyle Lowry has a more well-rounded game than the other man competing for this spot, Kyrie Irving. Team USA needs a distributor, and Lowry is just that. Also, he will be able to lock down any opposing point guard with ease, as he even was able to defend LeBron James, who is eight inches taller and 45 pounds heavier than the 6'0", 205-pound point guard. Lowry is a great slasher, and even with his short stature, he can get to the rim as often as he wants. He will have shooters around him, so it will make it easier for him as the floor will seem bigger with those perimeter threats. There are enough shoot-first players on this roster and in this lineup, so Lowry is my first-choice floor general and playmaker for the stars and stripes.
Shooting Guard: Klay Thompson, Golden State Warriors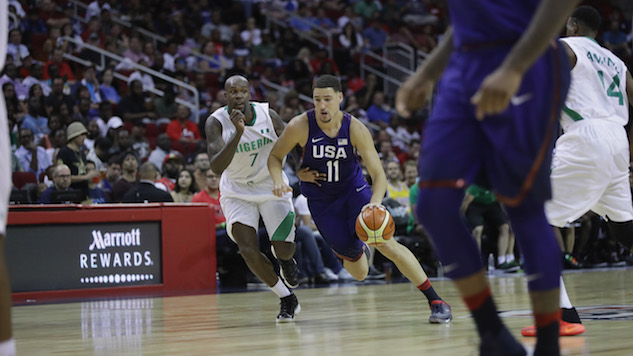 The "other" Splash brother, Thompson is one of the most underrated players in the league simply because he plays alongside Steph Curry and Draymond Green, two of the league's biggest stars. Now that he also has Kevin Durant on his team, he will be even more overshadowed. As the second or third option on a stacked Warriors team, though, his stats are stellar: 22.1 points per game, 42 percent from three, and 87 percent from the free throw line. Though his stats may not show it, he is an above average defender on the perimeter who is more than able to limit the production from his opponent. He may not be the secondary playmaker that is desired for his position, but with his scoring ability and passion on the defensive end, he will become one of Coach K's favorites in a heartbeat.
Small Forward: Kevin Durant, Golden State Warriors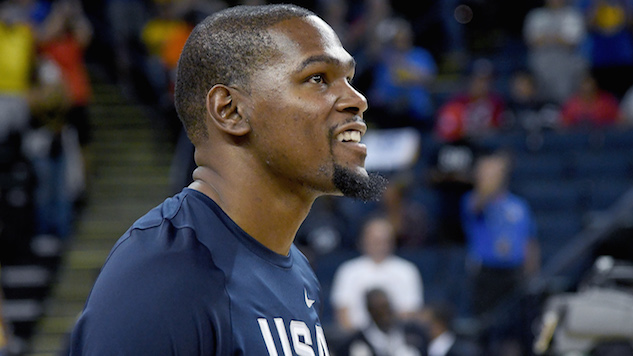 As the best player on this team, Durant has to be the starter at the 3 position. His career average of 27.4 points per game does not lie: the man can produce night in, night out. He has won the MVP Award, is a 7-time All Star, won the Rookie of the Year, and was the All Star MVP. If those accolades do not impress you, just look the man up on YouTube. He is not the best defensively—even though he has insane size for his position standing at 6'10" and a 7' wingspan—but last season he averaged 8.2 rebounds and 1.2 blocks per game, showing that he will be able to contribute when his team does not have the ball. He is also a matchup nightmare as he can shoot over a smaller, quicker defender from long range, or he can blow right by a bigger, slower defender off the dribble. There are not enough superlatives to describe his game, so let me move on.
Power Forward: Draymond Green, Golden State Warriors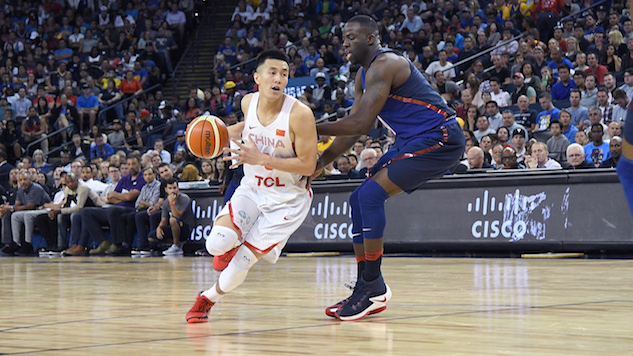 The former Michigan State star is as deserving of a starting spot as any player on this team—so long as he can avoid kicking his teammates in the nether region. He is a triple-double threat in every game he plays, he is a leader, he can defend inside and out, and he can spread the floor. That all sounds great, right? Well, he also averaged 7.4 assists per game as a power forward, which is almost unheard of. Since Durant and Thompson are not stellar passers, Green will provide a point-forward type presence in the frontcourt for his country, which will make him as hard to defend in the Olympics as he was in the NBA season.
Center: DeAndre Jordan, Los Angeles Clippers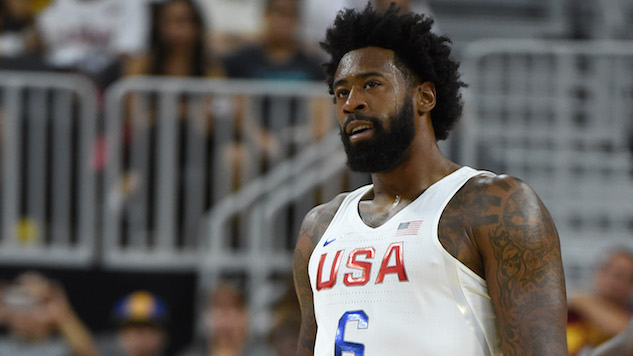 DeMarcus Cousins has almost certainly annoyed Coach K enough to miss his spot, so DeAndre Jordan wins at the five position. All jokes aside, though, Jordan does deserve this spot because of what he will bring to the team: a strong, brutal inside presence. He is a great defensive player and has been in the running for Defensive Player of the Year for the past few seasons. Add his insanely efficient shooting to his defensive prowess, and you have the perfect player in the paint to compliment the perimeter threats of this starting lineup. He shot 70 percent from the field last season, and his shot chart is a thing of beauty. Basically, he gets the ball in the post and dunks it. He is able to get within five feet of the hoop, push people out of the way, get up, and dunk it down. That is all Team USA will need from Jordan offensively, as he would be their fifth scoring option in this lineup. His work in the paint defensively and on the boards is what makes him valuable to this team. He averaged 2.3 blocks and 13.8 rebounds per game last season in LA, with 3.5 offensive rebounds. Jordan will be the janitor of this team: cleaning up Team USA's errant shots while clearing out the lane defensively, and those simple yet valuable traits will make him one of the most important players on this superstar-laden roster.