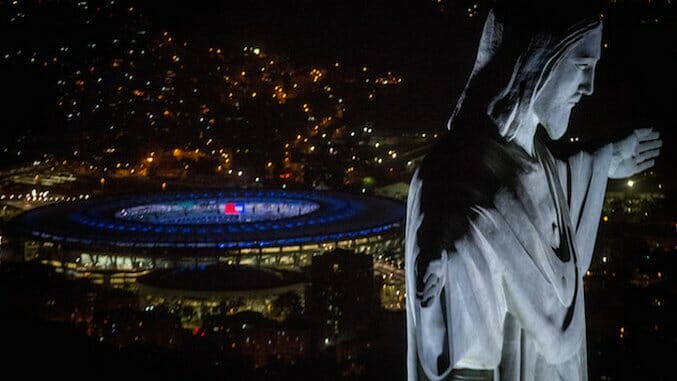 In a city known for big, big parties, Rio de Janeiro is set to put on its biggest yet with the opening ceremony to the 2016 Olympic Games. The setting is Maracanã Stadium, one of the biggest sports stadiums in Latin America, and the past host of epic concerts and history-making soccer games. Tickets to the opening ceremony are currently selling for an official price of $430. But for many people who love Brazilian music, that entry price is more than worth what they'll get in terms of performance. The show promises everything from fireworks to a colonial history class via dance to the Brazilian supermodel Gisele Bundchen walking the catwalk to the tune of the bossa nova classic, "The Girl From Ipanema," by Tom Jobim.
(Check out Paste's coverage of Olympic opening ceremonies through the ages.)
A preview performance of the Rio opening ceremony on Sunday night had Gisele's stand-in getting mugged. Organizers have reportedly stepped back from that particular bit of "humor."
Below, we've given you a quick rundown of what to expect from the performers that will star at the opening ceremony, along with links to some of their iconic hits so that you can feel in-the-know tonight.
Anitta
Show das Poderosas, (The Show of Powerful Women), her anthem of female sexuality, blasted out across the Brazilian airwaves a couple years ago, just like the shipping horn that kicks it off. (I remember seeing 3 little indigenous girls in a remote Amazonian village dancing to it.) The words, of course, are fab: "Raise the music so you can see me dancing, until you end up drooling." 23-year-old Anitta takes a page from Beyonce and Rihanna's books and has become a mini Brazilian music factory, churning out dance anthems that women in particular love to dance to.
Caetano Veloso
Caetano can do no wrong in Brazil. He is revered here at a level that has no comparison in the US; it's as if Bob Dylan joined forces with Beyonce. Veloso's history is intertwined with Brazil's own history. He was raised in the northeastern state of Bahia, where he made his name as a leading singer of the tropicalia movement in Brazil. That spotlight caused him trouble, though, as the dictatorship saw him as a threat and exiled him to Europe, along with Gilberto Gil, another acclaimed musician from the tropicalia period. The exile only strengthened their creative synergy and increased their popularity back home.
Upon returning, Caetano continued to perform and his star rose, often in parallel with Gil. (His sister, Maria Bethania, is a beloved Brazilian performer in her own right.) He is most beloved for his lyrics, which Brazilians consider poetry in a class of their own. Attending one of his shows means being a part of a massive singalong, as Brazilians know all of the words. And remarkably, the appeal of Caetano has no age limits. Caetano has been touring with Gilberto Gil, so in all likelihood (fingers crossed!) the two will perform together.
Gilberto Gil
Gil, like Caetano, thrives in a stripped-down acoustic guitar scenario. But Gil has also found a way to spread his creativity across a variety of music genres. He's penned classics in the style of the rural Northeastern forro pé de serra, and even in reggae. Combined with Veloso, Gil's music makes up a vast chapter of the songbook of Brazilian music.
Producers of the opening ceremony are keeping pretty mum about what exactly to expect, but one song is for sure: Gil's "Aquele Abraço." The song is an over-played, ever-loved anthem to Rio de Janeiro (it begins "Rio de Janeiro remains beautiful…"), and makes a perfect fit for the opening ceremony. If you want to brush up on any Brazilian lyrics, brush up on these.
Elza Soares
Elza Soares, 78 (!), is considered by many Brazilians to be a living legend. During her shows, she sits atop a grand pedestal, which her long skirt falls over, like a queen on a throne. There, behind a face that has seen a bit too much plastic surgery, she sings heavy songs, weighed down by a life of difficulty with a growling, intense voice.
Born poor in a Rio favela, Soares became famous back in the 60s as a singer, and then her fame multiplied when she married Garrincha, at that time a major Brazilian soccer star, whose platform was the same stadium where she'll sing. She stayed in the limelight as tragedies beset them. Garrincha, whose alcohol problem would eventually kill him, first killed Soares' mother in a drunk driving accident and later, she lost her 9-year-old child with Garrincha in another car accident. This awful history turned Soares into a survivor, and a symbol of overcoming adversity.
These days, she is living a renaissance, as a younger generation of progressives sees her songs now as protest anthems that sync up with the social issues of the day involving gender, sexuality, and race. At a recent concert in Belo Horizonte, she warned the crowd: "If you're a machisto, you should leave now, because this show will be hard for you." One of her most famous songs, Carne Negra, chillingly advises, "The cheapest meat at the market is black meat," a commentary on Brazil's race relations that remains true today. Though she is an old hand at singing all of the Brazilian classics, word has it she may sing the Brazilian national anthem at the ceremony.
Ludmilla
The sickeningly catchy song "24 Horas por Dia" (24 Hours a Day) will either ruin or make your night, depending on your mood and/or alcohol intake. Its energy is totally undeniable, and it is a standout example of Brazil's most popular form of dance music, which is pop rooted in a funk beat (the percussive chu-cha-cha beat sung the guy beatboxing over the melody). Funk (pronounced fun-kee in Portuguese) is the rhythm that young people in Rio's favelas in particular run on, but its catchy vibe has slid down the hills and taken over the city's dance clubs. If you can practice bouncing your butt on the ground to this song (quad strength!), you'll be ahead of the game by the time Ludmilla takes the stage at the opening ceremony.
Wesley Safadão
My God, where to begin? Wesley Safadão is massively popular in a genre of music that only one half of Brazil listens to, chanting along to every word, and that the other half of Brazil rolls their eyes at and wouldn't be caught dead listening to. The genre is called Forró Eletronico: the classic forró—a waltzy rhythm from the Brazilian northeast—set to drum machines and keyboards. His slicked back mullet and tight jeans would make Toby Keith jealous and add to a sexually charged show that Brazilians – especially those from the interior, rural regions of the country – can't resist.