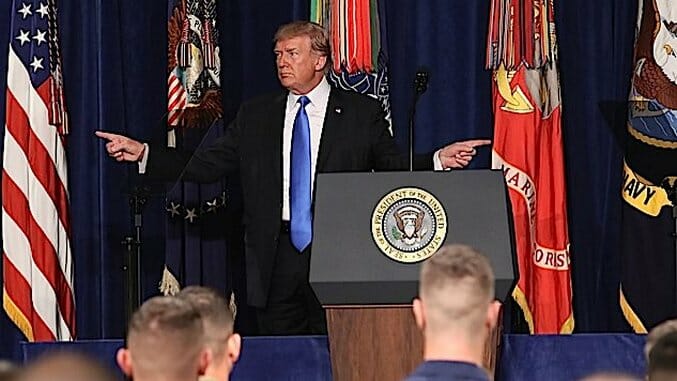 Yesterday, Donald Trump gave a strategy speech on Afghanistan in which he deepened America's involvement in an unwinnable 16-year quagmire. The speech was light on details (shocker, I know), but it followed a long session with generals at Camp David, and will involve deploying more U.S. troops to the country. It also invoked a possible partnership with India, and putting "pressure" on Pakistan, which, clearly, could lead to an entirely new conflict in the region. All of it, per the Times, represented a "weary acceptance" of the status quo after trying and failing to hold his generals accountable for their nearly two decade-long failure to bring about anything resembling "victory." In the immediate aftermath of the speech, even some Republicans couldn't contain themselves from calling it a rotten idea:
Sixteen years and the lives of over 2,000 American heroes are more than enough of a price to have paid to eradicate a terrorist sanctuary," Gov. John Kasich, Republican of Ohio, who has positioned himself as a possible primary race candidate in four years, said in a statement. "America cannot afford to make an open-ended commitment of further lives and treasure to the improbable proposition of building a cohesive nation in Afghanistan."
Senator Rand Paul, Republican of Kentucky, flatly opposed a troop increase. "The mission in Afghanistan has lost its purpose, and I think it is a terrible idea to send any more troops into that war," he said in a statement.
There's not much left to say about this—how many ways can you call it an obvious blunder that will cost American and innocent Afghan lives?—so I'll let Trump speak for himself. Here are all 30 tweets he made using the word "Afghanistan," starting in 2011 and ending in 2015, per a Twitter search.
Ron Paul is right that we are wasting trillions of dollars in Iraq and Afghanistan.

— Donald J. Trump (@realDonaldTrump) August 13, 2011
When will we stop wasting our money on rebuilding Afghanistan? We must rebuild our country first.

— Donald J. Trump (@realDonaldTrump) October 7, 2011
NYC should hold a parade for returning Iraq and Afghanistan veterans.

— Donald J. Trump (@realDonaldTrump) December 30, 2011
My @foxandfriends interview discussing violence in Afghanistan, rising oil prices and @MittRomney's leads in AZ (cont) http://t.co/neuX5zG1

— Donald J. Trump (@realDonaldTrump) February 27, 2012
It is time to get out of Afghanistan. We are building roads and schools for people that hate us. It is not in our national interests.

— Donald J. Trump (@realDonaldTrump) February 27, 2012
China is getting minerals from Afghanistan http://t.co/uNxQYQWi We are getting our troops killed by the Afghani govt't. Time to get out.

— Donald J. Trump (@realDonaldTrump) February 29, 2012
Maniac Sergeant who went on a killing spree in Afghanistan must be punished, big time, and quickly.

— Donald J. Trump (@realDonaldTrump) March 12, 2012
Afghanistan is a total disaster. We don't know what we are doing. They are, in addition to everything else, robbing us blind.

— Donald J. Trump (@realDonaldTrump) March 12, 2012
#trumpvlog My thoughts on Afghanistan, @RickSantorum, and why I fired two people on this week's #CelebApprentice… http://t.co/Kx83LkkS

— Donald J. Trump (@realDonaldTrump) March 13, 2012
No wonder Afghanistan is a mess! @BarackObama is releasing high level insurgents in exchange for pledges of peace. http://t.co/clTDHlZ8

— Donald J. Trump (@realDonaldTrump) May 7, 2012
Why are we continuing to train these Afghanis who then shoot our soldiers in the back? Afghanistan is a complete waste. Time to come home!

— Donald J. Trump (@realDonaldTrump) August 21, 2012
@morningmika I'm watching Joe (who is 100% correct on Afghanistan) fondling the once great Time Magazine-so sad to see how skimpy it is!

— Donald J. Trump (@realDonaldTrump) November 21, 2013
Afghanistan's so called leader, Karzai, is toying with the U.S.

— Donald J. Trump (@realDonaldTrump) January 27, 2014
Now Obama is keeping our soldiers in Afghanistan for at least another year. He is losing two wars simultaneously.

— Donald J. Trump (@realDonaldTrump) December 1, 2014
Do not allow our very stupid leaders to sign a deal that keeps us in Afghanistan through 2024-with all costs by U.S.A. MAKE AMERICA GREAT!

— Donald J. Trump (@realDonaldTrump) November 21, 2013
We should leave Afghanistan immediately. No more wasted lives. If we have to go back in, we go in hard & quick. Rebuild the US first.

— Donald J. Trump (@realDonaldTrump) March 1, 2013
Karzai of Afghanistan is not sticking with our signed agreement. They are dropping us like dopes. Get out now and re-build U.S.!

— Donald J. Trump (@realDonaldTrump) December 6, 2012
Afghanistan leaders want the U.S. to keep 20, 000 troops there for many more years, fully paid for by the U.S., but first they want apology.

— Donald J. Trump (@realDonaldTrump) November 20, 2013
I wonder if when Secy. Kerry goes to Iraq and Afghanistan he pushes hard for them to look at GLOBAL WARMING and study the carbon footprint?

— Donald J. Trump (@realDonaldTrump) June 23, 2014
Can you believe that "President" Karzai of Afghanistan is holding out for more, more, more and refuses to sign deal. Tell him to go to hell!

— Donald J. Trump (@realDonaldTrump) November 28, 2013
84% of US troops wounded & 70% of our brave men & women killed in Afghanistan have all come under Obama. Time to get out of there.

— Donald J. Trump (@realDonaldTrump) September 11, 2012
Let's get out of Afghanistan. Our troops are being killed by the Afghanis we train and we waste billions there. Nonsense! Rebuild the USA.

— Donald J. Trump (@realDonaldTrump) January 11, 2013
Remember while @BarackObama is lauding himself tonight with self-indulgent compliments we have our brave soldiers fighting in Afghanistan.

— Donald J. Trump (@realDonaldTrump) September 6, 2012
Five U.S. soldiers killed in Afghanistan by so-called friendly fire. What are we doing?

— Donald J. Trump (@realDonaldTrump) June 10, 2014
Our gov't is so pathetic that some of the billions being wasted in Afghanistan are ending up with terrorists http://t.co/bso3k1pR7l

— Donald J. Trump (@realDonaldTrump) April 17, 2013
We should remember that during this entire Petraeus episode,over 50 of our nation's bravest have died in Afghanistan…

— Donald J. Trump (@realDonaldTrump) November 20, 2012
We continue to lose our nation's finest in Afghanistan almost daily. The Rules of Engagement are costing lives.

— Donald J. Trump (@realDonaldTrump) May 8, 2013
We have wasted an enormous amount of blood and treasure in Afghanistan. Their government has zero appreciation. Let's get out!

— Donald J. Trump (@realDonaldTrump) November 21, 2013
I agree with Pres. Obama on Afghanistan. We should have a speedy withdrawal. Why should we keep wasting our money — rebuild the U.S.!

— Donald J. Trump (@realDonaldTrump) January 14, 2013
A suicide bomber has just killed U.S. troops in Afghanistan. When will our leaders get tough and smart. We are being led to slaughter!

— Donald J. Trump (@realDonaldTrump) December 21, 2015