Lay off the Whole Kamala Harris Weed, Snoop and Tupac Discrepancy
Photo by Chip Somodevilla/Getty
Politics
News
Kamala Harris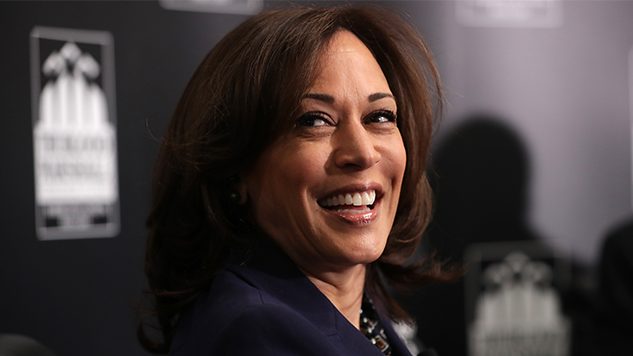 Listen, the Paste Politics team may not be Kamala Harris' number one fans, but recently the backlash against her answers on The Breakfast Club radio show is fairly ridiculous. In an interview spanning a number of topics, many honed in on the Democratic presidential candidate's reply to the question of whether she smoked marijuana. "I did inhale," she confirmed, later saying that she smoked weed back in college.
While discussing the legalization of marijuana, Harris said, "Listen, I think it gives a lot of people joy, and we need more joy in the world."
Later on, there was an exchange that may have resulted in either an admittedly dumb answer or, more likely, a reply that was misconstrued.
Kamala Harris really said she was listening to 2Pac and Snoop when she smoked weed in college. This woman graduated college in 1986 these people will lie for no reason pic.twitter.com/efx6SuhK6o

— Wunderkind (@Carnage45__) February 12, 2019
Co-host DJ Envy asked the Senator, "What does Kamala Harris listen to?"
"What was you listening to when you was high? What was on? What song was playing?" Charlamagne Tha God added.
"Was it Snoop?" DJ Envy interjected.
"Oh yeah, definitely, Snoop. Uh huh, Tupac. For sure, for sure," Harris said.
So, if Harris answered DJ Envy's question, there's literally no story. Zip. Nada. However, people love their bad-faith attacks these days, even over something as small as what music someone purportedly listened to while high. People on the internet assumed that Harris was answering Charlamagne's question, and quickly realized that in this case, the timelines don't quite match up.
As reported by Okayplayer:
Harris graduated college from Howard University in 1986 and graduated from the University of California, Hastings College of the Law, in 1989. She was then admitted to the State Bar of California in 1990 and served as a deputy district attorney in Alameda, County, California, from 1990 to 1998.
Snoop and Tupac's debut albums—Doggystyle and 2Pacalypse, respectively—dropped during the time in which Harris was a district attorney. Prior to that, Snoop was a part of a rap trip [sic] called 213 alongside Warren G and the late Nate Dogg. But 213 was first active in 1991. As for Tupac, he first started recording in 1987 but that was under the alias MC New York, the name he used when he was living in Baltimore.
So, if you're in the "she was answering Charlamagne" camp, at best, Harris gave a thoughtless answer. She tried to come off as cool in order to appeal to younger voters, or she forgot what music she was listening to while high in college (same). Guess what, most politicians pander. Big whoop. When we have a president lying about much more pressing issues, this is a little green lie that hardly matters.
The rightwing is so desperate to attack @KamalaHarris they're trying to make Reefergate happen.@djenvy asked what she listened to. @cthagod made a pot joke. Then she answered @djenvy's question.

This really isn't that complicated. Just watch. pic.twitter.com/jIuRLFUULF

— Ian Sams (@IanSams) February 12, 2019
But then some people went even further and claimed that, well, the Senator must have been smoking weed when Tupac and Snoop released their debut records, making her an awfully hypocritical D.A.
Let me be clear: it's time we legalized marijuana at the federal level. Marijuana laws are not applied or enforced in the same way for all Americans, many whose lives have been ruined by these regressive policies. We must change the system.

— Kamala Harris (@KamalaHarris) February 12, 2019
This argument doesn't make a whole lot of sense, for the main reason that Harris isn't stupid enough to reveal that she was breaking the law while prosecuting Californians.
Watch the full interview on The Breakfast Club below. Heads up: Her answer about smoking weed comes after the 36:36 mark, with the Tupac/Snoop answer later on at 38:10.
(Oh, and in case you were wondering, Harris is a big fan of Cardi B these days. No word on if she listens to "Bodak Yellow" high.)