How ESPN Finally Discussed CTE After Disney CEO Bob Iger Lost His Bid For an NFL Franchise
Photo by Drew Angerer/Getty
Politics
Features
NFL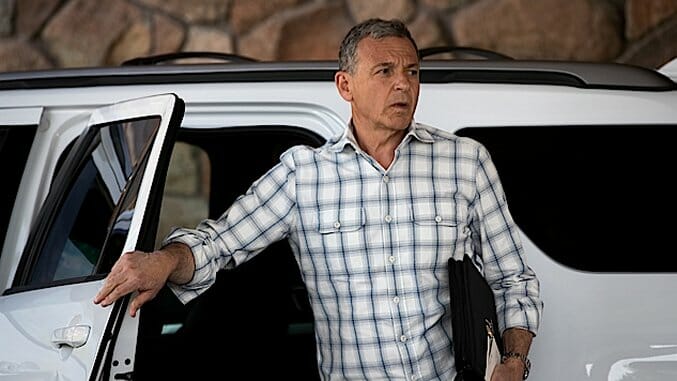 Will Smith just doesn't understand why his movie Concussion didn't lead to significant changes in the NFL with regards to the sport's enormous chronic traumatic encephalopathy (CTE) problem.
"I knew it would be hard because people love the game, but the science is so overwhelming, and it's something that we really need to take a look at," he told Vanity Fair recently. "I was surprised."
CTE is a form of dementia, commonly found in the brains of former football players and boxers. It is the result of repeated mild brain trauma- in the case of boxers, from being hit in the head, for football players, from being hit on the field.
The subject has come up more and more in recent years, and the NFL admitted in May that there is a connection between playing football and the illness.
To understand why the film didn't work to do what Smith wanted it to— and indeed to understand why CTE is still a non-issue, really, in football— we can look back to June, when ESPN aired its five-part documentary, OJ: Made in America, over the week of the NBA Finals.
Made in America aims to explain Simpson's likely murder of his ex-wife, Nicole Brown Simpson, and her friend, Ronald Goldman, as the result of Simpson's instability and his belief in his own invincibility. The documentary shows, again and again, how Simpson did not see himself as black in a white man's world; how this disconnect with the civil rights struggle of the '70s and '80s and the reality of the LAPD allowed for Simpson to think he could quite literally get away with murder; and how Simpson's self-perception of his own untouchability and his sense of entitlement all contributed to the fateful night in June, 1994, when he presumably committed the murders.
This is all well and good—but what the documentary doesn't address is the possibility that Simpson suffered from CTE.
OJ: Made in America director/producer Ezra Edelman believes that CTE is a cop-out and an excuse for Simpson's actions. Yet his explanation feels incomplete:
"And for me personally to report something in a film that, one, is completely unverifiable and second, to me, it's a cop out. OJ wasn't the way he was and wasn't abusive because he played football. I think that sort of discounts the personality defect that exists. I didn't want to give him that out and say, by the way, it's because he played football."
Yes, it is unverifiable to cite CTE in OJ's behavior—but for Edelman to imply the rest of the documentary, which contains three hours of thinly veiled accusations of Simpson over the murders of Brown and Goldman, is "verifiable" sounds a bit disingenuous. At the very least, CTE should have been a part of the story—but it wasn't.
The NFL has a long history of downplaying CTE. The league refused to acknowledge the disease's connection with the sport until the evidence was overwhelming, and even then it took until March of 2016 for an NFL official to publicly acknowledge the link—and even then the acknowledgement of the problem was based on data sets that were incomplete.
The reason is simple. CTE and the NFL's attempts to mitigate the damage and downplay the significance of the problem are bad for the NFL brand. A sampling of recent stories on the NFL and CTE leave no doubt about that fact.
· Miami Herald, February 6, 2016: "But it is the fundamental knowledge that football slowly kills you, and almost always leaves you impaired in some way, that undercuts everything and, many suggest, threatens the very future of the sport."
· Reuters, March 15, 2016: "While the admission came as a surprise, the fact that there is a connection between American football and CTE was likely not a revelation to passionate fans who watch America's most popular sport and cheer each bone-crushing hit… The National Football League has taken steps to try and make the game safer but the issue has not gone away."
· The New York Times, March 24, 2016: "Now, an investigation by The New York Times has found that the N.F.L.'s concussion research was far more flawed than previously known… The committee…. calculated the rates of concussions using the incomplete data, making them appear less frequent than they actually were."
· Five Thirty Eight, April 1, 2016: "[T]he NFL does not dispute that its committee's data set did not include all concussions…. Researchers primed to believe that the NFL has concussions under control, a data set that's missing important information, and publication in a journal edited by a consultant to the NFL — it looks more like an attempt to create evidence for a predetermined message than good science.
· 24/7 Wall Street, June 6, 2016: "The NFL has 32 sponsors that pay tens of millions of dollars for industry exclusive league-wide marketing rights… At some point, sponsors will be affected by all of the extremely negative press, and their PR executives and senior managements look carefully at whether the exposure given them by NFL sponsorships is offset by the exposure of the toll professional football takes on its players.
It's obvious that the NFL wants nothing to do with CTE—a byproduct of the gameplay of the sport the industry is built on. Only years and years of continual pressure from the media and a number of high profile suicides by former players (usually shooting themselves in the heart to ensure their brains can be studied after their death) were enough to finally force the league to confront the dangers and reality of the disease.
So what does this have to do with OJ: Made in America?
To understand that, we need to look back to Disney CEO Robert Iger's attempts to bring the San Diego Chargers and Oakland Raiders to Carson, CA. Football was destined for the LA area and Iger wanted the opportunity to place the franchise in Carson. Iger's plan faced stiff competition from the owner of the St. Louis Rams, Stan Kroenke, who wanted his team to move to the LA area instead, in Inglewood.
The decision would come down to the NFL owners, who would vote in favor of one proposition or another. In order to ingratiate himself to the owners, Iger took at least one action in favor of the NFL against an employee of Disney subsidiary ESPN.
Bill Simmons, the founder and editor-in-chief of now closed online magazine Grantland, was a valuable if problematic asset for the company. Grantland specialized in irreverent sports and culture writing—an irreverence taken from Simmons himself.
This irreverence being well established, it came as a bit of a surprise when ESPN announced Simmons' contract would not be renewed in the wake of comments Simmons made on Dan Patrick's radio show about NFL Commissioner Roger Goodell during a discussion on the Wells report (on deflated footballs used by Simmons' favorite quarterback Tom Brady):
"Roger Goodell has handled so many things so poorly that it's reached a point now where you have something like this, where it's taken four months to release the report, and he knew everything that was in it. He knows the results before the report is released to the public, and yet doesn't have the testicular fortitude to do anything about it until he gauges the public reaction."
Almost immediately thereafter, ESPN announced that the company and Simmons would be going their separate ways.
Months later, Simmons would heavily imply that Iger's interest in the NFL had something to do with his firing. During an appearance on The Malcom Gladwell Show, Simmons said that:
"I knew from personal experience that he wanted to get involved in an LA football team. That was one of the reasons I had so many problems at ESPN last year."
The insinuation here is that Iger was worried that Simmons was hurting Iger's chances of getting in bed with an NFL team.
If Simmons is right here- and it certainly appears that he is because for all Simmons has ever said in public about the NFL, mocking Goodell's lack of "testicular fortitude" is par for the course- then that brings up questions about why OJ: Made in America doesn't mention CTE as a possible explanation for the murders of Nicole and Ron.
A specific, targeted search for "OJ CTE" on ESPN prior to January of 2016 netted zero results tying them together. In fact the only recent mention of a possible CTE connection and OJ was made in May of 2013 when ESPN Legal Analyst Lester Munson dismissively cited Simpson's attempts to get a new trial on the basis of concussions in 2012:
"Although [blaming his lawyer is] a far-fetched strategy to get a new trial, it seems a bit more plausible than the one he hatched in April 2012, when, sitting in his cell in the Lovelock Correctional Center in Nevada, he apparently saw a chance for himself in the concussion crisis building in the NFL as hundreds of former players complained that head injuries were ruining their lives."
This would change in January of 2016. On January 12, at the NFL owners' meeting, Iger's hopes to have the Chargers and Raiders move to LA were dashed as Kroenke won approval of relocating the Rams to Inglewood by a vote of 30-2.
Almost immediately, Disney holdings began running articles critical of the NFL—going so far as to label one of the most famously accused murderers in US history, OJ Simpson, as a CTE victim.
On January 29, ABC News (a subsidiary of Disney) aired an interview with Dr. Bennet Omalu, the famed doctor who exposed the link between NFL gameplay and CTE. In the interview, Omalu said "O.J. Simpson is more likely than not to suffer from CTE- I would bet my medical license on it."
ESPN ran a recap of the story on the site on Jan. 30. Keep in mind here that prior to January 2016, ESPN had studiously avoided tying Simpson to CTE. It makes sense- ESPN and the NFL have a symbiotic relationship, most notably because of Monday Night Football.
It certainly appears that after Iger's losing bid for Carson ESPN was allowed to run stories noting the possible connection between the disgraced former star and CTE.
That those stories only ran after Iger's failure to bring the Chargers and the Raiders to the LA area and his failure to become involved with an NFL franchise indicates that the sports network's reporting on CTE is largely driven by Disney executive personalities, not facts; profit, not the public good; and that ESPN protected the NFL's interests right up until the interests of the CEO of their parent company conflicted with the NFL.
That the interests of ABC and Iger were more important than the health of the players in the NFL shouldn't be surprising. It's just business. Someone tell Will Smith.