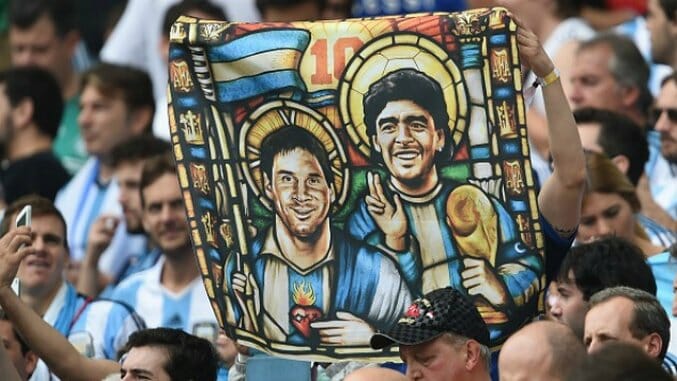 When Lionel Messi was red-carded on his debut for Argentina, the commentator laughed at the comparisons of the young boy to Diego Maradona. He might have the look, the left-foot and the size, but he doesn't have the talent. He's no Diego.
And Messi wasn't. Neither was Diego Latorre, Ariel Ortega, Marcelo Gallardo, Franco di Santo, Pablo Aimar, Andres D'Allesandro, Javier Saviola, Carlos Marinelli, Carlos Tevez, Sergio Aguero or Ezequiel Lavezzi. Not even Juan Roman Riquelme was the new Maradona. There is only one El Pibe de Oro, in the past, the present and the future.
To his credit, Maradona has never asked for Messi to be him. Not even when the entire world did. He's often been a critic of the Barcelona player, but he has always been his biggest supporter as well. It was, after all, Diego who gave Messi the captain's armband in 2010, but more importantly, turned Argentina into Messi's team by shunning Riquelme and anyone else who didn't believe. And it is the same Diego who often tells the Argentine Football Association and the people that they didn't deserve Messi. He doesn't believe him to be a good leader, and he's allowed that criticism, but he's never hidden his affection for him.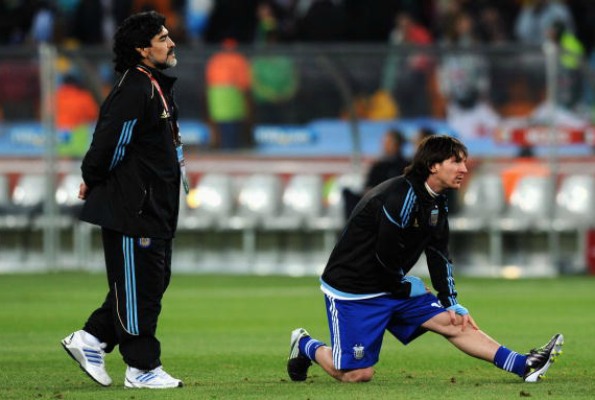 Maradona is a lot of awful things, but he is not a jealous god. He is not Pele.
He's only asked for Messi to be himself, and for the people and the AFA to protect him and create an environment where he could thrive… even if that means him not being their leader. Just let him play football. Which they have consistently failed in doing.
The problem is that Maradona is no longer himself either. It could be said that he has lost his mind but his pompous, arrogant and crazy way of being is what endeared him to the world in the first place. There was never a time when he wasn't like this.
The same personality blocks that fueled his refusal to be brought down by poverty and by bigger defenders is the same one that pushes him to be as he is today. He just had a ball at his feet before. He is flawed to say the least, and people love flawed geniuses. They don't come much better or worse than the erratic, violent and extreme Maradona.
So Maradona is not himself in the sense that it is not the man who has attacked Messi, but his ghost, his afterimage that the people have used to burden his predecessor. It is Diego the idea that Messi can't escape.
I suspect that the idea that Diego is jealous of Messi stems from the general reality. Older people tend to be dismissive, jealous and bitter towards the younger generations. Athletes especially, since they try to protect their egos and fight against the erosion of their achievements. And also because there's a resistance to every oppression. With the history of Messi in Argentina being one of extreme criticism, we Anglicize him in return and lash out at any quote that is not praise. He can no longer do any wrong because for so long, he couldn't do any right.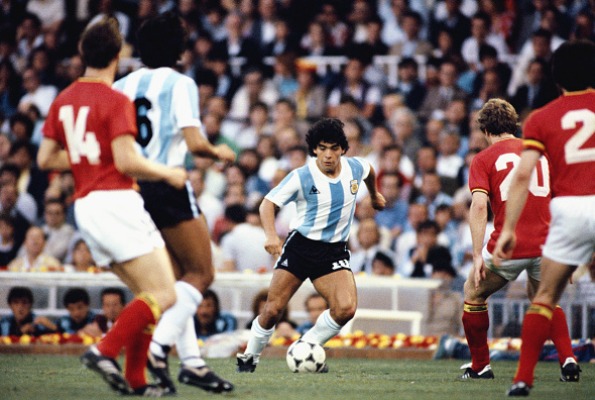 Messi is not a flawed genius. He is not bold and expressive. He's not self-destructive and he didn't rise from the fires of poverty nor spend his formative years in his homeland as Maradona did. He can never have the same connection to his country.
He is quite normal and admittedly boring. He plays football and then spends time with his family. He jokes around with his teammates and sometimes he has temper tantrums, but that's about the measure of him from a personality standpoint. He is not a political figure, a tabloid staple nor does he give any real insight in his interviews. He's no angel, no one is, but he is just a calm person who is incredible at football.
He could never be Maradona, not because of talent, but because their circumstances were different. No one can change that.
What Messi is, is Argentina's top scorer. The best player in all three consecutive competitions where Argentina have lost the final in heartbreaking fashion. Their first and last hope. Their best forward and midfielder. Their leader and one of their best soldiers. The man with a statue in Buenos Aires. The now-retired player who the Argentine team of 1986 have come together to beg to reconsider his retirement. The one that the president of Argentina have called to apologize to. The best player in the world and the best to have ever played the game. He is one of the two of his country's best ever players. The other is a god.
He's also the player who said that he would give up every one of his awards just to win a title for Argentina. It has been his biggest dream from the beginning. Not to match Maradona or to appease his critics, because like every kid who plays and loves football, it is the greatest achievement.
And that's an essential thing that's been missing from the conversation of his retirement from international football. In the obsession with the larger picture, the arrogant WE, the collective that has to see how his decision affects us, what we did or they did to cause it; what the greater meaning is, if it's done in protest, how it bodes for the team going forward and who is to replace him, we've lost sight of the player himself.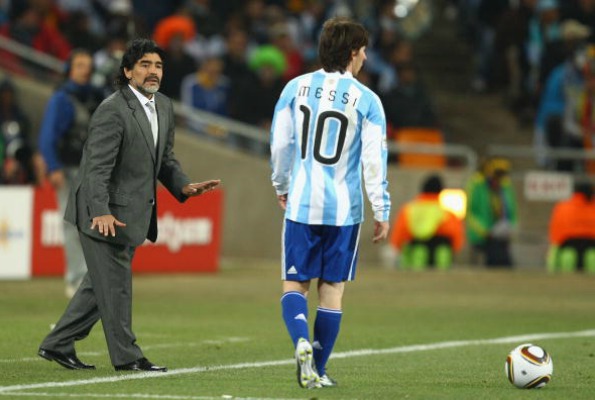 The one who missed the penalty and regardless of his performance in the game, will blame himself forever for the loss. The player who stood in the middle of the field and watched Chile score all of theirs to lift the Copa America title for the second year. The same one who watched Germany snatch the World Cup from his grasp two years ago. The one who broke down in tears and cried on the field and in the locker room. He was heartbroken and he still is. He will always be.
For three years straight he has done everything within his power to achieve his highest dream, and for three years straight it has been taken from him. In the worst ways possible.
His retirement could be a ploy and he may eventually return to the national team, but his reasoning is as true as it funereal. He has given his all, he has suffered for the team and he has failed every time. It is not enough to get to the final and lose. Not for him. Not for a dream that has haunted him since childhood. And as noble as it is to push ahead when all seems lost, it is just as courageous to stop the suffering.
He couldn't win that title like Diego did and the ghost of the one who came before him might haunt his legacy forever, but he never wanted to be him. Their tragedies are different. Diego won but his story is still of what could have been had he stayed out of his own way. Messi on the other hand, has had all of the successes in the world, except for the one that he desires the most.
It's not Maradona that he's fallen short of, it's the ending to his childhood story. It's himself.