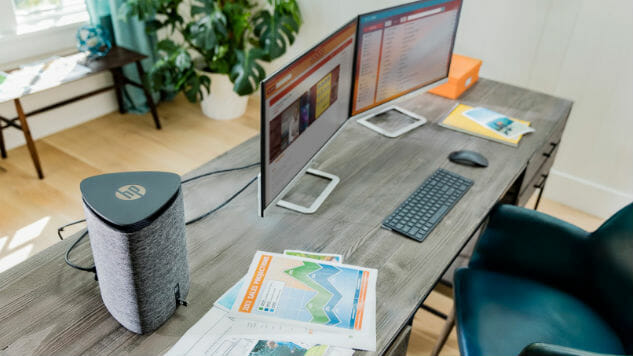 If you think desktops are boxy, stale and ugly, be prepared to erase your negative conceptions of the often overlooked PC form factor. HP's reimagined desktop is not only elegantly designed, but provides plenty of performance to the average home PC user in a compact package.
There are several key factors that require the reinvention of the desktop, Mike Nash, HP's VP of Consumer Experiences and Portfolio Strategy, said. One of those factors is that consumer homes today are 40 square feet smaller than just a year prior, and office space has shrunk by almost a half, from 227 square feet per person to 125 square feet today. And finally, as younger users enter the PC market, design is going to matter more and more.
To address these changes, HP introduced the Pavilion Wave, a stylish desktop that will make you rethink what it's like to own a tower. The Pavilion Wave is more like a statement piece for your desk, rather than a clunky tower that you need to hide away.
With HP's focus on design, the Pavilion Wave will cater to fashion forward computing users who may be attracted to Mac Pro, but may not need the performance of Apple's professionally targeted computer, or those who may not want to pay the price for a fully loaded system.
Design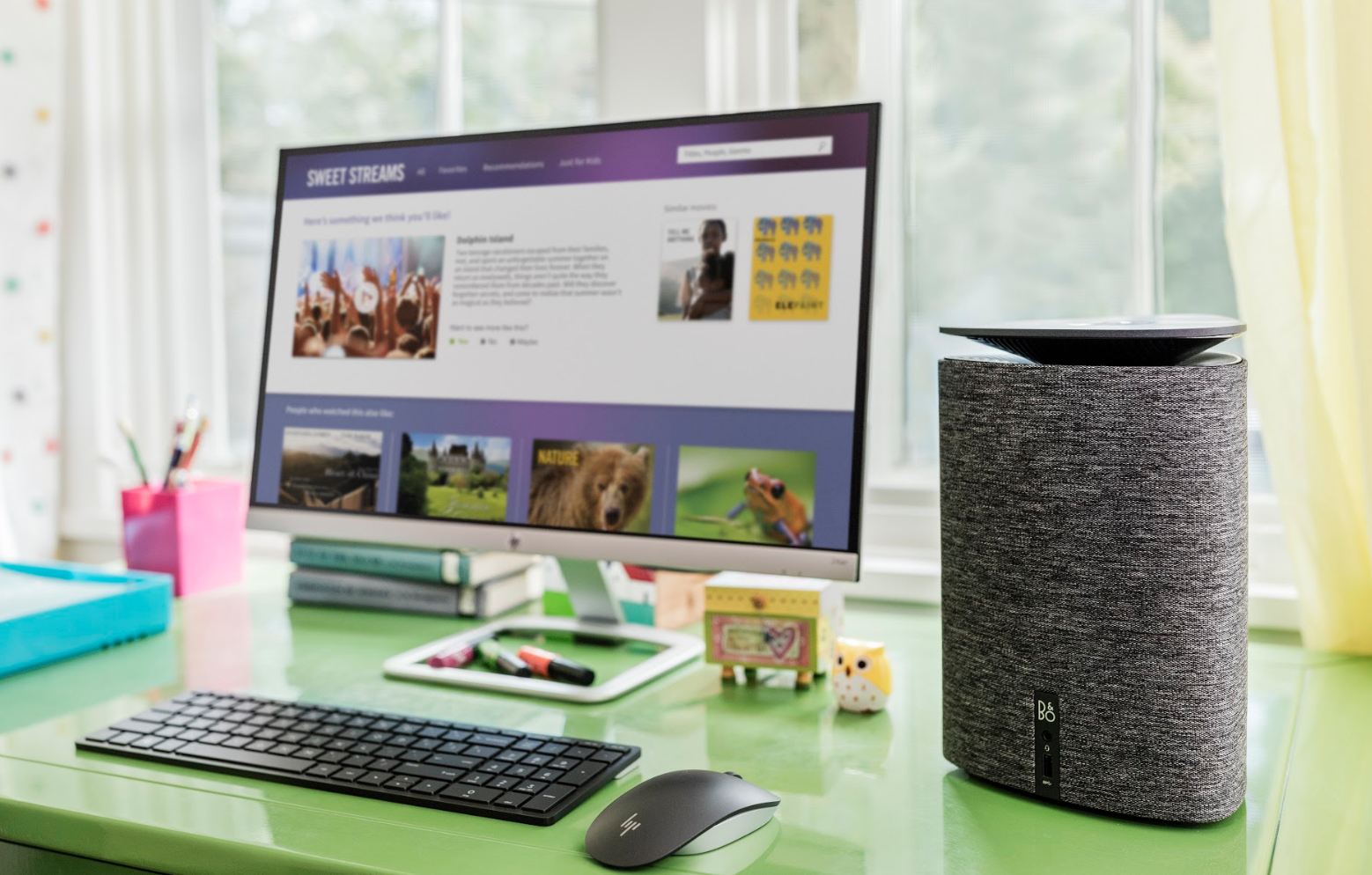 Similar to the Mac Pro, the Pavilion Wave is a diminutive tower that's designed to be showcased on a desk. Immediately, the biggest difference between HP's and Apple's design language is that the Mac Pro bears a colder aesthetic with its extruded metal case, while the Pavilion Wave is more inviting with its woven fabric cover. The Mac Pro feels more comfortable in an architectural office with exposed steel beams, whereas the HP's cozier finish feels more in place in the home.
The Pavilion Wave shares similar dimensions to the Mac Pro, measuring 6.81 × 6.62 × 10.29 inches compared to Apple's 6.6 × 6.6 × 9.9-inch dimensions. HP claims that the volume of its reimagined PC occupies roughly the same volume as a gallon of milk.
HP uses a triangular structure for its tower, which is a shift away from the rectangular boxes of PCs of yore and the cylindrical jet engine aesthetics of the Mac Pro. The design is attractive, and it looks like it could have been inspired by the Scandinavian speaker designs from HP audio partner Bang & Olufsen.
More importantly, the design also serves a functional element, aiding with airflow, ventilation and speaker output. The Pavilion Wave is a PC tower that comes with integrated speakers and a microphone for video calls, music playback and watching movies, so you don't need to clutter your desktop with external speakers.
Sound output is projected out the top of the triangular tower, and a parabolic reflector disk sits at the top to angle sound outwards in 360 degrees.
"The triangular form is comprised of premium finishes and the woven fabric is engineered for acoustic transmission coupled with the parabolic reflector with an integrated speaker on top of the PC for a superior sound experience," HP said of the Pavilion Wave's design in a statement.
With its shape, the design is engineered to house three main zones for compartments. One panel houses the motherboard, while a second panel is used to mount the storage drive. The third panel is used to extract heat from the system and pump out heat to the top of the PC, a thermal design that's not unlike the Mac Pro.
Connectivity and Expandability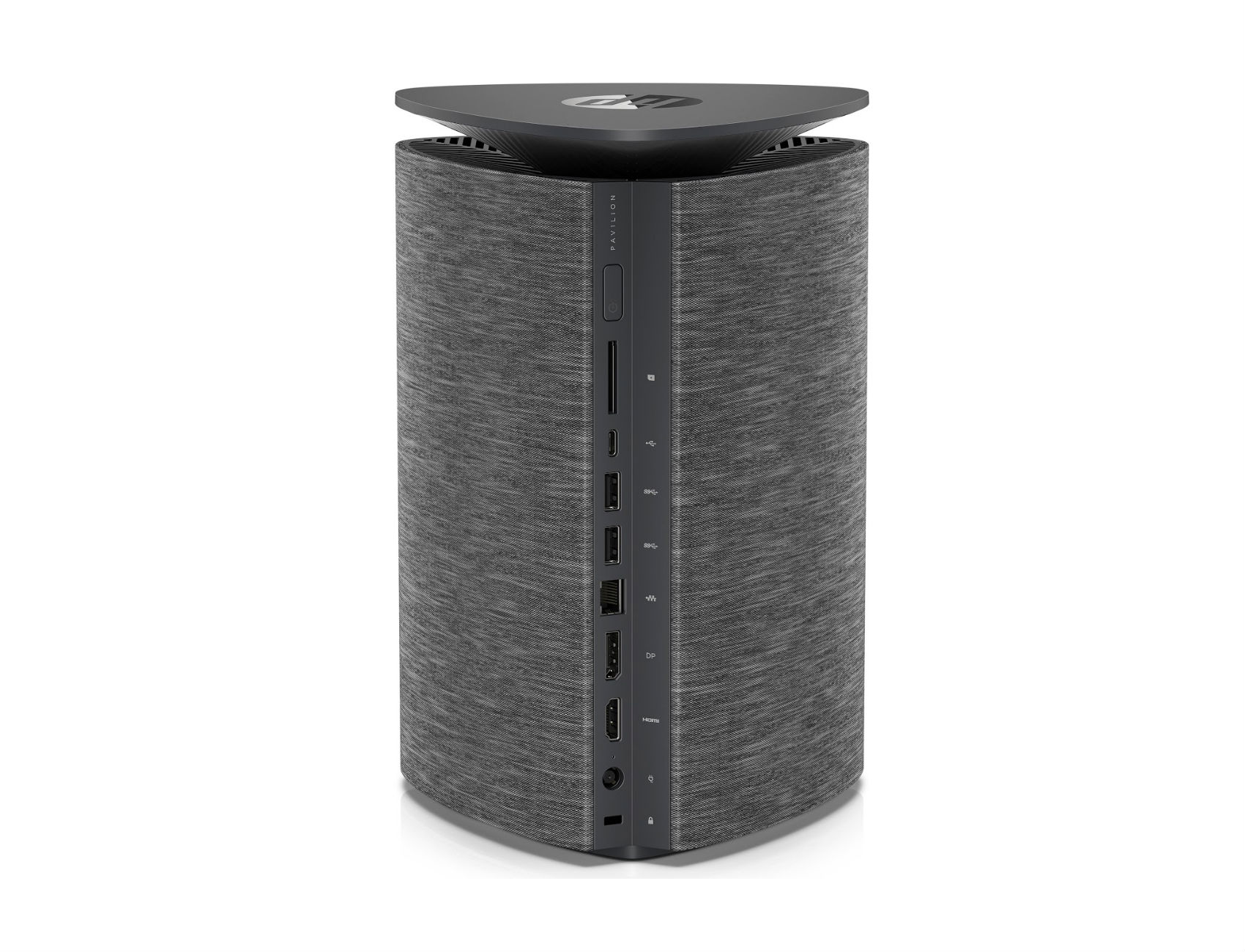 Unlike the Mac Pro's removable panel that allows for easy upgrades to internal components, the Pavilion Wave is a system that's sealed, making it more like a Mac Mini—you can't pry open the fabric cover to swap out your CPU. HP informed me that research shows that most home desktop users do not open their towers to upgrade internal configurations, and the design is intended to keep costs low. In reinventing the desktop, Nash said that the company wants to keep costs low and focus on features that consumers want the most.
That said, there are still plenty of ports for home users to augment their experience with the Pavilion Wave—the PC comes equipped with three USB 3.0 Type-A ports, a USB 3.1 Type-C port for data transfer, a combo audio and headphone jack, HDMI port, DisplayPort, SD card reader and Ethernet jack.
Entertainment and Gaming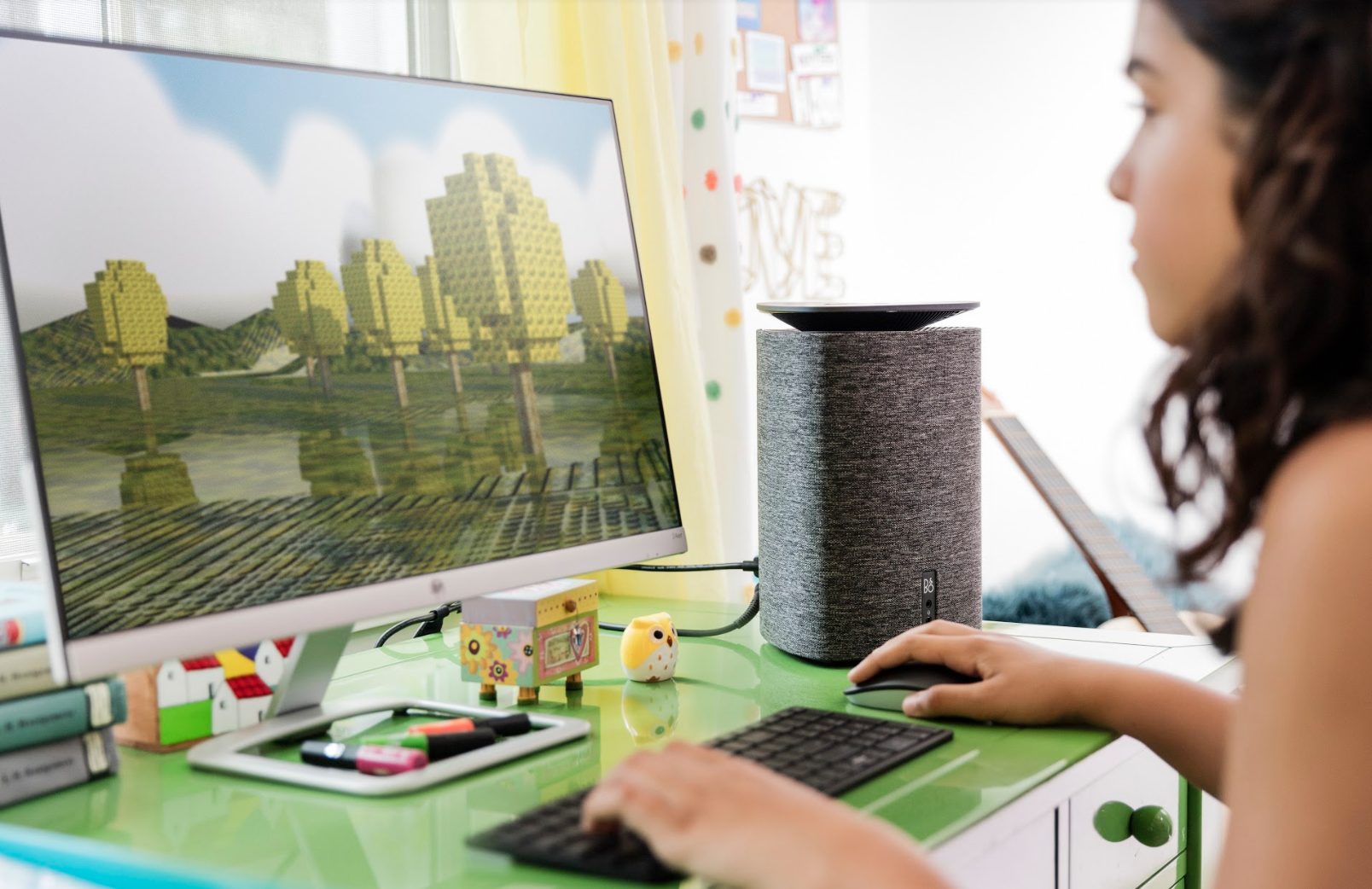 Even though many computing users are turning their attention to mobile products—laptops and tablets today come with much more power than ever before—there is still a home for desktop PCs. According to Nash, desktop users still rely on the form factor to deliver better experience for gaming, light video editing work, productivity and media consumption.
As such, the Pavilion Wave can be configured with an Intel 6th Generation Skylake Core i series processor, up to a quad-core desktop-class i7 CPU. HP also offers the option for discrete graphics with a configuration supporting AMD's R9 M470 GPU. Systems can be configured with up to a 2TB hard drive or 1TB solid state drive and 16GB DDR4 memory.
With Skylake under the hood, the Pavilion Wave can drive up to two 4K displays simultaneously out of the box.
Audio
With its multi-directional top-firing speaker, HP says that Pavilion Wave is one of the few desktop PCs to come with an integrated speaker. The Pavilion Wave is said to be tuned for a balanced soundstage to deliver a rich multimedia experience.
Another audio area that HP focused on is with the microphones. The Pavilion Wave comes with two microphones, which are not only useful for video calls, but are needed for voice commands using Windows 10's Cortana digital assistant.
Because desktop PCs could be placed farther away from the user—compared to a laptop—HP said that it partnered with Intel to test the Pavilion Wave in an acoustic chamber to ensure optimal microphone performance under a variety of conditions.
The testing process involves placing eleven speakers around the Pavilion Wave. Ten of the speakers represent background noise, and one of the speakers represent the user barking commands at Cortana, Nash said.
We'll have to wait for a review unit of the Pavilion Wave to judge speaker fidelity and voice recognition performance with the microphones.
Verdict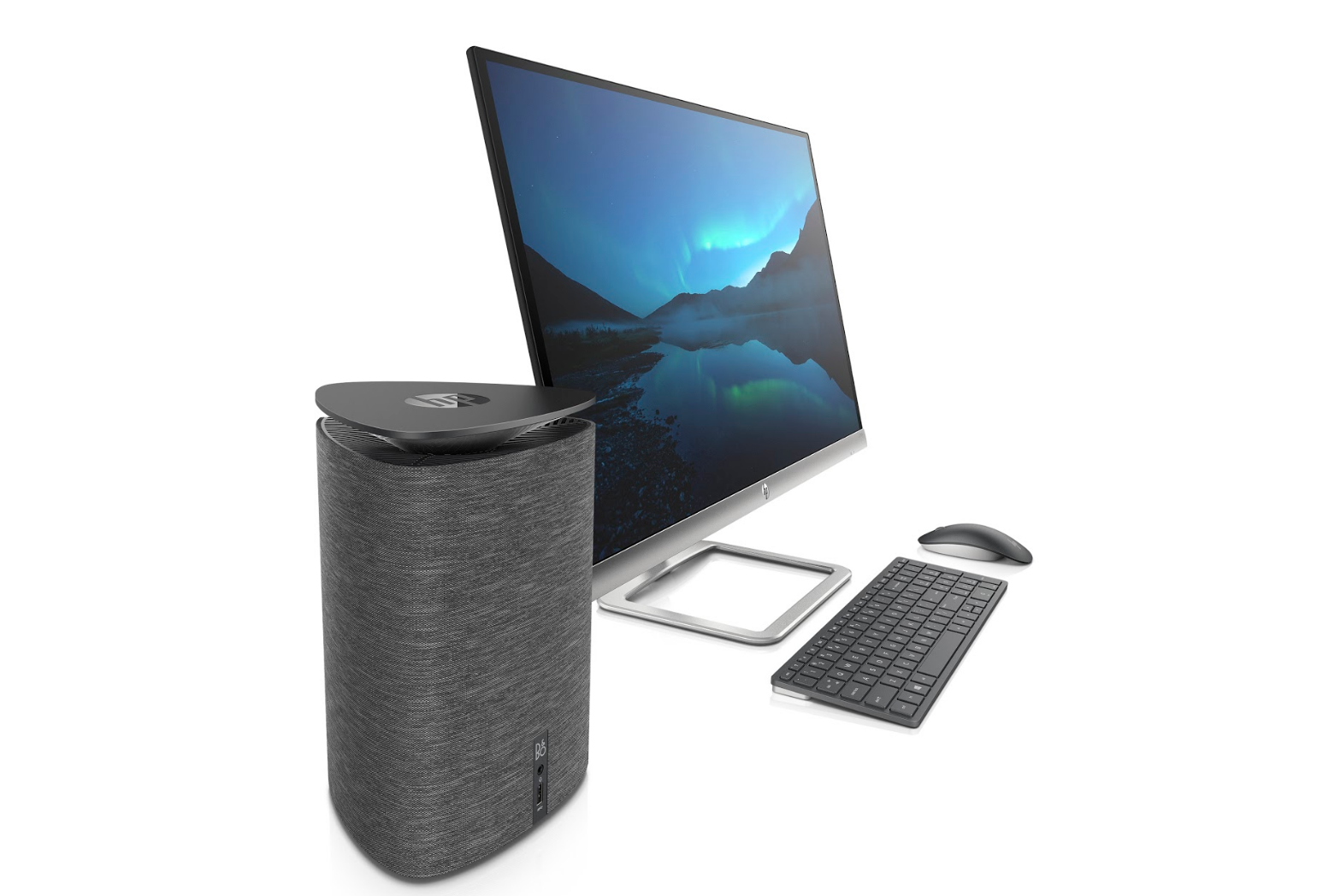 With the launch of the Pavilion Wave, HP is nipping at the Mac Pro's heels with an attractive desktop PC. Not only is the Pavilion Wave small in size, its elegant design and inviting aesthetics mean that you'll want to proudly display this "tower" on your desk, rather than hide it out of sight.
To accommodate the needs of the mass market, HP sacrificed some of the Mac Pro's extreme performance in order to achieve an affordable price point for home PC users. For the average home user, the result means that you'll solid desktop performance with quad-core processing power and discrete graphics. The addition of an integrated multi-directional Bang & Olufsen-tuned speaker and dual microphones will mean less wire clutter when you're watching movies or video chatting with family.
The Pavilion Wave will be available beginning September 16 at a starting price for $529. HP will offer several configurations, and prospective buyers can customize their systems on HP's website, Nash said.
To complete its reimagining of the desktop, the Pavilion Wave also ships with a keyboard and mouse that complement the PC's design.