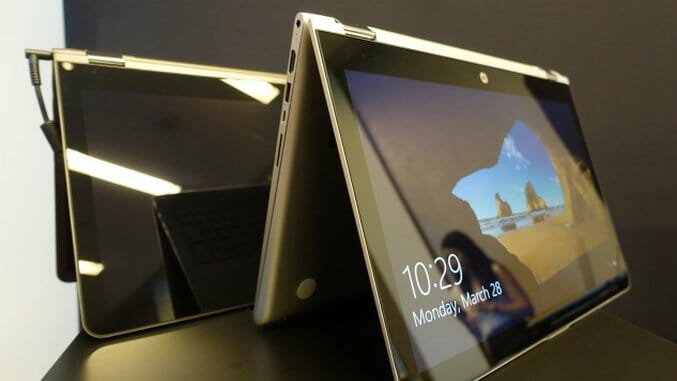 This year's Envy x360 brings incremental improvements to HP's solid convertible design. The Envy x360 range brings tablet convenience without sacrificing on power or performance, and this year's model continues this philosophy, offering the best features of HP's non-convertible Envy 15 notebook to a convertible design.
Despite its 360-degree gear-based hinge design, the Envy x360 isn't much heavier or thicker than the standard notebook that it's based on. Coming in at 4.5 pounds and measuring 18.8mm thick, the x360 variant is just 0.1 pounds heavier and less than 1mm thicker than the standard notebook configuration that it's based on.
This means that it won't be competing for the title of lightest tablet, but the Envy x360 delivers the performance of a notebook with the convenience of a tablet form factor when needed. HP said it shaved off some weight and thickness off of this year's x360 from last year's model.
Like the standard Envy 15.6 laptop, the x360 design comes with a machined aluminum keyboard deck and lid, giving the laptop a premium feel when you pick it up.
Laptop-grade Performance
Unlike the Spectre x2, which is HP's tablet-first form factor design, the Envy x360 designed as a notebook-first, similar to how Microsoft is positioning the Surface Book. As such, it comes with plenty of ports for expandability that you'd expect to find on a notebook of its class.
The Envy x360 ships with two USB 3.0 ports, a USB Type-C port, HDMI output and SD card reader. By supporting legacy USB 3.0 ports and the new USB-C standard, the Envy x360 will continue to work with your existing peripherals while also being future-proof when you completely transition to USB-C monitors, printers, mice, keyboard and external drives.
Powering the Envy x360 is either silicon from Intel or AMD. The convertible can be configured with either an Intel Skylake Core i processor, up to a Core i7 with Iris integrated graphics, or a seventh generation AMD FX9800P quad-core processor with Radeon R7 graphics. HP says that either chip can deliver up to 11 hours of battery life on the Envy x360, which gives it more battery life than the non-convertible Envy 15.
The Envy x360 can be configured with either single or dual storage drives. Users can choose up to a 2TB hard drive and up to a 256GB solid state drive.
Keyboard and Entertainment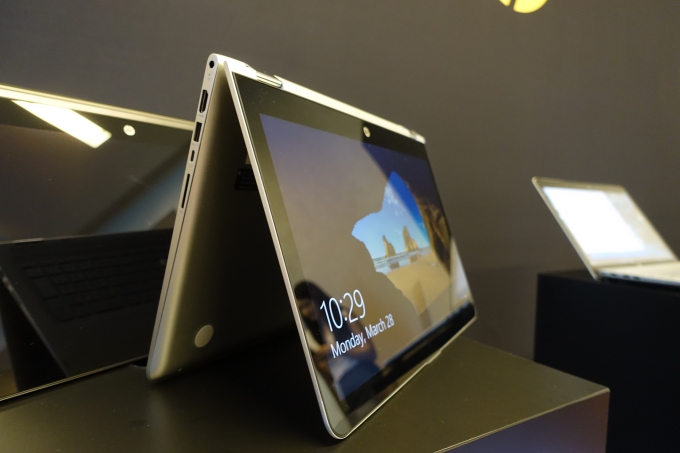 If you've used or played with a current generation Envy x360, the 2016 model should be instantly familiar. HP continues to emphasize how usable the device is as a notebook, given its full-size keyboard, and versatility as a tablet with its 360-degree hinge.
For entertainment consumption, users can configure the Envy x360 with either a full HD or a UHD 4K display. The model I saw during my preview time with HP was equipped with a 4K panel, and images and videos appear sharp and stunning.
The notebook's dual Bang & Olufsen speakers along with HP's audio tuning loud audio that was distortion-free, even at higher volumes. As with most notebook speakers, bass was a little lacking, but the Envy x360 can deliver volumes loud enough to fill a room.
Even if you're not buying the Envy x360 to use as a tablet, the 360-degree hinge also plays a big role in media consumption. In tent mode, the screen is great for showing off vacation photos and watching presentations. Video mode brings the screen closer to you, making it great for consuming videos, with the keyboard facing downward towards a flat surface.
The 2016 Envy x360 is an iterative design improvement. HP refined the Envy x360 that it debuted last year, making it lighter, thinner and more powerful with the addition of Intel's or AMD's latest processors. The addition of USB-C, option for a 4K panel and long battery life help make the Envy x360 future-proof for the foreseeable future.
The Envy x360 starts at $679 and the notebook will begin shipping on May 29.