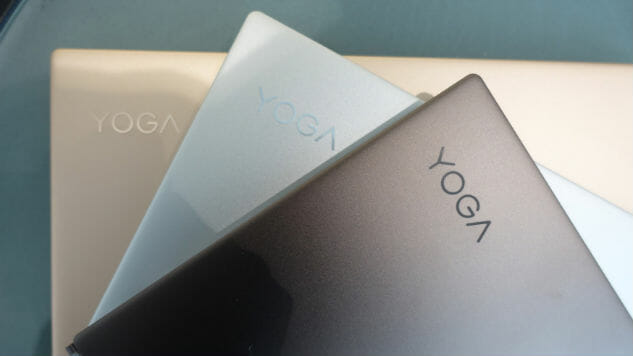 Lenovo is refreshing its convertible and detachable PCs for the holiday, bringing notable upgrades like Intel's recently announced next generation quad-core 8th Generation Core i7 processors, which brings up to a whopping 30 percent speed improvement over the current 7th Generation Kaby Lake processors. The models Lenovo announced include the Yoga 920, a favorite among consumers with its unique watchband-style convertible hinge design, a mid-range Yoga 720 and the detachable-class IdeaPad Miix 520. Lenovo's also announcing a unique speaker dock to its Yoga Tab 4 that gives its Android tablet Amazon Echo capabilities and a new Lenovo Explorer virtual reality glasses.
While performance users will appreciate support for faster processors—quad-core is a new addition to the Yoga lineup as previous models use dual-core Core i7 processors— consumers will like appreciate some of the new hardware enhancements, including support for Dolby Atmos speakers to deliver realistic virtual surround sound experiences. Atmos was previously limited to Huawei's MateBook X, and it looks like that launch partnership is short-lived as the technology—Dolby's software tuning and hardware speaker design—will also be coming to Lenovo's flagship Yoga 920.
The most exciting upgrade this year on Lenovo's consumer refresh is support for Cortana Wake on, a feature that Microsoft demoed earlier in the year. With Wake on support, you can summon Cortana when your Yoga or Miix is in sleep mode, and Cortana will wake up to answer your query. This instant-on from wake feature allows Windows 10 to be more competitive with Android and iOS smartphones in the virtual assistant department. The hope is that you'll use Cortana more often as you no longer need to leave your PC on all the time to use the digital assistant.
To support Cortana Wake on, the Yoga 920, Yoga 720 and Miix 520 this year come with far field microphone array, leveraging four microphones for better voice recognition. This allows Cortana to be summoned by voice from sleep on the Yoga or Miix from up to four meters—roughly 12 feet—away in a room, Lenovo representatives told me during a meeting in San Francisco ahead of these devices' debut in Berlin for the IFA trade show.
Yoga 920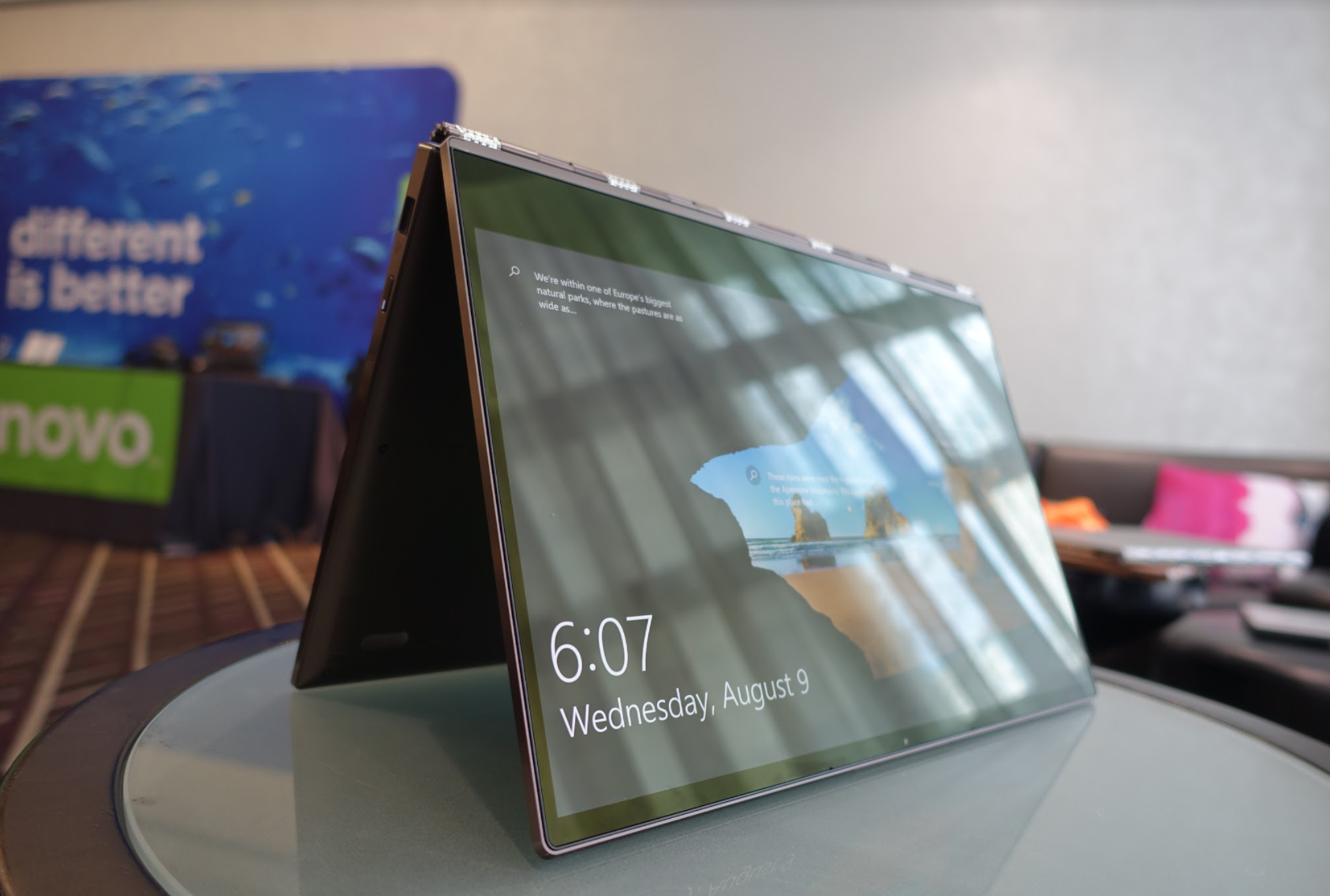 The Yoga 900 series is Lenovo's flagship convertible, allowing you to rotate the screen 360-degrees to convert the slim Ultrabook into a tablet. It's a competitor to HP's Spectre x360 line, and this year's Yoga 920 benefits from under-the-hood upgrades.
Specs for the device include up to an 8th Generation Intel quad-core Core i7 processor, up to 16GB DDR4 RAM and up to a 1TB SSD. Like last year's model, the Yoga 920 comes in either a 13.9-inch FHD or 4K IPS touch configurations, with the 4K coming with a stated 10.8-hour of battery life. The FHD benefits from an even longer 15.5 hours of battery.
Lenovo made some slight changes to the appearance of the Yoga 920 this year. The webcam has been moved from the bottom of the screen—a placement common to Dell's laptop—in favor of a top placement. This means that like the competing HP Spectre x360, you won't get the effect of invisible bezels around the top and side screen edges, but the slight increase in bezel at the top makes for a more natural angle for video calls on the web. It's a worthy compromise if you plan on using the device for the webcam, which has a 720p HD resolution.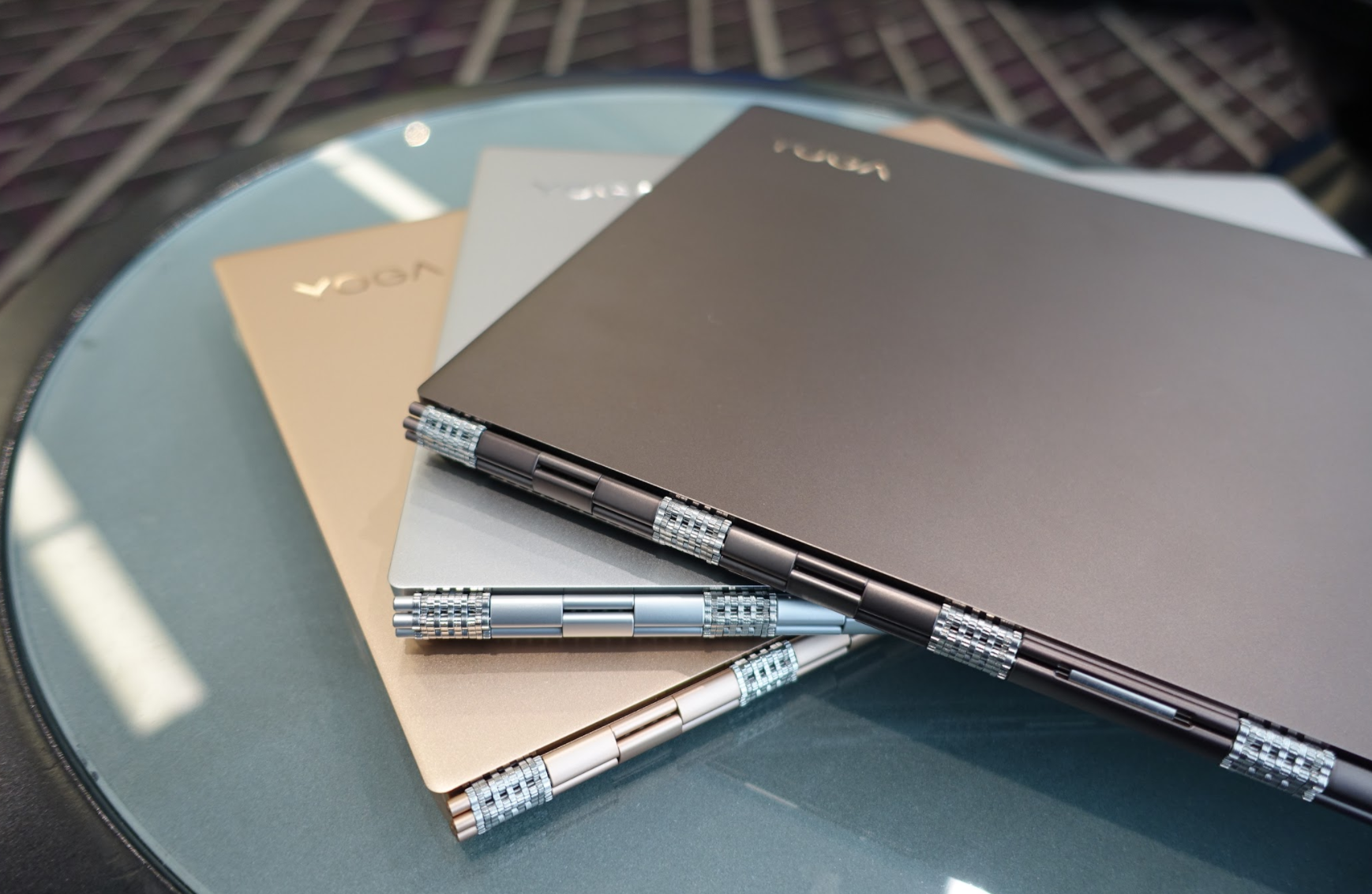 Another upgrade is that the two USB Type-C ports also support Thunderbolt 3, so you'll benefit from faster data transfer speeds and compatibility with graphics dock, should you need more GPU power when sitting at your desk. There's also a USB 3.0 port as well as an audio jack.
And to power the Dolby Atmos experience, Lenovo outfitted the Yoga 920 with JBL speakers. The keyboard feels good in my limited hands-on testing, with Lenovo touting key travel at 1.3mm.
The Yoga 920 is available in bronze, copper and platinum options when it launches. The laptop weighs 3.02 pounds and measures 12.7 × 8.8 × 0.55 inches. Pricing starts at $1,329 when the Yoga 920 becomes available in October.
Yoga 720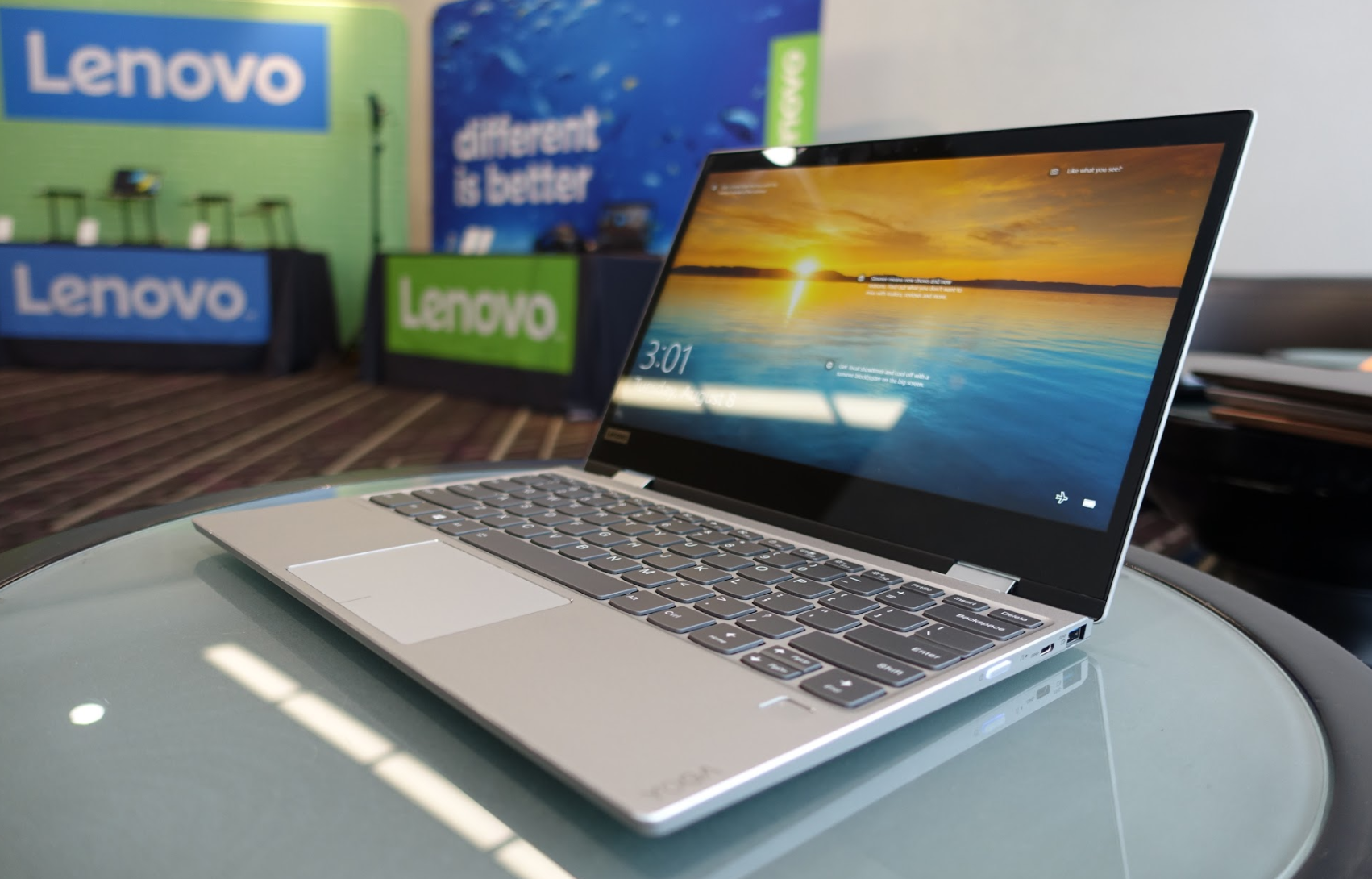 As more of a mid-range model, the Yoga 720 ditches the Yoga 920's intricate watchband hinge design in favor of a more traditional 360-degree hinge, like that on HP's EliteBook x360 and Spectre x360. The simplified hinge saves on manufacturing cost, but you'll still benefit from the convertible design aspect, and pricing starts at just $649 when this device becomes available in October.
While the Yoga 720 doesn't benefit from Intel's more powerful and newest 8th Generation Core i7 processor like its more expensive sibling in the Yoga family. It gets a more powerful upgrade compared to last year's model. While last year's 700 series Yoga was equipped with a more power efficient Intel Core M processor, this year's Yoga 720 gets a performance bump to a 7th Generation Core i7 processor. This means you're getting Yoga 910 performance in this price range.
There's Cortana Wake on support, and other specs include a 12.5-inch 1080p FHD display, up to 12GB DDR4 RAM, up to 512GB SSD, 720p HD webcam. There's a USB 3.0 port, single USB Type-C port and an audio jack on board. Battery life is rated for eight hours and the Dolby Audio tuning runs on Harman speakers. Pen support is also present on the Yoga 720 for those who need to take handwritten notes, sketch or draw on the screen. The laptop measures just 0.62 inches thin and weighs 2.54 pounds with its aluminum build. The bottom of the notebook is made from ABS plastic.
IdeaPad Miix 520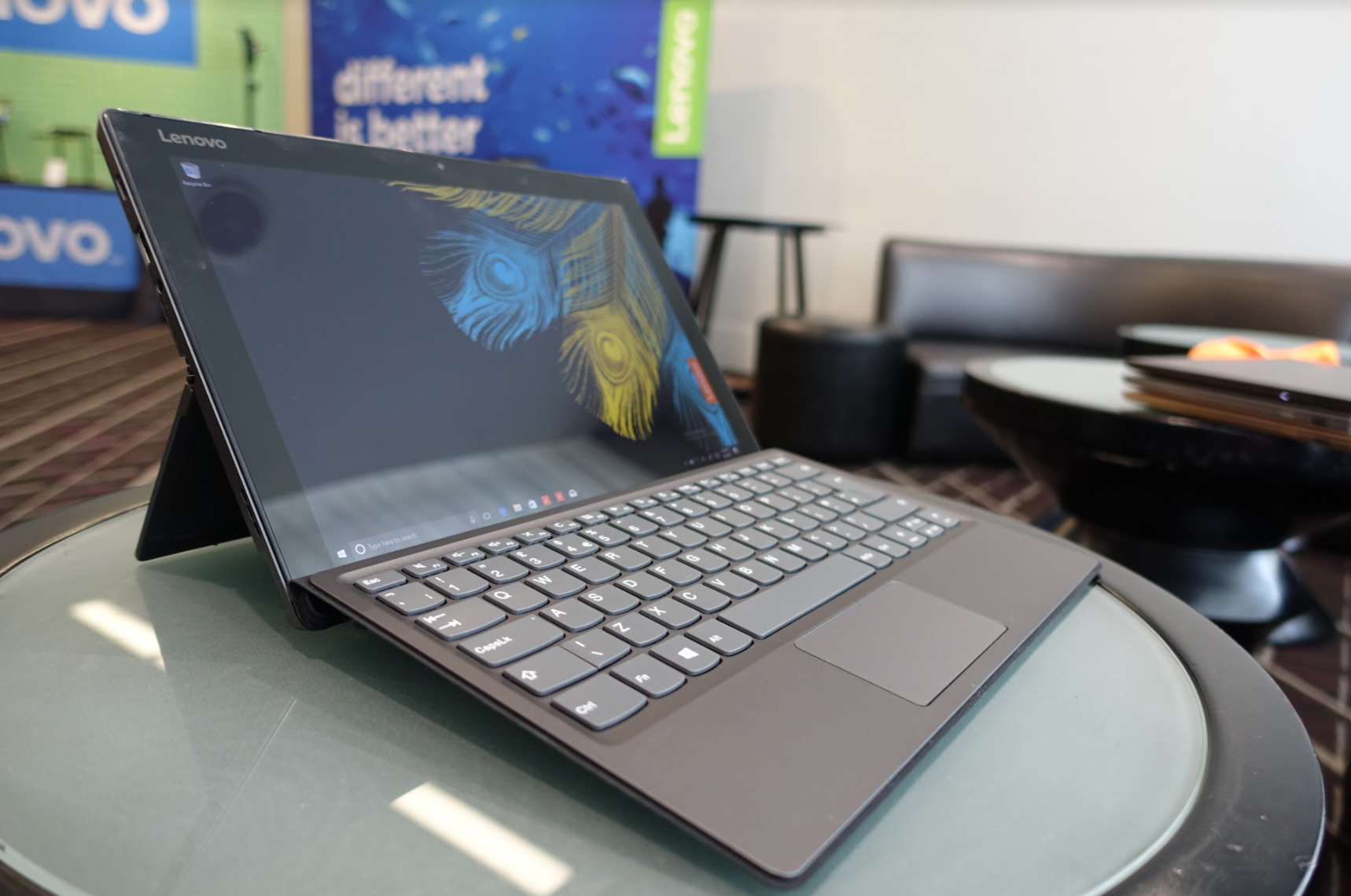 The Miix 520 is Lenovo's more affordable answer to Microsoft's Surface Pro this year, though the Miix 720 is Lenovo's flagship and more of a direct challenger to Microsoft's detachable hardware efforts—be sure to check out our Miix 720 review. And even though the Miix 720 is positioned as the flagship detachable, this year's internal upgrades to the Miix 520 makes it an attractive proposition even for power users.
Screen resolution is capped at FHD on the 12.2-inch display, which uses a more traditional 16:9 aspect ratio than the 3:2 on the Miix 720 or on the competing Surface Pro or HP Spectre x2. However, you'll benefit from quad-core Intel Core i7 support, thanks to the same 8th Generation CPU that's found on the Lenovo Yoga 920, and the Miix 520 will also support up to 16GB DDR4 RAM and a 1TB SSD for storage. Graphics is delivered by the integrated Intel HD Graphics 620 GPU.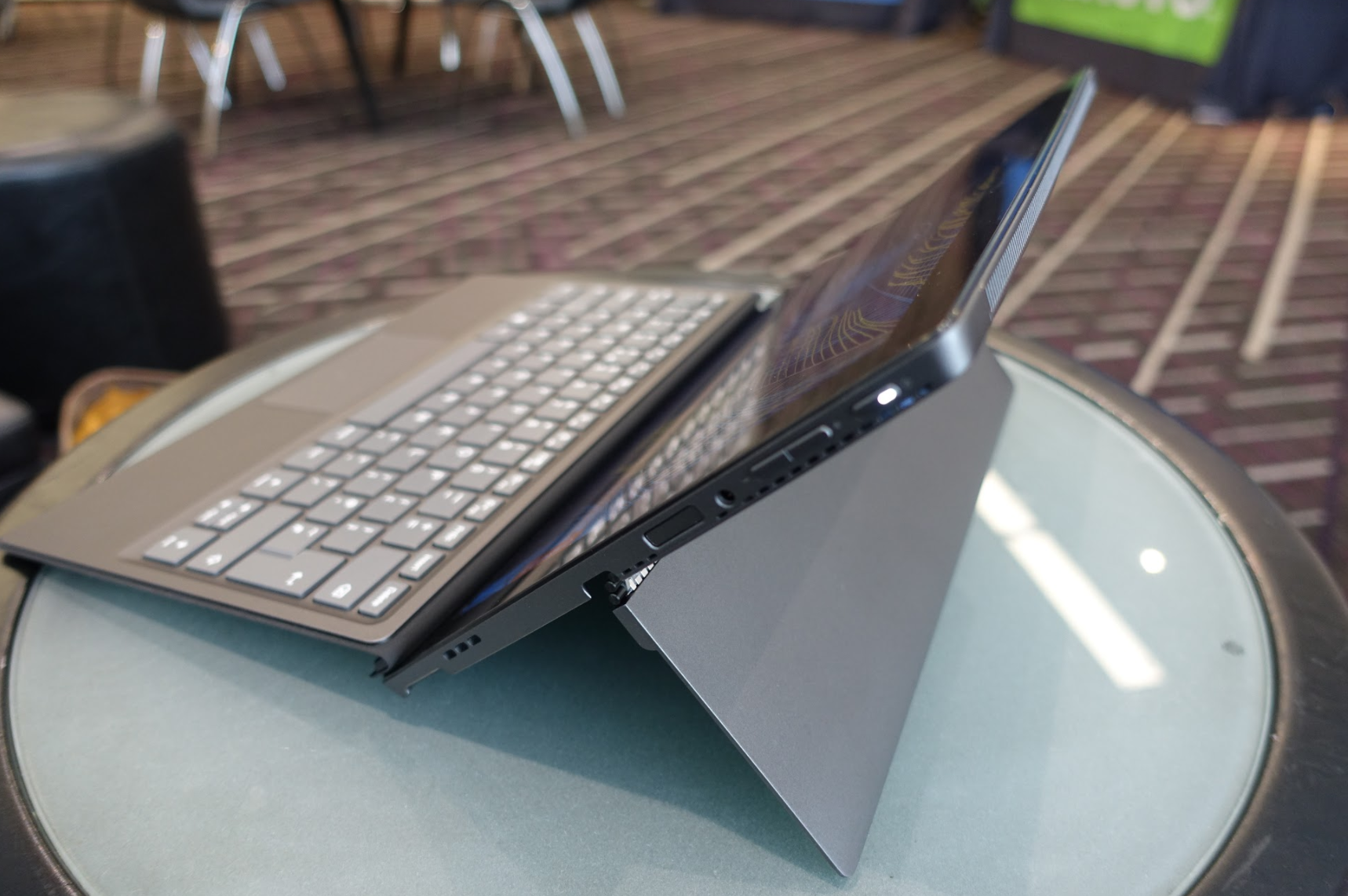 In terms of design, the Miix 520 is very similar to the flagship Miix 720 that we previously reviewed. A built-in rear kickstand articulates from the center of the back and comes with elements from the watchband hinge design to give it a unique Lenovo twist. The tablet measures just 9.9mm thin, or 15.8mm with the keyboard attached. It comes with a USB Type-C port, a USB 3.0 port, audio jack, SD card reader and optional SIM support for the 4G LTE model.
One of the most attractive feature about this detachable is that the keyboard comes with a deep 1.5mm key travel, making for a very comfortable typing experience. The tablet also supports pen input and Lenovo rates battery life at 7.5 hours.
In addition to pen input there is also a Miix 3D Camera for 3D image capturing. The tablet starts at $999 with the keyboard and pen included for the US market. The Miix 5209 will become available in October.
Lenovo Home Assistant Pack for Tab 4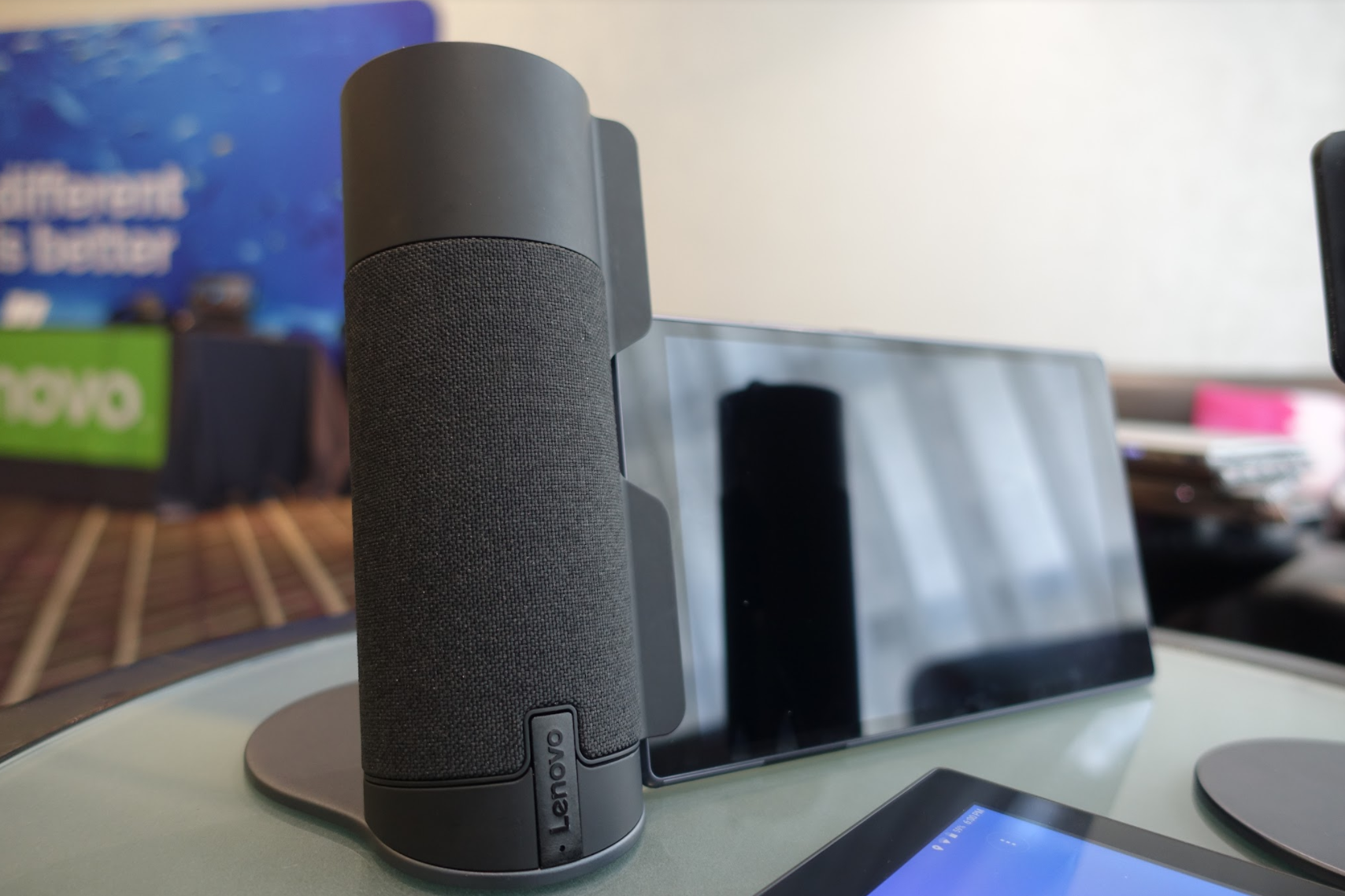 The Home Assistant Pack is designed for Lenovo's Tab 4 series tablets and is compatible with both the 8-inch and 10-inch models. Essentially, it's a speaker that adds to the Tab 4's modular design. On its own, the speaker looks like a slanted Amazon Echo unit, but the speaker integrates with the tablet over a micro USB or USB Type-C connector. There are two microphones on the speaker and the device allows you to use the Amazon Alexa digital voice assistant with its far-field capabilities.
The Home Assistant Pack will work with both the regular Tab 4 series as well as the Tab 4 Plus series. At this time, it will only work with Amazon's voice-based commands. The Tab 4 already has a capacious display and a built-in webcam, and it'd be interesting to see if Amazon will open up more of Alexa's capabilities to Lenovo down the road to enable video conferencing, for example, allowing this setup to match the capabilities found on the nascent Amazon Echo Show.
Lenovo Explorer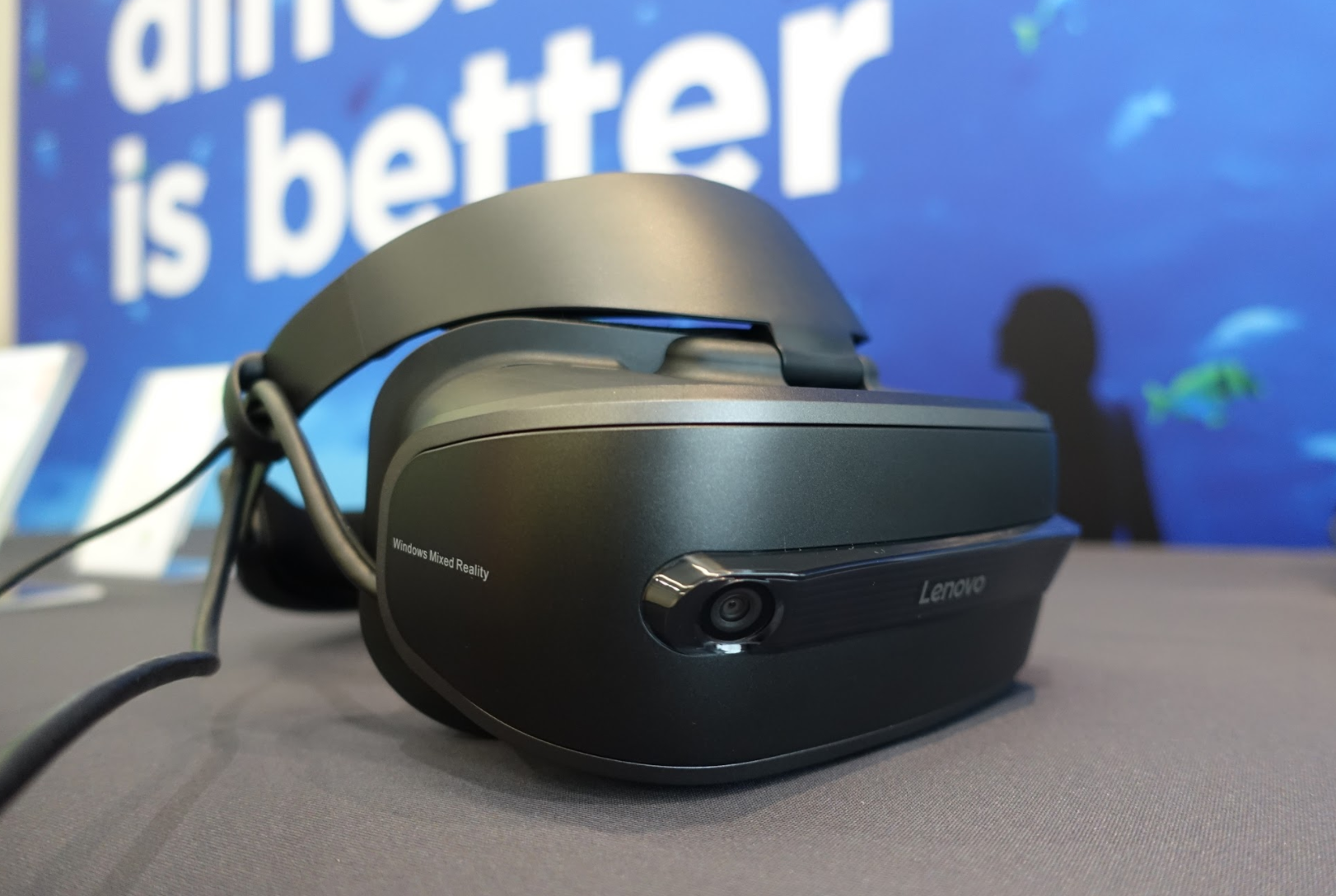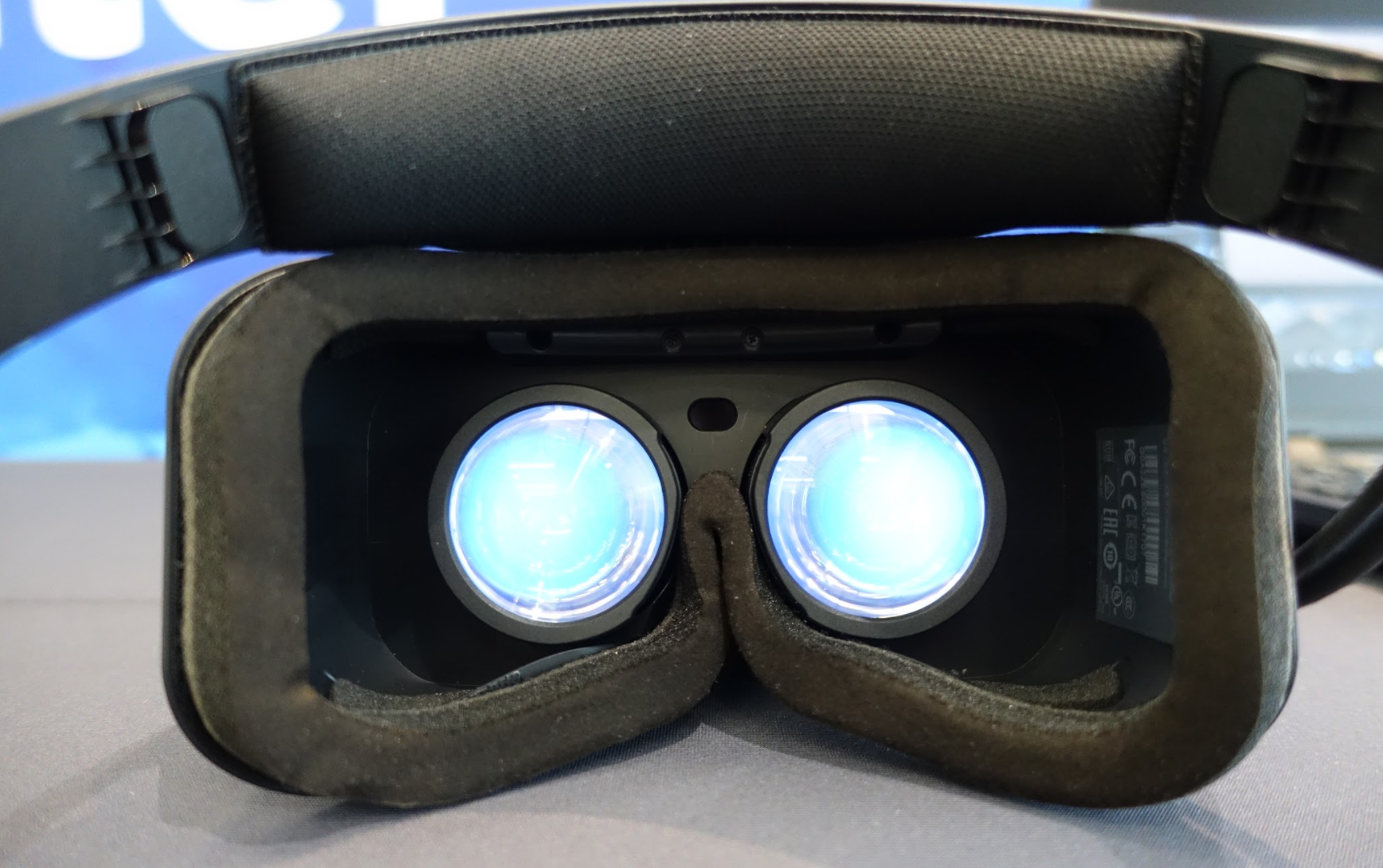 The Lenovo Explorer is the company's augmented reality goggles for Windows. With a compatible PC, you can access more than 100 VR games and the dual front-facing camera allows the Explorer to deliver an augmented reality view blending the virtual and physical worlds together. It will also support VR games as well.
Unlike the Oculus Rift and the HTC Vive today, Lenovo claims that you don't need to upgrade your PC or use an expensive graphics card with Explorer. The glasses are compatible with an Intel 7th Generation Core i5 PC or better, and an expensive GPU isn't required. An Nvidia GTX 965M or AMD RX-460M or better GPU is needed, but this means it's more suited for casual gaming than existing VR glasses today.
The Explorer comes with two motion controllers, and the cameras on the glasses help with tracking, eliminating the need for additional sensors or tracking cameras.