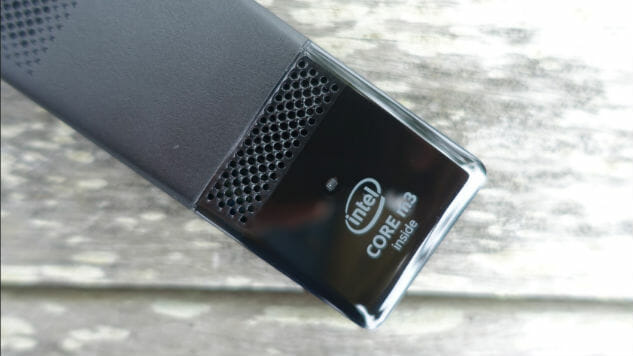 Equipped with the same processor as Apple's MacBook, Intel's Compute Stick gets a powerful performance upgrade in 2016.
Intel had redefined what a desktop computer could look like when it introduced the Compute Stick in early 2015 with an Atom processor and a pocket-friendly form factor. The compact PC is packaged in a design that's slightly larger than a pack of gum, making it suitable for travel, and priced starting at $149, the Compute Stick emerged as an affordable option for a secondary computer for the office or living room.
This year, Intel gives the Compute Stick a performance boost, replacing the lower powered Atom CPU with a more powerful Core m processor. While the 2016 Compute Stick still comes in the same PC-on-a-stick form factor, the performance improvement comes at a cost. At $379 for the Core m3 (as reviewed), the Compute Stick comes in at more than double the price of the model that it replaces. A more powerful Core m5 model is also available, but at an even steeper $485.
Despite the jump in pricing, the 2016 Compute Stick is still competitive. It's still more affordable than a small form factor, or mini, PC, and it's a fraction of the cost as Microsoft's entry level Surface Pro 4 ($899 with a Core m3 processor and no keyboard) or Apple's Core m3 MacBook ($1,299).
Even though the price increase brought by the switch to a Core m processor makes the Compute Stick less affordable as a secondary PC, the boost in performance means that the PC-on-a-stick can be seriously considered as a primary or everyday computing device. The form factor can now be positioned as the only PC you'll need for general productivity tasks, media consumption, web browsing and entertainment. Gamers, however, will likely need a more powerful system with a dedicated graphics card.
Design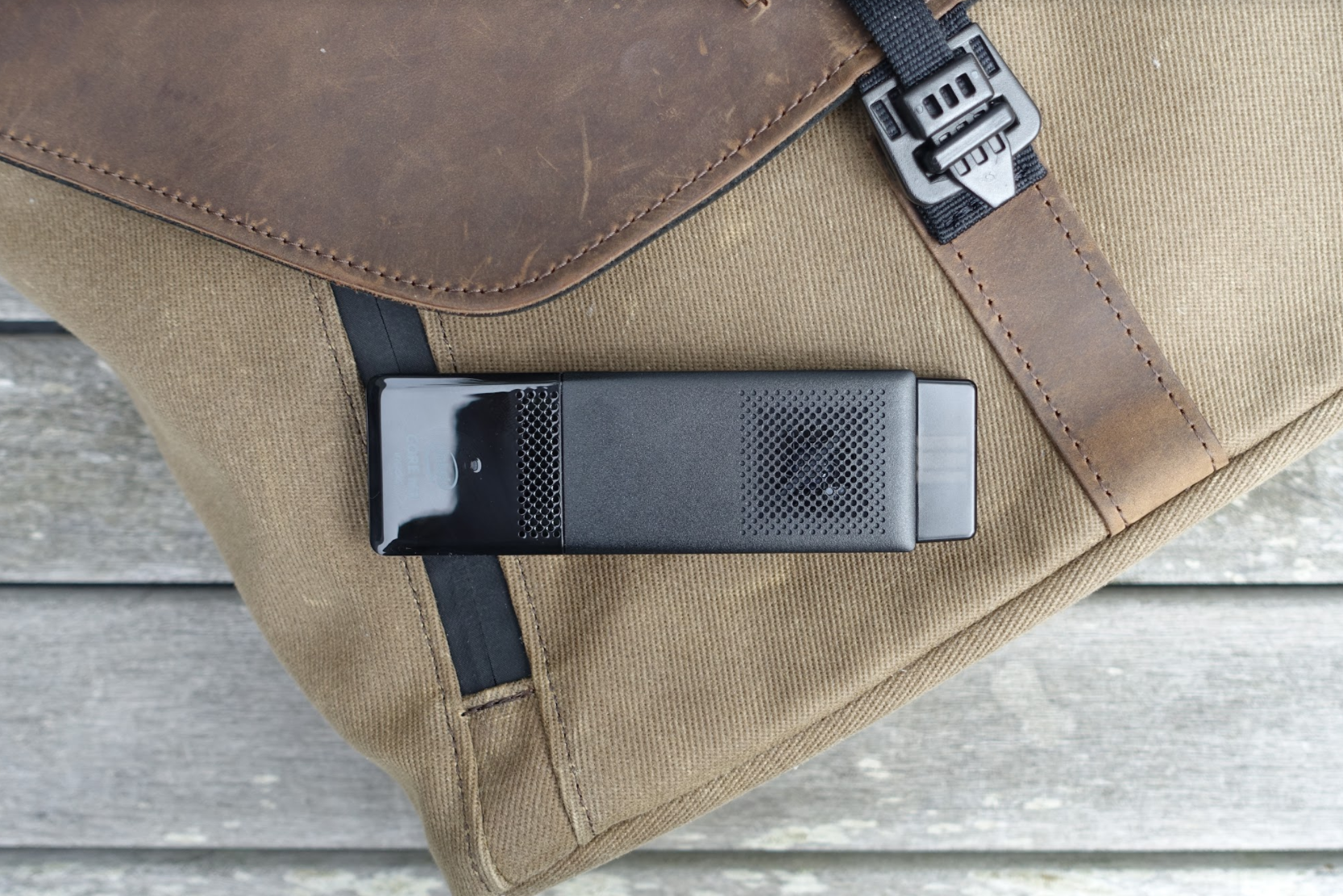 With an increase in performance to a Core m architecture this year, the Compute Stick has matured into a grown up product. No longer relegated to secondary PC status, the Compute Stick packs in enough horsepower to become your primary computing device, and the best part is that it still maintains the same portable form factor from last year's model.
Gone are the days of towers that take up valuable real estate on your desk—the Compute Stick is a footprint-less PC, with all of the essentials housed in an HDMI dongle that plugs into the rear of your display, projector or HDTV at home or in the office. This makes the Compute Stick more akin to a Chromecast or Asus's Chromebit (a $150 HDMI dongle that converts any display into a Chromebox).
Measuring 4.49 × 1.5 × 0.472 inches, the Compute Stick looks like a large pack of gum or a USB flash drive on steroids, and its compact footprint means that it can easily be slipped into a pocket or stowed in a purse or bag for travel. At 2.12 ounces, the device is as light as a candy bar.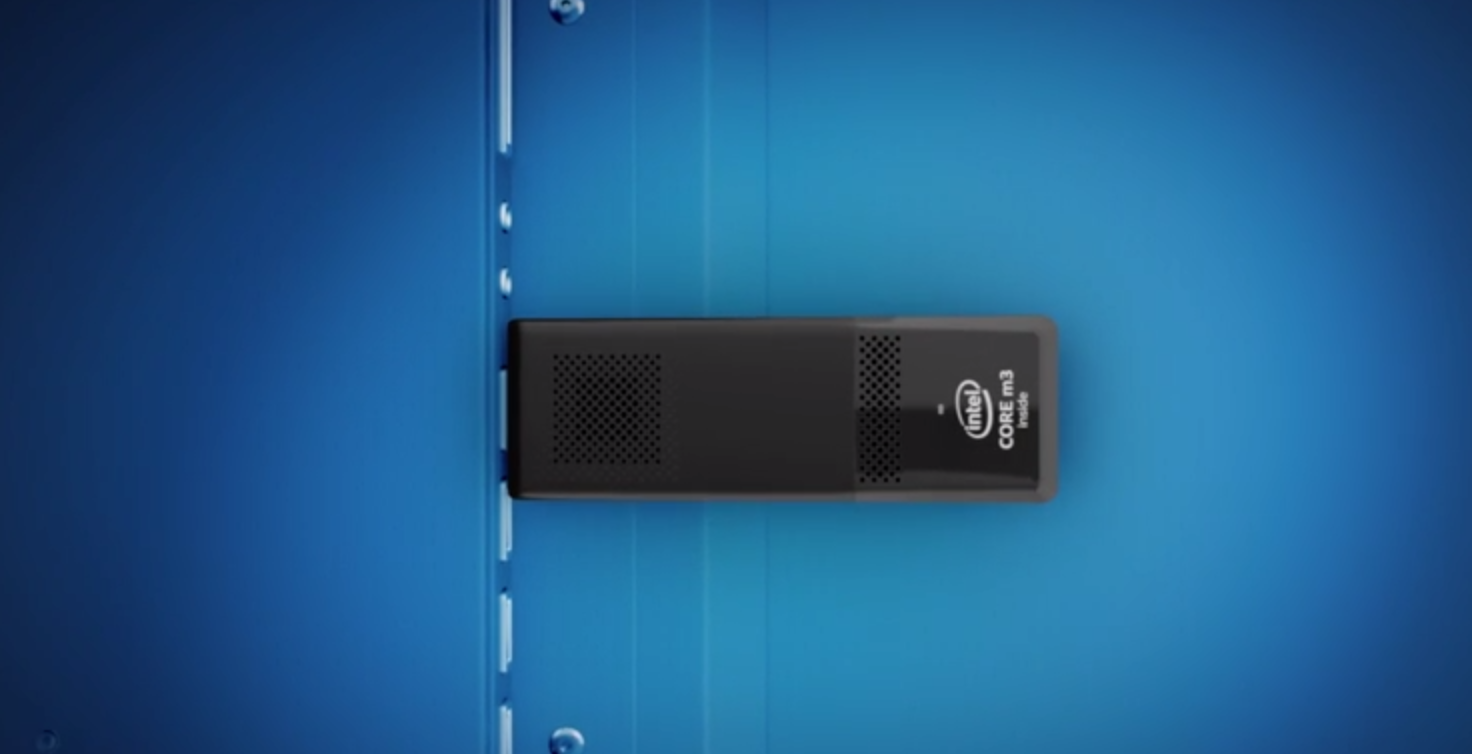 Basically, if you have a monitor, keyboard and mouse setup at home and at the office, you can easily carry this "desktop" PC between the two locations. The benefit here is that you'll have all your files, folders and settings with you locally, mitigating the need to manage files or rely on the cloud.
And unlike a more visible traditional desktop PC, design really isn't the focus of the Compute Stick. The matte and glossy black plastic case comes with straight lines, beveled edges and slightly rounded corners. The minimalist design makes sense, considering that the Compute Stick isn't meant to be showcased on your desktop. The HDMI connector on the end allows the Compute Stick to connect directly into the rear of your display, hidden out of sight.
Owners of last year's model will notice that there is one less USB port on this year's model. A power button and SuperSpeed USB 3.0 Type-A port sit on the left side of the device, and you'll find a microSD card slot along with a USB Type-C port on the right. Ventilation grills are found on the top, bottom and sides of the device. There aren't any fans, which help the Compute Stick run quiet, and the grills on the surfaces of the device helps the Compute Stick stay cool when its powered on.
The magic on this year's model is the USB Type-C port. You can use a USB Type-C to USB Type-A cable to plug the Compute Stick into an HDTV or display with a powered USB port to power the PC, but if you use Intel's power brick with a USB Type-C to USB Type-C cable, you'll have access to two additional USB 3.0 ports, giving you a total of three USB 3.0 ports. The downside is that the power adapter is rather large, but it does serve as a powered USB hub for the Compute Stick.
Performance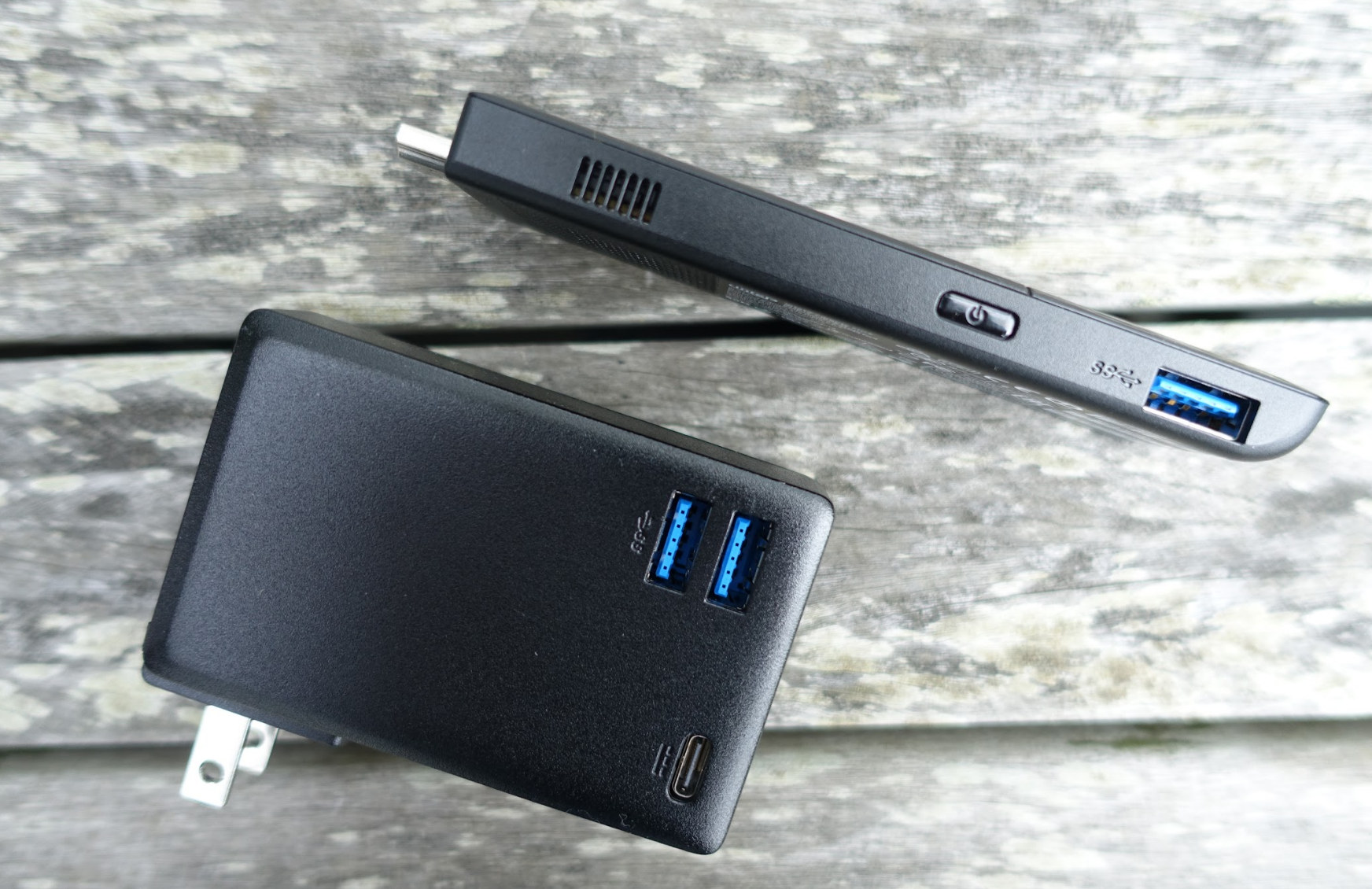 The Core m3 Compute Stick delivers solid performance and enough horsepower to be your daily computing device, and the innovative form factor means that it can be a bit too easy to take work home with you.
Performance of the 2016 Compute Stick is what you'd expect of a Core m architecture processor, with benchmarked performance falling in between that of a low powered Atom chip and Intel's mainstream Core i series. My Compute Stick comes with 64GB of on-board storage alongside 4GB RAM.
To keep wires to a minimum, you can connect peripherals to the Compute Stick via Bluetooth 4.2 or WiFi 802.11ac. For my home setup, I opted to connect a Bluetooth keyboard and mouse to the Compute Stick, and by using a WiFi printer, I found that I didn't really need to plug anything into the USB ports.
In use, I found that the Core m3 processor on my Compute Stick had no problems handling tasks such as Microsoft Office, web browsing with multiple Edge and Chrome tabs opened, streaming 1080p and 4K videos, light gaming. The Compute Stick was able to keep up with light edits using resource intensive programs like Adobe Photoshop. I wouldn't recommend heavy photo edits or even video editing on the conservative Core m architecture, however.
The Compute Stick's score of 2,600 using PCMark 8's Home test is line with the 2,400 score netted by the Core m3 version of Microsoft's Surface Pro 4. The Core i5 version of the Surface Pro 4 earned a score of 2,800 using the same test.
Verdict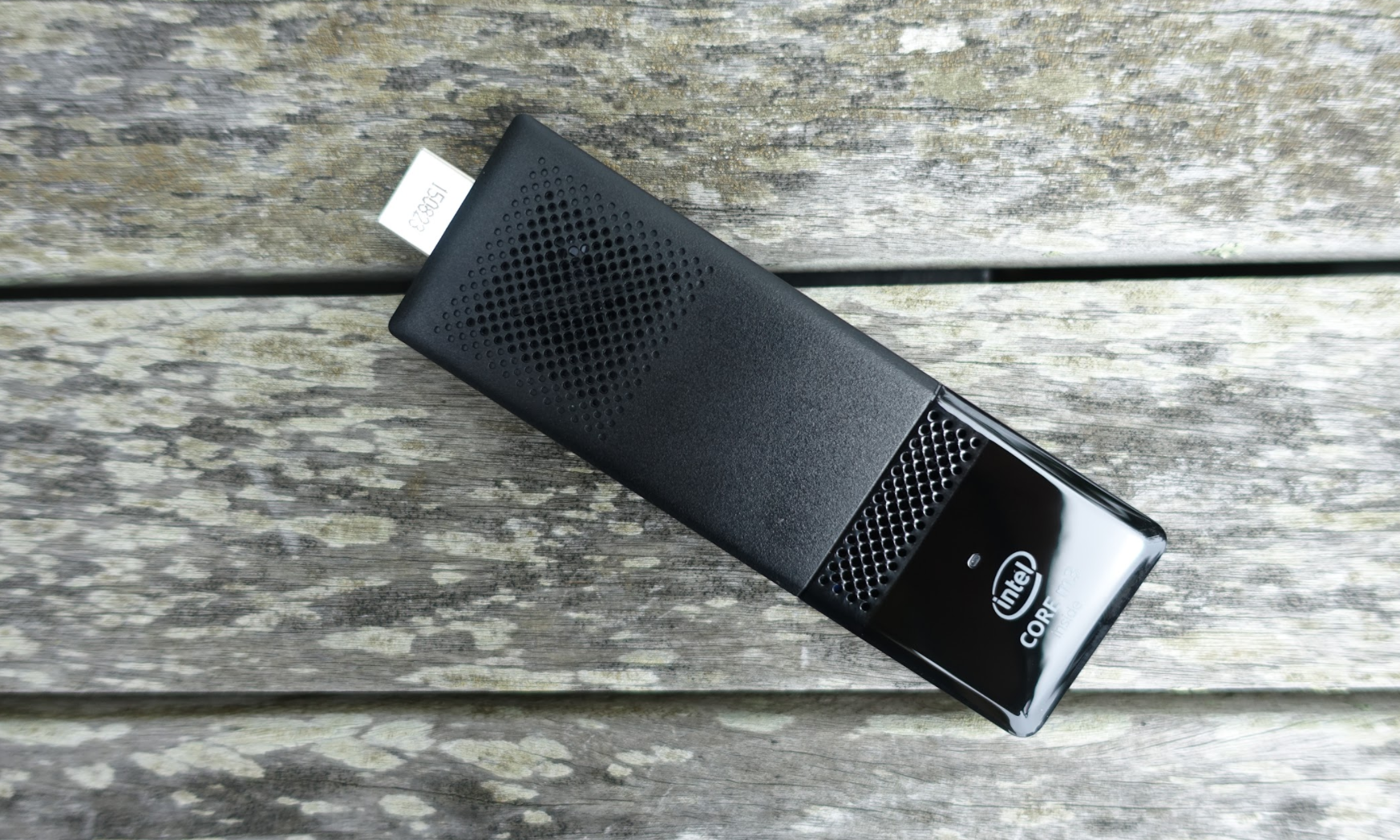 Whereas the decision to acquire the first generation Compute Stick centered around performance trade-offs, the decision in purchasing this year's model is about cost. With stronger performance, the Core m3 model costs more than twice as much as the Atom-based variant from last year, making it more of an investment.
Still, at $349, the Compute Stick packs in plenty of performance for Windows 10 users to turn an ordinary display into a full-fledged personal computer. Its compact design and small footprint means that your display will be transformed into a modular all-in-one PC of sort once you plug the Compute Stick into the rear of an HDTV or monitor. This makes the Compute Stick a great living room PC, and if you have an old monitor laying around, you can upcycle your display into a PC with minimal investment.