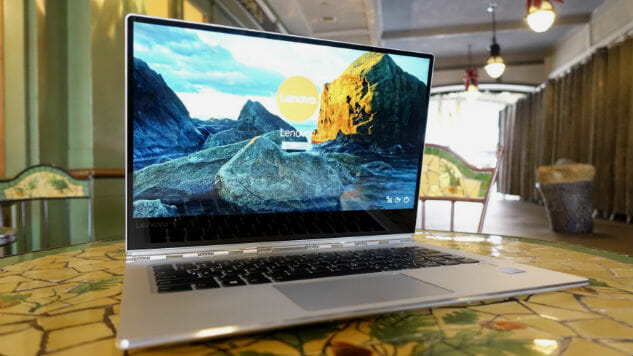 Creating the perfect convertible still requires a fair amount of compromises, but fortunately the latest batch of hybrid laptops come with fewer big tradeoffs today than before. In order to keep prices low, HP's 2016 Spectre x360, for example, sheds last year's high resolution display option and pen input support in favor of a more affordable price tag, longer battery life and a slightly more portable form factor achieved by shrinking the device's bezels around the display.
And while HP made a commendable effort in balancing performance and portability, it's now time to look at Lenovo's Yoga 910, a Windows 10 notebook powered by a similar Intel seventh generation Kaby Lake processor that competes squarely against HP's Spectre convertible, Microsoft's flagship Surface Book and even Apple's more traditional MacBook Pro models introduced earlier this fall.
Like HP, Lenovo did a fantastic job keeping the Yoga line's signature elements. On the surface, the Yoga 910 looks mostly unchanged from last year's 900 series models—the excellent watchband hinge makes a return this year—but Lenovo is making big changes under the hood by incorporating the latest technologies to tempt notebook owners to open up their wallets and upgrade. Given our recent review of the rival Spectre, we'll examine the Yoga 910 both for its own merits and from a value perspective when stacked against HP's and Microsoft's flagships.
Design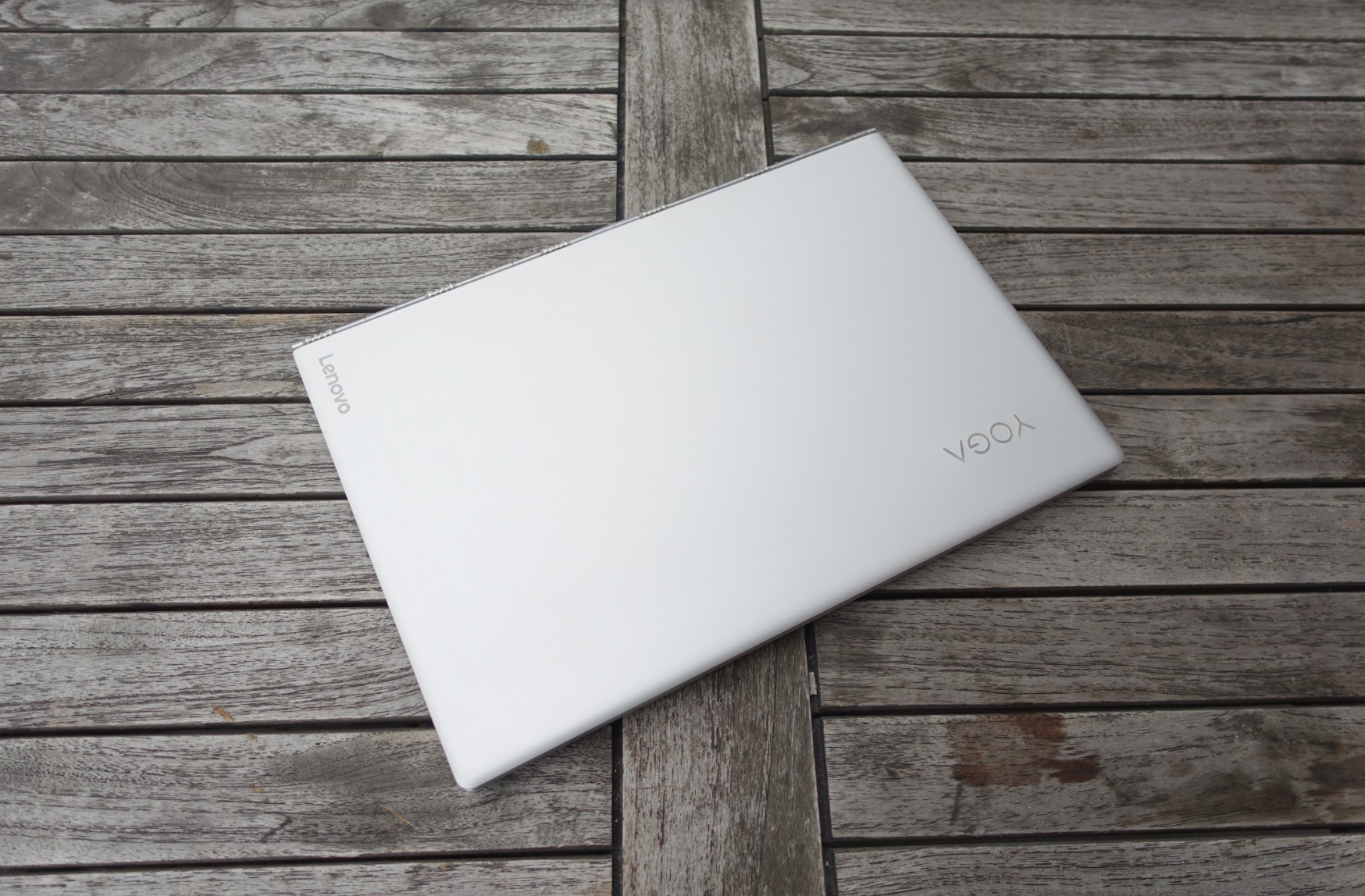 When Lenovo introduced the original Yoga convertible a few years ago at the CES, it defined the hybrid mobile computing category with the unique 360-degree rotating convertible hinge. Since then, the company has refined the watchband mechanism that allows its flagship Yoga notebook to transform between laptop, tablet and everything else in between.
The Yoga 910 benefits from Lenovo's iterative refinements to its hinge mechanism, which is functional and elegant, even if it has more utilitarian or industrial aesthetics. The hinge is sturdy, and holds up well against minor shock during my morning train commute. In laptop mode the Yoga 910's screen didn't wobble much, which gives the laptop a more solid feel than the slightly shakier displays on the Spectre x360 and Surface Book, especially when the touchscreen is put into play. The only issue I experienced is that when the train hits bigger bumps, the screen sometimes fell further back. If you're typing in a more stationary environment, you likely won't have any issue with this.
The watchband hinge, when combined with Lenovo's unibody aluminum construction of the Yoga 910, instantly lends this laptop a solid feel. The Yoga 910 looks MacBook-inspired with its brushed silver unibody aluminum construction, and like the Spectre x360, Lenovo's offering is finished with glossy silver sides to give it an elevated aesthetic. Lenovo also offers a Special Edition version of the Yoga 910 with a glass lid through Best Buy. That design is not unlike what Acer had previously done with its Aspire 7 Ultrabook.
And while both HP and Lenovo chose to shrink the bezels surrounding the displays of their respective laptops, a move that's inspired by the Infinity Display on rival Dell's XPS 13, each company took a unique design approach. For example, HP's design decision resulted in a smaller, more compact Spectre x360 this year than last year, despite the fact that both models come with the same display size. Lenovo, instead, chose to keep the footprint of this year's Yoga 910 the same as last year's Yoga 900.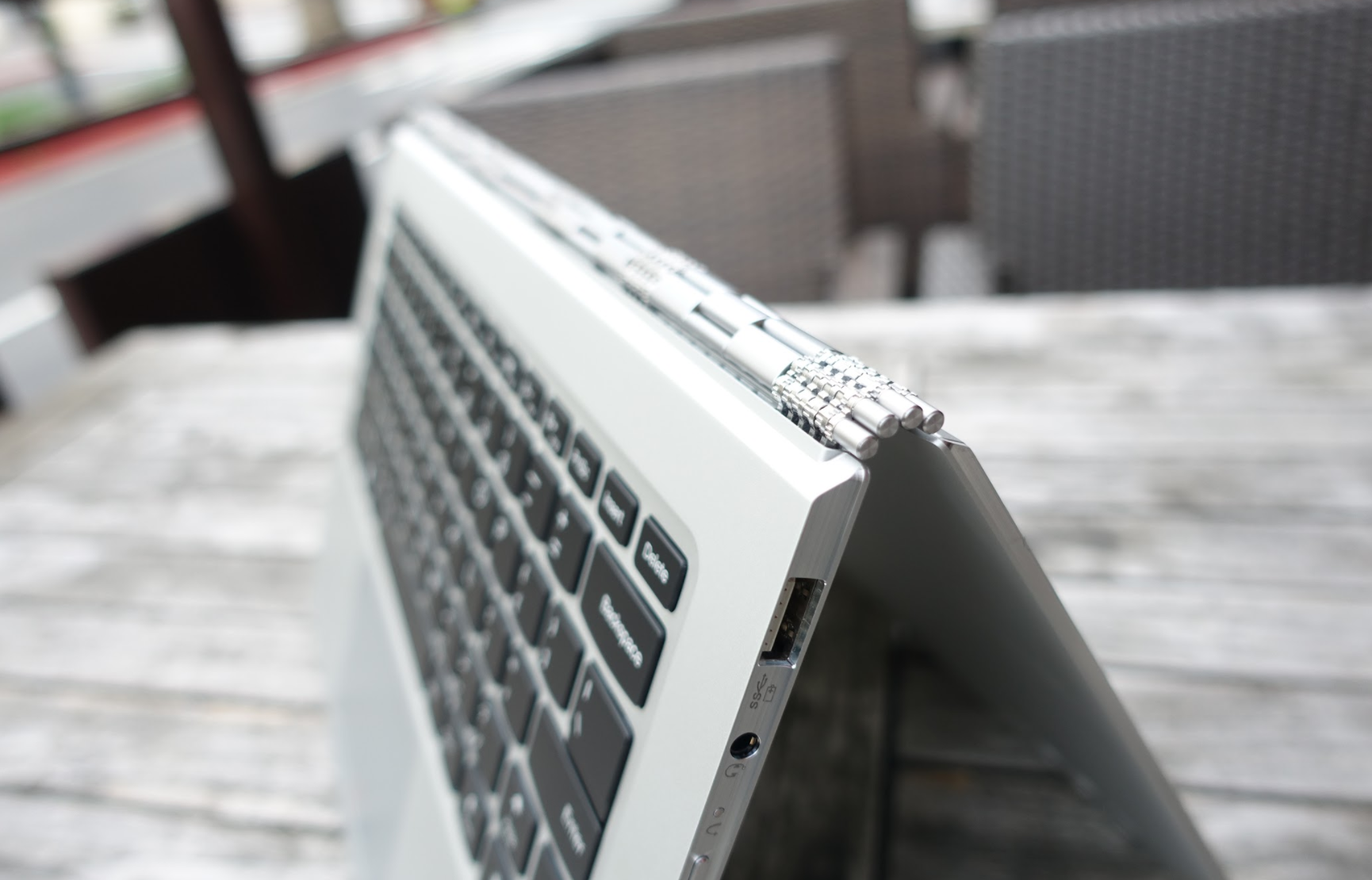 So while you won't benefit in any space-saving form factor with slimmer bezels this time around, Lenovo leveraged the slimmer bezels to cram a nearly 14-inch display into the same footprint as last year's convertible, giving customers more computer in the same footprint as the Yoga 900.
Lenovo's design resulted in a slightly larger and heavier laptop than HP's flagship. The Yoga 910 measures 12.72 × 8.84 × 0.56 inches and weighs 3.04 pounds compared to the Spectre x360's 2.8 pounds. I found the tradeoff in size and weight to be worth it—the slightly larger FHD panel on our review unit made things feel less cramped. Users coming from Lenovo's Miix line or Microsoft's Surface line may still feel the pinch with screen real estate, as the 16:9 aspect ratio is better for video consumption than productivity.
By placing the Yoga 910's screen all the way on the top, Lenovo made the most use of the narrow bezel in achieving a more striking design than the Spectre. The Yoga 910's screen placement gives it a more edgeless look, similar to XPS 13, but it also suffers from the same usability issues as the Dell laptop.
In moving the screen all the way to the top to achieve the nearly bezel-less aesthetics along the top, left and right edges, Lenovo and Dell had to reposition the webcam to the bottom. This left the Yoga 910 with a huge chin on the bottom, and the webcam's placement gives a very unflattering perspective for video chatting. Resolution is also capped to just 720p —I wish Lenovo opted for a higher resolution camera for video.
If you want the webcam to be on top for video calls, Lenovo recommends you flip the tablet into tent mode, but that means that you won't have access to the keyboard and trackpad for your call, unless you connect external an external keyboard and mouse.
Another screen different between the Yoga 910 and Spectre x360 this year is resolution. Whereas HP's engineers cited longer battery life as the reason why the Spectre is capped at launch with a maximum resolution of 1080p, Lenovo gives users a choice of a standard FHD panel or a much higher resolution UHD 4K screen. I can't comment on the 4K display—our review unit ships with the base 1080p resolution—but HP's lower starting price before discounts for the FHD option makes it a better value for shoppers looking at the entry level model. If you want the UHD resolution, the gap in HP's recent lineup leaves Lenovo unchallenged, if you're comparing Spectres and Yogas.
Similar to HP, Lenovo's transition to the USB Type-C standard for ports is maturing. The Lenovo Yoga 910 comes with USB Type-C ports, a single USB Type-A port for legacy support and a combo audio jack along its two side edges. Lenovo did away with its proprietary charging port, and one of the two USB Type-C ports can be used to recharge the notebook, making it more convenient to find and purchase replacement chargers if you happen to break or lose yours. Missing are the HDMI, DisplayPort, ethernet and memory card reader ports, so be prepared to carry adapters if you rely on any of these items as part of your workflow.
Keyboard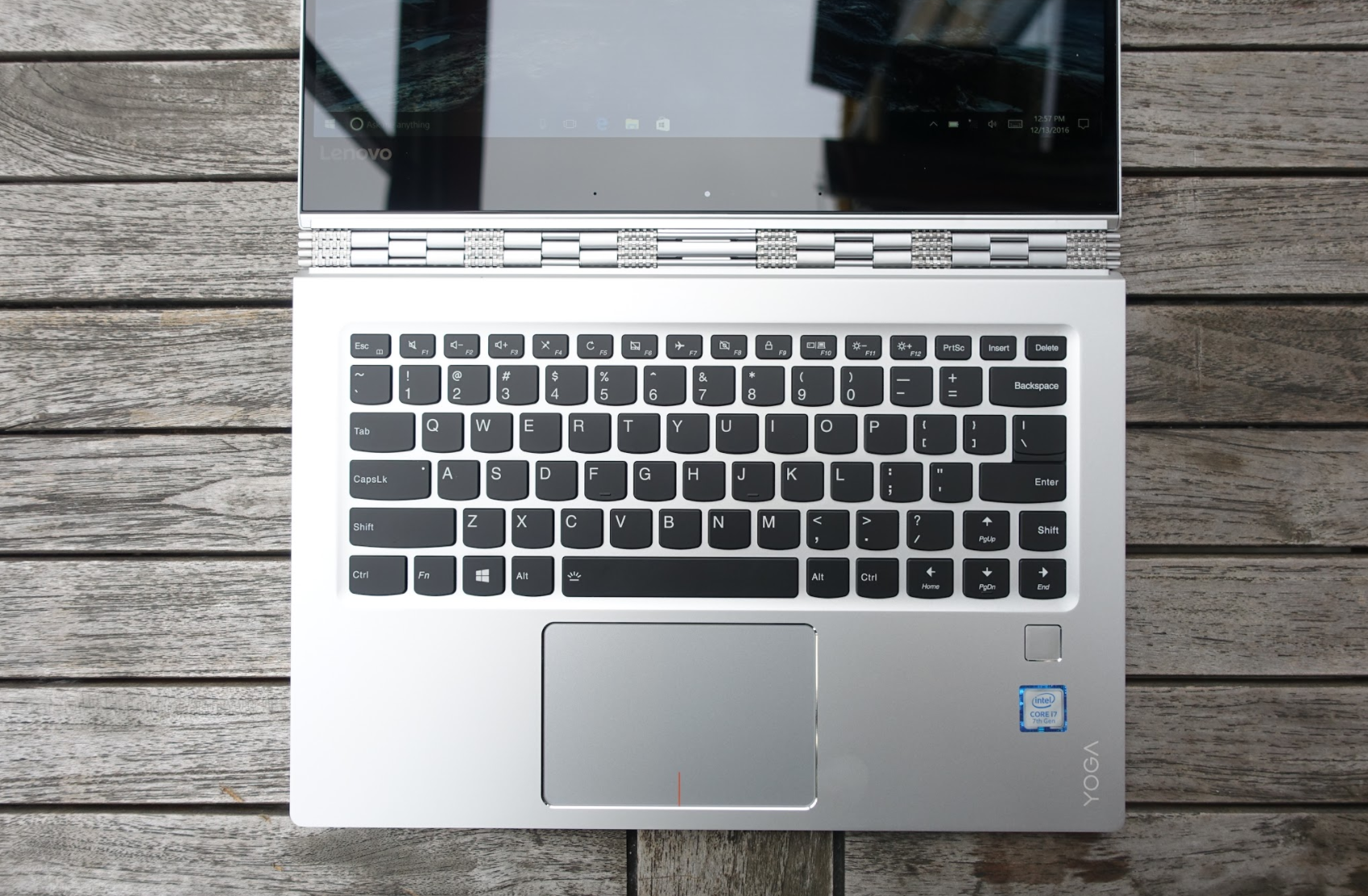 Unlike the silver keys on a silver frame of HP's and Microsoft's convertibles, the black smile-shaped keys on the Yoga offer more contrast. This makes the Yoga 910 look a bit less sleek to me, but I appreciated the contrast. At certain angles, the backlit silver keys on HP's and Microsoft's notebooks look washed out, and I found the keys difficult to read. I didn't experience this issue with the keyboard of the Yoga 910.
Key travel is relatively shallow, if you're coming from a business-class notebook, but the keys are still comfortable to type on thanks to stiffer keys that require more force to actuate. This clever design—something that Apple has also implemented on its second generation butterfly keyboard on the recent MacBook Pro your fingers into thinking that key travel is deeper than it actually is.
I found the key size and spacing to be very comfortable, and I had no problem with typing. Users who use the right shift key may encounter some slowdowns, as that key has been shrunken to accommodate for full-sized arrow keys.
The clicky touchpad is responsive, and left and right clicks are done by pressing on the corresponding lower area of the touchpad.
Performance and Battery Life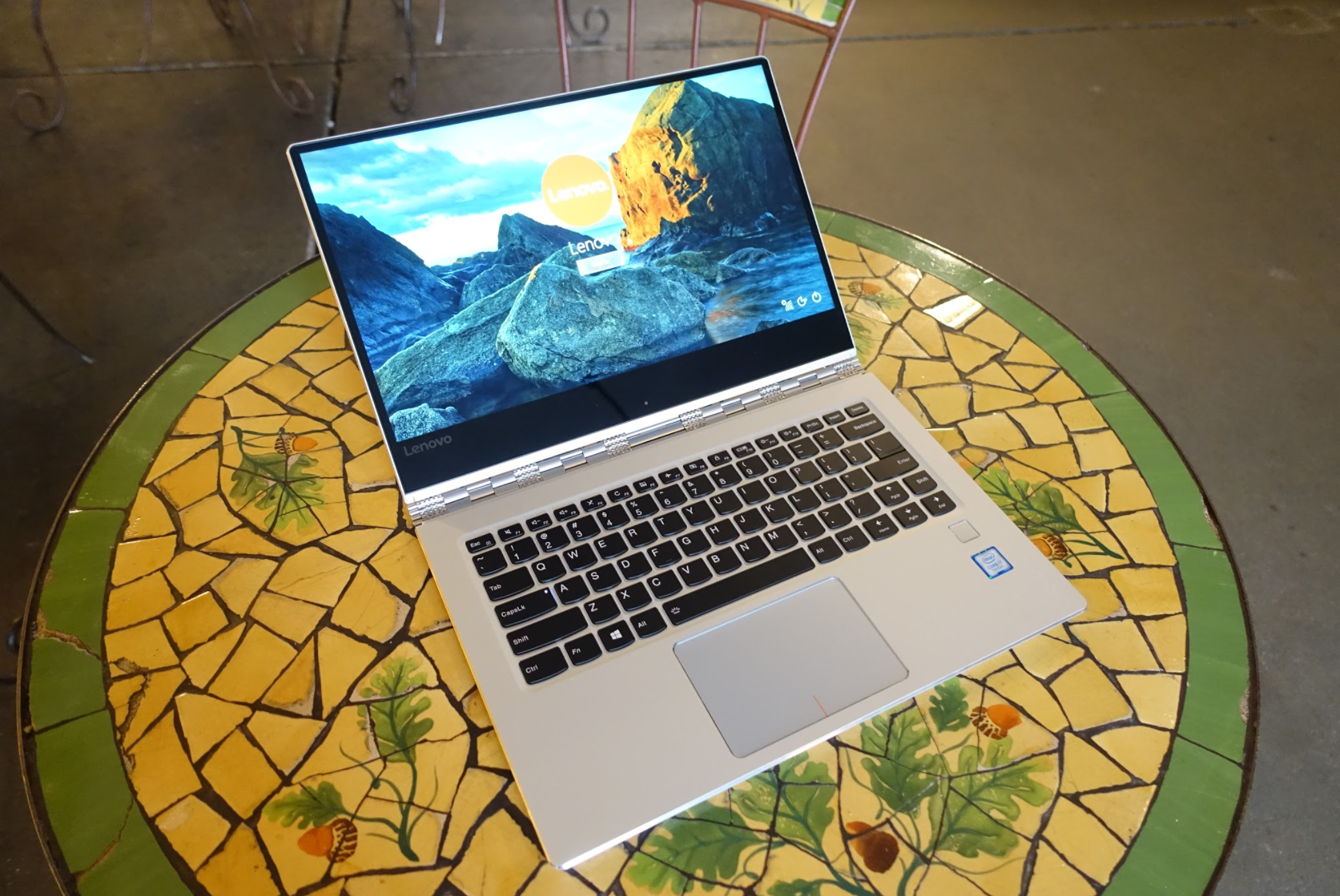 There was never a need for speed with the Yoga 910, thanks to the inclusion of Intel's seventh generation Kaby Lake architecture processor under the hood. I encountered no issues with lags or slowdowns, even on the base configuration of our review unit.
Our $1,200 aluminum-clad Yoga 910 came equipped with a seventh generation Core i7 processor, similar to our HP Spectre x360 review unit, along with Intel HD Graphics 620, 8GB RAM and a 256GB SSD for storage. Lenovo also offers a 4K screen option with 16GB RAM and a whopping 1TB of solid state storage for $1,800. None of the Yoga 910 configurations come with discrete graphics, and this shouldn't be a problem for most consumers.
With Kaby Lake promising to offer incremental processing improvements and a boost in graphics performance, I found the Yoga's performance under Geekbench, PCMark 8 and 3DMark benchmarking tests to be very similar to the HP Spectre x360. Intel also claims that Kaby Lake is more power efficient than the previous generation processor, and Lenovo's battery life claims are mostly accurate. I got just shy of eleven hours of battery life on the Yoga browsing the web using Windows 10's built-in Microsoft Edge browser.
This is quite a considerable gain in battery performance compared to last year's Yoga 900 model. However, the 4K screen on the more premium models of the Yoga 910 may have a big impact on battery life, and you should expect lower battery life numbers if you opt for the higher resolution model. HP cited battery concerns as its reason for choosing to release the Spectre x360 with a FHD screen.
Performance was never an issue for the Yoga 910, even with multiple apps, programs and browser windows opened. The Yoga 910 performed fine with light gaming, video editing and photo editing. If you live inside a browser or productivity apps like Microsoft Office, the Yoga 910 will feel speedy.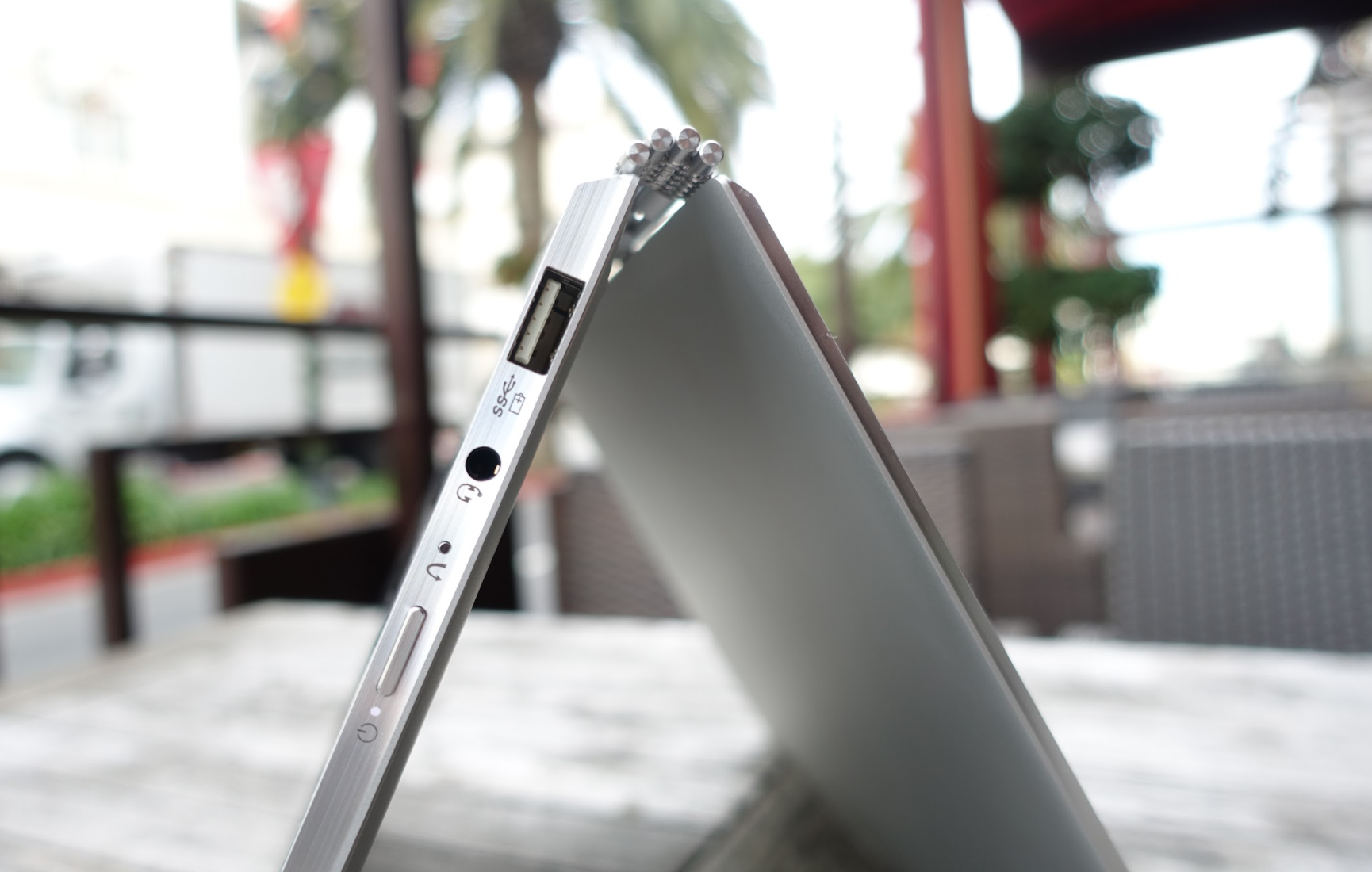 I haven't looked at Dell's recently refreshed XPS 13 with Intel's seventh generation processor, but I expect similar performance from that notebook as well. The main difference between the Lenovo, Dell and HP unit is that Dell opted to go with a traditional clamshell notebook form factor, while the 360-degree hinges on Lenovo's and HP's convertibles allow for more versatility.
In terms of ports and connectivity, even though Lenovo's USB Type-C port may carry the Yoga 910 in the future, Lenovo could have gone a little further futureproof its convertible. HP's USB Type-C port works with both USB 3.0 speeds as well as faster Thunderbolt 3 accessories, similar to Apple's implementation on the new MacBook Pro. This affords the Spectre more flexibility, given the Thunderbolt compatibility, as well as much faster speeds when connecting to external peripherals.
Given that Thunderbolt 3 accessories and peripherals are still new, you likely won't encounter any issues right away. As third-party manufacturers introduce more Thunderbolt 3 accessories in the future, like docking stations and external graphic boxes for a GPU boost, Yoga 910 owners will need to be vigilant on what accessories will work with their systems, since USB Type-C and Thunderbolt 3 have the same connectors.
For multimedia consumption, Lenovo chose to outfit the Yoga 910 with JBL-branded speakers. Speaker output is nice and loud, with minimal distortion even at higher volumes, but the dual speakers don't pump out as much sound as the quad-speakers on this year's Spectre x360. The Spectre also has better audio fidelity, with better bass and cleaner highs and mids.
Verdict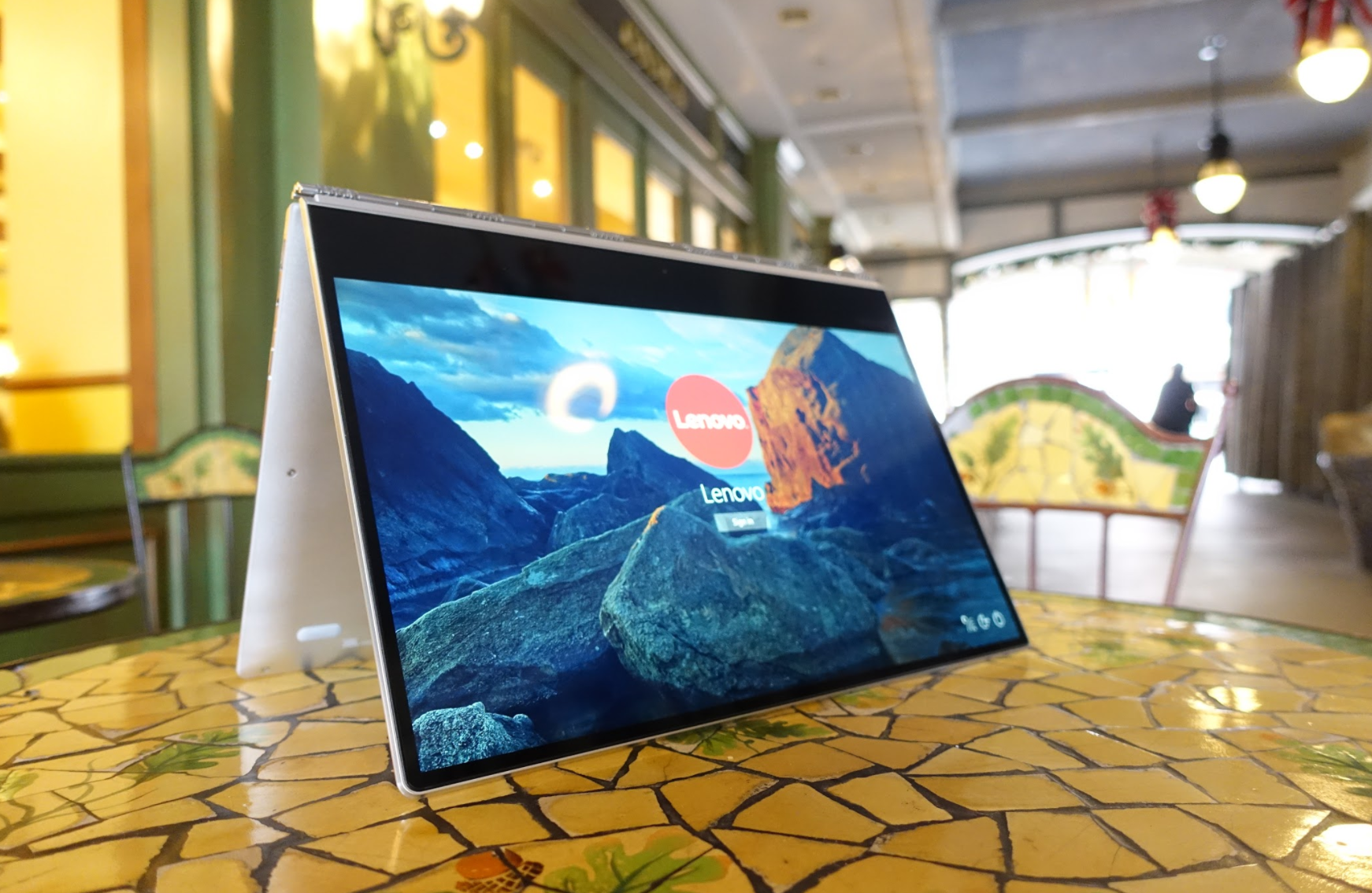 For the performance that it delivers, the Yoga 910 is a near perfect convertible for 2016 if you're willing to make some compromises. This year, Lenovo kept what users loved about the Yoga series—the metal body, unique and functional watchband hinge and convertible form factor—and added Intel's Kaby Lake processor to deliver even better performance and stronger battery life in a compact package. It also made some tweaks, by adding support for USB Type-C and increasing the display by 10% while keeping the footprint the same.
Still, at the entry level, there are cheaper alternatives that offer more. If you want a compact footprint, HP's 2016 Spectre x360 comes in cheaper and offers support for Thunderbolt 3 on its USB Type-C ports. However, if you're a video buff who demands the most pixels on a convertible, Lenovo's more expensive Yoga 910 configurations offer an excellent blend of performance, portability along with a 13.9-inch 4K UHD display. If you have the cash, that's the model we'd recommend you spring for.