Meet Prelaunch, The Online Platform Bringing Consumer Evaluation To Crowdfunding
Images via Prelaunch
Tech
Features
Crowdfunding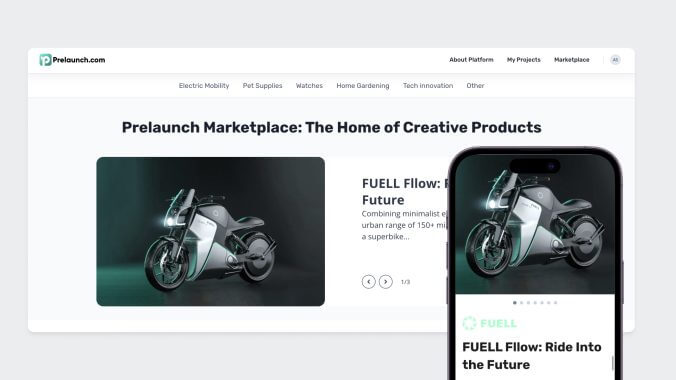 Creating and ushering a product to market are monumental and arduous tasks to begin with. But what happens when you finally scrape enough capital, build a team and launch your product only to find there is simply no demand for it? Pop culture blemishes like Nintendo's Virtual Boy, Apple Newton, Google Glass and the Blackberry Storm come to mind. 
Enter Prelaunch, which utilizes a kickstarter mentality to help launch innovative products almost ready for the open market and give creators feedback from potential customers. Browse the site and you'll discover a wide array of inventions, from toothbrushes, personal robots, pet toys, electric bikes and scooters to home gardens, cutlery storage and laser helmets to help boost your brain power.
Narek Vardanyan, the CEO of Prelaunch, explained that the power of the site lies in users' feedback which provides product owners unique and invaluable insight.  Potential customers indicate levels of interest, provide feedback on pricing, and, in some cases, can "buy it now" at a discounted rate. In exchange for their vital feedback, users can receive gifts, discounts and other prizes that a product owner can offer. 
"Most importantly users take an action to participate in the product creation in the initial stage, give recommendations, feedback and help owners create an innovation that will thrive," he told Paste. 
In March, the company kicked off a seed round, led by Armenian venture firm BigStory, Formula VC, Granatus Ventures, the Business Angel Network of Armenia and Los Angeles-based Vahe Kuzoyan, co-founder of ServiceTitan. Previously, the company had been bootstrapped, but it more recently announced it was closing the seed round on a SAFE note with a $10 million cap. 
Prelaunch is tooling up to go bigger now; more engineers, more marketing and more customers, Vardanyan said. 
"Since its launch in the summer of 2022, PreLaunch said more than 2,000 companies have used the service. There are currently 300 products on the site, with 50 of those having successful launches thus far. We had more than one million visitors of innovation lovers out of which 150,000 active users subscribed and reserved products," Vardanyan said. 
Vardanyan also founded The Crowdfunding Formula (TCF) in 2017, which offers a range of services including crowdfunding and ecommerce, and said that the idea for PreLaunch stemmed from work they were doing at TCF. 
"A couple of years ago, when the company's hype began to grow, and we were having a lot of campaign submissions and requests, it became pretty hard to determine which ones to take and which to reject; the problem was to understand their potential," he said. "We devised an idea – to take deposits on the product to understand whether people are ready to pay for something that has not been launched yet. This deposit-based method had a goal to understand the interest and willingness to pay."
After the breakthrough five years ago, Vardanyan and his team started to develop a platform that would be accessible to anyone who wanted to validate the market fit of their innovations, meet their customers earlier and at the same time understand whether to launch it or not. 
"Our goal was simple — to help creators from all of the world to succeed and let innovations happen without failures and waste of resources," he said. "It comprehends a marketplace where people can discover innovations and place deposit amounts to reserve their place at launch. It has a native builder powered with an AI copywriter to build projects and launch them."
The platform also includes an analytical dashboard incorporating over 35 metrics to evaluate the performance of a product and the opportunity to receive direct feedback from potential buyers so creators can make appropriate modifications on the product if needed.
The products that have been validated via PreLaunch, though, have achieved several impressive milestones. Kara Pure, an invention that transforms the standard air in your home into a 9.2+ pH antioxidant-alkaline water, has raised $1,274,526 from more than 1,000 backers and was named as one of the best innovations of 2022 by Time Magazine. FUELL Fllow, an ultra-modern e-motorcycle designed by Erik Buell, the legendary Harley Davidson engineer, boasts a full charge in 30 minutes and is readying for launch this year. Buell's company also launched FUELL Flluid-1 & 2, the world's longest-range e-bikes with nearly $1 million in funding. 
It's not just high-tech inventions though, things like the PooPail and the KittySpring ("the most cat-friendly water fountain on Earth"), have found success after extensive pre-campaign efforts.
While there are dozens of products that have successfully launched on the site, including the Dragonfly Hyperscooter, 2-in-1 laundry solution Eeva, and silicone electric toothbrush PomeBrush, there are hundreds more that have been predicted to be unnecessary and thus abandoned by their creators before they added any unnecessary waste. 
According to some estimates, the US alone produces over 7.6 billion tons of manufacturing waste each year. "With more informed decisions, businesses can reduce waste, minimize their eco-impact, and promote environmentally responsible practices," Vardanyan said. 
Dana Forsythe is a freelance writer covering tech, comic books and culture. He lives in Massachusetts, enjoys photographing street art, collecting comics and can be followed via Twitter @danafour.