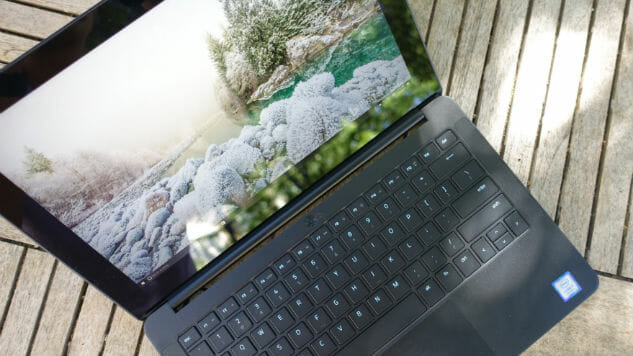 While Razer has enjoyed a storied reputation as a manufacturer of some of the most coveted gaming laptops, the Razer Blade Stealth is not entirely a gaming notebook. Instead, it's an Ultrabook that's meant to take on the best from Dell, HP, Lenovo and Microsoft. The Stealth's sleek looks and cold-to-the-touch metal design holds its own against Apple's MacBook series, and Razer has equipped its slim notebook with the latest Intel processor to help you get your work done on th road. With the right accessories, though, and for an added cost, you can convert the Razer Blade Stealth into a desktop gaming rig, giving the system a lot of flexibility and versatility.
Even if the Razer Blade Stealth isn't positioned as a direct competition to Dell's Alienware, HP's Omen, Lenovo's Y-Series or even MSI's gaming notebooks, the notebook can be seen as part of the Razer's attempt to appeal to broader demographics.
Part Ultrabook, part modular gaming rig and completely portable, the Razer Blade Stealth is a sleek laptop with high-end internals that closely match other thin-and-light notebooks on the market. But when it needs to, with the right accessories, it can still go toe-to-toe with gaming laptops from rivals like Dell's Alienware and MSI.
Design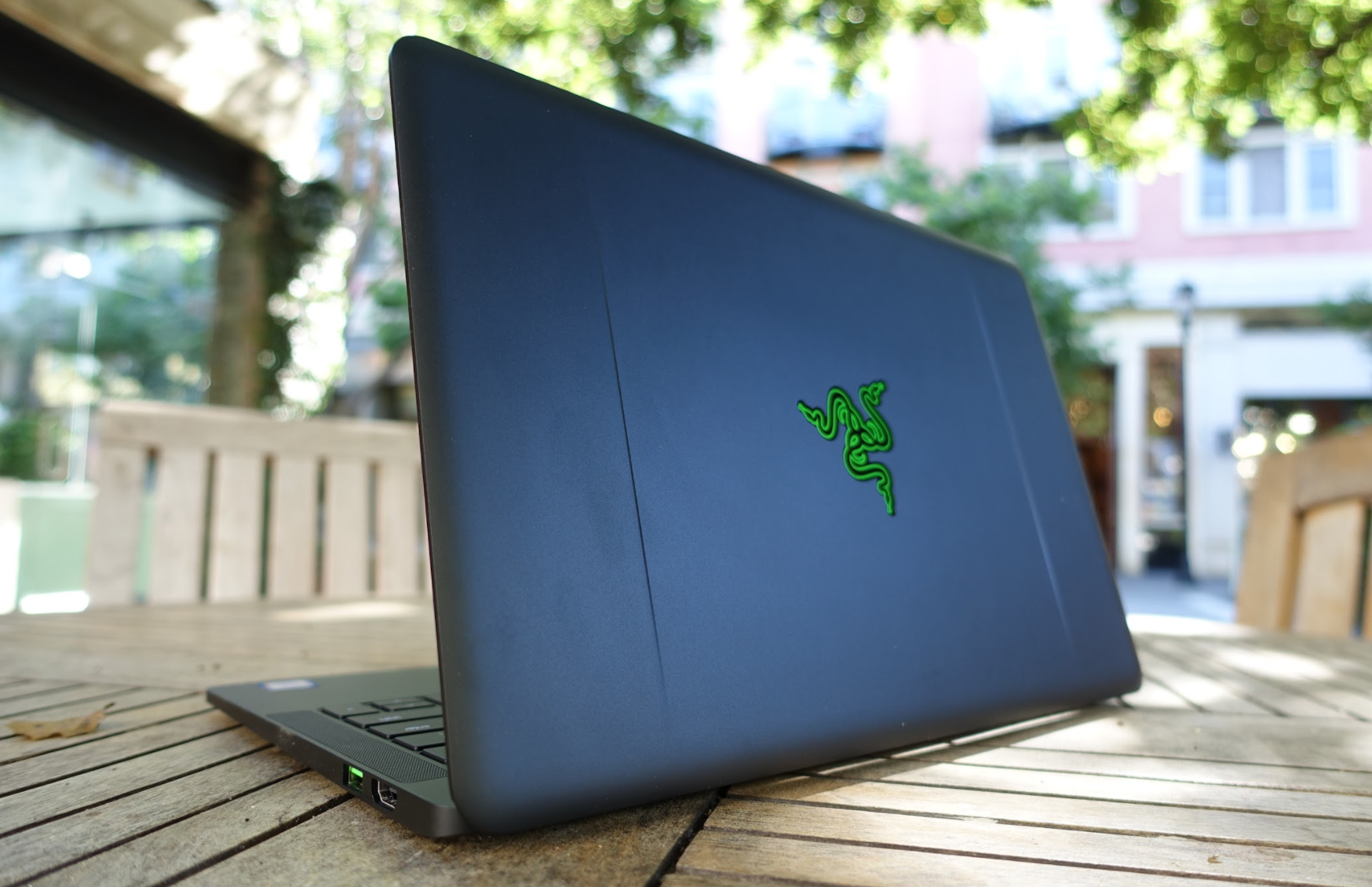 Draped in black aluminum, the Blade Stealth is befitting of its name—an understated laptop that packs quick the punch. This sleek notebook looks like a hybrid between Apple's MacBook and MSI's gaming laptops with its unibody metal exterior, sharp lines and rounded corners. Available in a matte black finish, the laptop feels as sleek as it looks. Clocking in at 2.89 pounds and measuring just 13.1mm thick, the Razer Blade Stealth feels more like an Ultrabook workhorse than a gaming system.
The only color highlights on the Stealth come by way of Razer's green logo on the lid, which lights up and glows like Apple's logo on MacBooks of yore, and the green insets found inside the two USB Type-A ports. A Thunderbolt 3 over USB Type-C port, combination audio jack and full-sized HDMI port are also found on this notebook. I would have loved to see an additional USB Type-C port for even further expandability.
While the darker hue is a welcomed change from silvery laptops that try to imitate or ape Apple's laptops, the matte finish here is a fingerprint magnet, attracting oils and dirt from your skin. If you're a neat freak, be prepared to constantly wipe down the surface to help the Stealth keep its sheen—even the matte black keys on the keyboard attract oils from your fingers and will need to be constantly wiped down.
Opening up the lid, you'll be greeted with a bright and vibrant 4K display using IGZO technology. While the screen is gorgeous, it feels rather cramped, and the somewhat larger bezels—at least by 2017 standards—makes it feel like the Stealth was designed for a 13-inch screen that was shrunken down to 12.5 inches. At this resolution, things can feel cramped, but Windows 10 does a good job of scaling things up, which somewhat negates the higher resolution for basic tasks.
Razer claims that the Stealth's 4K UHD display is capable of covering 100 percent of Adobe's RGB color gamut, compared to the 70 percent coverage offered on the QHD model. I had problems with the display, and colors seems accurate while I was working in Photoshop. The display is also bright.
Similar to Apple's MacBook Pro design, you'll find two narrow speakers, one on each side of the keyboard deck. Despite how slim this notebook is, the audio being piped out of the Razer Blade Stealth sounds surprisingly good.
Keyboard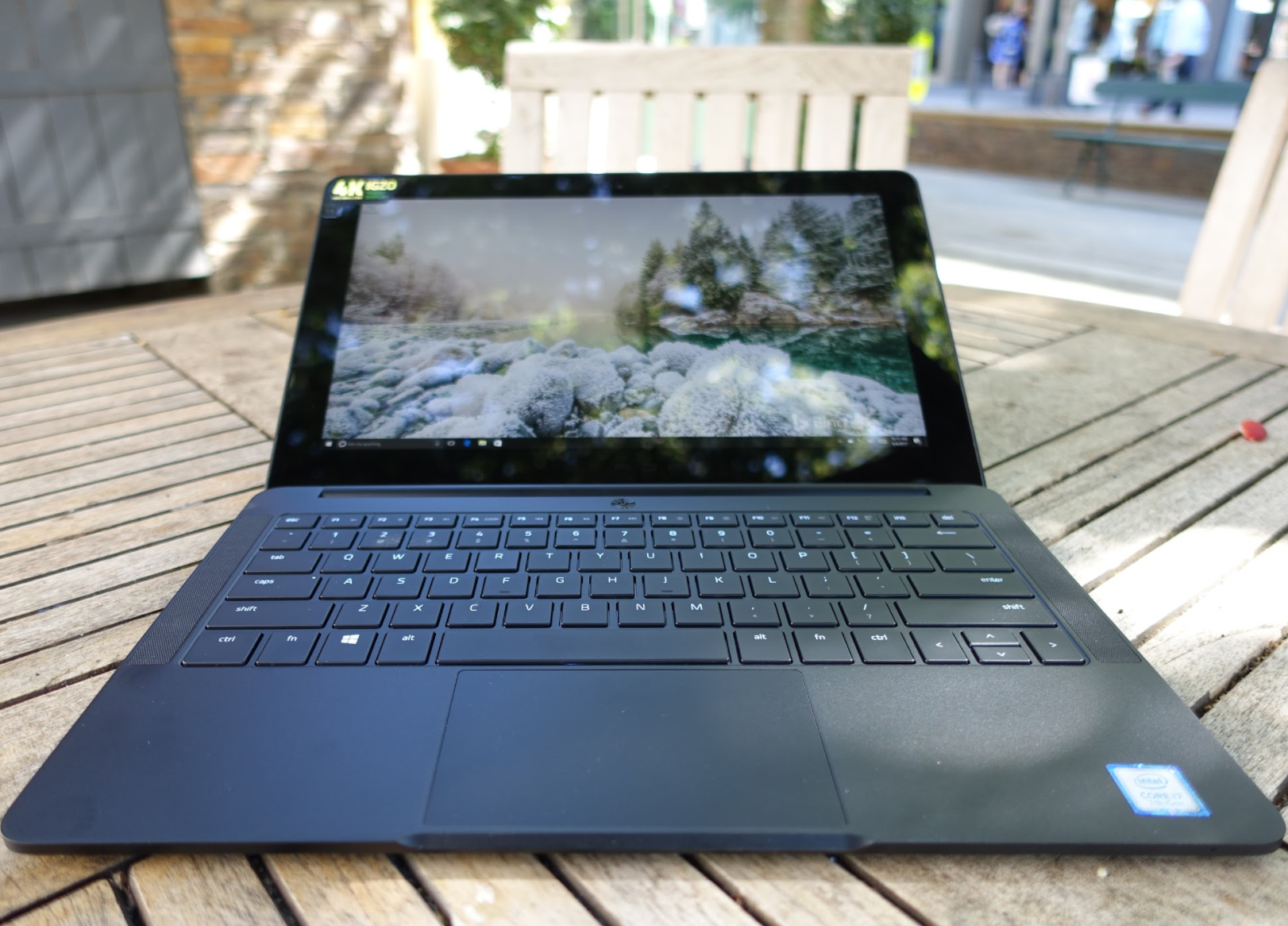 Despite its gaming heritage, the keyboard on the Stealth doesn't even come close to the mechanical keyboards that Razer creates for desktops. Even though the island-styled keys are full-sized, key travel feels more shallow than on competing Ultrabooks in this class, but the keys have more travel than on Apple's MacBook and recently refreshed MacBook Pro.
Even though the keyboard isn't the most comfortable on an Ultrabook, I was able to quickly adjust to the shallow key travel after a few hours. With continued use, I found the keyboard to be more comfortable than I had expected despite the shallow keys. This is due in large part to the stiffer actuation force required to press the keys, and because the keys are on the stiffer side, it didn't feel like I was bottoming out too quickly when typing. The keys sound clicky and hollow, but not as loud as the keyboard on Apple's latest MacBook Pro models.
Where the keyboard shines—literally—is that each key is individually backlit. Using Razer's Synapse app, the Chroma keyboard on the Razer Blade Stealth is highly customizable. I was able to change the backlighting color, brightness and design. Through the software, you can choose from up to 16.8 million colors for the backlighting, and there are several preset effects to create your very own light show. You can also map shortcuts to a key to launch specific programs or games as well.
The trackpad is large, and I found no issue with tracking accuracy. Out of the box, the trackpad does feel sluggish, but you can increase the tracking speed inside Windows 10's settings to your liking.
Specifications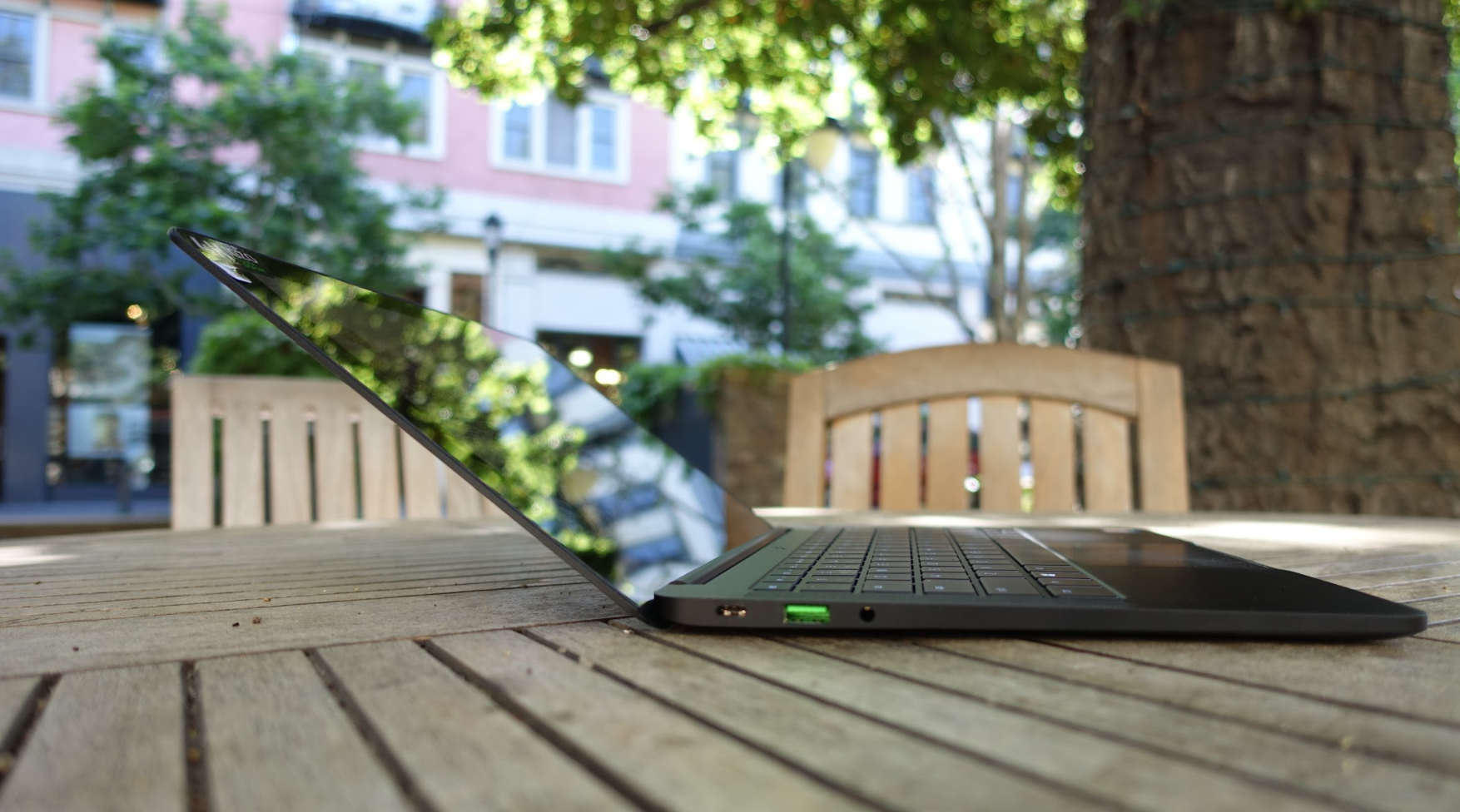 Our review unit of the Razer Blade Stealth is equipped with Intel's 7th Generation (Kaby Lake) Core i7-7500 CPU clocked at 2.7 GHz, 16GB of RAM and a 512GB PCi M.2 SSD. You can configure the Stealth 4K with up to a 1TB SSD, and the Stealth is also available in a starting configuration with a QHD display, Core i5 processor, 8GB RAM and 128GB of storage. Best Buy is selling the Stealth for $1,449 after discounts currently.
On its own, the Stealth doesn't come with discrete graphics. Instead, like most competing Ultrabooks, the Stealth relies on Intel's integrated HD Graphics 620. Where things get interesting is if you buy the Razer Core, a $500 accessory that allows you to connect your desktop graphics card of choice to the Stealth over the device's Thunderbolt 3 over USB Type-C port.
The USB Type-C port functions for charging the laptop, connecting peripherals like the Core and can also pipe out video if you choose not to use the HDMI port. Photographers looking to pick up the Stealth will likely bemoan the omission of an SD card slot.
Such a setup would give the Stealth the performance of a desktop gaming system, but would add to the cost and bulk of the Stealth. In theory, students and business professionals can use the Stealth during the day as their work Ultrabook. Once they're home, they can plug in the Core and have a more powerful gaming setup.
I didn't get the opportunity to test out the Core, but given the peripheral's Thunderbolt 3 connection, it should work with other Thunderbolt 3-equipped Ultrabooks, tablets and desktops on the market, in theory.
Performance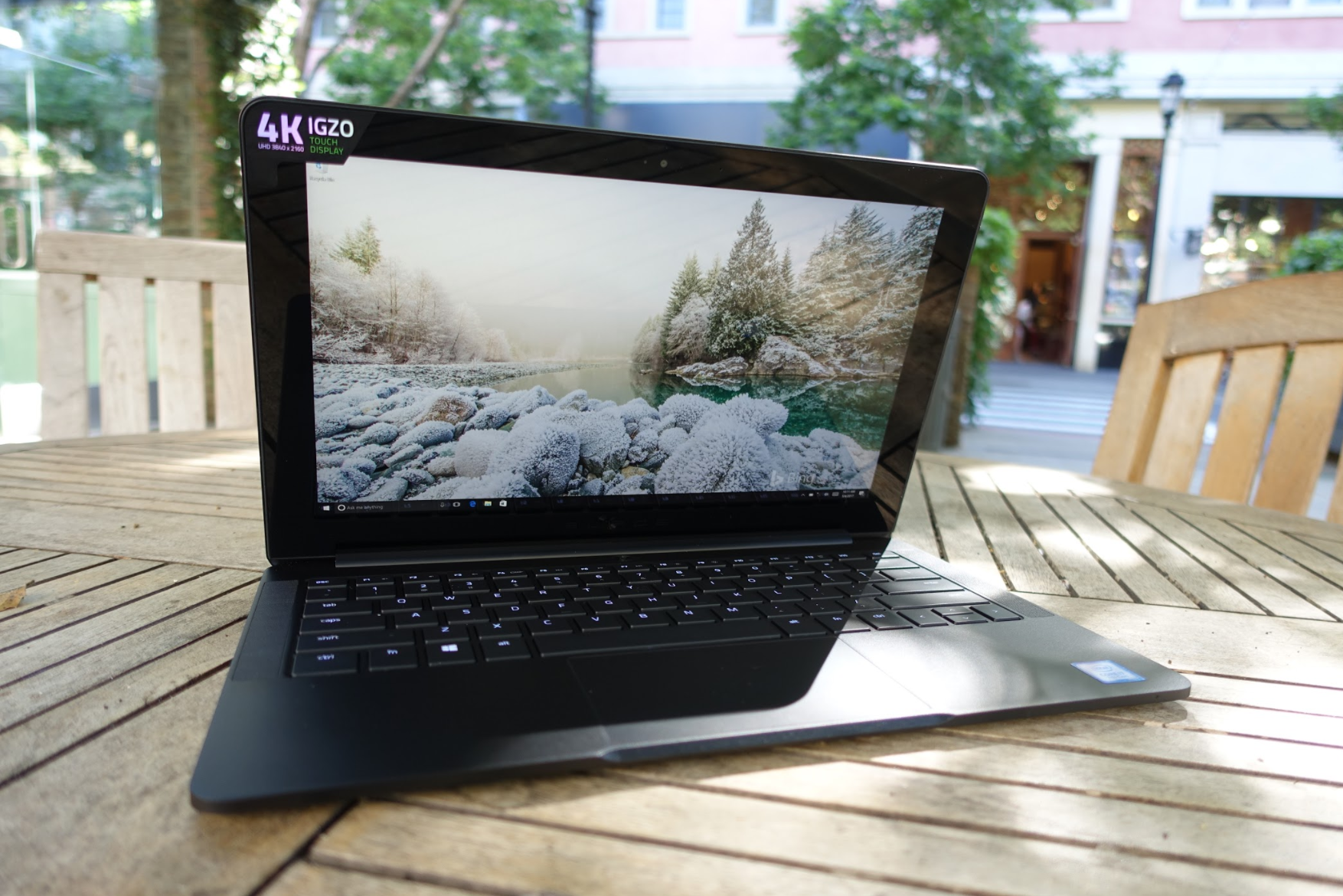 With 16GB of memory and Intel's latest processor, performance of the Stealth is what you'd expect from a high-end Ultrabook. With day-to-day office tasks, like web browsing, working inside Microsoft Office, running multiple Chrome browser tabs, watching YouTube and light photo editing, I didn't encounter any lags or slow down with the Stealth.
Overall, the system ran quiet, but the fans do kick in under heavier loads. Friends who have the Core told me that the fans really spin when you're playing a graphics intensive game. However, under normal use, I wasn't as much bothered by how loud the fan got—it wasn't loud at all—but more by the high pitched sound the fans created when they spin. The Stealth manages to stay cool, despite its metal build, while under pressure.
With a 4K display, performance of the Blade Stealth does take a hit, especially when compared against benchmarks for the QHD version. The Stealth scored 2,614 points using Futuremark's PCMark 8 Work test, which is comparable to the results that I got from HP's 4k Spectre 13 from this year. Fortunately, though, these scores are more anecdotal, and I didn't notice any real world hits.
And even though Kaby Lake is able to deliver solid performance with productivity tasks, don't expect to do any intensive gaming on this notebook. You'll be able to play older games or less demanding titles fine on the integrated Intel HD 620 Graphics at reduced settings, but serious gamers will likely want to pick up the Core for extra power.
Like HP's 4K Spectre x360 13-inch, the Razer Blade Stealth took a hit in terms of battery life with its 4K display. In my testing, I got around 5:15 hours of battery life with the Stealth, which is roughly half of the quoted battery life that Apple gives on the MacBook Pro.
Verdict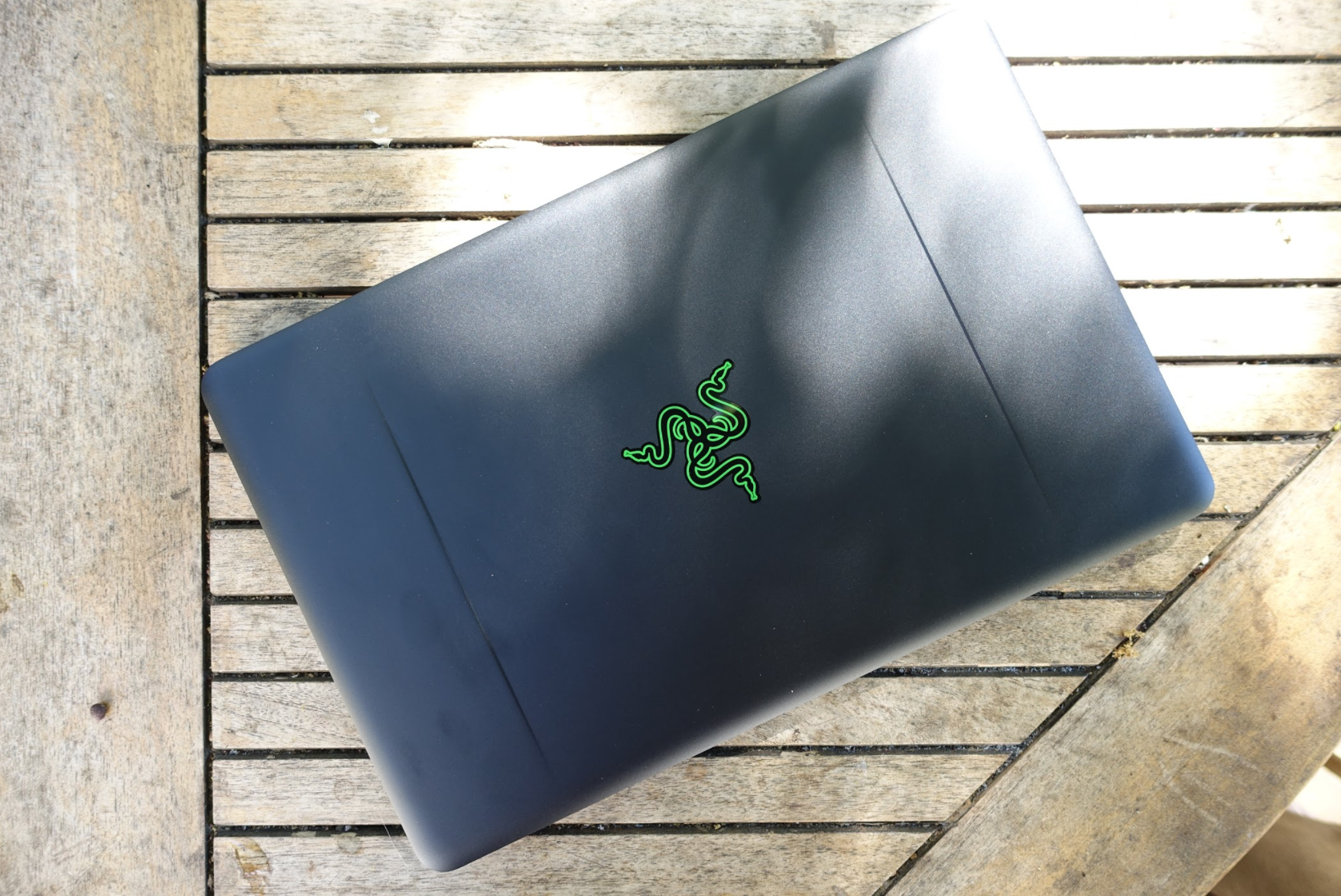 Don't let the black box that house this laptop fool you—the Razer Blade Stealth is an attractive machine that really shines. The Chroma keyboard brings a lot of personalization to Razer's ultraportable, and Intel's latest processor is fast enough to help you get your work done. The Stealth's slim design, lack of dedicated graphics and solid machined aluminum construction means that this laptop is ready to take on the best Ultrabooks on the market.
As reviewed, our $1,449 Razer Blade Stealth competes well against HP's 2017 top of the line 13-inch Spectre x360, which comes in at $1,600 and Microsoft's Surface laptop, which will retail for $2,199 when configured to match the specifications of our review unit. Despite its competitive pricing, both HP's and MIcrosoft's offerings come with pen support, in case your workflow requires inking, and the HP laptop also comes with a convertible 360-degree hinge that lets you use the Spectre in tablet mode.
Further muddying the water is that the HP notebook also comes with Thunderbolt 3 support, which means you can connect Razer's $499 Core accessory along with your favorite desktop graphics card to convert that notebook into a PC gaming rig, similar to the modular design envisioned by Razer for the Blade Stealth. Apple's MacBook Pro and Dell's XPS 13 are also good consumer alternatives to the Blade Stealth that edges our Razer's offering with better battery life.
But if you can live with the shallow keyboard, somewhat ungainly large bezels on such a gorgeous display and the Razer Blade Stealth's slightly anemic battery life, this is a very sexy notebook with just the right angles and curve appeal. Given Razer's core demographics, the Razer Core seems like an essential if you're purchasing the Stealth. And while there may be better options out there, none come with Razer's highly customizable light show of a keyboard, or the Stealth's understated and charming good looks.
In essence, the Stealth is the MacBook Pro Apple should have created, and this notebook bests Apple's offering with its high resolution touchscreen, more satisfying keyboard experience and support for legacy connections with the HDMI and USB Type-A ports.