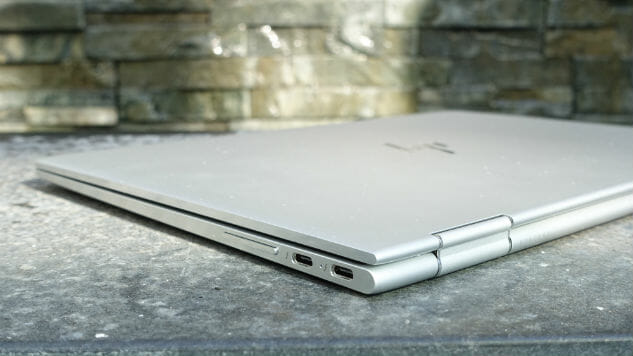 Don't let the Spectre x360's compact size fool you. The convertible's small body may hark back memories of the netbook era, but HP packed plenty of muscle into this year's model, making it a worthy, affordable and no-compromise alternative to Microsoft's premiumly priced Surface Book.
When the Spectre x360 launched last year, HP proved that it had the design chops to out-Apple in crafting beautiful, well-made computers. The obsessive attention to details paid off: the machined aluminum Spectre x360 rivals Apple's 2015 MacBook Air and Pro in design, build quality and craftsmanship, while edging ahead in performance and features.
With this year's launch HP has refined the Spectre x360's design, shaving away any unneeded space from the previous generation, while at the same time adding features that consumers want: longer battery life, a stronger processor and a slimmer design.
The result is a convertible that's equally as beautiful as it is powerful, and for consumers shopping for a laptop-first form factor, this year's Spectre x360 is the convertible to beat. Even if you're in the market for a plain Ultrabook (and not a convertible), you'll be remiss to dismiss the Spectre x360.
Thinner than Air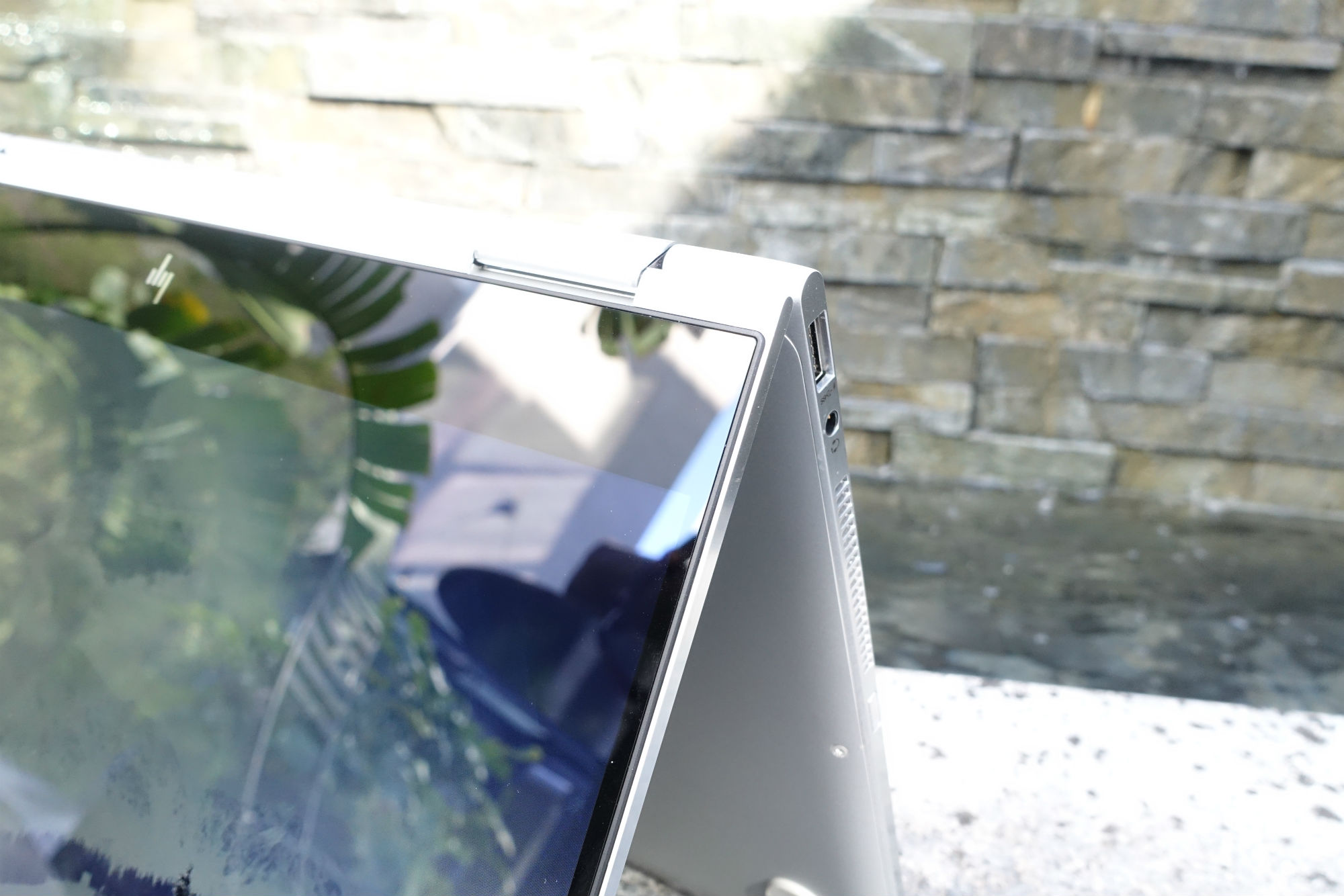 If you covered up HP's new logo—comprised of slanted lines of different lengths—the Spectre x360 can easily be mistaken for one of Apple's notebooks, a testament to the premium aesthetic HP created. Like the MacBook Air that HP is gunning for, the Spectre x360 is machined out of a block of aluminum with straight lines and rounded corners, and the laptop is finished in a matte silver hue with polished side edges
Like the MacBook, the machined aluminum gives the Spectre a solid feel, though the choice of metal is more susceptible to wear and tear, especially when compared to the greater durability of magnesium alloy on Microsoft's Surface Book. I've noticed a few scuffs and chips along the polished edges of the Spectre with use, but these battle wounds in no way affect the laptop's performance or functionality.
Open up the lid, and you'll begin to see how the Spectre x360 isn't just another MacBook Air ($999) clone. Like the competing Dell XPS 13 ($799) and Lenovo Yoga 910 ($1,329), the Spectre's 13.3-inch touchscreen display lacks the giant bezels that frame the right and left edges of the Air's screen. HP claimed that it had reduced the side bezels by 64 percent compared to last year's model, and the result is visually stunning.
The slimmer bezels mean that this year's Spectre x360 occupies an even smaller footprint, making it easier to slip into a bag for travel. Unlike the XPS, which slims down the bezels on the sides and on top, HP decided to keep some bezeling around the top of the Spectre. This means that the display looks less futuristic on the Spectre, with about 0.63-inches of black border, but HP's design decision lends to a more functional notebook for video conferencing.
The extra space up top accommodates a full HD camera for video calls, and this placement is more ideal than the bottom placement on Dell's XPS 13. There's also an IR face recognition camera for password-less Windows Hello logins. Additionally, unlike the competing Lenovo Yoga 910, the added space up top provides an area for you to comfortably hold the Spectre when used as a tablet.
For users choosing between the Spectre x360 and Apple's newly minted MacBook Pro with the Touch Bar, the Spectre's touchscreen may offer more utility for everyday computing tasks.
The result of the Spectre x360's dieting efforts is that HP is able to create a 13.3-inch notebook that's marginally larger than Apple's 2015 11.6-inch MacBook Air. The Spectre measures 12.03 × 8.58 × 0.54 inches, making it just 0.23 inches wider and 1.02 inches deeper than Apple's 11-inch notebook.
And despite slimming down the Spectre x360's profile, the Spectre packs in technology—like a new 360-degree geared hinge, room-filling speakers, touchscreen display and Intel's latest Kaby Lake processor in a sturdy design—that MacBook Air owners could only dream of having. And with these innovations, the Spectre still manages to be 0.14 inches thinner than the Air.
Making the Needed Sacrifices
For owners of last year's model, HP's focus on fine tuning the Spectre's design isn't without compromises. Features had to be cut in order to squeeze the Spectre x360 into its slimmer, tighter-fitting outfit this year.
On the display front, the Spectre x360 launches with only a full HD configuration—the 2015 model could be outfitted with up to a QHD resolution panel—and there's no option for inking with a stylus, a feature that could be useful for students, digital artists and note-takers.
Defending HP's decision to launch with a single FHD resolution screen configuration, Mike Nash, HP Vice President of Customer Experience and Portfolio Strategy, said that an overwhelming majority of consumers asked for that feature. Additionally, coupled with the power consumption savings delivered by Intel's Kaby Lake processor, Nash said that the FHD resolution allows for longer battery life. HP claims that the new model delivers up to 15 hours of battery life, up from nine hours last year.
Despite the limited launch configurations, HP is looking into the possibility of launching a QHD Spectre x360 with active digitizer support in the future, so you may want to hold off on purchasing if these features are important to you.
If you can look past the limited FHD resolution right now, the screen is bright, vivid and capable of displaying 72 percent of the color space. Blacks on the screen were inky, and I didn't notice the same light bleed around the display's edges as I did on my Surface Book. Most consumers will find the screen resolution acceptable for everyday computing tasks.
While HP may have taketh away, it also giveth, to paraphrase the adage. Executives claim that in removing unnecessary features, the company was able to devote resources into features that consumers want and keep costs down.
Compared to last year's model, the features that HP were able to deliver on the 2016 Spectre x360 include an edge-to-edge backlit keyboard, a wide glass trackpad and a new speaker arrangement that makes listening to audio a pleasure regardless if you use the Spectre x360 in laptop or tablet mode. The problem with last year's x360 is that the downward-firing speakers sounded great when used in laptop mode, but when you activate the 360-degree hinge, the speakers quickly became muffled when used in tablet mode. This year, HP also added two more speakers to the top, which helps deliver loud, crisp audio when converted into tablet use.
I found the quad-array speakers produced loud enough audio to fill my living room, and there was very minimal distortion even at the highest volume settings. Audio fidelity was passable, but for longer listening sessions, I'd want to use the HP Audio Switch app and external speakers. The bundled app makes it easy to switch between your internal speakers and microphones to wired or wireless setups on the fly.
HP's software makes it simple to control your audio input and output sources, and it's a feature that's so basic that we wonder why it hasn't already been a staple on PCs in the past.
A Converting Ultrabook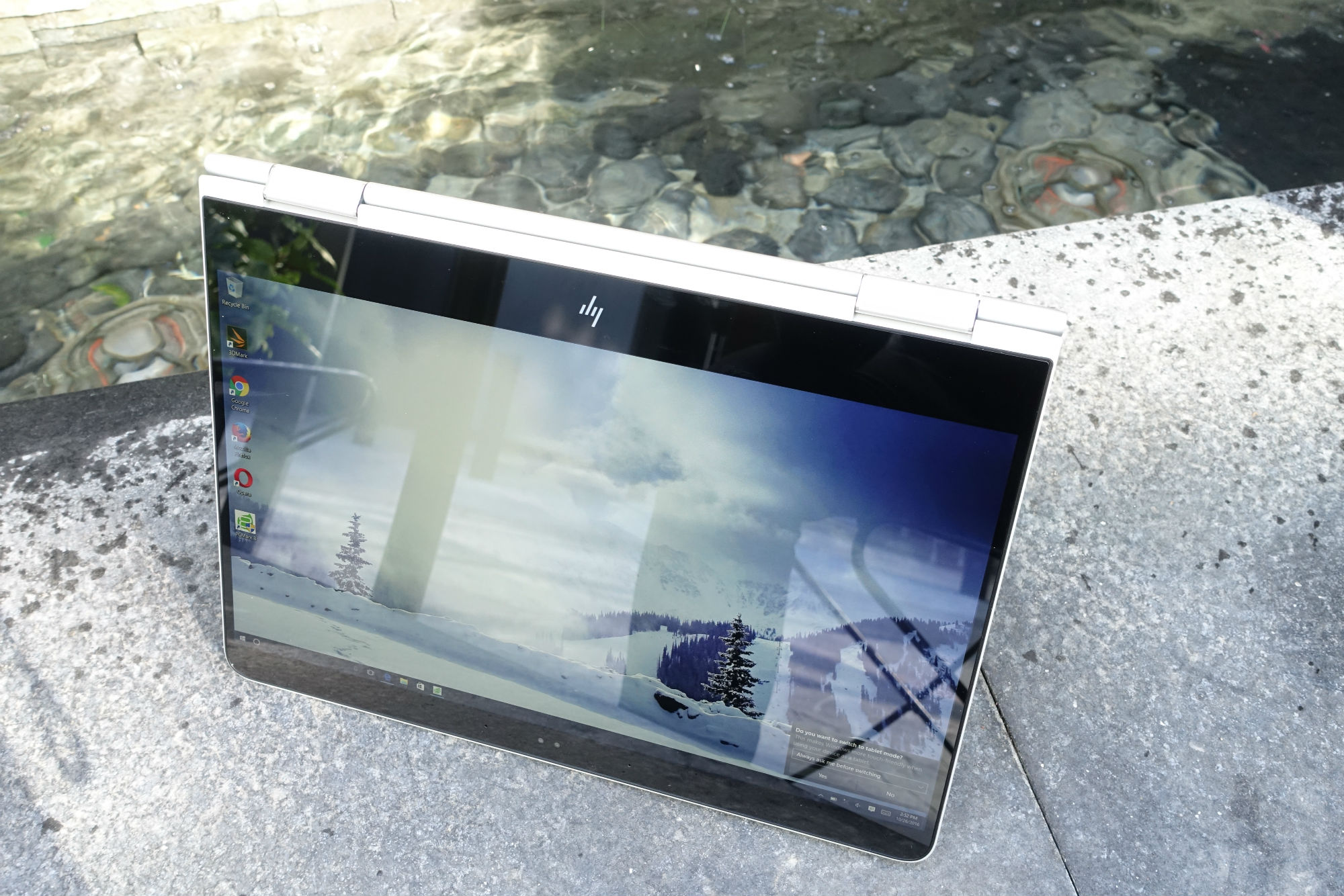 With a more traditional design than Microsoft's Surface Pro 4 or HP's Spectre x2, the x360 looks and performs more like an Ultrabook in laptop mode. HP says that there is 1.3mm of key travel on the keyboard. HP claims that the higher actuation force required for key presses make the keys feel comfortable.
In use, I found the full-sized backlit keyboard good. The 1.2mm of key travel makes it far more comfortable to type than the shallow keys on Apple's MacBook, but compared to a business-class notebook, I found the keys slightly stiff and bottom out a little too quickly.
For notebook users, the good keyboard and excellent glass-covered touchpad makes this convertible a pleasure to use all day. If you're typing in darker environments, the problem with the white backlight and HP's silver keycap design is that the combo makes it hard to to read the etched numbers and letters on the keys at certain angles.
Compared to last year's model, the 2016 Spectre x360 is light on ports, but that's because the two USB Type-C ports offer more versatility. The USB Type-C ports can be used to connect accessories, peripherals, power and displays, negating the need for a standalone HDMI port or power plug. The ports also support the Thunderbolt 3 specifications. Additionally, there is a single USB Type-A port for legacy peripherals alongside a 3.5mm combo headphone and microphone jack. On the left hand side, there is a large air vent and a power button, and the volume rocker sits on the right edge.
The side placement of the power and volume switches make them accessible whether you're using the x360 as a laptop or tablet. In reality, notebook users won't even need to even hit the power button. Fast resume from sleep means you can just open the lid, hit the enter key and start using your laptop in a little under five seconds. There are also volume control keys on the keyboard deck.
Unfortunately, to keep its slim profile, a memory card slot did not make the cut on this year's model—you can still use an SD card adapter with the device's USB port. Combined with the lack of stylus support, this year's Spectre x360 may not fit the bill for creative professionals or photographers who may want a lighter notebook than Microsoft's Surface Book.
Fast Performance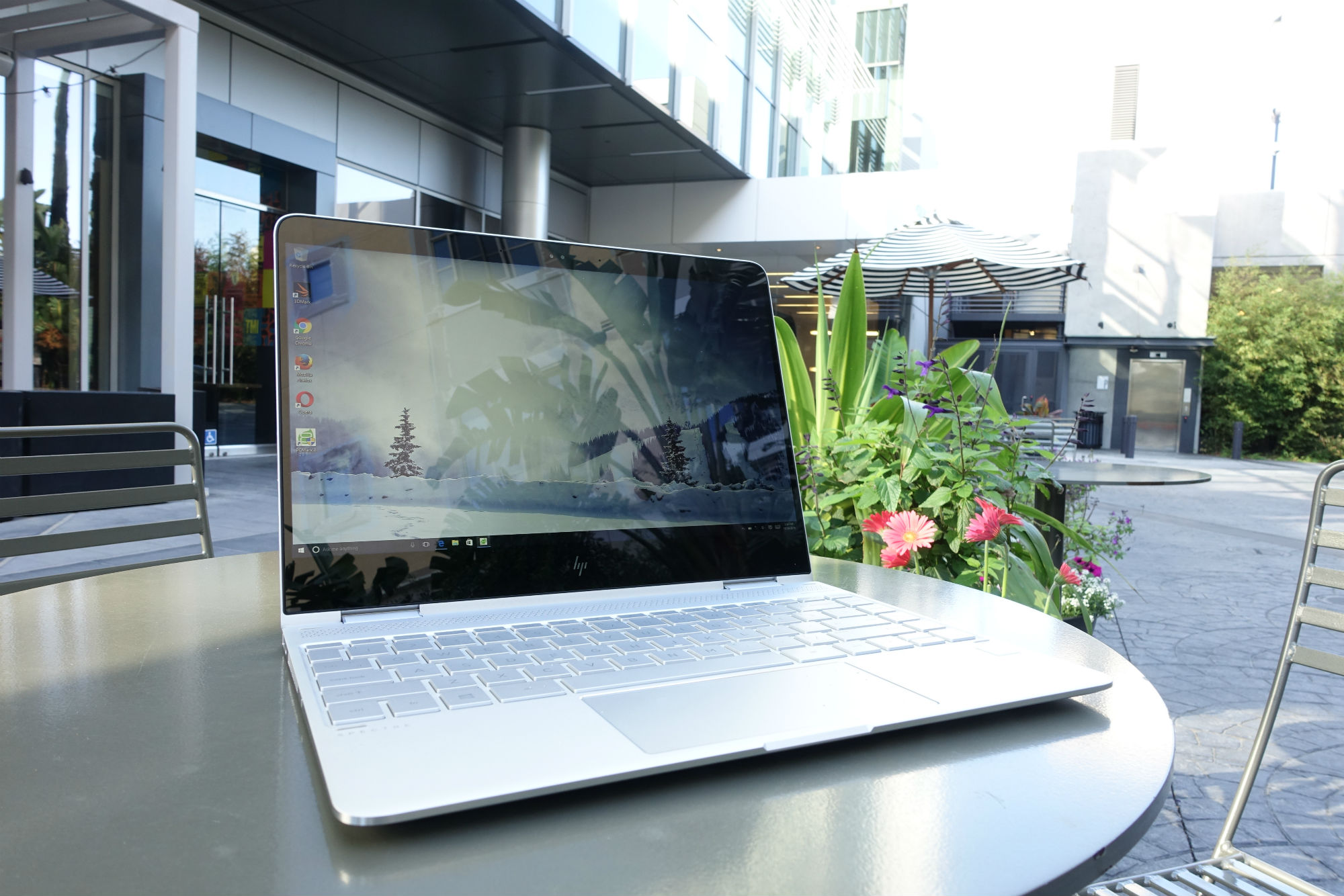 Our review unit of the Spectre x360 shipped with Intel's Core i7-7500U processor with integrated Intel HD Graphics 620, 16GB RAM and a 512GB Samsung NVMe solid state drive. HP will offer configurations that max out with 1TB SSD storage.
As expected with Intel's Kaby Lake processor, the Spectre performs well, scoring 3,354 points using PCMark 8 Home Test. For comparison, my Microsoft Surface Book equipped with last year's Intel's 6th Generation Core i5 processor scored just 2,360 points using the same test.
The Spectre x360 also posted competitive graphics scores against other Core i5 and Core i7 systems with integrated Intel graphics using Cinebench and 3DMark tests. Gamers will likely want to look at a system with discrete graphics, but the integrated Intel graphics performed smoothly streaming 4K videos, with light game play and basic photo and video editing.
Also contributing to the Spectre's zippy performance is the fact that HP didn't saddle its convertible with a ton of bloatware. The Windows 10 build that ships with the x360 is relatively clean, save for a few preloaded titles, like McAfee Antivirus, HP Audio Switch app— an utility that's actually useful—and a warranty registration checker app that notifies you of the warranty status of your Spectre and any other connected HP products that you may have, including printers.
PCMark 8's intensive battery drain test produced a result of 4 hours and 4 minutes, up from the Surface Book's score of just under four hours. In real life, I found HP's 15-hour battery life claims to be largely accurate. I was able to squeeze in 13 hours of use while browsing the web, watching YouTube clips, playing music and performing productivity tests.
I didn't experience any lags with the device in day-to-day use, and the starting price of $1,049 for a Core i5 model with 4GB RAM and 256GB SSD makes it extremely competitive against the Surface Book, which starts at $1,499 before discounts. A similarly configured Surface Book with last year's Core i5 processor, 8GB RAM and 256GB SSD would cost $1,699.
If you can live without the Surface Book's high resolution display, the option to detach the screen and inking capabilities, the Spectre x360 delivers better all-around performance at a much more affordable price point.
Verdict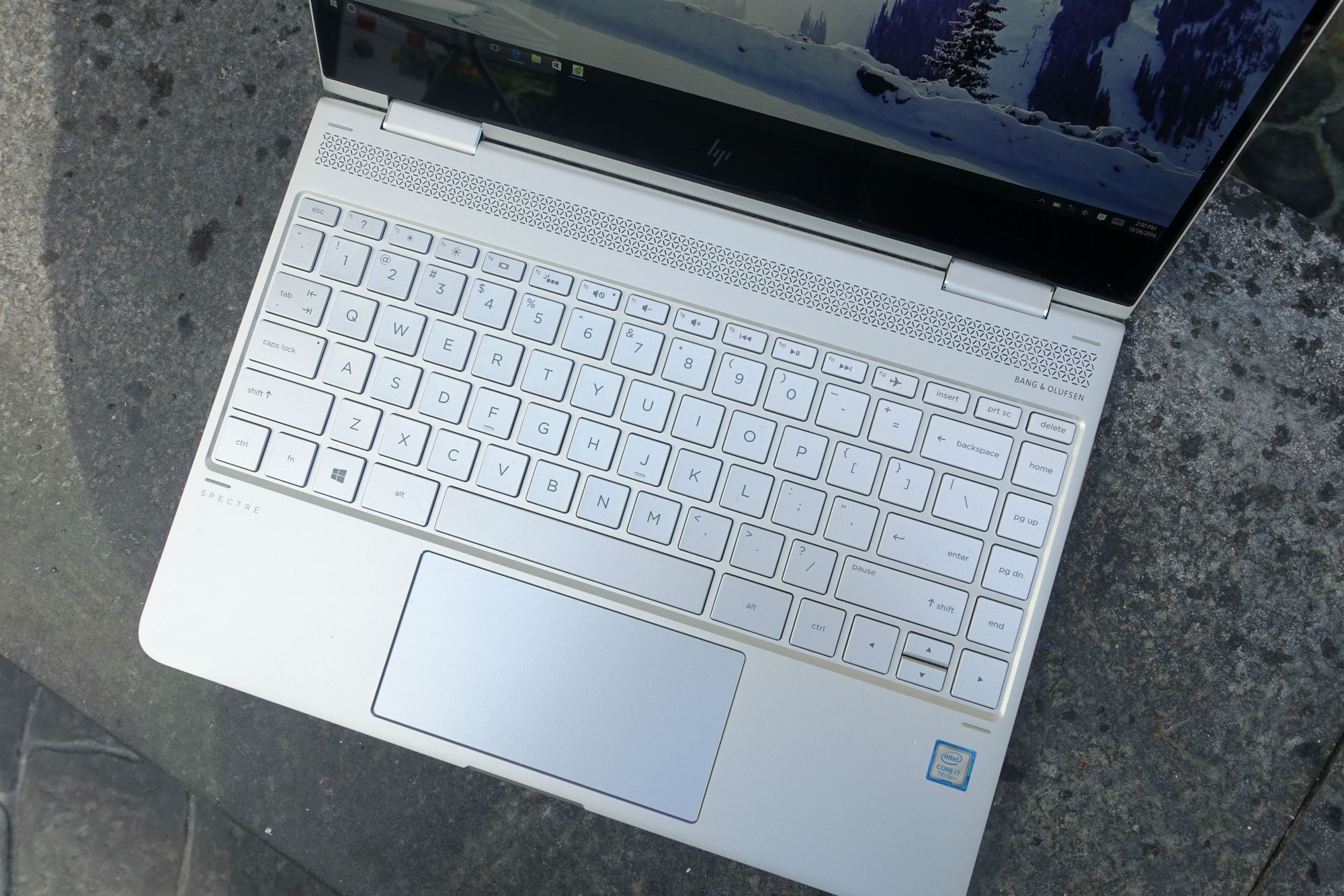 While the Surface Book retains its place as an aspirational convertible notebook in Microsoft's Windows ecosystem, delivering enticing features to creative professionals, HP's Spectre x360 is a notebook built for everyday consumers. Sure, the device lacks some of the glitzier features of its more expensive rival—like a detachable display and pen support for note-taking—but the Spectre more than makes up for it with an affordable price tag, compact footprint, long battery life and fast performance.
The refinements on this year's model shows HP's maturity as a company. The Spectre ships with the company's new logo on the lid, and HP clearly listened to its customers to include only features that are relevant to a majority of its user base, stripping away unneeded extras that would have otherwise contributed to a higher price tag. If you choose the Spectre x360, you won't get the highest resolution display, but HP's no-frills approach produced one of the best and beautifully designed all-around convertibles at an affordable starting price.