Where to Go in Calgary
The Dorian photo courtesy of The Dorian. Skyline photo from Unsplash. All other photos by Garrett Martin.
Travel
Features
Calgary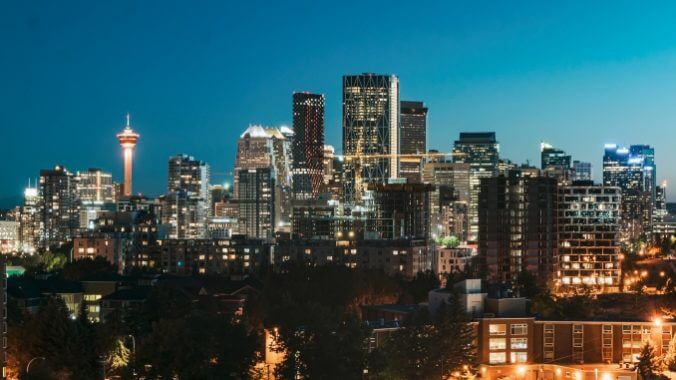 When you think of Calgary you probably think of wide open prairies, of the annual Stampede rodeo and festival, of cows and their boys. Maybe you think of the famous Hart family from pro wrestling, or the Calgary Flames of the NHL. Maybe you even think about how the entire province of Alberta supposedly has no rats—a fact popularized among otherwise ignorant Americans by Adult Swim's Joe Pera Talks to You. 
It's okay to think of all those things. Indeed, you should think about them—they're all an indelible part of Calgary's culture and community. There's also far more to the third largest city (and fifth largest metro area) in Canada, though, as I discovered during a couple of recent trips up north. It's home to great restaurants, posh hotels, a fantastic music museum, and some of the best bars and breweries in Canada. Here's where you need to go in Calgary—a city you need to go to.
Where to Go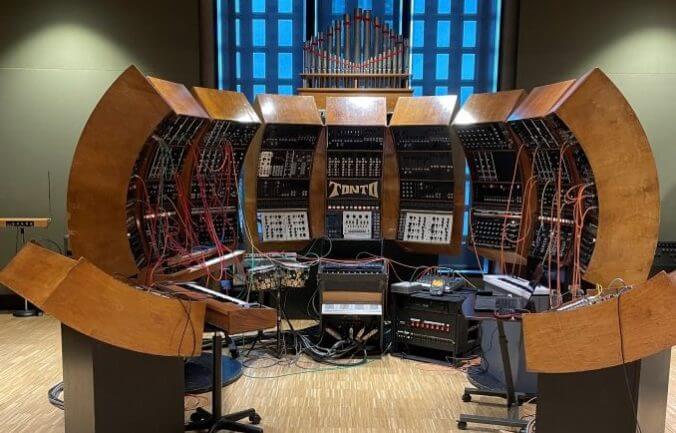 Even if you aren't a huge music fan you should stop by Studio Bell. Based in the East Village, the home of Canada's National Music Centre is a museum, arts center, and working studio devoted to the performance and preservation of instruments and every genre of music. Its collection includes a wide range of acoustic, electric, and electronic instruments, many of which are on display and ready to be demonstrated by museum employees. (Definitely check out a performance of the room-sized Kimball Theatre Organ from 1924.) Special tours will also take you inside the Rolling Stones Mobile Studio, which was used on some of the biggest records in the history of rock (and, yes, is the mobile mentioned in Deep Purple's "Smoke on the Water"), and the amazing semi-circular lair of synthesizers known as TONTO. (You've heard it on Stevie Wonder's biggest '70s records and seen it in De Palma's Phantom of the Paradise.) It's also home to the Canadian Music Hall of Fame, which is a bit of a trip for Americans; for every huge global megastar, there's a handful of local legends you probably aren't aware of. 
I wouldn't normally hit up a local library on my international journeys, but the relatively new Calgary Central Library is an architectural marvel just a block or two from Studio Bell. Enjoy its surfeit of sunlight and the undulating waves of its central chambers, and make sure to learn about Alberta's Indigenous cultures on the library's fourth floor. 
If you want to get some shopping done during your time in Calgary, the Inglewood neighborhood is full of cute boutiques, vintage stores, and more. Start off your trip with some coffee and snacks at Canela Vegan Bakery & Cafe, and then explore the rest of 9th Ave. The Western wear store Cody & Sioux pays tribute to Calgary's cowboy heritage, while Recordland has an overwhelming amount of new and used vinyl in its sprawling store. And booklovers will flip over The Next Page, which doesn't just deal in new and used books but also has a coffee shop and a small basement theater showing a steady stream of old movies.
If you want to get active you can explore nature at Prince's Island Park. I personally saw about 50 baby geese while I was there in early June, and somehow baby Canadian geese are even cuter in Canada than in my stomping grounds of north Georgia. If you want to commune even closer with nature—or just have some fun relaxing on a river—take a raft down the (usually) tranquil Bow River through Lazy Day Raft Rentals. 
Finally, don't discount the classic Calgary tourism spots. If you don't mind the crowds and increased hotel prices, a visit to the annual Calgary Stampede in July sounds like a total blast. It's no longer the city-straddling colossus it once was, but the Calgary Tower still offers a great vantage point overlooking much of the city. You can't tour the Hart House, the longtime home of Stu Hart's family of wrestlers, and where countless future pros were brutally trained in the basement known as the Dungeon, but if you're as huge of a pro wrestling nerd as I am it might be worth the drive outside of town to get a selfie in front of the mansion. And if you visit during the NHL season, and are remotely interested in hockey or live sports in general, a Calgary Flames game at the Saddledome might be just what you need. For my wife and I, catching a Flames game was like paying tribute to a forgotten part of our home city Atlanta's past. (Yes, the Flames were originally in Atlanta. Atlanta has lost two NHL teams to Canada over the last 40 years. Say a little prayer for the Atlanta hockey fan.)
Where to Eat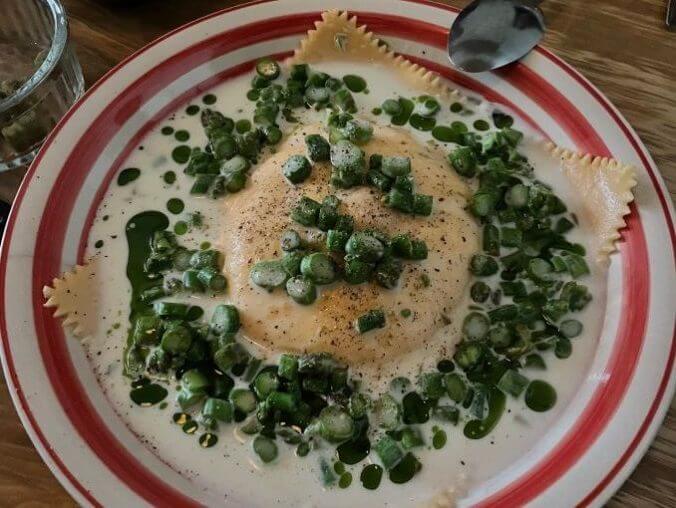 D.O.P. is a shotgun shack of an Italian restaurant in Downtown Calgary famous for its massive raviolo. Inside the plate-sized pasta is a runny egg yolk that gushes forth and mixes with chopped asparagus and ricotta; even as a big hater of egg, I can see why this delicious dish is D.O.P.'s signature. Also worth eating is the spicy Nduja spread, which is basically salami you can smear all over a slice of bread, and the shell-shaped conchiglie pasta with pesto cream. Cap it all off with tiramisu and you'll have a hell of a meal.
If you want to eat at Shiki Menya, perhaps the best ramen spot in the province, you have to act fast. It's only open for lunch, and it only serves a set number of bowls a day, so it could very well close well before its official 3 p.m. closing time. If you miss it the first time, definitely make a return trip; it was the best meal I had in Calgary. Its best seller is the chili goma ramen, with spicy pork and vegetables, chili oil, and peanuts in a sesame broth, and I can see why; it's spicy but doesn't sting, will fill you up without weighing you down, and tastes great from start to finish. Make sure to grab some char siu tacos with pineapple salsa while you're there.
Canada's national dish poutine is well-represented throughout Calgary. One of the best to do it is OEB Breakfast Co., which has four locations throughout the city, and has actually spread throughout the rest of the country. (It even has a couple of American spots in California and Arizona. Way to go, OEB.) It all started in Calgary, though, and you can't go wrong with any of the breakfast poutines on the menu. And yes, it has more to eat if you aren't feeling potatoes and curds in the morning.
Two other great places to eat are Paper Lantern and Moonlight & Eli. They're also bars, so we'll talk more about 'em when we get to that part of the guide. Which, hell, is right now, so let's get to it.
Where to Drink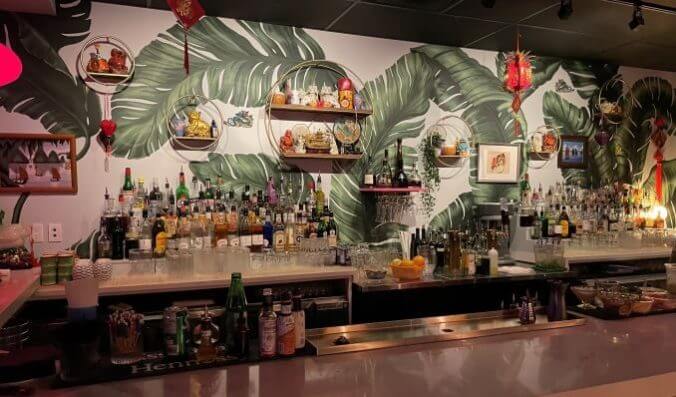 It's easy to miss Paper Lantern. The self-described "underground tropical Vietnamese cocktail lounge" doesn't have a sign, per se, and can only be entered through a nondescript basement door in Calgary's Chinatown. You'll be glad you searched for it, though; it serves up delicious drinks of the tiki bent, including a superb Mai Tai, a stiff Cương thi (what English speakers would call a Zombie), and a pineapple-and-coconut heavy Staycation, which is served in a coconut cream can. You'll also find great snacks along with small and medium plates from a Vietnamese menu derived in part by the owner's mother and aunt. If I lived in Calgary I'd be a regular here.
I don't think I'd spend as much time at Moonlight & Eli; not because it's bad (it isn't! at all!) but because champagne and fondue is more of a special occasion kind of combo. You can find a rich variety of bubbles to sip on, available by the glass or bottle, and can try three in a flight. (And yes, the only beer on the menu is Miller High Life, of course.) The fondue features the classic mixture of gruyere and emmental, with bread crumbs, apples, small chunks of potatoes, and pickled vegetables for dipping. There are now two locations in Calgary, and it's perfect for a romantic night out or a small celebration among friends.
If you're in the mood for an easy-going craft brewery with a beer for every mood, I can heartily recommend Ol' Beautiful Brewing Company. Among its best brews are Okami Kasu, a rice-derived Japanese ale that's finished off with rice that was used in the production of saké; Brass Monkey, a blood orange blonde perfect for session drinking; and my favorite, the Irish stout known as Rites of Passage. (Don't worry: I definitely passed.) There's also a food truck inside serving up tacos and burritos way better than what you'd expect from Canada. This is the kind of place you want to hang out at.
I hit up a few of the other most acclaimed bars in Calgary right now—Major Tom, Proof, and Shelter—and none of them disappointed. If you're a straight-up beer drinker you might want to look elsewhere, but all three serve a fantastic selection of classic and modern cocktails. And they all have very different vibes—Proof is classic class, Shelter aims for post-apocalyptic chic, and Major Tom, atop the 41-story Scotia Centre, offers amazing views alongside its slick decor and Bowie-heavy playlist.
Where to Stay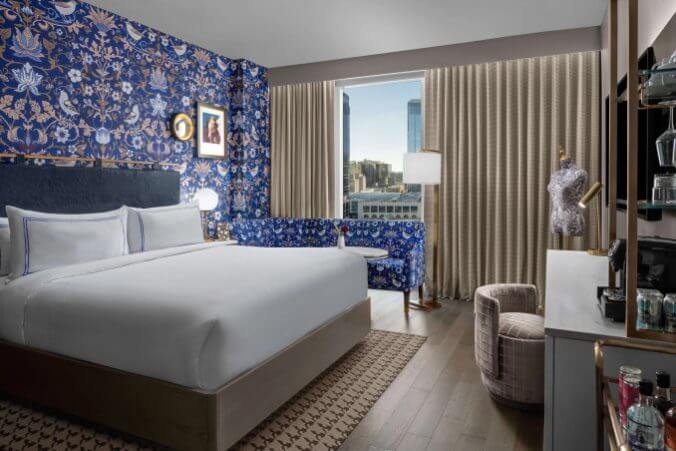 There's no shortage of top-notch hotels in Calgary—especially the Fairmont Palliser, another one of the chain's palatial, historic hotels that'll make you feel like royalty. One of Calgary's newest luxe hotels, though, currently cuts the most striking figure. The Dorian, a stylish Oscar Wilde-themed member of Marriott's Autograph Collection, is all about elegant decadence, and can also snag you some Bonvoy points. With lush interiors, a splendid restaurant and bar, and a novel interactive element involving guest confessions and a portrait of its namesake Wilde character in the lobby, you'll have a hard time resisting The Dorian's charms.
---
Senior editor Garrett Martin writes about videogames, comedy, travel, theme parks, wrestling, and anything else that gets in his way. He's also on Twitter @grmartin.