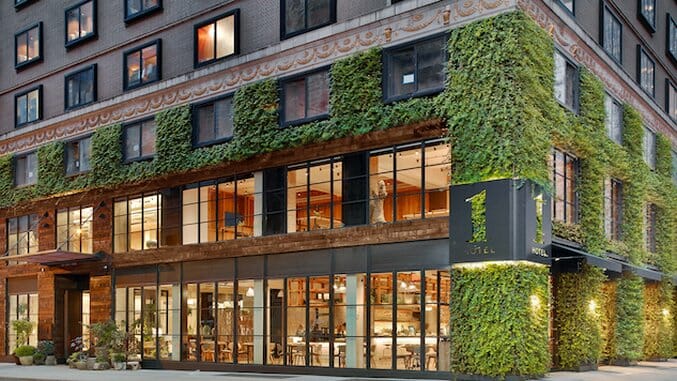 It is almost impossible to escape the urban jungle that is Manhattan. The best you'll do is getting lost in Central Park's Ramble. And even then, you still end up with skyscrapers towering over you as soon as you re-emerge from the "woods." When you've tried and failed to find New York City's nature, there's a hotel waiting for you just a few blocks from the famed man-made park, where you might have more success.
When building the 1 Hotel Central Park, nature was a priority, but not just because it looks cool. "1 is more than a hotel—it's a philosophy and a platform for change," Barry Sternlicht CEO and chairman of 1 Hotels says of his brand.
Sure, lots of hotels aim to do good with eco-friendly toiletries and little cards that request you don't have housekeeping wash the sheets every day, but few hotels go as above and beyond as 1 does to safeguard the environment, and very few are able to capture its beauty at the same time. Usually, eco-friendly in a hotel means a shoddy plumbing system, really rough toilet paper and unattractive lighting. But 1 Hotels has utilized its stance on nature to create an otherworldly and tastefully designed experience.
First Impressions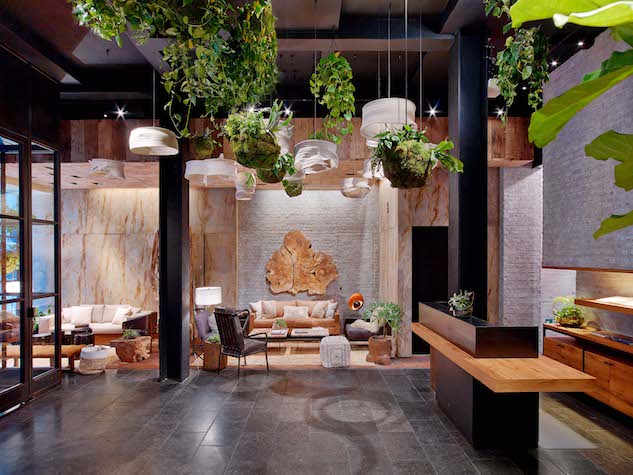 You can't miss 1 Hotel Central Park, it's the only building on the block—and one of the only ones in all of Manhattan—covered in plants. The 18-floor hotel boasts a three-story living green façade on sixth avenue and part of 58th street created by landscape designer Damien Harrison using AgroSci technology.
In case you were wondering, this outer wall on the lowest three floors of the building features individually-planted pots each containing five English ivy plants with over one mile of irrigation tubing in four zones, and every component of it is recyclable, including the pots, stainless steel structure and irrigation system
What that means in terms of visuals is a standout structure preparing you for a multifaceted experience blending natural and urban life.
The brand prides itself on using natural light efficiently, so walls of windows surround the lobby level. As you walk to the hotel's main entrance, you'll get a peek inside the on-site restaurant Jams, a farm-to-table experience curated by chef Jonathan Waxman. Walk in the main entrance, the door of which is surrounded by wood, through a glass enclosed foyer much like a greenhouse, and into the nursery … we mean … lobby.
The first thing you will notice is the screen behind the reception desk (whick is made from blackened steel, antique brass and solid oak) right in front of you. It projects rotating images of different plant vines, and while the hotel is extremely high-tech, creating quite the oxymoron, this is the only time it is in your face. Everywhere else, the focus is on nature.
Potted plants hang above you as you wait to check in, and wood black pillars hold up the dark space. Quartzite Nacardo stone complements a floor of Belgian blue stone with a border of reclaimed wood from old barns and factories in the New York area. The reclaimed oak ceiling is accented by suspended art inspired by nature—like a big piece of tree trunk hanging on the exposed brick wall painted white behind a brown leather couch . The seating is a warm yet still NYC chic mix of wrought iron and wood chairs covered in fluffy throws and the aforementioned leather couches. The color scheme is brown, black and off-white, ensuring a au-naturel tone. Behind the seating area, shelves of plant sits by the window, partially blocking the view, which might remind you of the creepy neighbor you had growing up with the forest growing in their front yard that your parents told you was to keep out prying eyes (what were they doing in there!?)
My favorite piece in the lobby was a tree trunk standing approximately three feet tall in between the seating.
When you're done learning about horticulture—even the books in the lobby are about plants—collect your wooden chip that acts as a keycard (yes, it's so cool, but no, I have no idea how it works) from the front desk. Walk past a giant metal nail leaning on a wall and toward a sign made of natural elements like wood and grass that says, "No Thing is Ever Really Lost," and you'll find the elevator. And guess what, they're lined in real wood.
The Rooms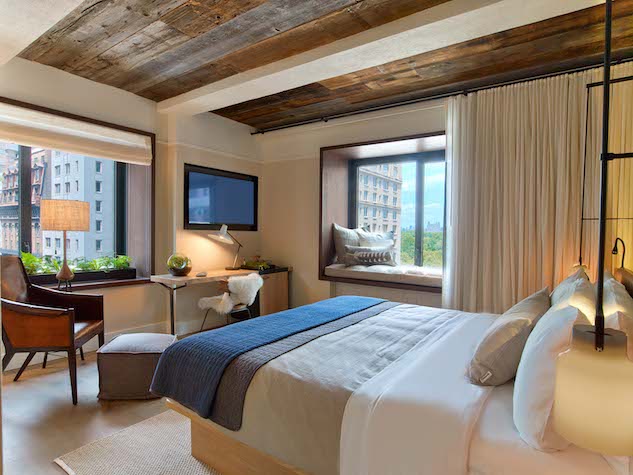 While the lobby was an overload of flora, the rooms are oases. When the elevator doors open, unique artistic renditions of the floor numbers tell you where you are. Each number is represented in a different design, such as penny nails or white paint on scrap metal. Walk down the hall past archways that lead to each room. Each is framed in its own living moss niche. For a born and bred city girl, this was the closest I've ever gotten to having a front lawn, and I loved it.
The living moss sets the tone for the experience in the room: all natural, and all yours.
The hotel features 229 guest rooms, including 22 suites and one Greenhouse suite. Most likely, your eyes will immediately dart to the patchwork of wood making up the entire wall behind the bed, giving the room a rustic feel. However, it's quickly contrasted by a leather headboard and crisp white sheets—100 percent organic cotton, of course—ensuring an updated stay.
You're surrounded by natural and reclaimed materials selected to bring the outside in, including wood from New York City water towers, painted brick walls and accents of blackened steel and copper for the furniture.
Bringing you back to present day NYC, the room phone is a Nexus smartphone device that not only connects you with the front desk via call or text (I got a late checkout via text; it was awesome), but also controls all aspects of your room, from the television to the temperature. Of course, the phone charges on a little wooden block with a charger hidden behind it.
Messages appear on cork and rocks around the room to tell you how things work, like the water filtration system. And there's a little chalkboard behind the bed for eco-friendly note taking, should an idea strike.
Some rooms have extended window benches that capture natural light and allow guests to perch above Manhattan streets, and a glass enclosed bathroom (don't worry, there's a curtain) you will be all to excited to use.
The bathrooms are built from tactile natural materials such as Breccia Capria marble, mushroom wood, concrete tiles and reclaimed brick with glass-enclosed Napa-style paned walk-in showers and rustic copper fixtures as accents.
Last, but not least, each room features a terrarium by Sprout Home and Brooklyn Glass.
The rooms are really exquisitely designed, blending environment and innovation seamlessly, which most hotels have not figured out how to do yet.
What Pops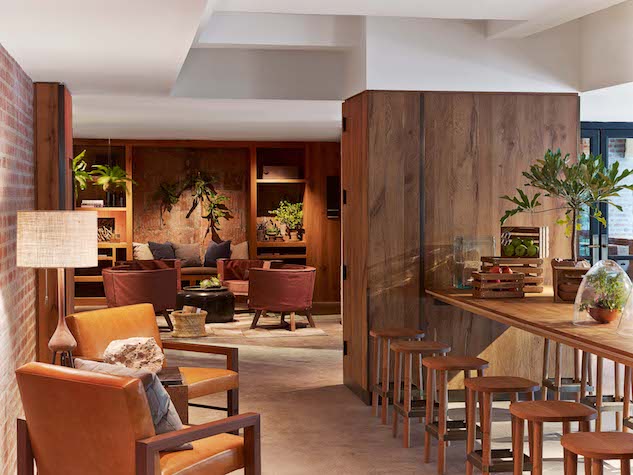 I think it's pretty obvious; the plant life in this hotel is as exotic as that of the New York Botanical Garden—OK, not quite, but you get the picture. There are thousands of plants throughout the entire building, but not one flower, because being eco-conscious is not always pretty.
But it's the way it somehow seamlessly fits into one of the most bustling and innovative cities in the world that's really striking. While the exterior is one I've noticed since the hotel opened a year ago, it's never seemed out of place, just creative.
Clearly, this hotel is powerful enough to effect people who've never even ventured inside, and now that I have, the connection this brand has to the environment has left an even more permanent footprint in my mind—not a carbon one, though.
The Locale
1 Hotel Central Park is close enough to the theater district, Carnegie Hall, Fifth Avenue and Columbus Circle that you can be there by foot in minutes but far enough that you're separated from the throngs of tourists. And, of course, Central Park is your backyard.
For a meal that is in theme with your stay, venture downstairs to Jams, a wide-open restaurant and bar offering local and seasonal cuisine showcasing market-fresh, local and organic ingredients and purveyors. Surrounded by exposed brick, Oriental carpeting and untouched-esque industrial touches, the restaurant blends in with the hotel, offering just a little bit more light, perfect for fueling up before a day pounding the pavement.
Address: 1414 Avenue of the Americas
Website: 1 Hotel Central Park
Room Rates: $300 – $750