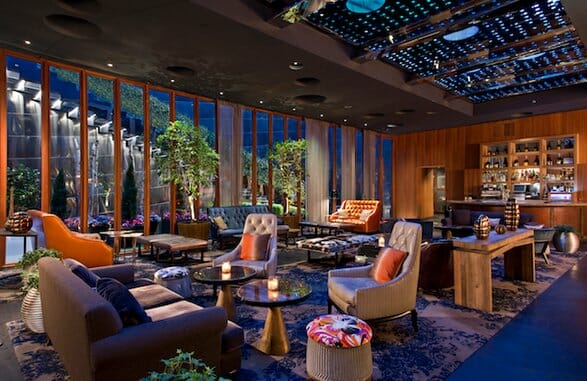 The Dream Downtown is one of the hottest hotels in New York City right now. Full stop. The exterior of the building is covered in a semi-reflective metal taking inspiration from artist Anish Kapoor's Sky Mirror. So, when the sun is beating down on it, this is not the building you want to brush up against while walking down the street. But no matter what the weather, it is the hotel you want to stop into for a drink. The swanky décor, rooftop bar, trendy Mexican restaurant and outdoor pool/beach bar, which offers cool respite in an NYC hot spot, have attracted the likes of Katy Perry and Lindsay Lohan, so if it's Hollywood-in-NYC you're looking for, Dream Downtown will satisfy.
But, unlike Hollywood, there's another layer to Dream's flagship property. Under its surface of modelesque faces and quirky art, there's a history to the hotel they embraced upon construction. Albert C. Ledner designed the original building, which served as a union annex for the National Maritime Union, in 1966. The hotel's architect wanted to revamp the building without sacrificing its original character, and he was successful.
First Impressions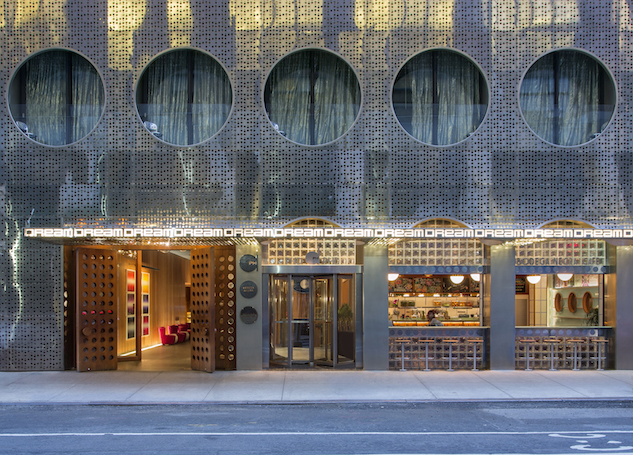 You can't miss this building. It's the only one you can see your reflection in on this Chelsea block otherwise lined with brownstones and brick structures. The block-like edifice and porthole windows are from the original design, as are the other tiny holes in the metal that you'll want to stick your fingers through. OK stop staring at yourself and walk under the metal overhang, through the glass doors, and into the open DJ'd lobby space. The wood-paneled walls encasing the lobby are a breath of fresh air from the metal, and take the hotel from industrial chic to beach cool. Although, you won't know if it's beach whether; the dim lighting and dark colors make it hard to tell what's going on outside, sneakily luring you into staying longer.
A long stone reception desk sits in front of a wood wall adorned with photograph-filled letters that spell out "IT WAS ALL A DREAM." The wide entryway opens up even more just past reception to the right, where the lobby bar (pictured at top) waits to welcome you with mismatched jewel tone Alice in Wonderland-esque chairs and animal print ottomans, sending the message that the Dream Downtown is a mish-mash of all different types.
One of the walls is filled with an American Flag mosaic, which, if you look closely you'll realize is made of beer cans. Look up for a glimpse of the pool; the glass bottom of the pool also acts as the lobby bar's ceiling. Don't worry, you can only see through holes that match the exterior, so you're not creepily eying someone's bathing suit wedgie. Straight through the back of the floor-to-ceiling windows (covered in drapes so as not to let in too much light) is a staircase that leads to said pool.
Inspired by the gritty yet sleek aesthetic of Andy Warhol's Factory, the hotel is also filled with ever rotating art by Subodh Gupta, Sante D'orazio, Anish Kapoor, Harif Guzman, Marilyn Minter and Chris Stain, some of which is on display in the lobby. You'll get a good taste of their devotion to unique art if you turn left after reception, which takes you through a foyer where the hotel's IGK salon is housed along with some seriously interpretive art. When I stayed they were exhibiting colorful portraits of public figures but in skeleton form (I recognized Anna Wintour's and the Queen of England's bones), and a massive metal sculpture that looked like it could have been made of melted mugs, but that was just my interpretation.
OK, if you found that overwhelming, walk through that space to finally arrive at the elevators, which take you to your own little slice of the Dream Downtown.
The Room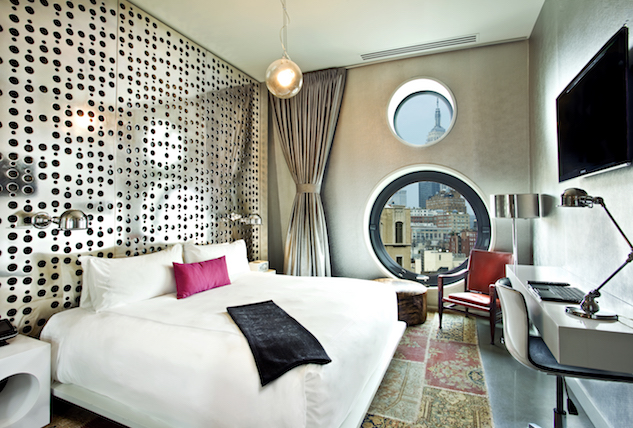 Brighter and mini versions of the hotel, the 315 loft-inspired guestrooms are the ideal place to return to after an afternoon out in the hot sun by the pool thanks to crisp white furniture and linens and light gray wallpaper. Pops of color come in the form of pink orchids and throw pillows, whatever funky artwork is displayed, and the purple LED light in the closet, reminding you that this is a party hotel. The Ardex cement floors featuring a slight sheen are exposed save for deconstructed patchwork Tabriz rugs positioned under the beds, which kind of represent the hotel in terms of the architecture and the people it attracts: pulled from different times and walks of life, and pieced together.
The headboards are also in theme with the building—either white wood with holes in it reminiscent of Swiss cheese, or a panel identical to the metal you see outside. Depending on your room type, you get multiple porthole windows, some extra large and some the size of your head, or a porthole-framed balcony. Leather seating ranges from a butter-leather Chester love seat to oxblood Safari chairs, and one extra large bulb hanging from the ceiling lights the space. The bathrooms feature wall-to-wall light gray tiling, and wood and metal fixtures, managing to fit the biggest themes of the hotel—cabana cool and industrial chic—into a compact space.
What Pops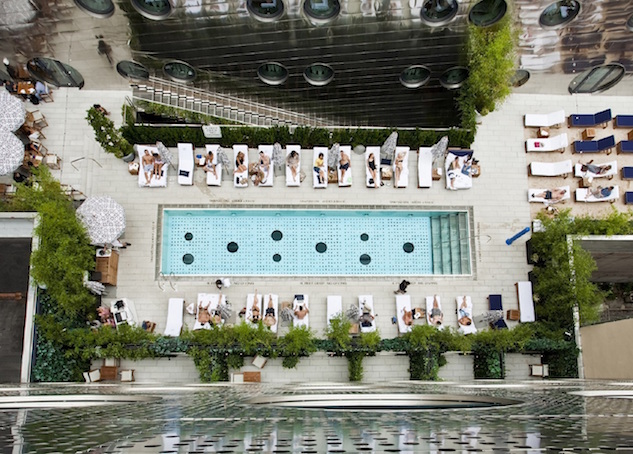 This one is easy: the pool. Outdoor pools became a hotel trend about six years ago when rooftop bars were no longer enough to draws crowds of NYC elite. Now, a handful of hotels boast long but narrow pools surrounded by models dangling their legs, careful not to get chlorine on the designer swimsuit they snatched from a photo shoot. Unlike some spots, however, the great thing about Dream Downtown's Pool/Beach Club is that while it does become a party (yes, even on weekdays), they somehow manage to stave off the rowdiness until around 3 or 4 p.m. most weekdays. That means you can actually relax and refresh with a dip in the pool or lunch under an umbrella without crowds of drunken hipsters staring you down until you vacate your chair (they are hard to come by so arrive as early as possible if you want one, although hotel guests have priority over day guests on the chair waitlist, so the wait isn't too bad). And come early evening, grab a cocktail and enjoy the DJ.
What's also unique about this hotel pool is that the 800 square-foot back deck is filled with imported sand, so you can escape the sticky city for the Cote D'Azur, if only in your dream (get it?). And the lush overhanging trees and strung flowers help make that dream a reality. Look up at the trippy painting of fish on the building and you'll remember where you are: downtown NYC.
The Locale
You're right near a handful of subways and close enough to midtown to feel the vibrations down seventh avenue, but far enough that the crowds have dissipated. A short walk will take you to Chelsea Market and the Highline, and a few subway stops will bring you further into Hipsterville (the West Village), or to Times Square in the other direction.
If you need a bite to eat and are hoping for something equally swanky, you need not go far. Head down to the lobby where one of the hotel's restaurants lives. Bodega Negra looks like a quick taco stop on the outside—which is good enough for me—but once the hostess leads you back to the main dining room, a world of creative Mexican dishes, mirrored walls, and rustic decor opens up to you in the form of a cavernous dining environment.
Address: 355 West 16th St.
Website: Dream Downtown
Room Rates: From $245
Maggie Parker is Paste Magazine's assistant travel editor.