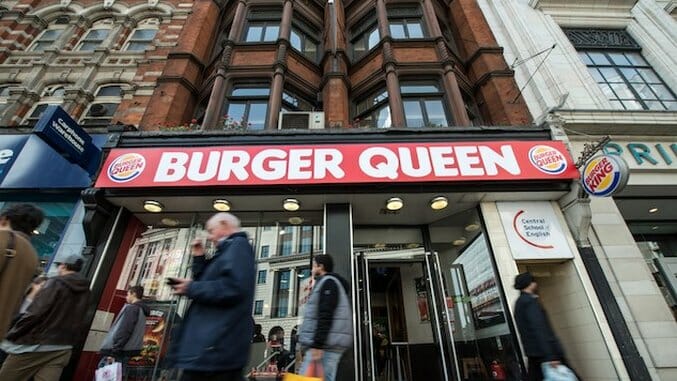 Spanish, Pakistani, South African, even Filipino: whatever tickles your taste buds, you'll most likely find in London. The Square Mile, after all, is essentially an amalgamation of different ethnicities, alive with many different cultures and imbued with cuisines from all corners of the world. And it has effortlessly cemented its legacy as one of the world's top culinary havens.
With over 60 Michelin-starred restaurants and hundreds of restaurants serving fares from Africa to South America, England's capital provides a dining dilemma, because picking and choosing great spots to eat is no easy feat. Stress not. Whether it's Japanese food with a modern take, traditional Pakistani food that only locals know about, or fast-food Portuguese you're craving for some reason, we've got you covered. 
1. Sosharu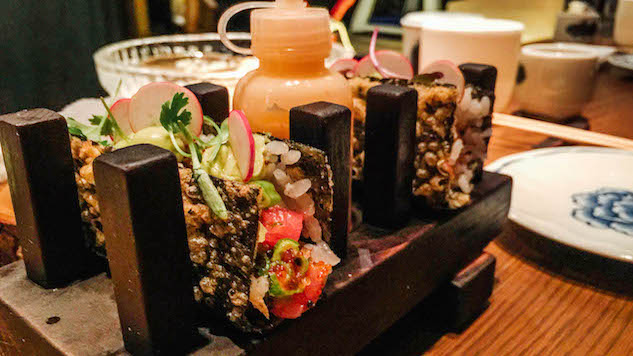 Photo by Michelle Rae
This upscale, izakaya (Japanese gastro pub) by famed chef Jason Atherton may be a newcomer in the London food scene, but it has already secured a long list of loyal followers. How could it not? The Farringdon spot not only comes with a pleasing blend of modern design and traditional Japanese aesthetics, but it also serves casual Japanese fare that some describe as divine.
The salmon, tuna and scallop sashimi might give you chills, if we're being honest; and their chicken karaage is cooked to perfection, crispy on the outside and moist on the inside. It's the open tuna temaki, however, that's Sosharu's showstopper: a toasted tempura nori filled to the brim with tuna, scallions, sushi rice, wasabi and thin slices of radish. It's served hard taco-style on a wooden taco plate that vaguely resembles a Japanese geta, and with a small bottle of spicy mayo on the side in case the surge of different flavors and flurry of textures in a single bite still doesn't do it for you.
2. Lahore Kebab House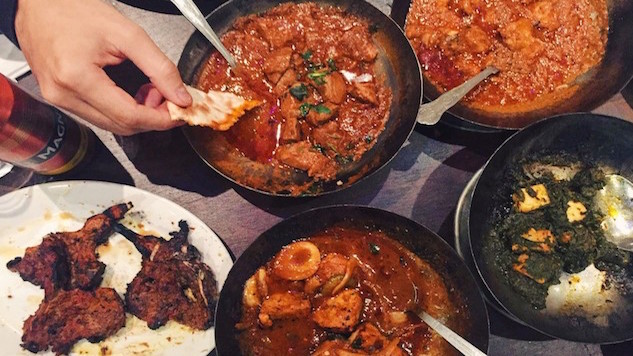 Photo by Michelle Rae
London's notoriety for being expensive doesn't necessarily mean there's a scarcity of budget food. Journey out to Whitechapel, past London's historical landmarks and towering skyscrapers, and you'll find yourself in a spot that looks too run-of-the-mill to serve good food.
Don't let appearances fool you, however. Lahore Kebab House may look nondescript and feel like you've just crashed a private family function, but its authentic Indian/Pakistani dishes, served in hefty, family-style portions, make it a favorite among locals. Ignore the overly casual attitude of the servers and the unceremonious way they bring the order to your table. Focus instead on the dishes, like the cheap yet comfortingly savory helpings of lamb chops, chicken curry and meat kebabs. Everything comes in heaps here—even the papadom and the mango lassi—so two main courses are enough for four people to share. But if you insist on ordering more, they do have takeaway boxes handy for your leftovers.
3. Tapas Brindisa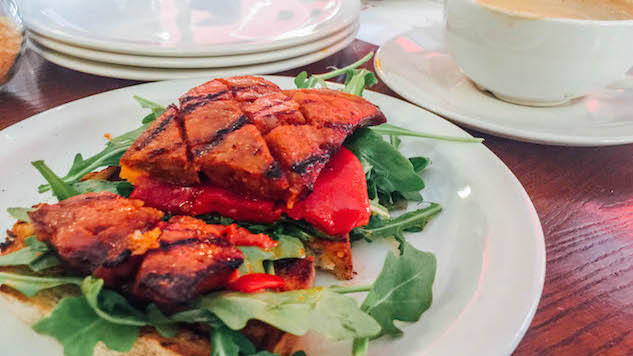 Photo by Michelle Rae
A London visit requires a quick stop at Borough Market to rub elbows with locals and shop for meats, cheeses and baked goods. The market also boasts a mishmash of terrific dining spots for refueling, the best of which might be Tapas Brindisa.
Open for breakfast, lunch and dinner, Tapas Brindisa prides itself on concocting authentic tapas and charcuterie boards using the best stuff that Spain has to offer. Some might say it's bordering on touristy, an inescapable evil considering its London Bridge location, but the dishes are anything but. House specialties such as grilled lamb cutlets and albondigas caseras are must tries. If you're looking for a light meal, however, the tapa plates menu is the way to go. The gambas al ajillo and ham charcuterie selection are among the crowd-pleasers, and chorizo lovers will certainly appreciate the wonderfully tender grilled smoked chorizo, served over fresh arugula and red bell pepper on toast.
4. Nando's
If the situation calls for some fast food, skip KFC or McDonald's (yes, London, too, is full of them) and take a quick chicken-filled jaunt to the nearest Nando's. The South African-based international chain is not very common in the U.S., but it's everywhere in London. And it most definitely serves better food than your average Mickey D's.
Nando's is famous for its PERi-PERi chicken, marinated for 24 hours, flame-grilled in different levels of spiciness (extra mild to tongue-numbingly extra hot), and served in many different ways—off the bone, as a burger or a salad, in a wrap or a Portuguese roll. Many prefer it on the bone, however, with a couple of sides and a generous drizzle of their favorite PERi-PERi sauce. Order the flavorful macho peas with parsley, mint and chili, and the PERi-salted chips (fries) as your sides. And spruce up your fast food lunch further with a glass of white wine or rosé vinho spritzer. Fast food and alcohol? We're in love.
5. sketch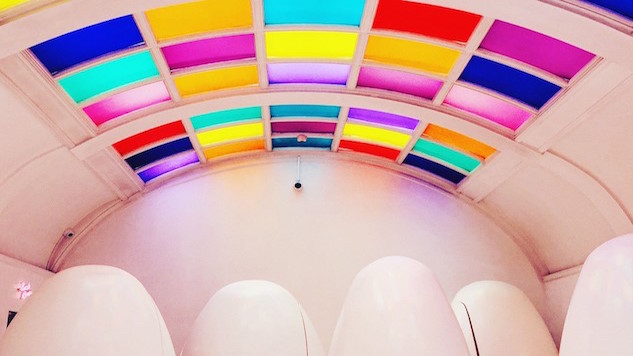 Photo by Michelle Rae
The award-winning artistic brainchild of restaurateur Mourad Mazouz and French chef Pierre Gagnaire is known for its vibrant, adult play date décor. It's also one of London's most Instagrammed restaurants, meaning you've most likely seen social media photos of its futuristic pod toilets and enchanted rainforest bar. But rest assured that the quality of sketch's gastronomic inventions isn't compromised for the sake of its aesthetic flourishes.
Come here for their unusual cocktails with fun names like Lovely Bubbly and Spring Fantasy, and for their colorful and highly addictive signature cakes. Better yet, stay longer for a proper afternoon tea, which the restaurant is also famous for. Afternoon teas at sketch include a decent selection of teas as well as delightful sandwiches, pastries, scones and macarons, all served in minimalist yet quirky serveware and set in the posh, David Shrigley-designed Gallery. The experience is essentially an assault on all your senses.
Michelle Rae of Another Spur on the Road is a Los Angeles-based writer, photographer and traveler with a bad case of wanderlust.