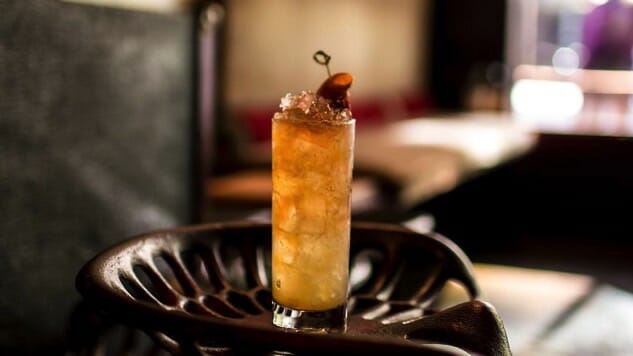 Thirsty? You're in luck. In Paste's drinking-and-traveling series, City in a Glass, we mix up a city's signature swills and slide them down the bar to readers. Grab a stool. This round, in Orlando, Florida, is on us.
Picture Orlando, Florida. If the first—and maybe sole—thing that came to mind was screaming kiddos and adults in princess costumes, you've only experienced one side of town. On the non-fantasy side, where Floridians actually live and hang out, inventive bars are king. "Being on the local side of Orlando is key for us," says downtown bar owner Diana Zimmerman. "Tourists who are into the chains would probably have a harder time understanding what we do." The most magical things to consume here are fruity rum drinks, which are appropriate year-round in the Sunshine State. "Florida gets two seasons: Hot and Not-So-Hot," local barman Kris Sirani says. "So anything we serve ice cold is going to work." On this city drinks tour, we're going to introduce you to three very cold Orlando cocktails, show you where to find them and even how to replicate them at home.

1. Death in the Islands
Where to order: The Courtesy Bar
The very first dedicated cocktail bar in Orlando opened in 2012. The Courtesy Bar, located downtown, is a skinny little slip of a thing with an ambitious menu of signature swills. Owner Diana Zimmerman says the bar was overwhelmed with customers from the beginning. "The local side of Orlando gravitated to us the day we opened," she says. "Everybody was just waiting for something like this. We're a small space, so we had to figure out how to cater to everyone who wanted to be in here."
Over the next couple of years, a half dozen other cocktail bars opened downtown ("they saw that this was obviously a successful business to have on this side of Orlando," Zimmerman says), but The Courtesy Bar's loyal customers have remained. "People who come in here are pretty brave at trying new things," she says. "They trust our cocktail menu because it's been consistent and cool since the beginning."
The menu includes a few classic cocktails, a couple on tap and 12 original libations. One tasty drink on the summer menu is called Death in the Islands, which is made with two kinds of Caribbean rum, amaro, lime juice and guava juice. "We like to keep things kind of simple so you can taste the flavors," she says. "Guava is a tropical flavor of the islands—and Florida. We're part of that culture too."
Death in the Islands
1½ oz. Plantation rum
½ oz. rhum agricole
1 oz. guava juice
½ oz. lime juice
¼ oz. Amaro di Angostura
Guava paste, for garnish
Orange peel twist, for garnish
Combine rums, juices and ice in a cocktail shaker. Shake. Strain into a Collins glass filled with crushed ice. Top with the Amaro di Angostura. Garnish with guava paste and an orange peel twist.

2. Winter of Discontent
Where to order: Herman's Loan Office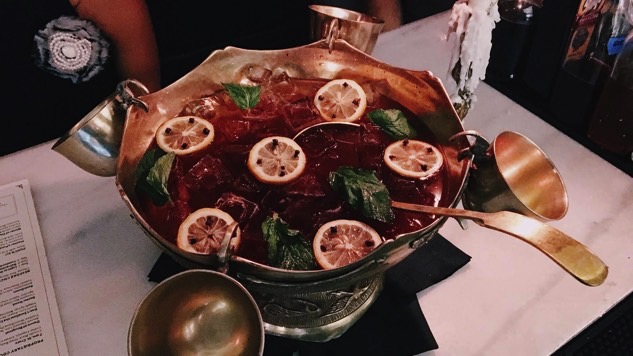 Photo courtesy of Herman's Loan Office
Another downtown bar, Hanson's Shoe Repair, had a similar problem when it opened in 2013. The dark, candlelit speakeasy was so in demand that it was turning people away at the door. Two years later its owners opened a second bar around the corner. Named Herman's Loan Office, the larger, brighter space can accommodate big groups and has a much livelier energy to it than its intimate sister bar. René Nguyen, principal bartender and general manager of both, made a conscious effort to make the new bar feel different. "We didn't want to cannibalize Orlando's cocktail clientele," he says. "But we found that a lot of them are doing two stops in one night now: First Hanson's and then Herman's."
Nguyen's menu at Herman's includes plenty of tricks to get his late-night crowds—whose members may not all have the same cocktail knowledge—interested in his drinks. One is his special design-your-own cocktail menu. To order, people choose three words out of six: light or dark? Refreshing or spirituous? Comforting or adventurous? And then the bartender mixes up a bespoke drink for each of them. Nguyen's large punches are also a hit. One can satiate a group of eight and bartenders present them tableside in vintage punch bowls with antique punch cups. His Winter of Discontent punch, for example, includes rye whiskey, Prosecco, Pimm's, allspice liqueur, lemon juice and bitters. Even people who don't know anything about creative cocktails get a kick out of the presentation. "It's kind of like V.I.P. bottle service at a club," Nguyen says.
Winter of Discontent
Serves 8
8 oz. Old Overholt rye whiskey
8 oz. Cantina Montelliana Prosecco
4 oz. Pimm's No. 1
2 oz. St. Elizabeth Allspice Dram
6 oz. lemon juice
4 oz. demerara syrup (recipe below)
32 dashes The Bitter Truth Old Time Aromatic Bitters
16 dashes Fee Brothers Black Walnut Bitters
Make demerara syrup: Combine 1 cup water and 1 cup demerara sugar in a saucepan. Heat slowly, stirring until sugar dissolves. Remove from heat and cool completely.
Make punch: Combine all ingredients plus ice in a punch bowl. Stir. Ladle into punch cups.

3. Cold Brew Irish Coffee
Where to order: The Ravenous Pig
Photo courtesy The Ravenous Pig
Ask any bartender in town which restaurants they drink at, and they'll tell you two places: The Ravenous Pig and Cask & Larder. Both of these Southern-style eateries are in the residential area Winter Park, and both of their bar programs happen to be run by the same guy: Kris Sirani.
Sirani, who is bar manager of the sister sites, says the key to having such popular cocktail menus is making sure they read well. "At a restaurant you have to keep in mind that it isn't just for the regulars who sit at the bar, who may be 15 to 80 people a night," he says. "You're writing it for the 250 people on the floor, most who you'll never speak with face-to-face." He says he keeps the descriptions short and sweet, because people try to build the drinks in their minds as they read it. If a drink has a strange ingredient that may scare or confuse them, he'll oftentimes leave it off the description completely.
One of his favorite icy drinks at The Ravenous Pig has plenty of secret ingredients. According to the menu, the Cold Brew Irish Coffee features Irish whiskey, locally roasted, cold-brew coffee, espresso liqueur and a mint-chocolate cream. (It also includes demerara, or raw, sugar syrup.) Sirani pours the drink from a nitrogen draft to give it a velvety texture. "And then the thing you normally like in Irish coffee is Baileys, but instead of using that we opted for heavy cream with crème de cacao [chocolate liqueur] and Branca Menta [mint liqueur] whipped into it," he says. "I personally like a salty coffee, so we put a sprinkle of salt and a little shaved nutmeg on top." A drink like that may convince you that you really are in the happiest place on earth.
Cold Brew Irish Coffee
Serves 2
8 oz. Axum Coffee cold brew
3 oz. Teeling Irish whiskey
1 oz. Caffè Borghetti espresso liqueur
½ oz. rich demerara syrup (recipe below)
Mint-chocolate whipped cream, for garnish (recipe below)
Freshly ground nutmeg, for garnish
Sel gris, for garnish
Make rich demerara syrup: Combine 1 cup water and 2 cups demerara sugar in a saucepan. Heat slowly, stirring until sugar dissolves. Remove from heat and cool completely.
Make mint-chocolate whipped cream: In a cream whipper, combine 14 ounces of heavy cream with a splash of Branca Menta and a splash of Tempus Fugit Spirits Crème de Cacao. Charge the cream with nitrous oxide twice.
Make drink: Combine all ingredients, except garnish, plus ice in a cocktail shaker. Shake. Pour into a Collins glass filled with fresh ice. (The Ravenous Pig puts this concoction into a Cornelius drink keg charged with nitrogen.) Top with mint-chocolate whipped cream, freshly grated nutmeg and a pinch of sel gris.

City in a Glass columnist Alyson Sheppard writes about travel and bars for Paste and Playboy. She currently resides in the great state of Texas.