The Complete Game of Thrones Series Boxed Collection Is Coming
Photo by Helen Sloane/HBO
TV
News
Game of Thrones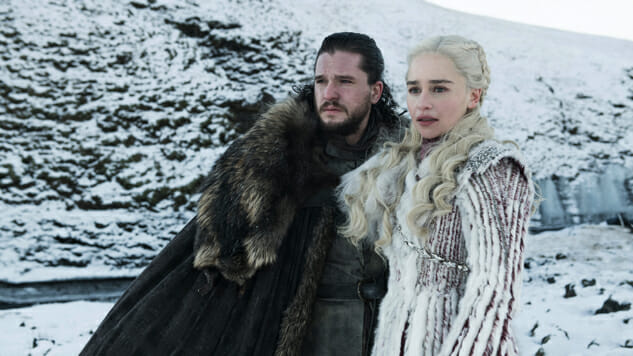 Earlier this week, the folks behind Game of Thrones sent out this cryptic message via raven—er, Twitter:
Winter is coming.

— Game of Thrones (@GameOfThrones) November 25, 2019
This left the rest of the Twitterverse to wonder and speculate about what it could mean. Was George R.R. Martin finally ready to release The Winds of Winter? Had the axed prequel been revived, à la Jon Snow? Was there casting news for House of the Dragon? Was the end of the final season an elaborate hoax, with secret new footage ready to fix everyone's woes?
Unfortunately, we are only getting what we already got, in boxed form. The final installment of Thrones, including Season 8, will be available on Tuesday, Dec. 3.
The announcement also included a nostalgic sizzle reel of all eight seasons:
The set will be available on Blu-ray and DVD, and will include the documentary by Jeanie Finlay, Game of Thrones: The Last Watch, which chronicles the final season. HBO will also release collectible packaging editions with multi-layered panels designed by Robert Ball, the artist who created the "Beautiful Death Series." The boxed set also contains that fateful "Hand of the King" pin that Tyrion cast aside along with a lot of our hopes and dreams for Westeros in Season 8.
The Complete Series and Season 8 formats also feature:
– When Winter Falls: Exclusive 30-minute featurette with showrunners David Benioff and D.B. Weiss, along with major stars and behind-the-scenes players, breaking down all that went into the colossal filming of the "Battle of Winterfell" in Season 8, Episode 3.
– Duty is the Death of Love: A compelling look at how the team behind Game of Thrones and its major stars, including Kit Harington, Peter Dinklage and Emilia Clarke, brought the show to its conclusion in the series finale, "The Iron Throne."
– Audio Commentaries: 10 Audio Commentaries with cast and crew, including the show's creators, Benioff and Weiss, on the final season.
– Deleted and Extended Scenes: 5 never-before-seen deleted or extended scenes from season 8.
– Histories and Lore: New animated pieces giving the history and background of notable season 8 locations and storylines.
You can find more information about owning the complete series here.
So it seems everyone will have to settle for the less-than-favorable fates of virtually all our favorite characters from Season 8. We'll have more GoT content to look forward to in the form of the forthcoming, Targaryen-centric prequel House of the Dragon, but with no production timeline available for the show so far, we're likely a couple bitter winters away.