Godzilla and Friends Are Fierce and Expensive Looking in Trailer for Apple's Monarch: Legacy of Monsters
Photos via Apple TV Plus
TV
News
godzilla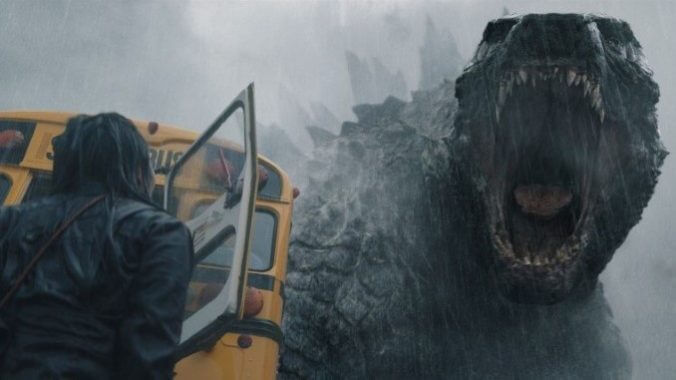 It's a good time to be a fan of giant monsters: Just a few days after we got a first look at the latest entry in Japan's Godzilla series, Godzilla Minus One, we're gifted with a first trailer for the upcoming, especially luxe-looking new Apple TV+ series Monarch: Legacy of Monsters. That trailer, which you can view below, introduces a reportedly 10-episode series that will bring together characters from the American Legendary Pictures Godzilla series with new creations, spanning three generations. As the official synopsis puts it:
Following the epic battle between Godzilla and the MUTOs that leveled San Francisco and the shocking revelation that monsters are real, two siblings, following in their father's footsteps, uncover their family's connection to the secretive organization known as Monarch. Clues lead them into the world of monsters and ultimately down the rabbit hole to Army officer Lee Shaw, taking place in the 1950s and half a century later where Monarch is threatened by what Shaw knows. The dramatic saga — spanning three generations — reveals buried secrets and the ways that epic, earth-shattering events can reverberate through our lives.
That character of Lee Shaw is played by none other than Kurt Russell, who looks to be in fine form as a would-be kaiju conservationist, now struggling in a world where the threat of monsters to the human population has become much more severe. He's joined in at least some portions by a returning John Goodman, last seen in Kong: Skull Island, with a younger version of Russell's character being portrayed by Wyatt Russell of AMC's underrated Lodge 49. Also clearly in the mix is Godzilla himself, though it's unclear how exactly all the kaiju will be wrapped up in Monarch: Legacy of Monsters. The format essentially gives the showrunners freedom to incorporate whichever giant monsters they wish, which is an exciting proposition.
More than anything, though, the below trailer just looks expensive as hell, promising a level of production design and CGI rarely seen in the streaming TV world today. Here's hoping that the full series can live up to the ultra ambitious-looking footage below. We'll find out when Monarch: Legacy of Monsters arrives on Apple TV+ on Nov. 17, 2023. Meanwhile, check out the trailer below.