Canceled Netflix Series Warrior Nun to Return as Feature Film Trilogy
Photo Courtesy of Netflix
TV
News
Warrior Nun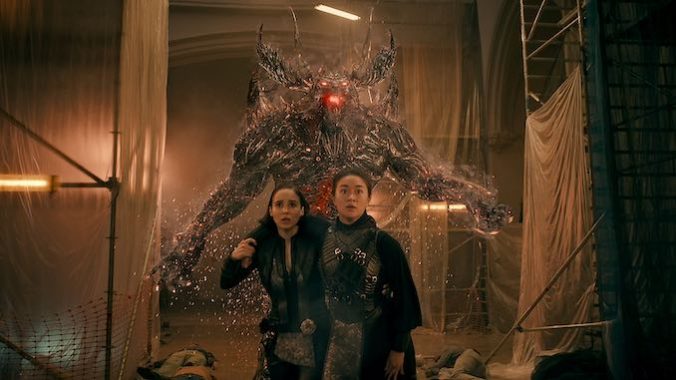 After a vague announcement at the end of June, we finally have more information regarding the continuation of canceled Netflix series Warrior Nun—it's coming back, but as three films.
In early July, creator Simon Barry tweeted a link to a website that featured a countdown clock set to mid-August. The countdown has finally come to an end, and the site now features a statement from Executive Producer Dean English, where he states that the series will return, but as a trilogy of feature films, with the option for an expanded universe.
Of course, seeing as we are in the middle of both a writers' and actors' strike, there is not a lot of information that can be readily shared, especially in terms of actual deals made, who might be involved, and what the timeline could look like. However, the statement from English does imply that these films could feature "characters we already know," giving the barest hint at the possibility of the series' cast reprising their roles.
While the statement from English does spark immense hope that this beloved series will return in the form and fashion we are familiar with, is it too good to be true? Producer Amy Berg posted after the announcement that she has "not been approached about participating in the movies or any #WarriorNun universe project and as far as [she's] aware there are currently no deals in place with anyone who was involved in making the show."
With so much still unknown about this mysterious trilogy, it's difficult to parse whether this is truly what fans have been campaigning for over the past eight months. The central fight surrounded the loss of this strikingly diverse show, which highlighted the stories of women, queer people, and people of color, and it's paramount that these films continue to deliver on those fronts. After all, is it truly Warrior Nun without Ava (Alba Baptista), or Beatrice (Kristina Tonteri-Young), or Lilith (Lorena Andrea)? Will we ever find out what happened to Ava after she was returned to Earth in the Season 2 finale, or will these projects simply expand the universe, without ever venturing back to where we began?
Despite the uncertainty, this news is absolutely worth celebrating. After a difficult year for LGBTQ—but particularly sapphic—representation on screen, this will be an undeniable win when these films do come to fruition. Until then, fans can rest assured that their fight was not in vain, and that their favorite universe will return in this life.
---
Anna Govert is the TV Editor of Paste Magazine. For any and all thoughts about TV, film, and the wonderful insanity of Riverdale, you can follow her @annagovert.
For all the latest TV news, reviews, lists and features, follow @Paste_TV.